Understanding The Differences Between Wedding Favors and Welcome Gifts & When to Give Them
If you're researching gifts to prepare for your wedding, the countless results online can create questions on which type to gift. None more so than the dilemma that wedding favors VS welcome bags presents – which should you give?
Further, throw in terms that you might come across – wedding door gifts, welcome bags, etc. – and now you've got a web of questions in your head that needs disentangling.
In the easier case of having both time and budget, the answer would be to give both wedding favors and welcome gifts. In reality, however, the situations we often find ourselves in aren't that straightforward.
Both the time available to prepare the gifts and more crucially how much money to set aside for them, are unavoidable considerations for wedding couples. This is when you might decide to just prepare one type of gift and forego the other, depending on your budget as well as the type of wedding you're holding.
Understanding Wedding Favors
What are wedding favors?
Wedding favors are gifts that couples prepare for the guests that attend their wedding reception, or wedding party, or wedding ceremony. These favors are usually small in size, packaged in small bags or boxes, and prepared one for each guest that attends the reception.
In some parts of the world, the terms wedding door gifts and wedding souvenirs are also used and are often used interchangeably with the term "favor". They refer to the same type of gift.
When and Where to Place Wedding Favors?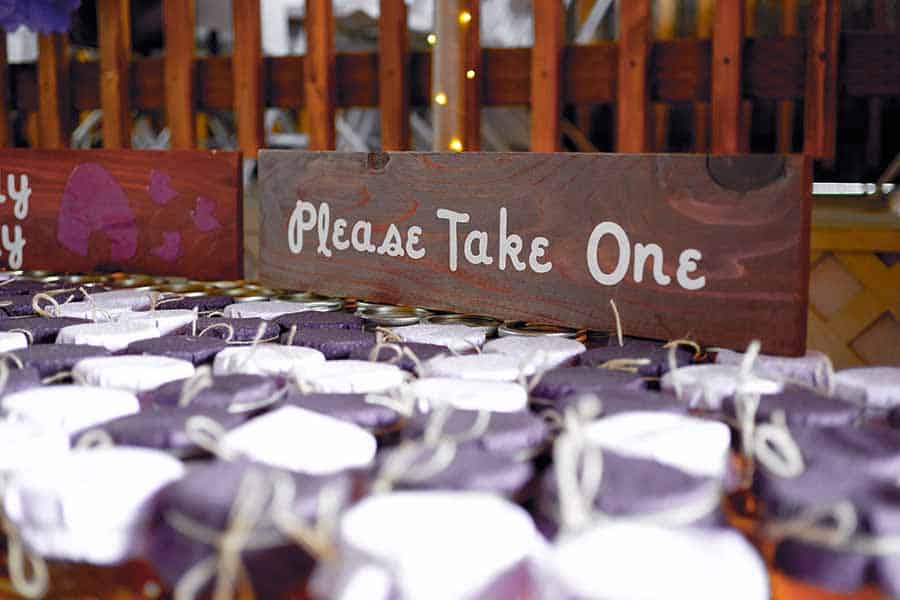 There is really only one timing that you need to have the favors ready for the guests – and that's before your wedding event starts.
The next logical question that you would be asking yourself is where to place the favors.
Well, that very much depends on the type of wedding event you're setting up. And that inevitably depends, in part, on where you hold the event. Now, bear in mind that people from various cultures around the world hold weddings in their own uniquely wonderful ways.
Say you're planning a wedding reception indoors where each guest is seated at the table. In this scenario, you could place the favors on the table in front of where the guests would be seated.
Another example would be if you're having a garden wedding where you do not have the seating/table arrangement in the previous example. The favor could be hung on the ear of the chair. So chairs with ears would be something to consider.
Otherwise, you could just place the favors on the seats. Pray hard nobody would sit on them!
Another way that couples do is placing all the favors on a table near the main entrance/exit door. This has its pros and cons.
The more notable con is that the guests may miss taking the favors, leaving you with a huge amount of favors at the end of the wedding. Or, if your favors are of the edible type, you may find kids gobbling them up leaving nothing for the rest of the guests.
Either way, the quantity of wedding favors to prepare is something you need to consider as well.
The above are just some example scenarios, but you get the drift…
Depending on which part of the world you're in and the type of wedding event you're holding, you need to consider the particularities.
What to Put In Wedding Favors?
Traditionally, wedding couples tend to prepare cute or pretty gifts as wedding favors. Not that there's anything particularly wrong with that. We all love pretty things, don't we?!
It is when the cute and pretty combination does not come with a "useful" attribute that favors tend to get left behind or assigned to the trash. Either way, it is a waste of money that you wish you could spend on something else.
Therefore what to give as favors and, speaking of costs, how much budget you should set aside for favors, are probably the top two things to consider with regards to favors.
Useful Wedding Favors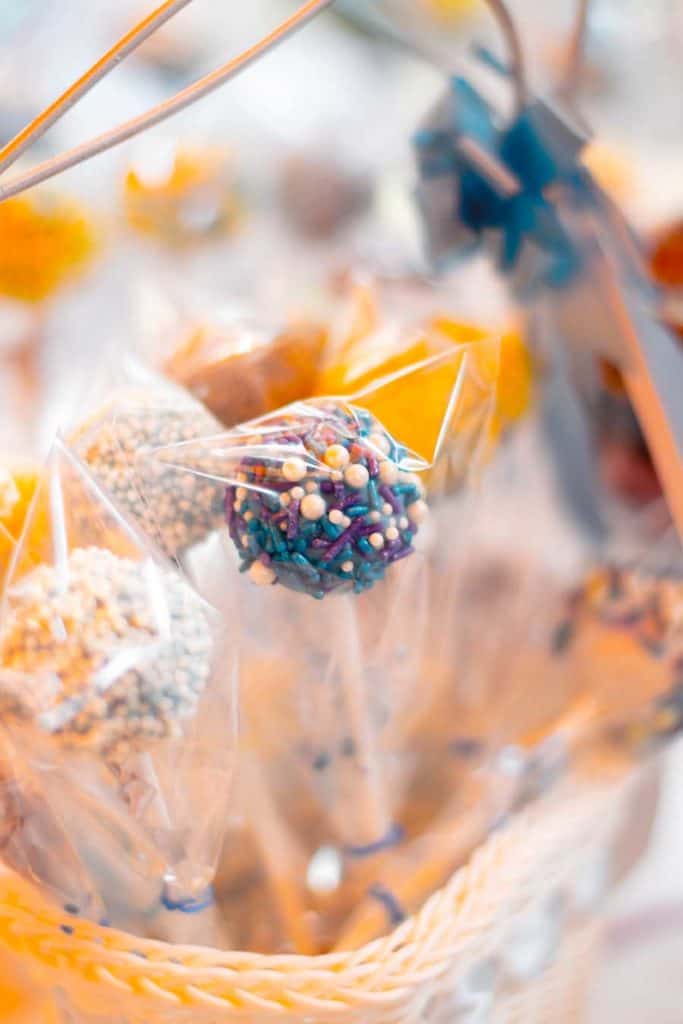 Wedding couples do get more conscious now about the usefulness aspect of the wedding favors they're preparing.
If your main intent of giving favors is to give the guests something memorable to remember the wedding by, then the increase in usefulness is directly proportionate to how well and how long the guests remember your wedding.
As much as a mathematical equation as that sound, it is true! The more the favor is used the more, or rather, the longer the wedding is remembered.
As a logical train of thought flowing from the need to get something useful, a favor that is edible and/or drinkable would make perfect sense!
Edible Wedding Favors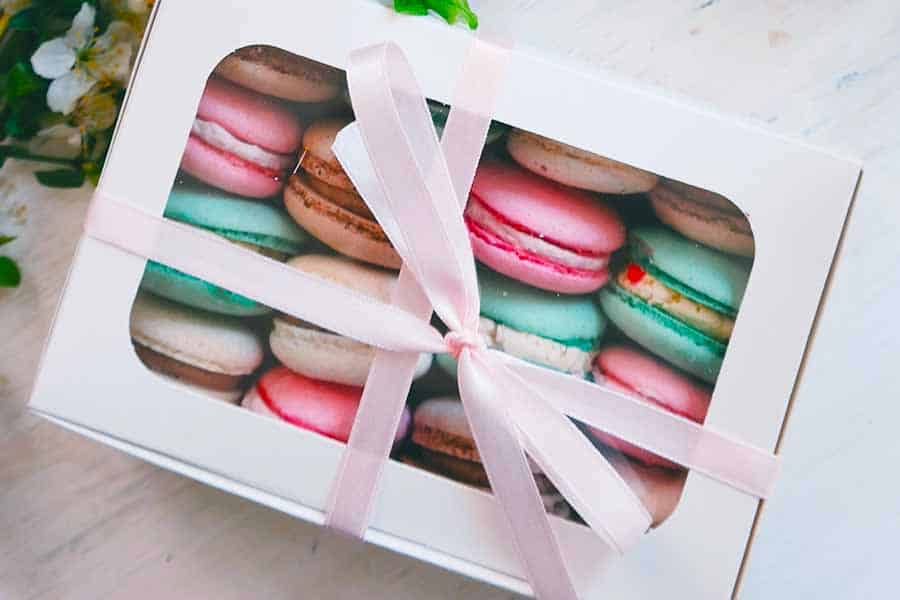 The many examples of edible wedding favors are detailed in a separate article. But here's a quick list:
Nougat (affordable; easy to prepare)
Rock candy (highly customizable to your wedding color palette)
Chocolate (easy to prepare; almost guaranteed none will be wasted)
Cookies (may require airtight packaging to preserve longer)
Cake (depends if you're already serving cakes at your wedding)
Pickles (a wide variety of food you can make from)
Seasonal treats (location dependent)
Anything sweet (but not too sweet)
Drink Wedding Favors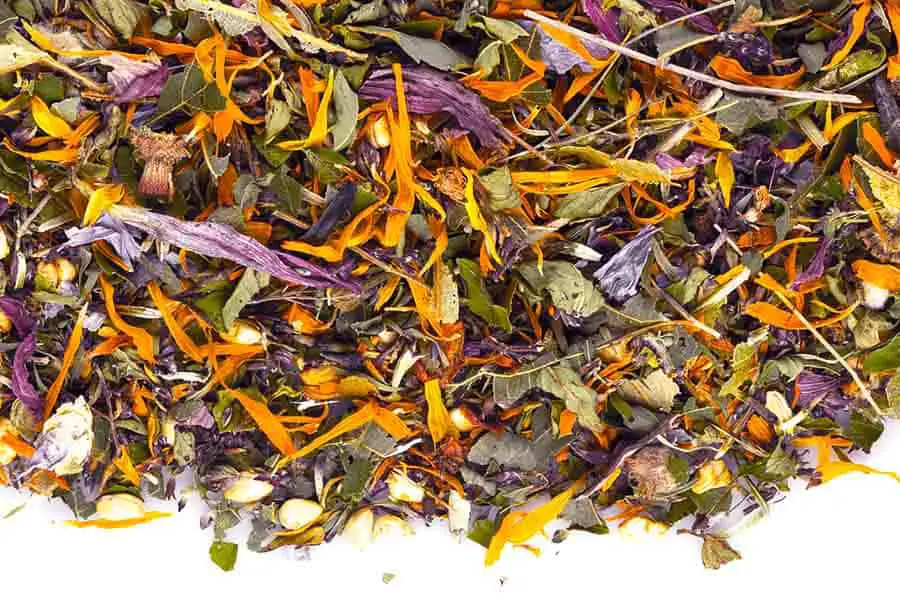 Similarly, drink favors are highly sought after, and a type of favor which we've written comprehensively on in a separate article linked here.
Just to get you started, here's a brief list:
Artisanal tea blends (wide variety to choose from; customizable to match the wedding theme and color palette)
Location-specific drinks (anything unique to your location)
Mini bottle of alcohol (adults only)
Drink favors such as rare tea blends can be highly desirable due to the variety of appearance and colors, depending on the type of tea you're getting.
Couple that with the array of packaging forms that teas can be placed in, it's not difficult to make the favor exactly how you'd imagine it to be with a little customization and personalization.
Of course, if you wish to explore some affordable wedding favor ideas that are non-food there are certainly alternatives that you could consider.
How Should You Package The Favors?
In this day and age, "packaging" can make or break an idea. No matter how good something is, if the appearance on the outside isn't up to mark, you lose the interest necessary to further explore what in it.
Of course, if you're one that doesn't judge a book by its cover, so to speak, great! But the majority isn't, and it's the truth.
If a favor needs to go into a box, a container, a bag, or some sort of outer packaging, you might as well put some thinking into how you can make it more appealing.
And in that case, you ought to.
Personalized Wedding Favors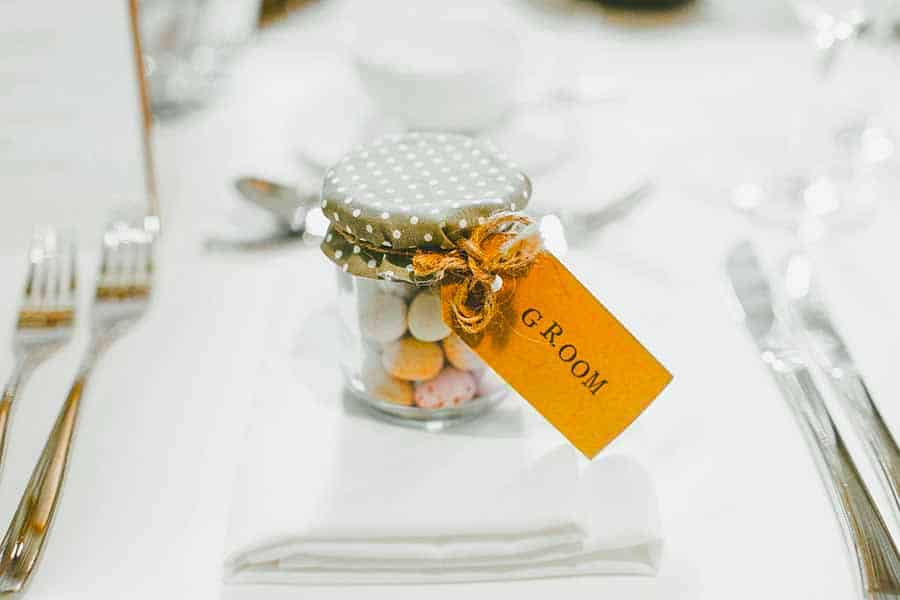 Instead of handing out generic gifts or favors, personalization can turn a plain-looking favor into something you can call your own. Who doesn't like that?!
Everything that you plan and do for your wedding is to celebrate your marriage. It's an occasion that is uniquely yours and yours to cherish for the rest of your life.
Think invitation cards, banner, guest book, etc. The names of the bride and groom are all over them, literally.
In case you're wondering whose name should go first on wedding favors, check out this article for some creative ways you could apply to the naming order and design.
But before you go ahead and put your name directly on the favor (printed, embossed, sticker, or otherwise), think of the danger that you might render a perfectly useful favor unusable.
It is therefore important to understand the level of personalization that's desirable and where personalization would be more appropriately applied.
The right places to apply personalization would be on:
The packaging you use to house the favor, and
The wedding favor tag.
When you think along the lines of these personalization suggestions, there's a myriad of ways you can explore, a subject which we'll explore in a separate article.
Who Are Wedding Favors For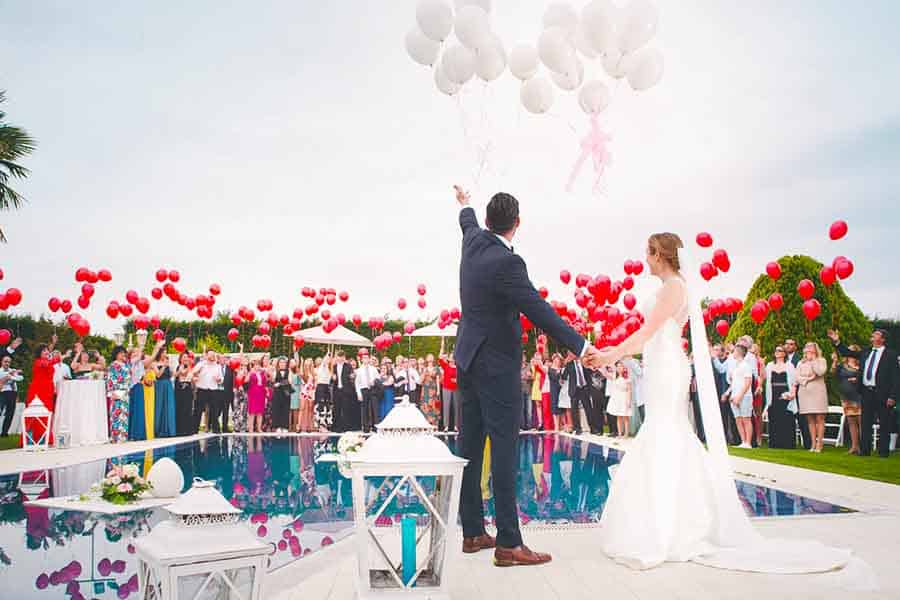 In the most general sense, wedding favors are for every guest who attends your wedding.
But drilling into some details, you could certainly make some distinctions in the segments of people who would be at your wedding that you'd prepare favors for – family members, friends, friends of family members, etc.
Therefore, you could decide to prepare something a little different for those who you hold close at heart.
Understanding Wedding Welcome Gift Bags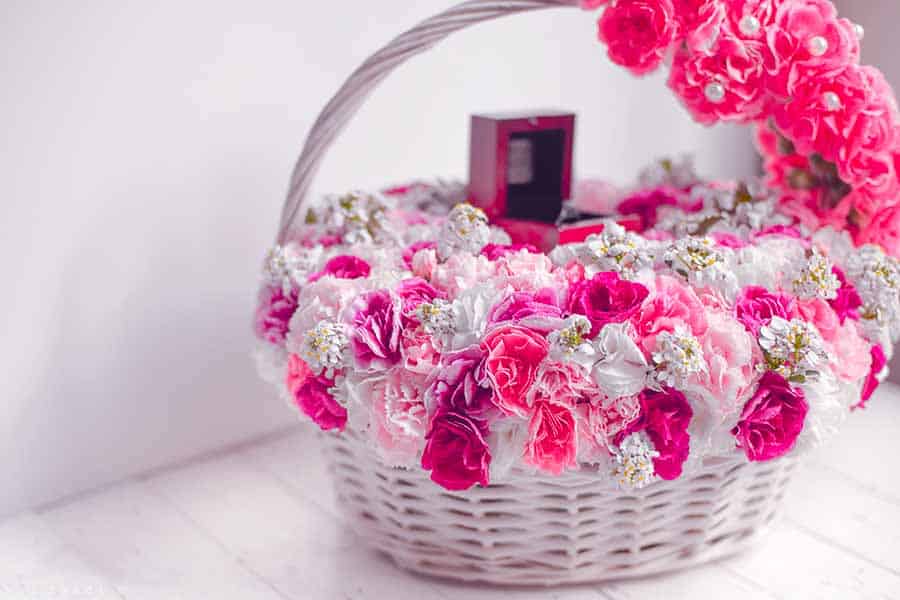 What are wedding welcome bags?
As the name suggests, these gifts are basically a bag or a basket of goodie stuff that you'd prepared as a way to receive your out-of-town guests.
For them to have made the trip, however near or far they come from, there's no better way to greet them than a welcome gift. Not to forget, of course, a big smile!
Welcome gifts represent your gesture of appreciation and are a very good opportunity to build or rekindle that special bond with family and friends. Imagine how happy they'd be to know you've put much thought into welcoming them in spite of your very busy schedule in the time leading up to the wedding.
Such a gift can also be a very thoughtful idea because of the items you carefully think to put in the bag, all with the aim of making their stay a more comfortable and pleasant one.
As you'd have noticed by now, there are terms like "welcome gift", "welcome bag", "welcome basket" and "goodies basket". Again, this depends on which part of the world you're in. But they all refer to the same thing.
Though welcome gifts would generally be appropriate to prepare for your out-of-town guests, these gifts are especially applicable if you're having a destination wedding (source).
Say your destination wedding is at some exotic location, it will be a perfect opportunity to surprise your guests with some really unique local things.
When Do You Give Out Welcome Bags?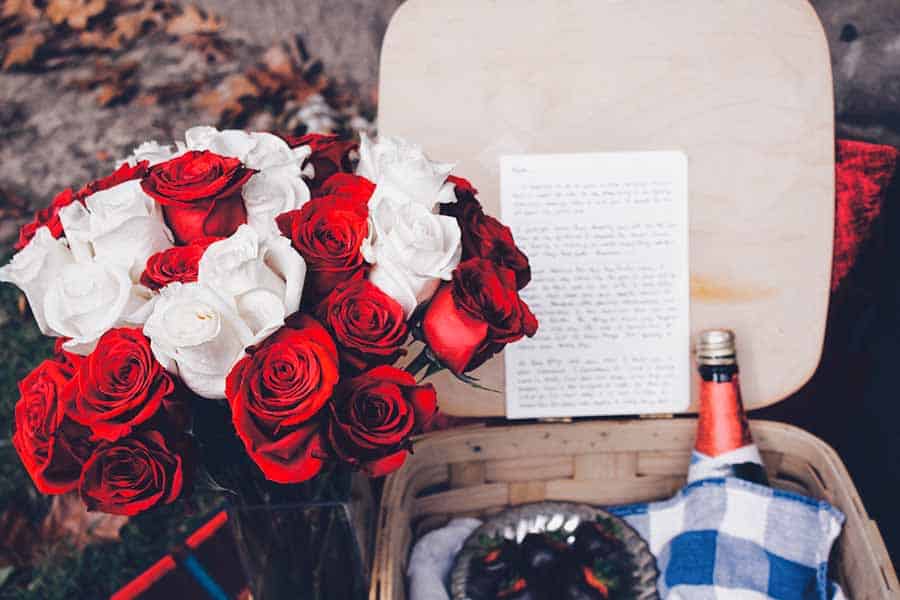 As these gifts should be prepared and ready for the guests before they arrive, it'll be prudent to plan well in advance so you don't get into a last-minute rush. Just not necessarily buying them too far in advance, depending on what items you plan to put in the bags.
Some local produce and edible items may only be practical if you buy them a day before or in the morning of the guests' arrival.
On the day when the guests are expected to arrive, you can either:
Leave the welcome bags with the hotel reception so they can be handed out to the guests at check-in.
This is the most convenient way considering that you may still be tied up with your preparations schedule. Though convenience doesn't always match up with thoughtfulness. But it works.
Leave the welcome bags in the hotel rooms so the guests can be greeted with the gifts when they go into their rooms.
This way is about as good as the first. The guests would be surprised and happy to see the gift bags as soon as they open their room door.
Enlist the help of your family members to hand out the welcome bags to the guests as they arrive at the hotel.
As you'd expect, having a person-to-person greeting, even if it's your family members handing out the welcome bags, would always be the better way. This way you can maintain the personal touch, yet not having to do it yourself which takes time.
Last but definitely not least, you can greet the guests with the welcome bags at the hotel reception as they arrive. Or in their hotel rooms shortly after they arrive.
Obviously, handing the bags out yourself is the most personal way of doing it. Nothing beats having the bride and/or groom who personally greet the guests as they arrive. It's just the warmer approach!
What more when you gift the bags yourself. Not many people spoke of this, but it gives the guests an opportunity to reciprocate and thank you in person, on the spot. As minor a thing as this is, it is important.
Consider this one of the very few opportunities for you to personally connect with the guests. You'll be having many guests at the wedding, so it's understandable that your attention would be divided.
Destination Wedding Welcome Gifts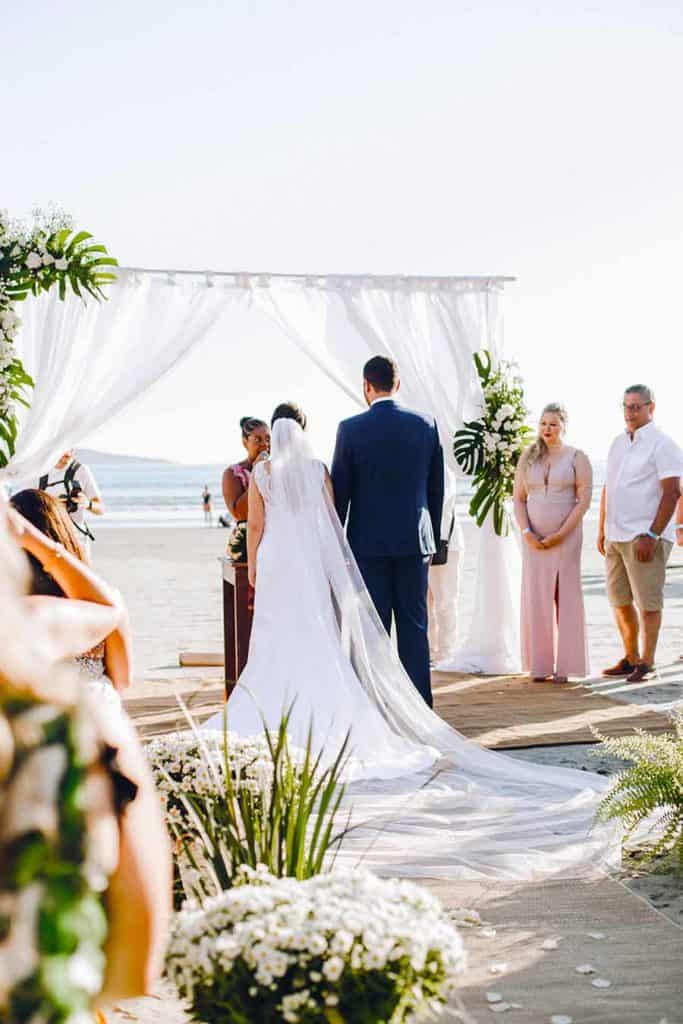 If you're planning a destination wedding at a location of your dream, you ought to seriously consider getting the guests a welcome gift.
Rather the usual run-of-the-mill welcome gifts, it's a great chance to get something different. Something unique that only the place has to offer.
Planning and crafting, in your mind, the perfect welcome gift can also be a very unforgettable experience.
Sure, there's lots of effort involved in planning and putting together the right welcome gifts for your guests. Opinions usually revolve around the amount of work you need to put in. Or if the guests should get one type of gift over the other.
Remember the saying "life's not a destination, it's a journey"?!
Well, that aptly applies here. A wedding isn't a "destination" that you have to work hard so you can get it over with. Look at it as a beautiful journey that the bride and groom choose to go through together.
Imagine the sort of uncommon things you might come across as you research into gifts to fill the welcome bag. It's going to be a journey filled with joy and lovely thoughts, and one that will stay sweet in the memories for years to come!
If your budget permits, go for it!
Hometown Wedding Welcome Gifts
A hometown wedding is similar to a destination wedding in some ways. Except if all your guests are from the same town as you, then it doesn't make much sense to make that distinction.
What Goes In Wedding Welcome Bags?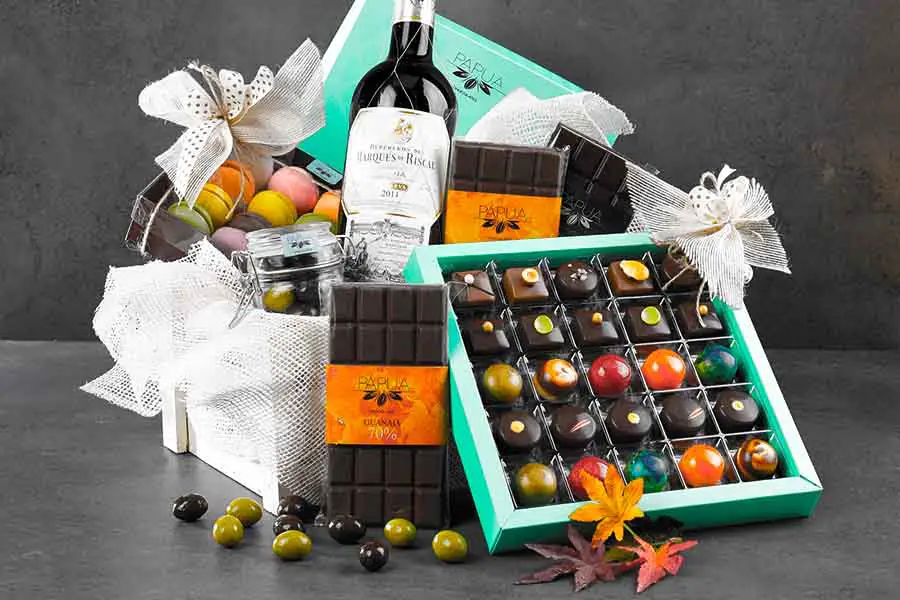 The things you can include and, in some cases, should include greatly depend on the following considerations with some examples of gift items to go with each:
1 – The Location You're Holding the Wedding
If the place is going to be mostly sunny and warm throughout the duration of the stay, something that can help them weather that would be useful.
Perhaps you can include a foldable umbrella in the welcome bag. Or specifically a UV protection umbrella. Now that would be thoughtful and would be much appreciated by the ladies.
Other weatherproof essentials that you can think of that can be of use would be helpful.
Another example would be if it's a beach wedding. Including a simple pair of flip-flops can literally work wonders. Now, thanks to you, your guests can spend their time at the beach. That is if they forget to bring their own in the first place.
Let's not forget to factor in the number of pairs for the number of guests each welcome bag is for.
2 – How Many Out-of-town Guests Are Attending the Wedding
This affects the quantity and quality of gifts and bags you can prepare. In other words, fewer guests mean more budget you can put into each welcome bag.
Should you have many out-of-town guests, your ability to spend on each bag could be less. In such a scenario, you'd want to nitpick which gift items to include in the welcome bag.
The general rule of thumb would be to include first the sort of gift item which would give the most impact. By that, it means the items that the guests would appreciate the most or one without which their stay would be less comfortable.
Being pragmatic does help.
3 – Where the Guests Are Coming From and Their Mode of Transport
For guests that drive to the wedding location, it generally means they have the space to bring more things when they return home.
It does not mean you start including more items in the bag or get bulkier items. It only means you'll have more liberty with the types of items you can include and that space isn't a concern.
One particular scenario you'd need to consider is if most of your guests are flying in as that would mean space is limited. If that's the case think small items, and think light. This will increase the likelihood your guests would bring the gifts with them.
Similarly, if they're flying in/out carrying any liquid product would present its own challenges. There's a limit volume-wise to how much liquid that can be hand-carried onboard. That plus the potential inconvenience of placing liquid products in check-in bags.
As such, it's best to avoid liquid products for the guests to take home and limit to those that they can reasonably be expected to finish consuming during their stay there.
4 – The Unique and Uncommon Things of That Locality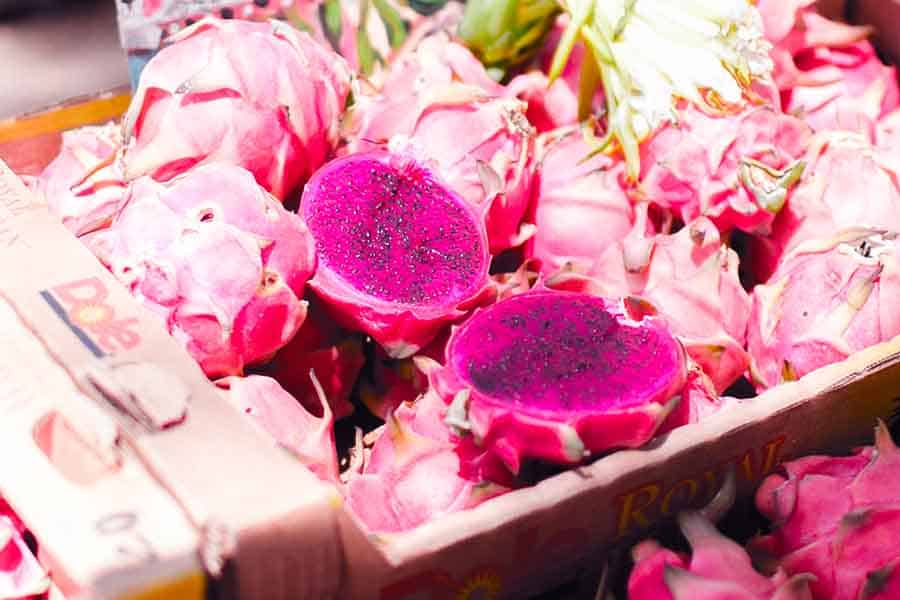 Here comes the beauty of a destination wedding. There are certainly quite a number of things you can get for the guests. Things that you can't find elsewhere but only in the area where the wedding is held.
Quite often you would find local delicacies which only the place is famous for.
Or, perhaps any local produce that's available only in that time of year, and which the guests can consume during their stay.
The possibilities are fascinating and endless. And the fun is for you to explore.
5 – Other Items You Can Include In The Wedding Welcome Bags
While the examples given above depend on a certain consideration, there are many other things you can get for the guests that can be both useful and thoughtful. Here's a quick list:
Any necessities for people traveling from out of town that can make their trip more comfortable. Think of items that someone would most appreciate only when forgotten to bring.
Information on nearby places of interest, must-see places, must-eat food. This should include the opening and closing times to assist the guests in planning their day activities. Otherwise, a printed information sheet to include website links for more information or online brochures can be just as helpful.
Logically a map that includes the recommended places to visit would help your guests navigate the area.
Or if you have a more generous budget, consider getting a designer to design an animated map instead. Such a map is always easier to read but then, it's not critical. It's nice to have but not necessary.
Sewing kit – to deal with any last-minute wardrobe disaster. The ladies would appreciate this!
If the rooms they're staying in have bathtubs, get them bubble bath products. They'll be pleasantly surprised!
Some items like a hangover kit or aspirin might come in handy.
Lastly, you can include a letter thanking them for making their way there for your big day. It is preferably hand-written which carries with it a personal touch. Especially if you decide not to have too many items in the welcome bag.
After you've finalized the list, you can consider putting all the little gifts in a basket or a canvas tote bag with a custom design printed on it, if you wish. Any sort of holder that can be re-used makes good sense.
Give One, or The Other, or Both?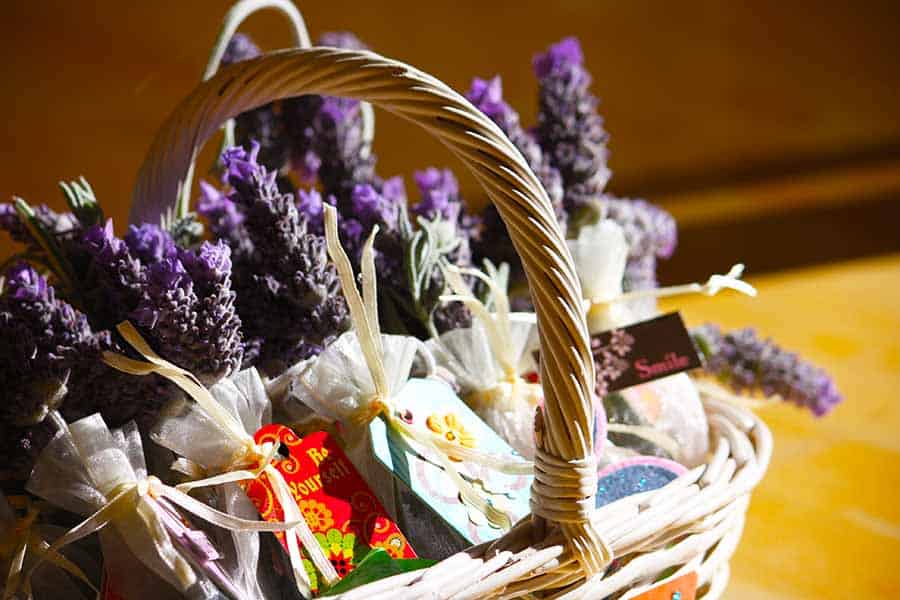 A wedding cannot be complete without friends and family. A gift of some sort would be a nice gesture to show how much the bride and groom appreciate their presence and their effort in making the trip to make the wedding a memorable event.
As good as having gifts and souvenirs for your wedding sound, the costs of not just the gifts but the entire wedding can add up pretty quickly. And it can put you under unnecessary stress which you can do without as you get closer to the wedding day.
When considering gifts and the different kinds of gifts you need to prepare, it's inevitable that you would come to the point that you have to decide what to give and what not. You definitely have a few things to consider before making a decision.
If Your Budget Allows
Should you have sufficient budget, and your wedding fits the relevant criteria discussed earlier, then go for both. As you'd know by now, each of these different types of gifts serves a different purpose.
With the decision to prepare both gifts, you'll find that the amount of effort required to put them together increases.
So plan well ahead of time whenever possible. And leave yourself enough time to get the details ironed out.
As in everything we do, being able to doesn't mean you have to. Do not put unnecessary pressure on yourself.
If you don't feel like giving a certain type of gift, then skip it.
If You Have a Small Budget
We often hear the saying "get your priorities right". Well, it aptly applies here.
Work on a list of cost items. Start from the top with what matters most in descending order to the one that matters the least. Work the list in terms of the value each item is going to bring to the wedding, and how you feel, and how the guests would feel receiving them.
Needless to say, for each cost item on the list it should already be on the basis of "only spend as much as necessary".
Then look at your overall wedding budget.
That way, the items at the bottom of the list would have to be struck out. You'd do the striking out starting from the very bottom working your way up one by one. Do this until you get to the point that your total expenditure would be within your overall wedding budget.
Hopefully, you don't have to strike off too many items on that list! We feel you…
As part of ensuring you only spend as much as necessary, always ask yourself "have I gone over-the-top?" with the gifts you're planning to get.
This is a self-check-and-balance that, unfortunately, is necessary as we all tend to get carried away easily when planning the "pretty stuff".
When planning wedding favors on a budget, estimate your ideal time in placing an order for the favors so you avoid any potential delay that could increase costs for you!
Bear in mind also that spending less on wedding favors doesn't mean the favors cannot look presentable.
Another school of thought is to consider including the wedding favor inside the welcome bag. As such, you can forego giving wedding favors separately.
The guests who are dearer to you are the ones who would bother to make the long journey to attend your wedding. So they get a little more from you, figuratively and literally, compared to the general guests.
Check out the video below for an example of a simple DIY welcome gift bag to greet your out-of-town guests at the hotel!
If you're dealing with another scenario where you do not have many out-of-town guests, then the decision becomes a little easier. Just focus on one – wedding favors.
Although you'd then be skipping the welcome gift bags, do remember to ensure your guests have the necessary information for getting around and details relating to your wedding.