9 Unique Drink Wedding Favor Ideas That Leave a Lasting Memory for Your Guests
Weddings are whimsical events with so many things going on at once. You've planned this whole day to be absolutely perfect!
From the gown to the theme and everything in between, your list may be checked off. However, that list usually includes wedding favors for your guests.
While this may be tricky to address, there are tons of great wedding favor ideas you can consider.
Wedding favors, in general, are the perfect way to show appreciation towards those who came to celebrate your special day with you. They can range from wedding souvenirs, personalized wedding favors, or even be considered a door gift for your guests.
So where to start?!
Firstly, Why Choose Drink Wedding Favors Over Others?
The first place to start when choosing a wedding favor is to keep it simple. The wedding itself is always the bulk of planning and being able to put together wedding favors that may not take too much time is crucial. It will keep you sane and you can have fun with it outside of the normal stresses associated with wedding planning.
As much as you'd like to keep things simple, you'd also want them to be unique for your special day!
One of the best ways to achieve both is to make a drink-based favor. Everyone loves a good drink (alcoholic and non-alcoholic!) so this is a great place to begin.
Guests do not always have a need for things with your names and wedding date on it. Sure, family members attending might like that but your friends, not so much!
Guests will probably appreciate having something they can use or consume immediately, and not something that's just pretty to look at. With that in mind, drink wedding favors are an excellent choice and a very practical approach that ensures your efforts will not go to waste!
When giving out gifts to your guests and loved ones, perhaps a personalized wedding favor is right up your alley. Wedding favors can be personalized no matter what kind of gift they may be.
We will explore 9 drink wedding favor ideas that will have you excited to be presenting any one of them to your guests. These are the absolute best wedding favor ideas!
1 – Java, Please! Coffee Wedding Favors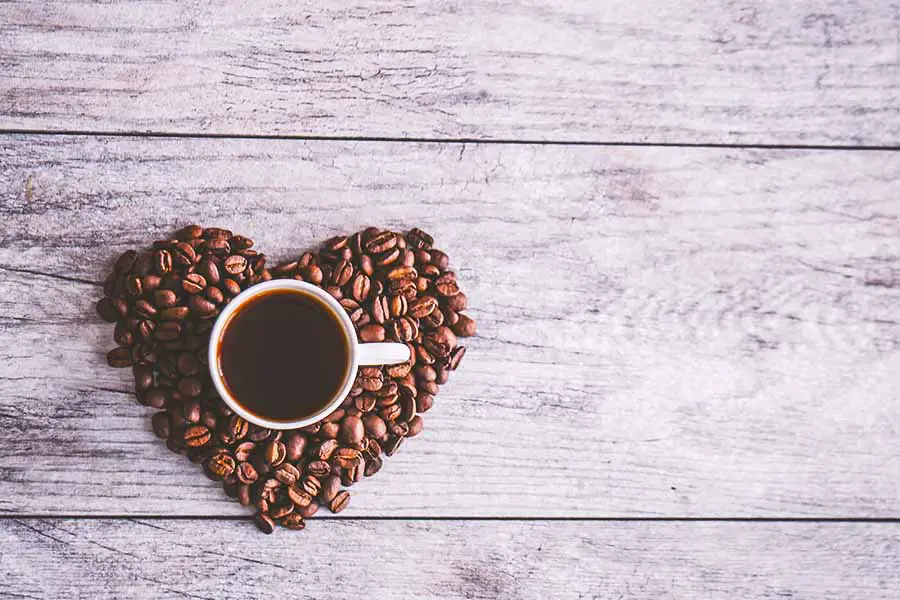 Fun fact: Over 2 Billion cups of coffee are estimated to be consumed every day worldwide. With stats like that, you really cannot go wrong with choosing coffee as a wedding favor. Stick to tried and true brands, or maybe dive into a unique flavor.
Either way, you'll be giving your guests the greatest gift ever: caffeine!
Printed sample bags can be purchased with quirky sayings like "The Perfect Blend", and "Love is Brewing". Your guests will appreciate the humor behind the coffee favors!
This is a quick wedding favor to put together as scooping the coffee into the bags is not that time-consuming.
Once again, consider flavored coffees, well-known brands, or even have half of the favors in a decaf blend. The choice of coffee wedding favor will give your guests something to cap their night off with or something to wake up to in the morning.
That first or last sip of the day will bring them back to the memories they created at your wedding event!
2 – Tea Wedding Favors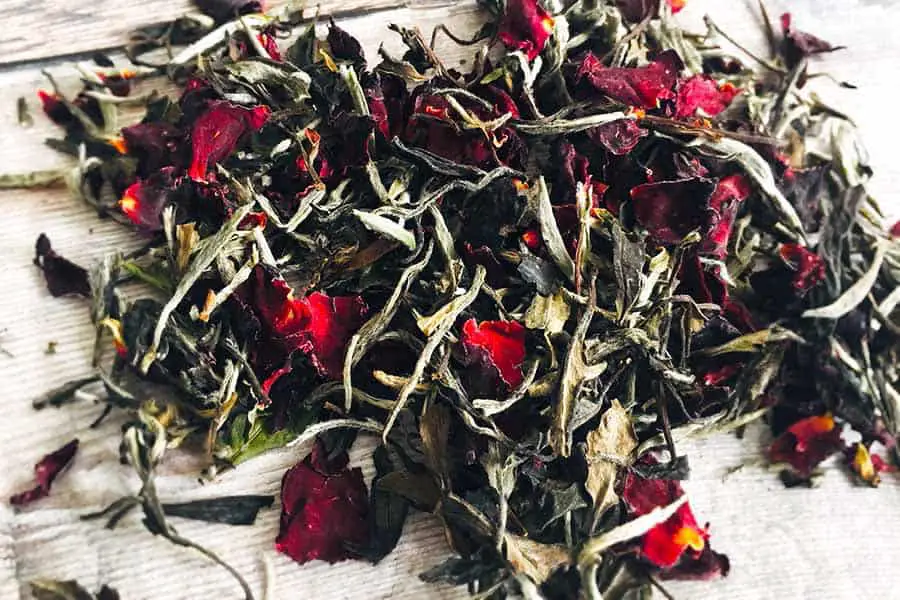 Tea is right up there with coffee in terms of beverage consumption worldwide, if not more!
Tea serves many purposes in life. It can be drunk as a morning beverage, an afternoon conversational piece, or a comforting night time drink. No matter the time of day, this is a choice perfect for an entire guest list. Guests with a non-alcohol preference will be able to have something special to take away from your wedding.
The versatility of tea gifts and the wide range of tea-themed wedding favors are truly exciting!
You can choose from ready-manufactured tea bags packed into small wedding gift bags or containers with sayings or the married couple's namesake printed on a custom label. Or equally interesting, loose-leaf tea can be placed in test tubes or mini jars that can be showpieces at the wedding tables.
While loose leaf tea wedding favors require a bit more preparation than ready-manufactured tea bags, both look absolutely gorgeous with all the various colors.
The inherent color, size and texture characteristics of the ingredients in tea blends give tea wedding favors uniquely high levels of customizability to suit your wedding theme!
Another great thing about choosing tea is how they can be packaged up as part of the presentation.
Although test tube tea wedding favors have been popular for quite some time, there are other types of creative 'containers' you can choose to place the teas in, and getting them ready for distribution to your guests will be fun!
You could get ribbons to add a bit of excitement and color accent to the tubes or mini jars. To complete the presentation, you could get personalized wedding favor tags and tie them to the favors using twine or other string types, whichever matches better.
Either favor tags or custom favor labels that you can personalize would work just as well.
If you're using opaque containers to house the tea, personalized favor labels can pump up the plainness of the container and make the favors uniquely yours!
Amid the excitement with the amount of personalization you could do with tea wedding favors, do ensure you've allowed sufficient favor quantity but without over-providing.
One great thing about tea wedding favors is that they can be put in a cute wicker basket at the entrance to your venue so they are easily accessible as soon as your guests arrive.
Watch the video below for some ideas on the endless possibilities presented by the infinite varieties of tea (Although the video is for another celebration, teas are great for many occasions including weddings).
3 – Lemonade Mix Wedding Favor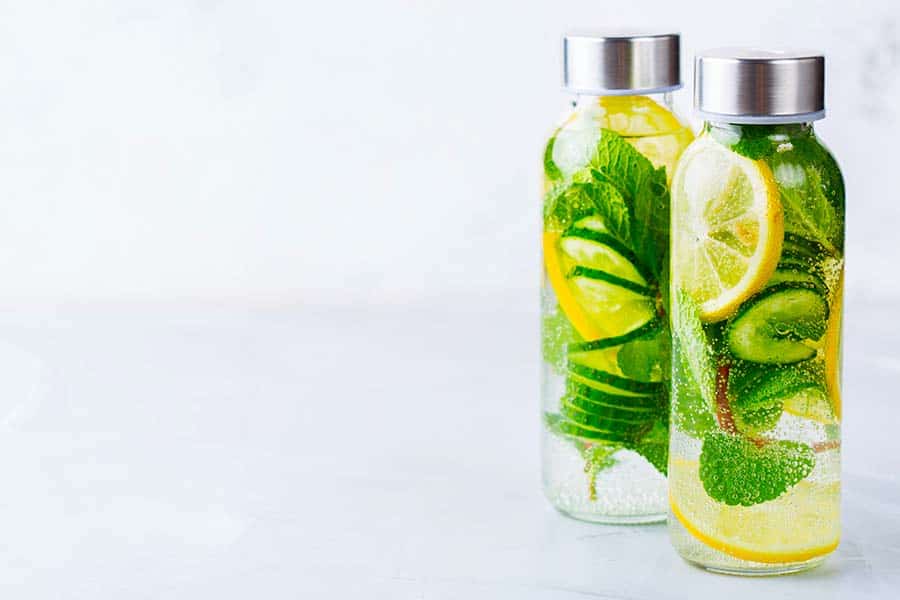 With the wide world of drinkable favors out there, a lemonade mix may not be something you immediately consider. Don't leave it out of the realm of possibility though.
If your wedding is held in the warmer months, a lemonade mix can be a great choice! You either purchased them ready-made or DIY if you've some time on hand.
Consider this option as well if your guests have children or there will be children at the event which is a highly likely scenario. Lemonade is either loved or hated, but it's a risk worth taking for having a unique wedding favor option.
Mix the lemonade with another fruit from your secret recipe to make it your creative wedding favor! Such refreshing drinks are simply perfect for a beach wedding, or another destination wedding of your choice.
In case you're having your wedding at one of those unique locations away from home, check out this article to get some ideas on what to put in wedding welcome bags to welcome your out-of-town guests!
Flavored fruit drink mixes are good ideas for wedding favors because they are simple for you to put together. Time-saving is crucial and your drink wedding favors will not only be popular but fun wedding favors!
Wedding souvenirs do not have to be keepsake items. They can translate into something more usable and tangible for your guests.
To learn how to make the base lemonade and other lemonade mixes yourself, check out the video below:
4 – Sparkling Juice Wedding Favors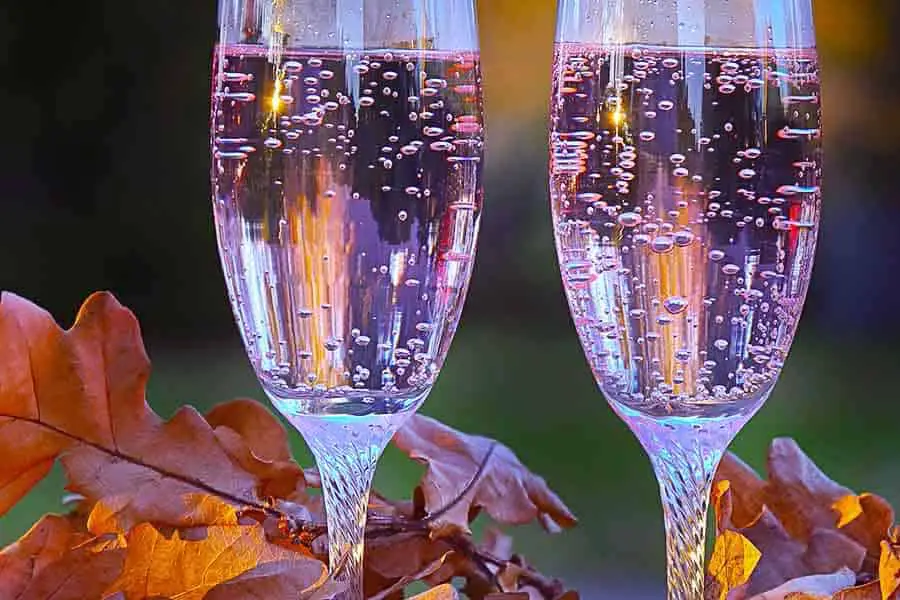 Champagne is wonderful! However, due to the cost, preparing hundreds of these as favors may not be practical. This doesn't mean you have to rule out giving your guests bubbly drink favors.
Sparkling juice as a wedding favor can help your guests feel included in special toasting moments. Once again, this is a great option if there are children at the event. They too, send cheers to the bride and groom!
Cheap champagne glasses can be purchased as well so they can pour their sparkling juices into the glasses. However, sparkling juice bottles are usually favor-sized standing only several inches tall, so the guests may choose to drink straight from the bottle.
The bottles are special because they can have all the fancy foil wrappers the champagne does, just without the alcohol!
This wedding favor is plausible due to its diversity. The flavors can vary from apple and pear to grape giving you the option to keep it all one flavor or mix it up a bit.
It may be a good idea to have a few flavors on hand so your guests can choose a flavor they would enjoy. In the end, they will appreciate getting to feel like a part of the wedding event and not just observers in the background!
5 – Hot Chocolate Mix Wedding Favors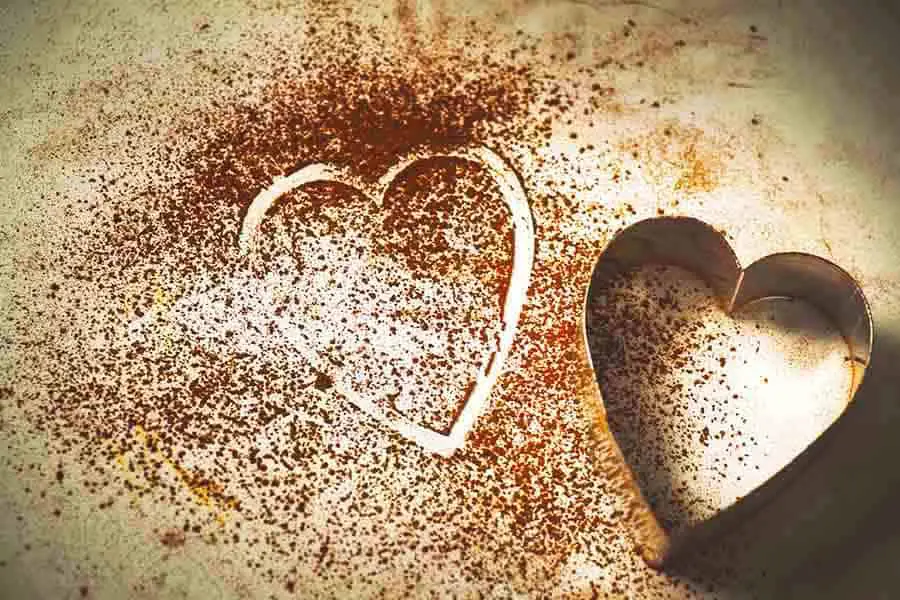 This is a perfect option if your wedding is in the cooler months or is held in cooler regions. But even if it's not, hot chocolate is still a great favor to consider.
You can add mini marshmallows to the packages to spice up the look. Generally, these are packaged in cone-shaped bags for a streamlined appearance, or in see-through test tubes, or mason jars.
They are then tied at the top with ribbon or something else of your choice, such as wedding favor tags that you personalize to your wedding theme.
There are so many hot chocolate mix flavors out there now you can really customize this favor. Furthermore, there is more than one packaging you can find the chocolate mix in – hot chocolate test tube wedding favors, hot chocolate on a stick or even in a cone!
They can be purchased with hot chocolate already included, or you could just buy the bags or containers to stuff yourself!
6 – Flavored Beverage Wedding Favors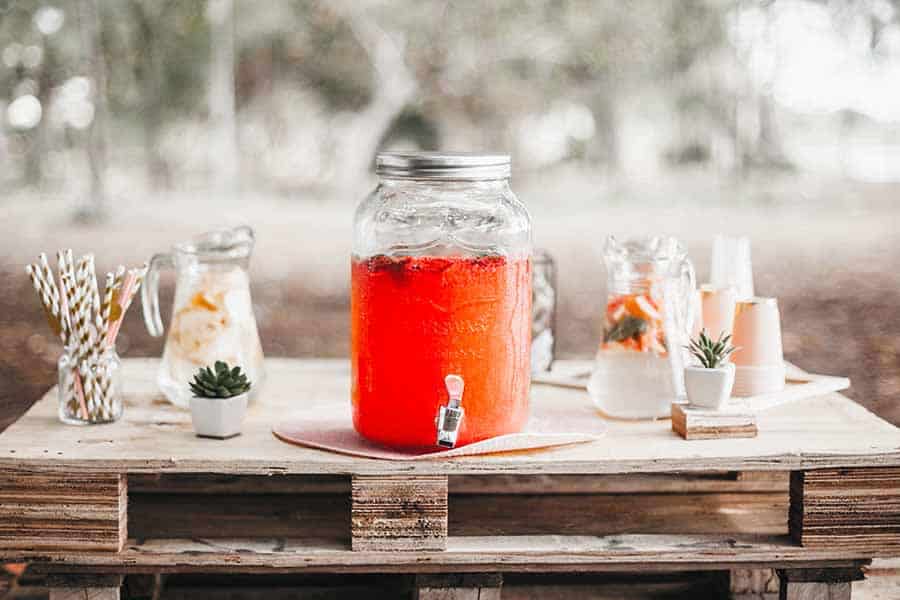 No matter the season that your wedding is occurring in, flavored beverage wedding favors may be a good choice for your guests. They are favors that consist of ingredients for a specialized drink.
Most commonly, this is something like hot chocolate and branches out into other flavors like strawberry, lime, and other fruity flavors. This variation of favor serves as a great choice for non-alcoholic drinkers and even those accompanied by their children.
They can be personalized wedding favors with decorative favor tags with the married couple's names, date, and sayings.
You can have them in small test tube containers, as to be portable throughout their journey during the wedding. They are a wonderful idea for giving your guests a bit of a delicious beverage.
This also keeps the favors light, user-friendly, and tasty! Not to mention they are easy to put together for distribution on the day of the wedding.
7 – Honey Wedding Favors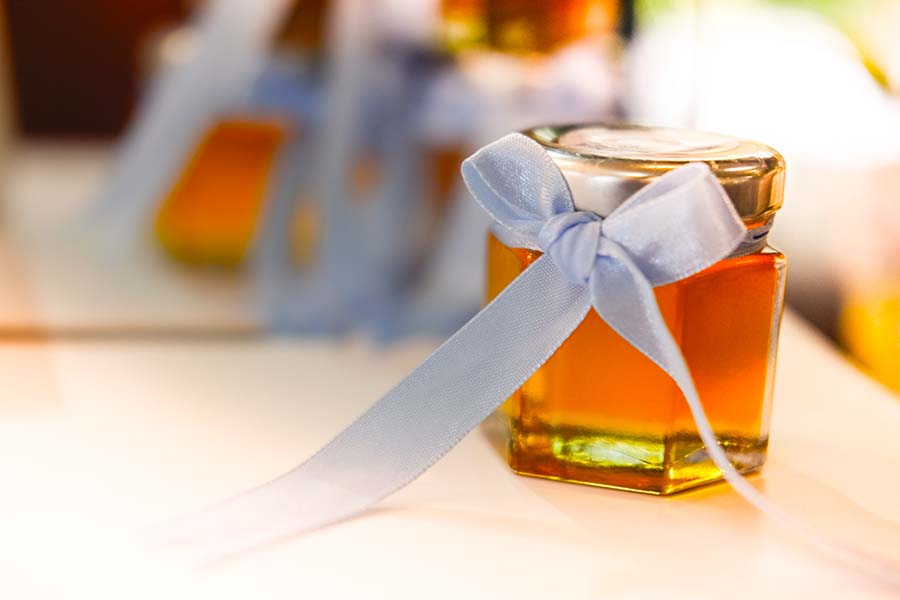 Nothing makes a wedding event sweeter than a jar of honey for the guests in attendance, literally!
As you'd be giving out only small quantities per guest, you would want to only get authentic pure honey. So sample a few first, if possible, before buying.
The video below, though simple, shows some really effective ways on how to differentiate real from fake honey:
These miniature wedding favors can be purchased ready packed, with some vendors going as far as providing personalization on the labels for you. But you'd need to do a bit of research to find one that suits your requirements and budget.
Either that, or you could do it DIY. Simply buy the honey in large quantity and fill it into smaller jars with labels which you can personalize to your own taste. Be careful not to spill the sticky stuff onto the outside of the jars – use a cone-shaped funnel instead of pouring straight from the large bottle.
Regardless if you're ordering them ready packed or putting in some DIY time yourself, make sure you figure out the ideal timing in getting your favors in time for the wedding. There's nothing worse than having the perfect wedding favor ideas but not enough time to execute them.
8 – Old Fashioned Soft Drink Wedding Favors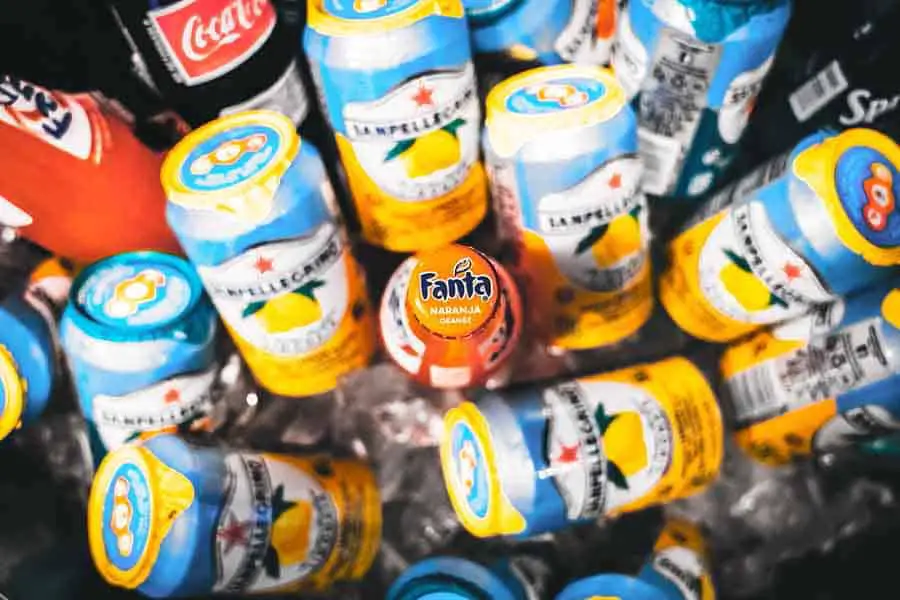 The best wedding favor ideas do not have to be overly complicated. Once again, you are looking to find something to please your guests and that can be mass-produced in a quick manner, relatively speaking.
Soda, soft or carbonated drink – whatever you call it – is a simple drink wedding favor choice. Soft drinks as wedding favors?! An odd choice to include here seeing that one would not usually think of something so 'ordinary'.
Well, the trick here is to diversify with the choice of flavors and colors, and topping off the presentation with personalized labels.
From plastic bottles to glass bottles, and regular flavors to more unique ones, anything is truly possible. Consider making the soda bottles a personalized wedding favor by adding specially printed labels to the bottles. The artwork on the labels can be anything that adds visual interest to the favors!
Although soft drinks may not be on top of your mind, they're definitely one of the cheap wedding favor ideas you could explore.
If you're searching for some affordable wedding favor ideas, head to the article.
9 – Alcoholic Drink Token Wedding Favor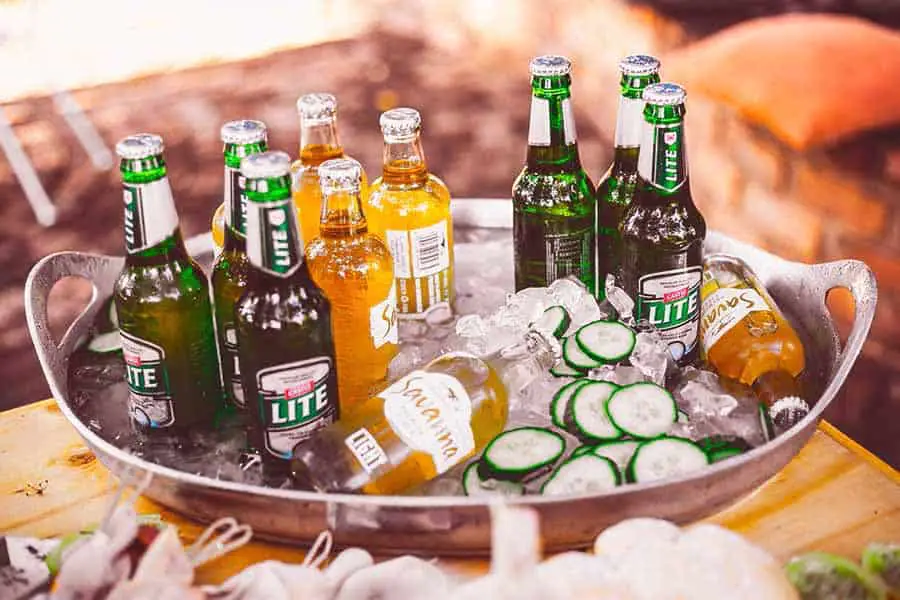 Depending on the type of wedding party or wedding reception that you're holding, and where you're holding it at, this favor option may not be as practicable.
While many associate wedding party favors as something physical to have as a keepsake, this favor is practical for weddings with an attached bar that's accessible from the wedding venue. And obviously, this only works for an adults-only wedding party!
Your guests already know they will have to purchase their own alcoholic beverages which might be a bit straining on their wallet. Nothing then is more perfect for your guests than a free drink of their choice.
This will entice them to check out the bar and what drinks are being made, etc. While it may not be a keepsake, it will be the unique memory of your wedding for them!
What makes these little gems even more attractive is that they can be personalized.
You simply submit your bride and groom names and the date for the event to your printer vendor to have them printed on card stock.
When submitting the names for printing purposes, do ensure you put some thoughts into whose name goes first so you don't end up with a bunch of printed cards or favor tags that you're unhappy with.
This gives the personalized wedding drink tickets a more personable feel instead of feeling like they are 'just a ticket'. It's the perfect door gift for when your guests arrive.
Choose One & Build On The Idea
These are just some of the best ideas out there!
Well, either one of these drinks, or other edible wedding favor ideas that we've put together so you can hopefully get some inspirations from. Food items can work just as well as practical wedding favors.
They can be a starting point for you to really build on when it comes to choosing the best wedding favors for your special day.
One of the most fun aspects of wedding favors is that they can really be a lot of fun to put together or package up. Your special day is all about marrying the person you love, but you can take pride in knowing that you are celebrating that day with your loved ones as well in the most memorable way.
They will have a little piece of memory to bring home from the wedding. Confidently choose something that will cater to most of your guests and the rest is just up to you to have fun!