15 Edible Wedding Favor Ideas to Excite Your Guests
Weddings are such beautiful events – the lovely flowers, the beautiful dresses, the ceremony and best of all, seeing two people so in love! One of the surest ways to keep these precious memories of a lovely wedding is by preparing favors for the guests to take home with them.
There are many types of favor that wedding couples give out. Out of the many ideas that you'd probably come across, edible favors are some of the more popular wedding favors these days.
Who doesn't love a delicious treat?! This type of favor is irresistible and a surefire way to get the guests' attention, especially when the guests have just arrived!
Here are 15 of the best edible wedding favor ideas organized into 5 different categories to help you decide.
Colorful Wedding Favor Ideas to Match Your Wedding Theme
When we speak of something as visual as weddings, it's tough not to speak of colors in the same breath. Regardless of the wedding theme you're going for, the subject of color selection is ever-present.
That is why we've selected these favors to guide you along in the favor selection process.
1 – Macarons Wedding Door Gift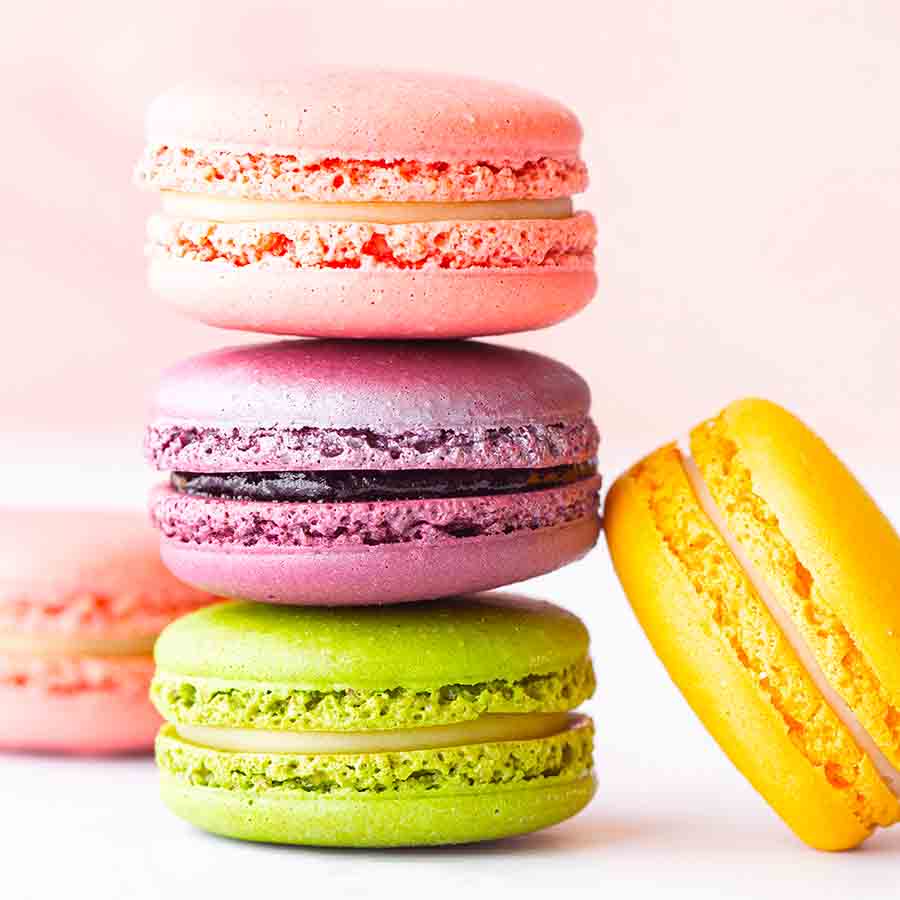 These cute, French cookies can be made in endless colors. It is because of this attribute that you can choose to have them in any color(s) to match your wedding theme.
Apart from the different colors, these confections are available in a variety of flavors as well. So mixing and matching them give you the endless possibilities to play with.
You can fit them in small favor boxes and have them tied up with a pretty colored ribbon to match.
One downside though – these cookies are slightly fragile so they cannot stand up to rowdy dancing. But guests can easily carry these with them when they leave the wedding and enjoy them later. That's if the guests haven't already eaten them!
Who doesn't love these sweet, delicately flavored desserts?!
2 – Artisan Tea Wedding Favors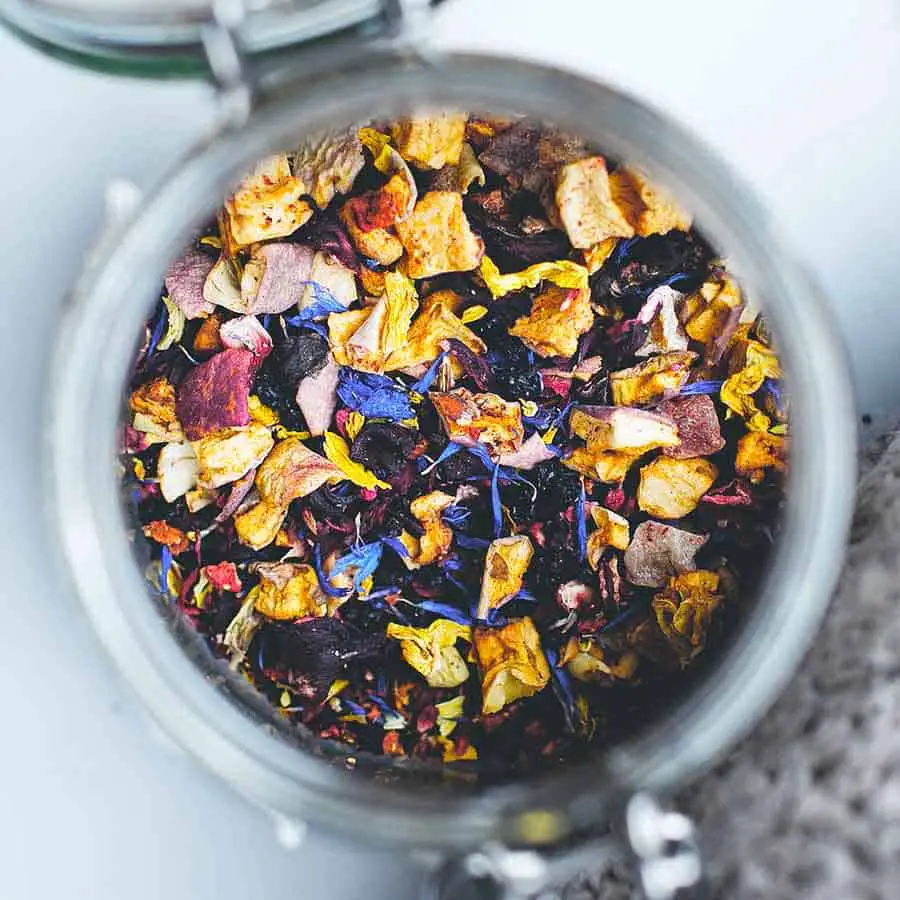 Tea is yet another selection from the food and drink category – a drink favor that has become increasingly popular for couples to give as wedding favors. It's not hard to imagine why!
After water, tea is the second most widely consumed beverage throughout the world. That's right! Not Coca-cola, and not even coffee can beat tea to that spot. So you can be sure that it's highly unlikely a tea wedding favor would be left behind after the wedding.
But you do not have to worry about restricting yourself to the monotonous color of one tea type!
Opting for tea blends gives you countless opportunities to match your unique wedding color palette.
Tea gifts for wedding guests can be made from a variety of ingredients aside from the actual tea leaves. The combination of ingredients means that there are more than a few colors that you can have as part of the overall color palette for the favor presentation.
Not only that, but the presence of multiple ingredients within the tea blend adds textures to its already interesting visual profile.
The versatility of tea gifts makes it a true all-season gift!
If indeed drink favors are what you're looking to get, this article on drink favors for weddings should provide you with some of the most creative wedding favor ideas to help you decide. Getting a favor to stand out from the rest can definitely help your wedding be memorable for the guests.
Browse collections of unique teas such as this for colorful and interesting ideas for your favors.
Sweet & Fruity Favors
You can't really go wrong with edible wedding favors that are sweet. Almost everybody loves sweet stuff. And here we're talking about food that contains natural sweetness.
Even if the guests do not eat them during the wedding, it's a pretty safe bet that they would take the favors home with them.
3 – Fresh Berries Wedding Favors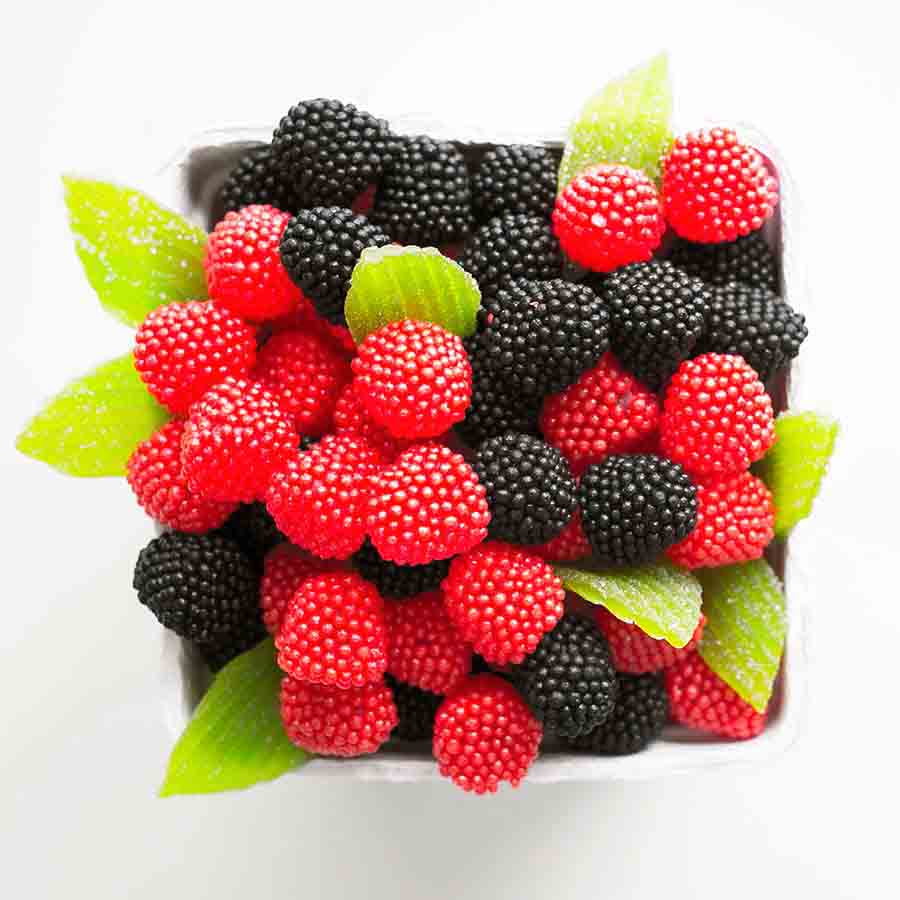 Regardless of whether they are grown locally (particularly in the case of a destination wedding) or imported, berries make pretty unique wedding favors. Granted they cannot be prepared too far in advance due to its perishable nature.
There are so many berries that you can choose from – strawberries, blueberries, blackberries, raspberries, blackcurrants, etc. They come in all sorts of sizes (although usually considered small) and especially colors which make them highly customizable to your wedding theme.
After mixing two or more types of berries, place them in a breathable container. You can then tie a color ribbon of your choice for accent. Such a presentation is simple yet very effective.
It is a guarantee that none will be left behind, even before the wedding comes to an end!
Speaking of a destination wedding, this article on the gifting of wedding favors and wedding welcome gifts explains why destination weddings are a perfect opportunity for you to get something special for your guests. Berries and other unique local produce are definitely a great way for your wedding to stand out!
4 – Miniature Fruit Jam Wedding Favors (or Jellies)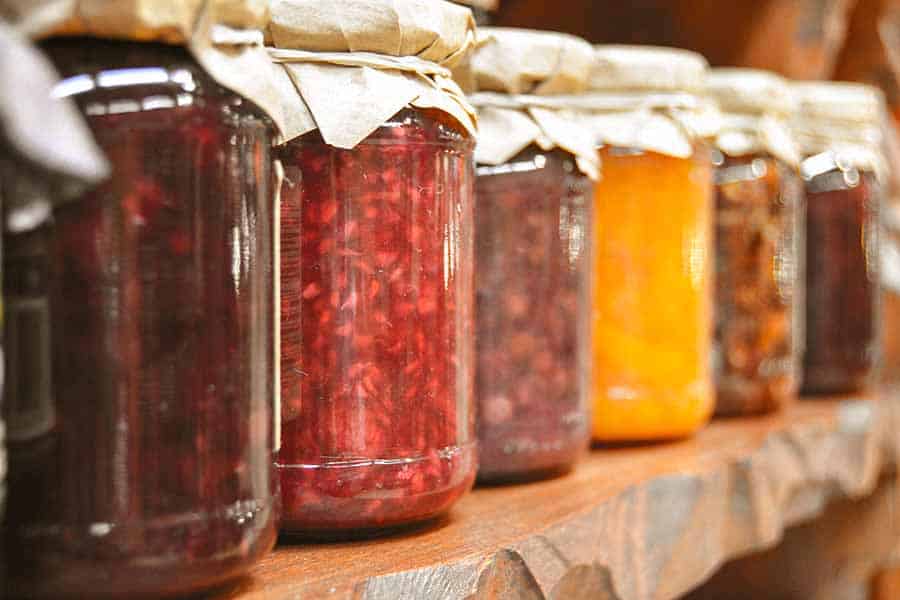 In a way similar to berries, miniature fruit jams are sure to be a hit with the guests. The memory of the wedding would probably last a few days longer with these favors, depending on how long a shelf life they have.
You can pack up a tiny jar of strawberry jam or blueberry fruit preserves with some cheesecloth and ribbon for that homely family feel. Or you could design a sticker label for the jar and customize it to your taste and theme.
Whether you're making the jams D.I.Y or buying them from a vendor, it'll be wise to try out some yourself first. Avoid extreme taste profiles like being too sweet or sour so they are more easily acceptable by the majority of the guests.
Also keep in mind that these days, people generally associate quality fruit jams with one that uses natural ingredients with high-quality fruit content. At the same, they should be free from artificial flavors or colors.
As with any perishable favors that you'd reasonably expect the guests to not consume at the wedding, you'd want to ensure that the favor packaging has an expiry date on them.
One would expect jams to last a few months, so telling the guests how long they can expect to keep the jams would be really useful. Even if it's very short.
If your hometown wedding is in an area known for any particular fresh fruit or berry produce, then miniature jams of such sweet delicacy can make your wedding very memorable for the right reasons.
For homemade strawberries jam, check out the how-to video below (Yes, it works just the same with all the other berries!).
5 – Personalized Honey Jars Wedding Favors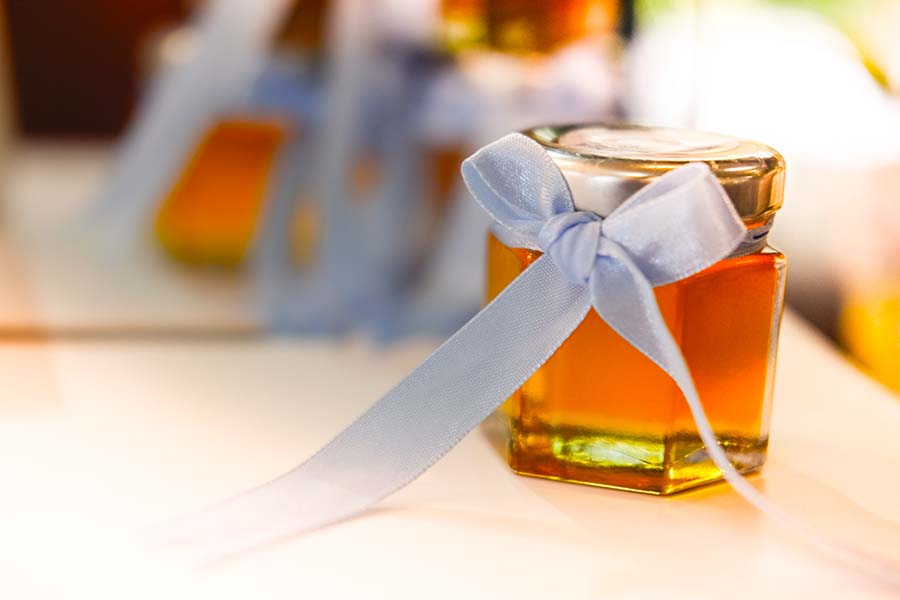 Honey jars paired with a cutely-personalized label boasting the couple's name and some design motifs make a wonderful, slightly whimsical wedding favor. It gives your guests quite a bit to buzz about!
You could even make these adorable mini honey jars by buying large bottles of honey so you can save a little. Fill them into smaller jars yourself. You can easily buy these smaller jars online or from your local stores.
To complete the favor presentation, finish the jars off with golden ribbons and a personalized label or wedding favor tag. Certainly check out this article to help you decide whose name goes first on wedding favors. There are more creative ways to do it than you might think!
This is the type of wedding souvenir that could be either DIY or ordered to make the overall process simpler!
Just make sure the sticky, sweet stuff doesn't get on the outside of the jars. Keep in mind also that glass jars probably aren't the best idea due to potential breakage. But if you have proper padded protection in place to keep the filled jars secure, you should be fine.
Take care of the above and you're all set for a sweet guest favor that's sure to share your love beyond the wedding date!
Before purchasing in large quantities, ensure that you're only getting authentic honey. Watch the video below to learn how to differentiate pure from fake honey.
Chocolate-based Favors
Who doesn't love chocolates?!
It's such a people's favorite that there's even a special day for it – International Chocolate Day, celebrated every September 13!
Whether you're preparing souvenirs for your wedding party, or door gifts for events, you simply cannot go wrong with anything chocolate.
6 – Personalized Chocolate Bars Wedding Favors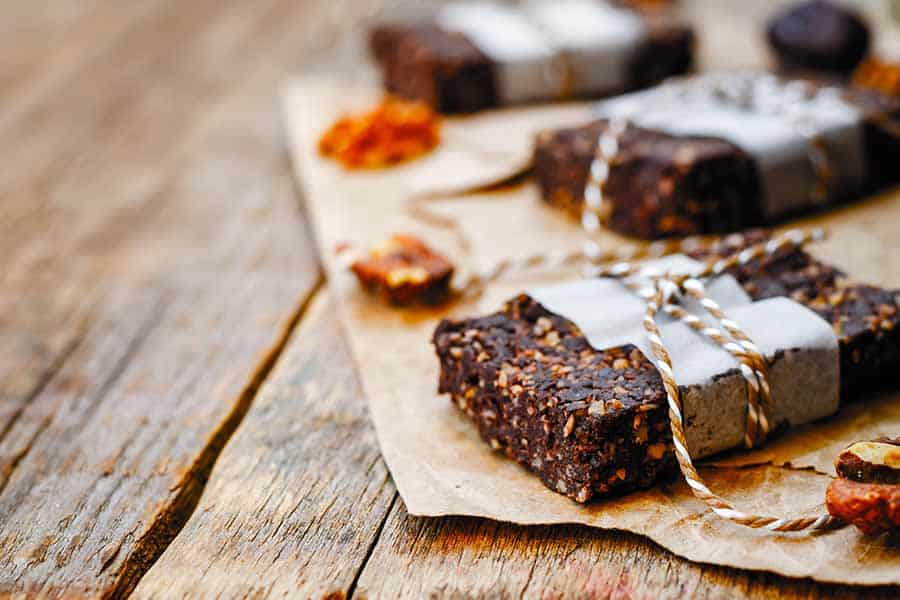 These are so simple to put together, but such a cute touch at a wedding and thoughtful gift for your attendees! It's fairly cost-effective as milk and dark chocolate bars can be bought in large quantities for a low price.
Some online gift shops offer these with some lovely personalized wrappers which you can customize to your desired print and look.
These are great to lay all over the tables and can also be good in baskets by the door. Leave a sweet delight with your memories and treat your guests to some chocolate indulgence.
You'd need to take care not to put them near heat or candles to prevent messes from melting chocolate goodness!
7 – Chocolate Hearts Wedding Favors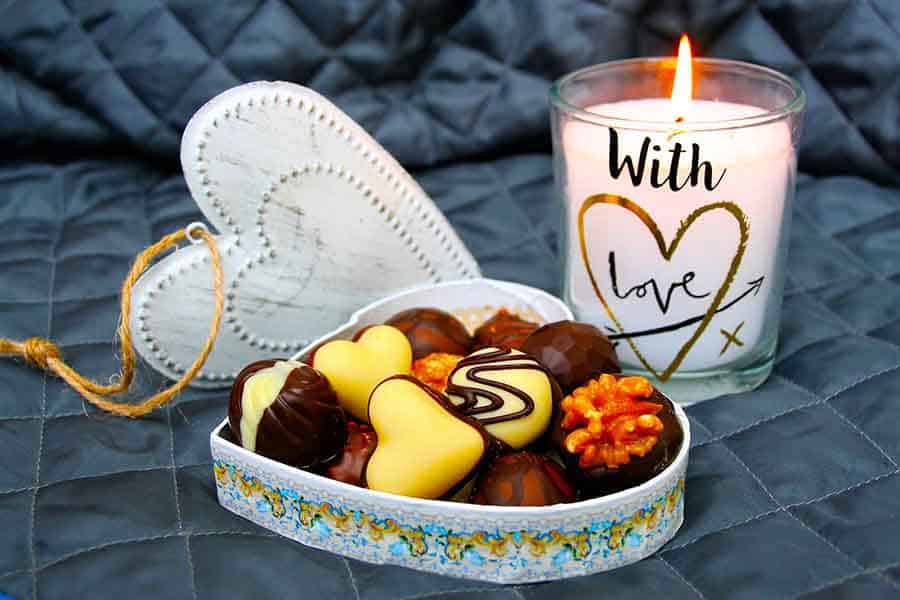 If you're looking for something really simple to give to the guests, these heart-shaped chocolates are worth considering. They're small and simple in appearance, and easy on your wallet!
You can find them in various colors of shiny wrapping paper. Meanwhile, the chocolate itself comes with different sorts of filling for the added flavor, so there's no shortage of varieties to choose from.
Of course, giving these small treats as favors without any sort of personalization would be taking the "simple" approach a little too much to the extreme.
In the market, there are vendors that provide simple personalization where you can have the wedding couple's initials printed on the wrapping. This is probably the bare minimum personalization you should go with.
Another way of personalization that other vendors do provide is in how the chocolate hearts are individually wrapped to a pretty favor tag card, tied with a twine bow and completed with personalized writings on the tag card.
The printing on the tag card can be personalized with your names, wedding date, or even a lovely quote if you wish.
If you'd prefer a more DIY approach, you can buy these chocolate hearts in bulk for better pricing, and buy them in different flavors for variety.
Put one heart of each flavor into a small wedding favor bag (an organza bag if you'd like), tie it with a ribbon of your theme color, and have a personalized tag to complete the presentation!
8 – Hot Chocolate Wedding Souvenir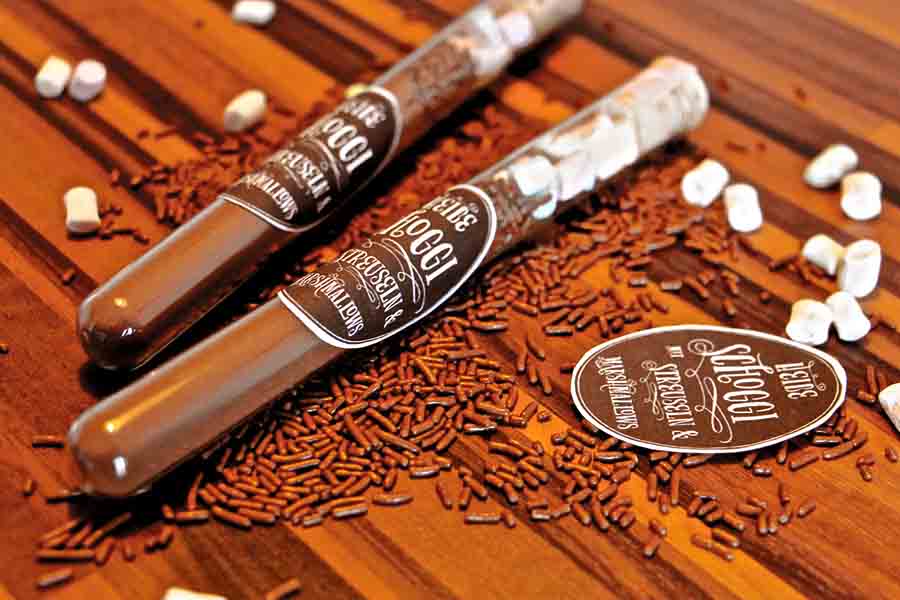 The idea of purely having chocolate powder as the favor isn't very pleasing color-wise.
This is where putting hot chocolate powder in a miniature jar or even a test tube with other colorful edible items such as mini marshmallows, chocolate chips, bits of colored crackers, or even multi-color and multi-texture cereal.
It's worth keeping in mind that a tall container is better looking than a stumpy one. The height/length of the container is what allows the multi-color and multi-texture characters of the favor to be on full display.
You can complete the outlook by tying a personalized favor tag (a simple Thank You would do just fine) to the containers using twine or colored ribbon to match.
Seeing as how universally popular chocolates are, they are definitely simple and cheap wedding favors that won't be thrown away.
If you're interested to find out other affordable wedding favors that won't hurt your wallet, click on this linked article to learn more! You'd also be able to get non-edible wedding favor ideas there.
Pastry-based Favors
9 – Cake / Cupcake Wedding Favors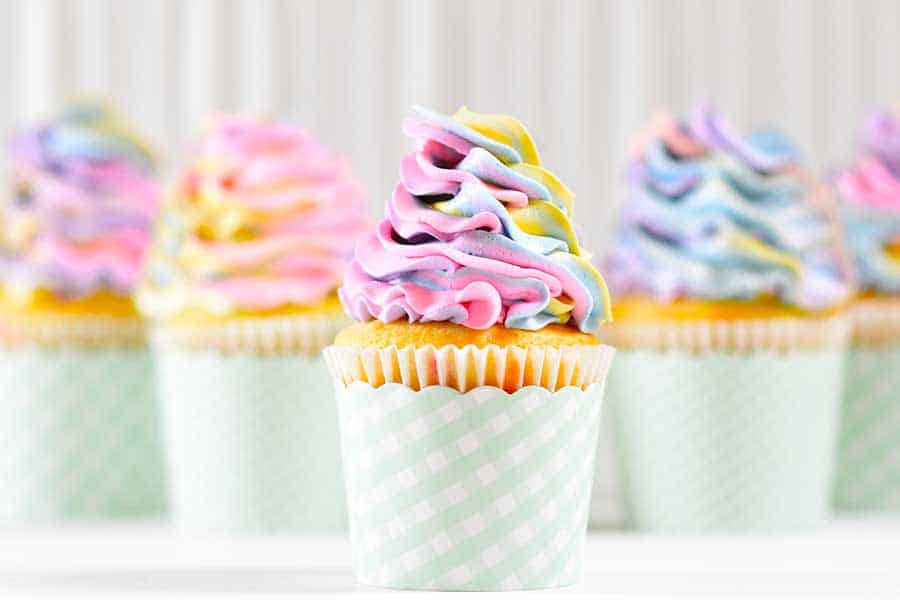 Having little cuts of cakes as wedding favors has been in practice for a long time and doesn't look like it's going away anytime soon. It is because cakes are popular among wedding guests and it's a sweet treat that can be consumed in a heartbeat.
Whether you choose to DIY, if baking is your thing, or have the local bakery do them, you can put the cake in small favor boxes. There are plenty of favor box designs in the market for you to choose from.
Tying up the boxes with ribbon is probably the simplest way to complete the favors and look presentable.
As you can have cakes in any flavor, your imagination is the limit. Giving this type of edible favor that's so well-loved usually also means you have to deal with less wastage.
Alternatively, you can have them in the form of cupcakes. These affordable wedding favors are good for the guests to consume at the wedding.
Estimating the number of wedding favors you need to prepare is one we've written on more in-depth in the linked article. It is an exercise in minimizing wastage and avoiding overspending, depending on the sort of favor you're going for, so your overall wedding budget is kept under control.
10 – Cake Pop Wedding Favors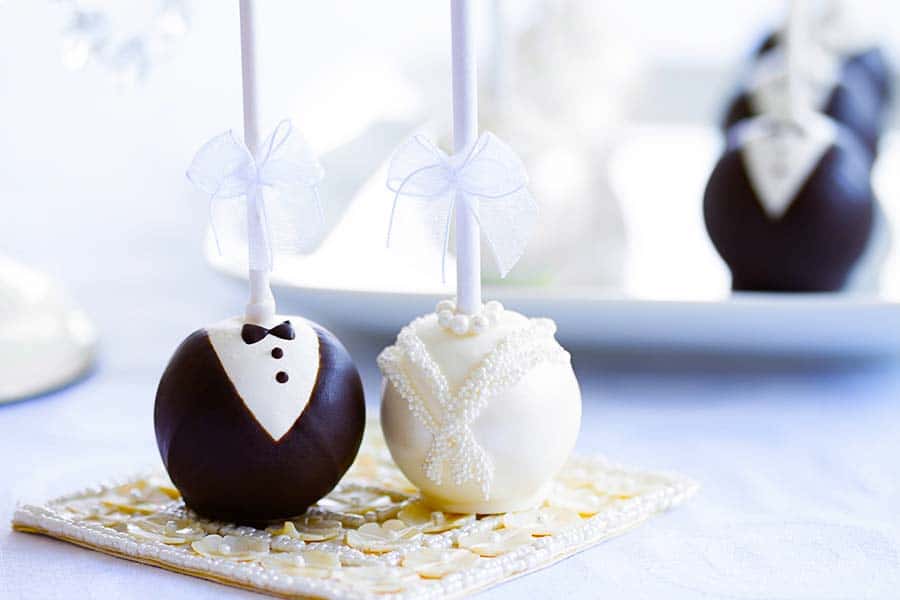 A cake pop is essentially a cake styled and wrapped like a lollipop. You can send this sweet adorable wedding favor home with your guests to give them just a little more of the wedding cake flavor!
Find them in chocolate, vanilla, red velvet, marble, and more cake flavors for your wedding. You may have the base of your cake pops the same as the wedding cake, if you're having one (Otherwise, you could have these cake pops as wedding favors instead of getting a large wedding cake).
An added bonus is that the frosting or glaze that the cake is dipped in can be dyed any number of colors and flavors to fit perfectly with your wedding theme.
To make these favors even easier, the vendor who you hire to bake your wedding cake can probably do your cake pops too, so it doesn't have to be over complicated!
Finish off with delicious chocolate drizzle or some fun sprinkles, wrap in some shiny cellophane paper and tie with a colored ribbon and favor tag to show your guests a cute wedding souvenir that is sure to please the whole crowd!
As there are options to make cakes or their cake pop alternatives as favors, you could opt to do both and decide which segments of the guests get what favor. As your entire wedding guests are made up of family, friends, and friends of family members, you can choose to prepare different favors or wedding souvenirs for them!
11 – Pie Wedding Favors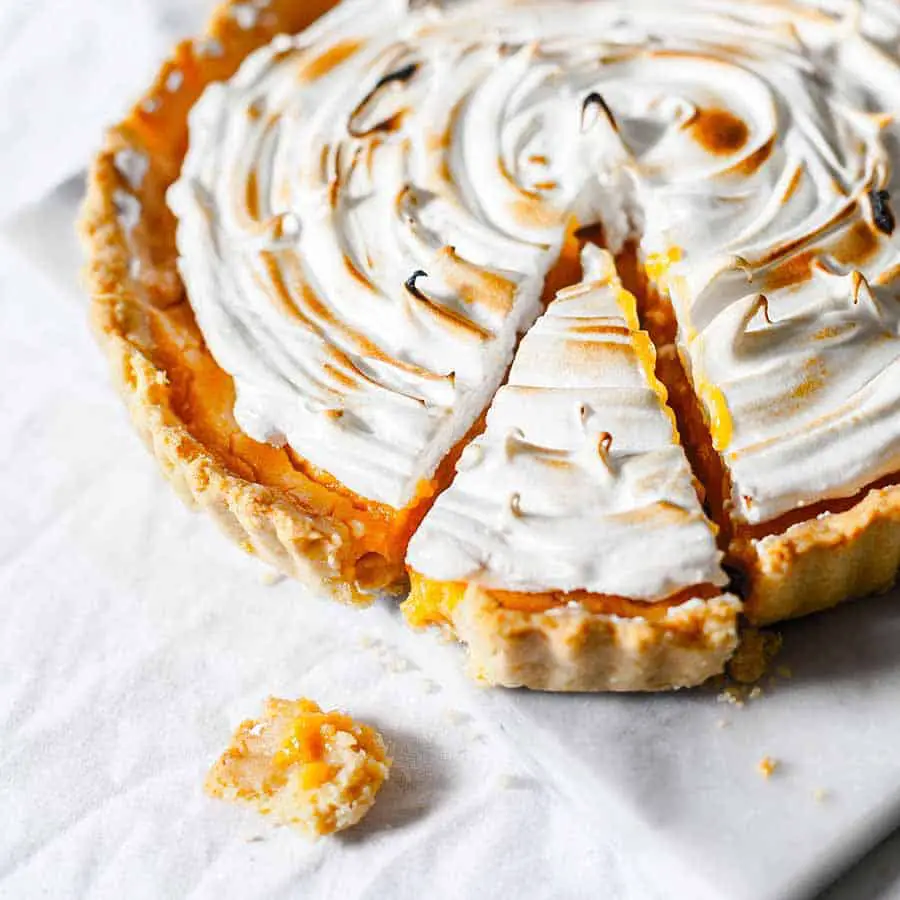 These wedding favors are a little more expensive than others. However, they have a homey feeling unlike any other.
You can either have a local bakery take care of these, or explore the internet for some options that may be a little cheaper than a business in your town.
An alternative is to make these yourself in mini-muffin pans using pre-made pastry dough and adding your own filling, which would make them a little more cost-effective!
Either way, these are tasty wedding favors that your guests will rave over!
Cookie-based Favors
12 – Cookie Wedding Favors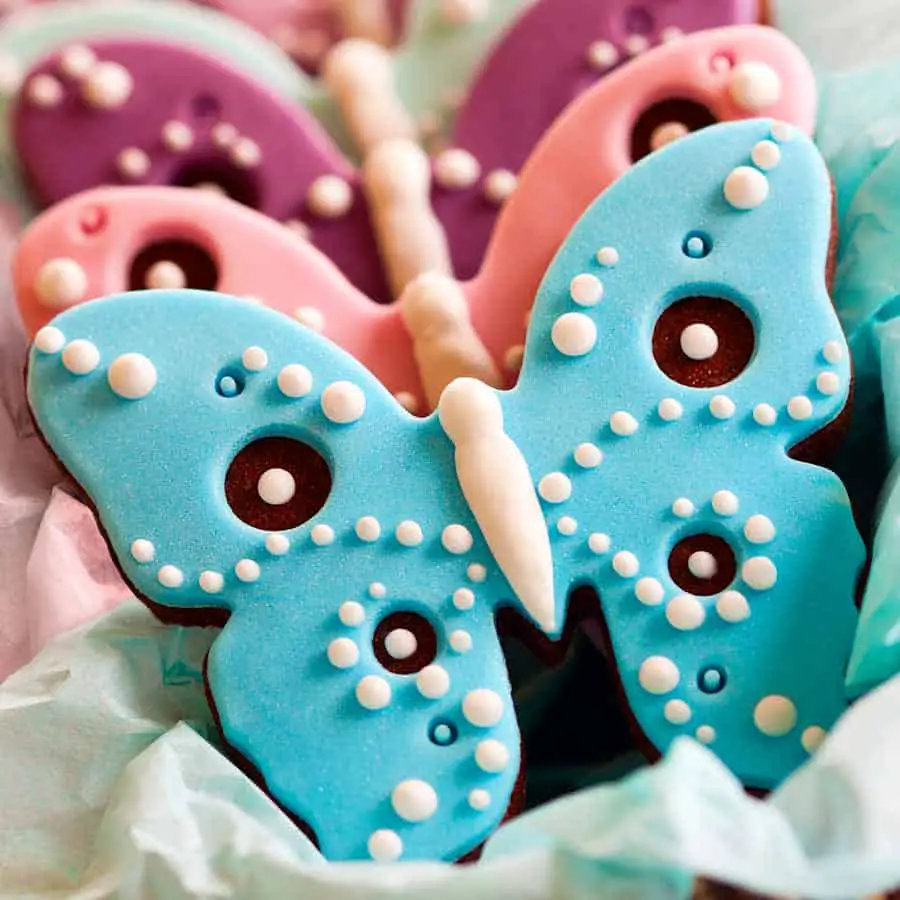 Are you looking to send your guests off with cheap wedding favors that still have a personal touch?!
Look no further than cookie mix in a jar. It's a simple DIY favor, especially if you're into baking. There are plenty of sources online such as Verybestbaking (source) where you can find great recipes that can be made in mass quantities.
It's inexpensive to bulk buy flour, sugar, chocolate chips and baking powder. So this favor is definitely one that's affordable if you're on a limited budget but have some time on hand to put into.
Finally, find some small jars, ribbon and a sweet favor tag to complete the look!
13 – Fortune Cookie Wedding Souvenir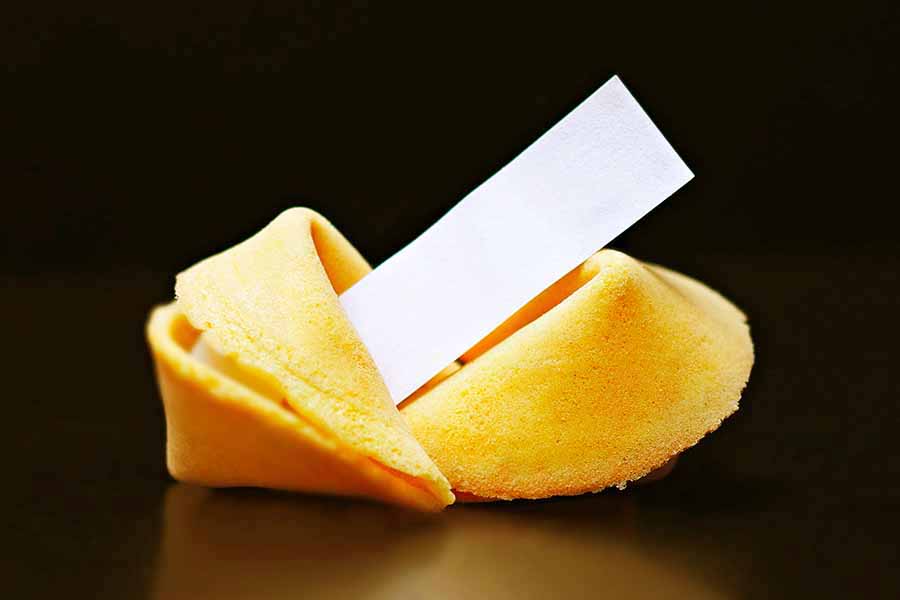 Fortune cookies are looked upon favorably anytime. It's easy to find a website that allows you to purchase these in large quantities and specially personalize the notes inside.
You could make fortunes, silly quotes, add your names and wedding date, or just put a simple "thank you for coming!" inside to send home with your guests.
Especially when you're looking to keep the favor costs affordable, putting the cookies inside simple boxes or containers can still make them look presentable.
These cookies are slightly fragile but are a cute touch to a smaller wedding. For a larger wedding that requires cheap wedding favors, they are still fun and thoughtful. These are great ways to get a giggle out of your guests as they remember the wedding.
It shouldn't be too difficult to find a local store that sells fortune cookies, in your area or nationally. However, finding one that can meet your personalization needs might require a bit of search online, but you'll find one.
14 – Homemade Chocolate Chip Cookies Wedding Favors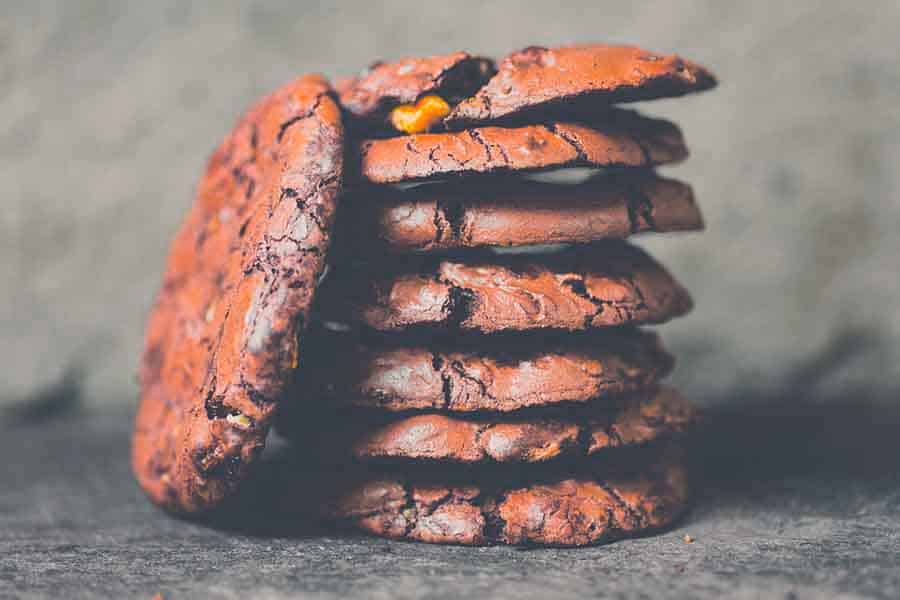 A DIY go-to, never-fails recipe – chocolate chip cookies.
Pack four to six in a cellophane bag and have your groom help you tie them the day before with a personalized favor tag and ribbon in your wedding colors.
These are sure to give your guests a great welcome feeling and let them know that you cared enough about them to make them something delicious yourself.
One downside though – these do have to be made and packaged fairly close to the wedding day which may add some extra stress to your plate if you're in charge of them. Otherwise, get somebody to help you with this.
The idea of making DIY cookies is feasible if you're having a small-ish wedding. If the total guests number in the hundreds, then you'd need to re-think if it's wise to invest the necessary time.
But, they're well worth the effort for the way they make your guests feel loved. Find a mouthwatering recipe on Allrecipes (source).
15 – S'more Kit Wedding Favor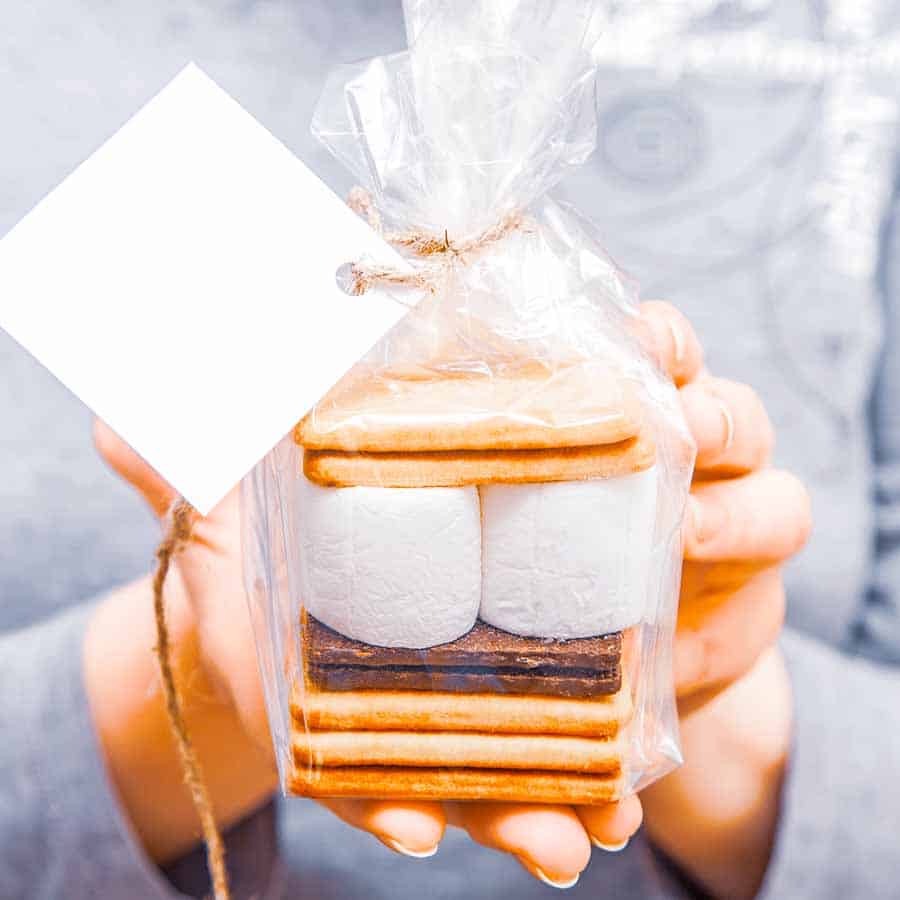 An outdoor wedding is perfectly complemented by a cellophane-wrapped S'more kit with a personalized favor tag from the newly-married couple!
Gather graham crackers, a jumbo marshmallow, and some milk chocolate together and wrap them in some glossy favor bags to send your guests home with a wedding souvenir that they can enjoy at the wedding or at home later.
If you cannot get your hands on graham crackers from your local stores, some of the cookie substitutes that you can consider include ginger snaps, vanilla wafers or even Oreo cookies.
These are also wonderful door gift ideas to keep by the exit so they're more of a sweet surprise as the guests bid the wedding couple farewell.
Drink or Edible Wedding Favor Is The Way To Go
Any of these tasty treats are bound to please your wedding guests!
Edible wedding favors, as well as drink favors, are the best as they allow the wedding attendees to tie a memory with a food or drink. Your wedding will be sure to create laughs, smiles, and great memories for a long time with these delicious treats!