18 Unique Employee Appreciation Gift Ideas Your Staff Would Love You For
It's always good to show some appreciation for your office staff who have tirelessly worked their days through to get the job done and to put your company on the map.
Not only will showing how much you appreciate them boost staff morale, but it will also improve productivity as this will make them work even harder in the next run of projects.
But how exactly should you show that you really appreciate the work that they've put in? A basic thank you note will be fine, but are you really that kind of boss?!
Whether it's to thank your employees for a job well done, or to further motivate them to continue doing their best work for the office, there are plenty of options you could go for to go the extra mile. Show that you truly mean it when you say thank you by trying out unique gifts for employee appreciation.
Also, check these out the next time you're stumped for good corporate gifting ideas!
Corporate Gifts for New Employees and Interns
As much as you'd like to treat all your staff equally, being thoughtful management also means recognizing those that have put in the hard yards for longer periods of time than others.
Ultimately, categorizing the employees by the length of their tenure with the company helps you decide what employee appreciation gift ideas would be more suitable.
Especially in mid-size and large companies, staff turnover is usually higher relatively speaking. This would invariably mean that there are some new employees who recently joined, and perhaps some interns who will be attached to the company for the next few months.
Going with different corporate gifts for new employees and interns is not so much to downplay their significance but more to ensure the longer-tenured employees do not feel undervalued.
After all, new employees have worked for a shorter period of time. Rewarding them too much too soon may not send out the right message.
1 – Lunch Treat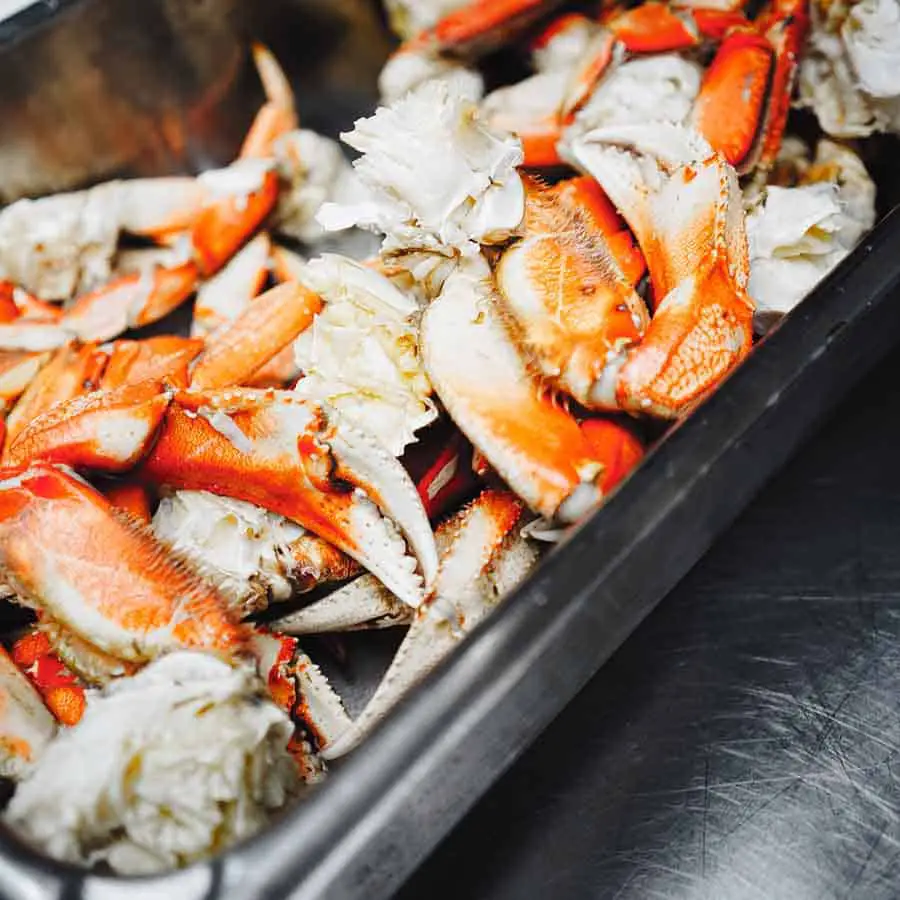 A lunch treat is as straightforward as a gift can get. It is one of the most practical gift ideas for employees on a budget.
Furthermore, who doesn't like the idea of a good lunch?!
For something that your new employees and interns will surely appreciate, treat them to a good lunch near the office. Not only will this help new bonds to develop, but it's also a good time to get to know them and their aspirations better.
Or, if you find the right occasion to include all the staff in the lunch treat take them out to lunch at a slightly pricier restaurant. It can be a venue of productive and lighthearted discussions that will improve the relationship between you and your employees, and further motivate them to work harder.
This is one of the best corporate gift ideas you could try if you want to appreciate an entire team effort. It will also ensure your employees are well-fed to continue working throughout the day.
2 – Inspirational Books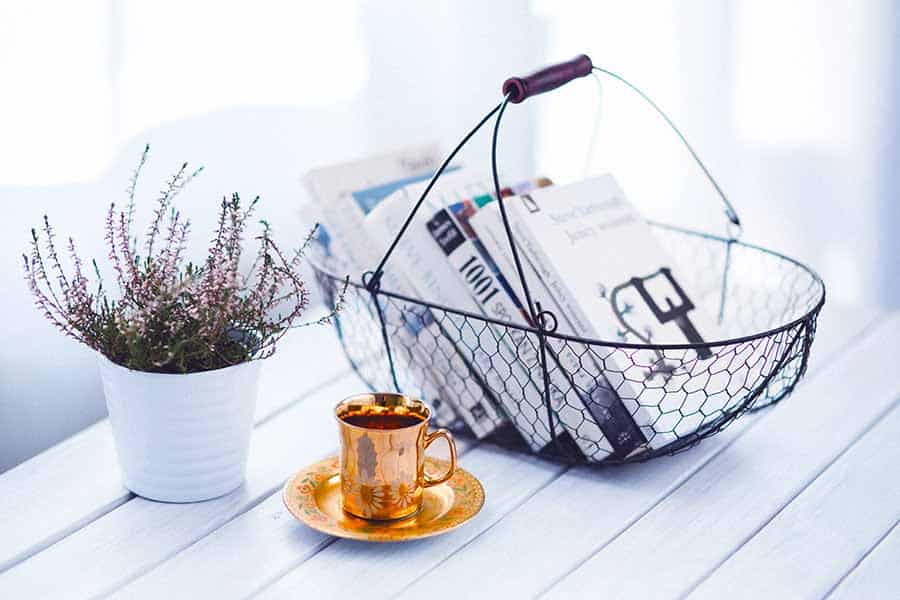 Book serves as a great gift that your employees will definitely have practical use of. As they say, a book is a gift of knowledge. An inspirational one can go the extra mile of helping them align with the values that the company wishes to impart.
You can select from your personal recommendations or do a little research on what is best for your employees to read based on their personal skill-set or work style. If your employee is not much of a heavy reader, a light inspirational poetry book will do the trick.
Additionally, if you want to make them personalized gifts for employees perhaps you could add bookmarks to the books, each one with a personalized motivational quote.
This will be able to motivate your employees further and send the message that you care for the employees' personal development and want them to grow and learn with the company.
Corporate Gifts for Employees
Although the earlier two corporate gifts could be for any staff in your employ, the following will provide you with more ideas on unique employee appreciation gifts that you can choose from:
3 – Snacks, Desserts or Other Edible Gifts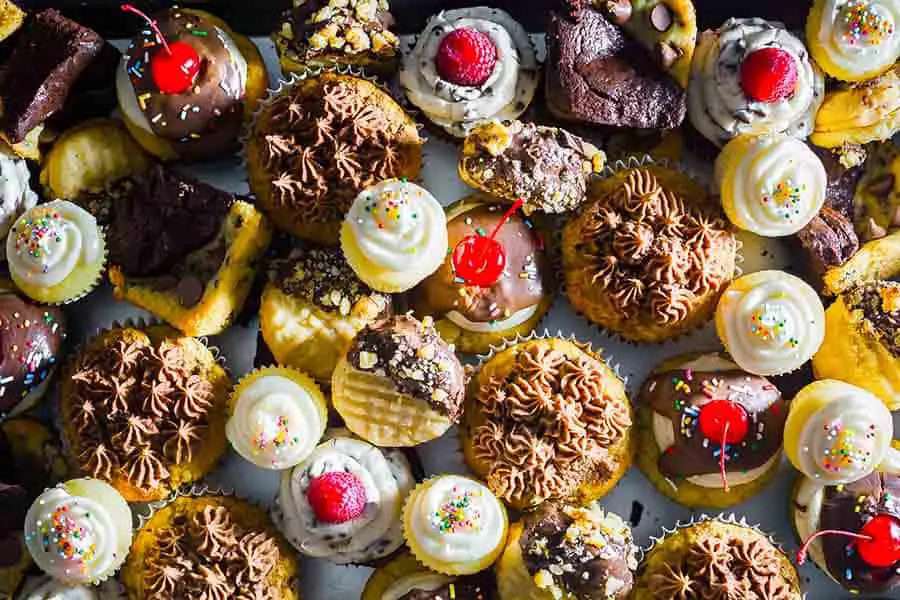 To show that you really know your employees, a good way to commend them on a job well done is to leave their favorite snack bar or dessert on their desk with a thank you note. It may be a small token but it'll definitely brighten up their day if it's their absolute favorite.
Not only will this show that you are a caring leader, but it also shows that you take the time to know the little details in your employees' personalities and quirks, which includes their preferences for snacks.
Make sure to take note of any allergies or food preferences of your employees as you want to be seen as a considerate boss and not an ignorant one!
Obviously, taking note of such details is easier when you're working with a smaller team. When dealing with a larger group of employees, a more generic but universally loved gift such as chocolates will work equally well.
On the occasion of celebrating a festivity such as the Mid-autumn Festival when you're ordering mooncakes for your esteemed clients, you can also make provisions to gift these sweet delicacies to your employees.
Such a thoughtful gesture will be much appreciated by your employees as they can take the gift home and enjoy them with their family.
4 – Corporate Tea Gifts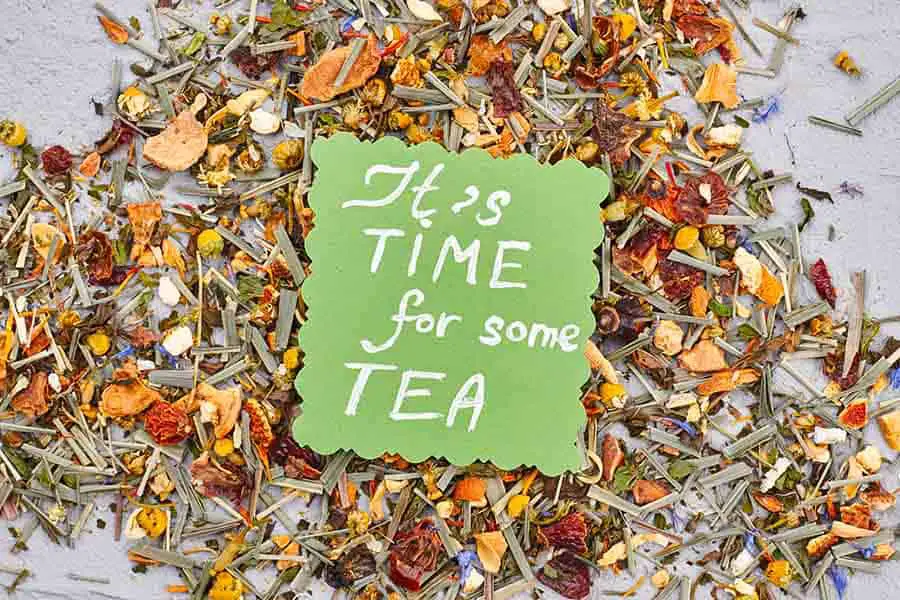 Apart from edible corporate gifts, gifting something that the employees can take home and consume in the comfort of their own homes would be very well received as well.
Although the idea of giving tea as corporate gifts between companies has become increasingly popular, you can also let your employees enjoy a little of the best that nature has to offer!
The advantage of tea gifts is the number of varieties you can have and thus the excitement that it can create among the staff. The world of tea is truly a world of limitless opportunities for creative corporate gift ideas.
As tea blends can come in various types, and each type made of an assortment of ingredients, you can purchase more than one type and let your employees choose their favorite. They are also great as personalized gifts for employees as you can have the packaging customized with personalized tags or labels.
Tea and tea-related gifts are also suitable for other special occasions in your employees' lives, such as the employee's wedding.
You can be sure that edible or drink gifts make some of the best employee gifts anytime!
5 – Quirky Office Stationery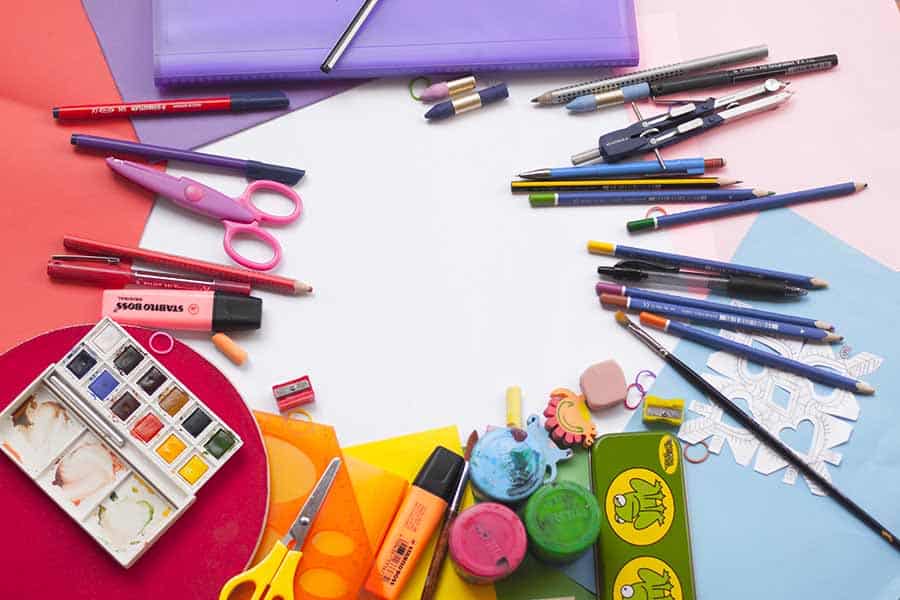 There are plenty of brands out there that sell personalized corporate gifts in the form of unique sticky notes, planners, notebooks and many more, in cute and quirky designs.
These serve as the best gifts for office workers as it adds a touch of practicality and fun. It's something they will use in the office so they won't be troubled in having to bring it home, and by having something fun and personalized to use for work will motivate your employees further.
Find out what your employees' favorite colors are, or if they have a preference for a certain TV series. Getting your staff members something related to what they love will definitely put a smile on their face when they receive it.
As with any gifts that can be personalized to individual preferences though, dealing with a large group of employees would make the task almost impractical. In this case, go for more general themes such as the current most popular movie or a hit song.
Such quirky office stationery works fine as ad-hoc thank you gifts. However, if you're planning for major occasions such as company anniversary events or a special Employee Appreciation Day (source), gifts of higher value may be necessary and more suitable.
6 – Personalized Coffee Mugs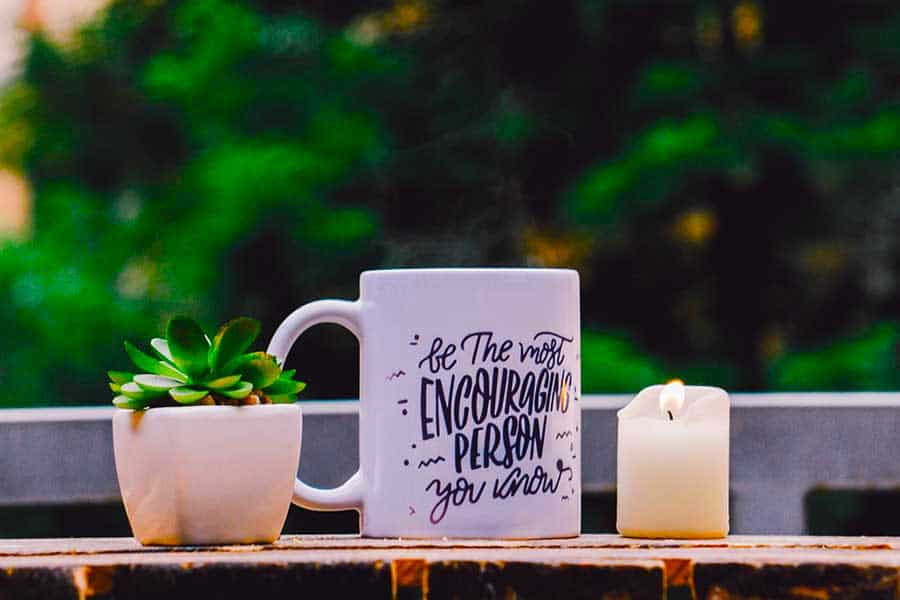 Almost everyone in the office drinks coffee, tea or other hot beverages. Therefore, this is one of the best personalized gifts for employees, or at least the most practical, that they will find useful.
While anyone can go to a coffee shop and order a cup of coffee, nothing beats enjoying a warm cup in the comfort of their own work station.
Although the idea of gifting a mug may seem commonplace, it can still be special if you put in a little effort in getting the details right.
As coffee is best enjoyed when it's warm, getting the right size that's not too large and one that's made from ceramic would be best for heat retention.
Similarly, a mug that comes with a lid will further help to keep the drink warm. You'd also want to consider a mug that comes with a handle as that makes it easier to hold a hot mug and avoid spilled coffee on the shirt.
You can buy an array of fun and quirky coffee mugs that have special designs or quotes that match the personality of your employee. They will appreciate it even more if the coffee mug design is based on a small detail about their lives or a particular preference they might have voiced out before.
This will show that you are a boss who listens and cares to take notice of them personally.
7 – Corporate Gift Cards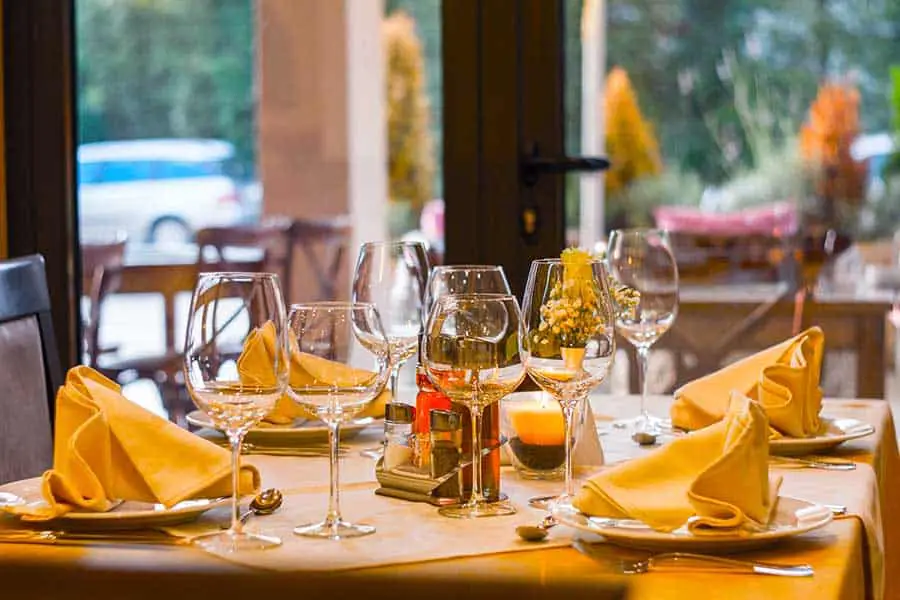 Everyone loves a little retail therapy after a long, tiresome work week. Gift cards from big retail brands like Sephora or H&M would serve as fun recognition gifts for employees to get them excited for a weekend of shopping.
It's also easy to get from major retailers, so you could buy a few and place them on your employees' work desk after a successful project, or maybe after a hectic workday with overtime hours.
Obviously, such shopping gift cards work best as corporate gifts for female employees.
Should you have a more balanced male-female employee ratio in your employ, dinner vouchers for a fine dining restaurant are more appropriate and would work just as well.
Choosing a restaurant that's conveniently located in town would be a good idea. Be sure though that the value of the voucher is sufficient to cover dinner for two.
Not only will your employees really appreciate the treat but they'll also be motivated to work harder. (It's best to keep more of those gift cards on stand-by in this case!)
8 – Movie Tickets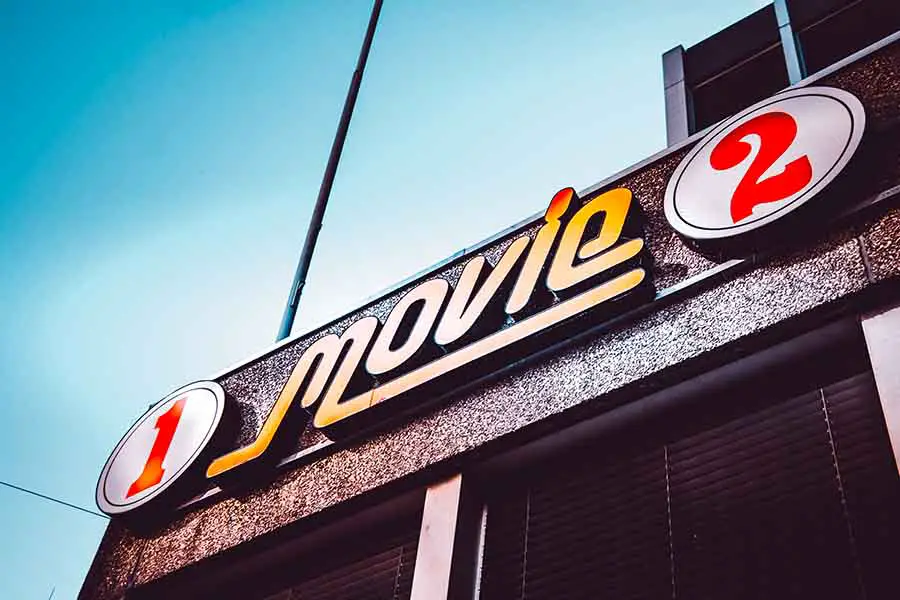 Rewarding your employees with movie tickets is also another option to show that you care as an employer.
Besides, these are inexpensive motivational gifts for employees that you can give more than once a year. Whenever a good movie comes along, that can be your chance to reward your staff.
Get to know what your employees are looking forward to watching in the cinemas these days and leave a movie ticket on their desk.
Similarly, if you've managed to catch a movie early in its release and find it a good watch, you can purchase the tickets on the spot to give them to the staff the following day. They'll be grateful for these little treats when they can feel that you care to share with them what you liked.
Your employees will get the opportunity to take the evening to unwind with a good flick and come back to the office refreshed and re-energized to continue work. If anything, they'll be the ones to thank you.
Whenever you feel you're stumped for ideas, go with these as they are probably one of the best employee gifts yet extremely affordable.
9 – Spa / Wellness Vouchers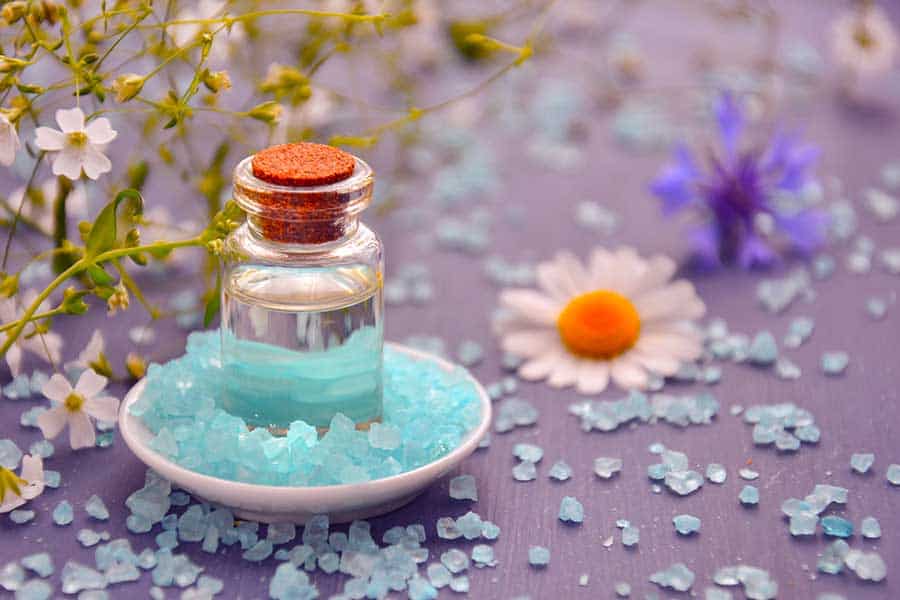 Treat your staff to a session of rest and relaxation with a treat of some spa or wellness gift vouchers.
This works especially for employees with particularly heavy workloads. They'll definitely have a use for these vouchers to take a restful weekend off and come back feeling rejuvenated to power on through the workweek.
Not only will employees with heavy workloads benefit from it, but these spa vouchers are also the best corporate gifts for ladies as spa is typically associated with benefits for health and better skin conditions.
Such thoughtful employee gifts will show that you're a caring boss who puts the needs and wellbeing of his or her employees as a priority.
To further motivate your employees, you could add an element of fun by making this a prize draw – the employee with the best performance at the end of the month will win a weekend stay at a spa resort, for example. This will instill some healthy competition within your company as well as further motivate the employees to work harder for the reward.
As far as unique employee appreciation gifts go, this is right up there! It'll be a gift very much welcomed by any employee in the company.
10 – Social Media Shoutout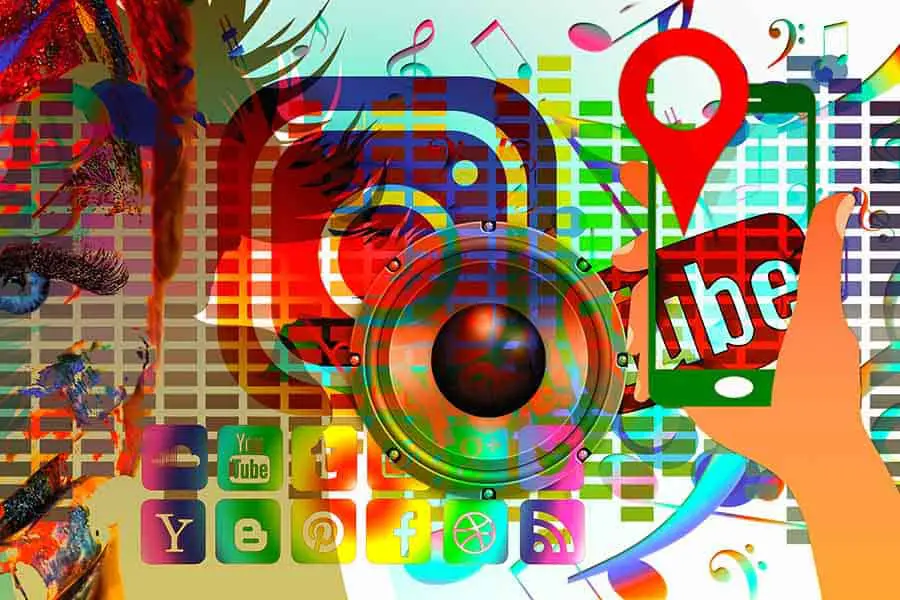 If you're particularly stumped for ideas on how to show your appreciation for your staff, a simple fun and enthusiastic shout-out on the company's social media will do the trick.
You could take fun pictures of your employees and write a few tidbits on how they've contributed to the company's recent success. Make sure to tag your employee's social media as well!
While this may seem like a relatively small token, your employees will benefit from it in terms of social media clout and personal development.
This will also show competitor companies as well as related clients on your social media that you have a dynamic team of high performers working for you and you often show your recognition for these employees.
Although it's a unique gift that works for any employee, it can work particularly well as corporate gifts for millennials seeing how almost anyone in their age group has social media presence nowadays.
It's a really good way to boost your employees' morale and your company's public image online.
11 – An Away Day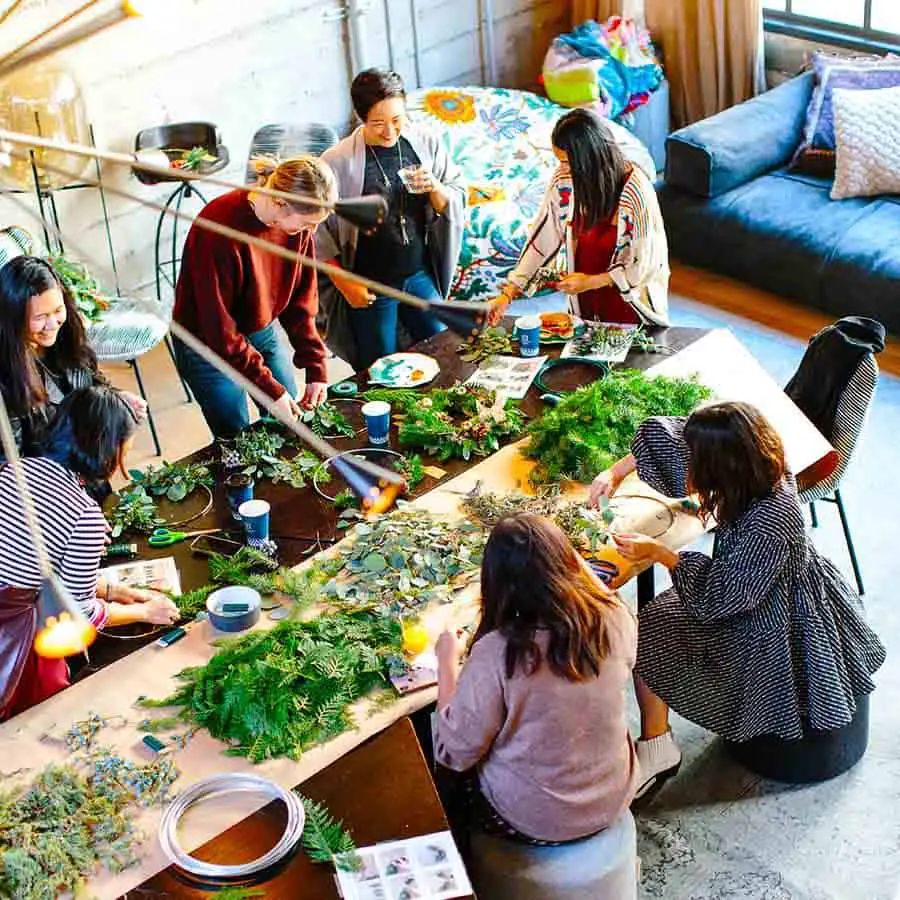 Another great way to show your appreciation for a team of employees is to organize a little company getaway.
This could be a day trip on a Friday and involve team building activities as well as some relaxing time off.
There are many types of team building activities around town that you could sign your team up for. A cooking class for your entire staff or some other craft workshops like an art jamming session or a terrarium workshop can be a very enjoyable time for the team to bond.
If you're looking to diversify corporate gifts for staff just so you don't always stick to the usual ideas, you could do well to check out this article on creative alternatives to corporate gifting where we explore those ideas in more detail.
Depending on what you choose to do or where you choose to have the away day, this will definitely benefit your employees in having some time to unwind. Furthermore, it helps to build on the relationship between you and your employees.
They will appreciate you more as a thoughtful leader and you will earn your employees' trust even more through this time away from the office.
12 – Stress-alleviating Toys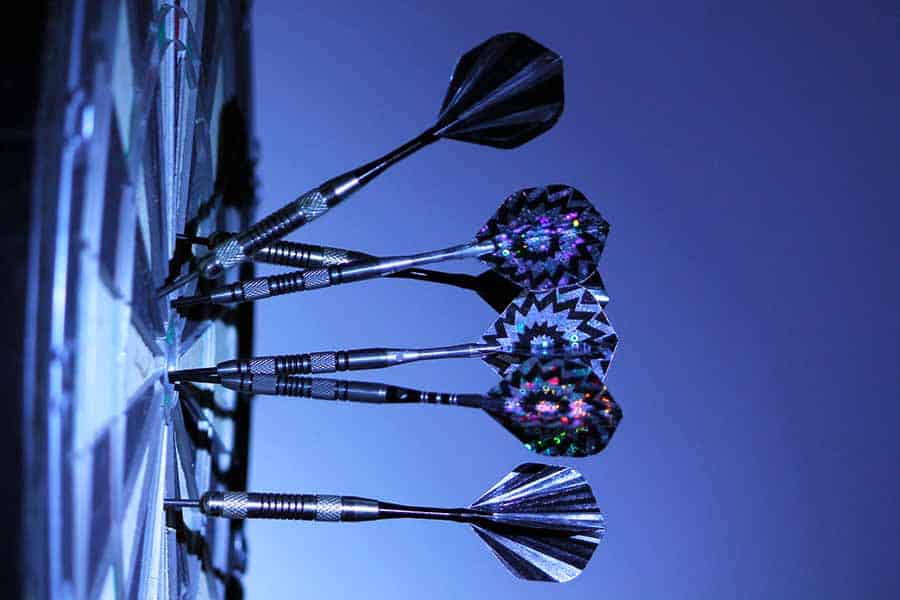 It's hard to deny that employees now constantly work under pressure and are sometimes having to deal with unhealthy amounts of stress.
While you could organize team activities away from work occasionally as a caring employer, you'd agree that it's not something you can do at a consistent enough regularity to be of help.
But, there's a solution to every problem!
There are unique employee gift ideas such as stress-reliever toys which the employees can use from time to time, and in their own time, whenever they feel the need to take a little break from the stresses at work.
Toys such as kinetic sand, which looks like regular sand but is available in various colors and can be molded into any desired shape, is one good example of effective stress-relievers and thoughtful gifts for employees.
As personnel in higher positions may presumably suffer from higher stress, this toy would make perfect corporate gifts for executives and managers as well.
There are various other stress-reliever gadgets and toys which we've written more in-depth on in this linked article. The benefits of using these so-called 'toys' shouldn't be underestimated, and that they are actually viable and thoughtful gifts for corporate clients.
13 – Small Indoor Office Plants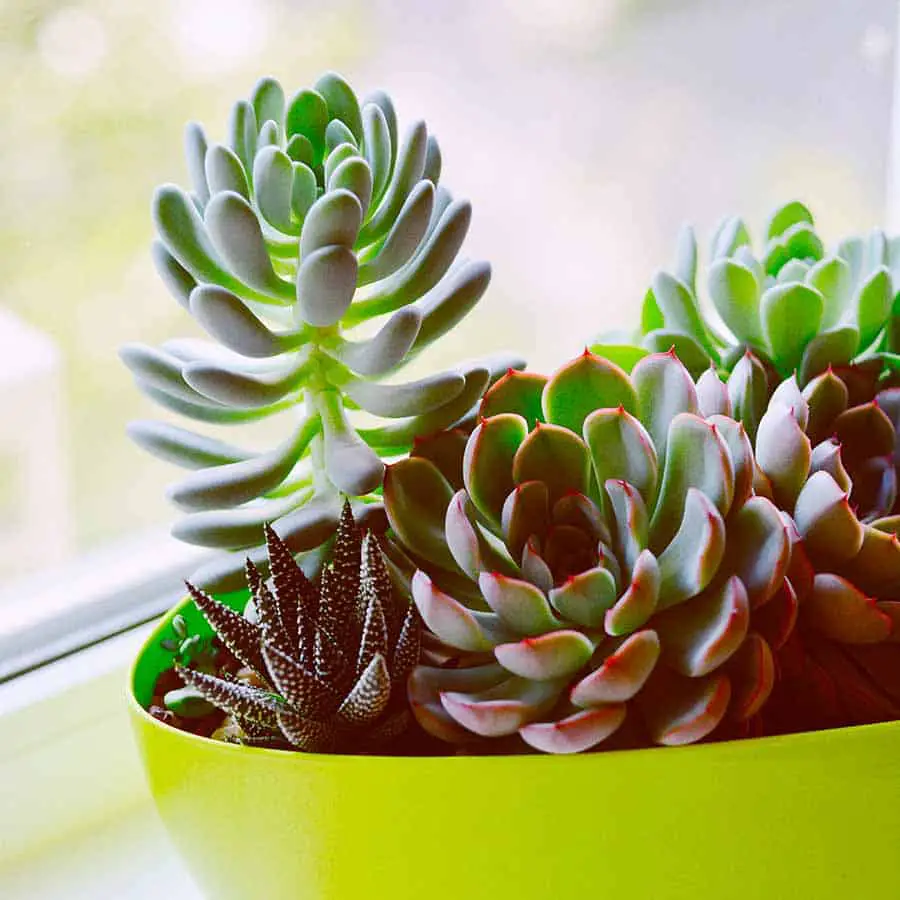 Finding ways to thank your internal employees and showing gratitude towards your corporate clients are equally important in maintaining a healthy business. As such you'd be glad to know that succulent gifts are probably one of the few gifts that are appropriate for you to give to both!
Not everyone has a green thumb, but most office plants such as succulents or cacti will thrive in indoor environments that it won't take much to care for them.
These make ideal and unique employee gifts as they are something that helps liven up their desks, improve air quality within the office and add a little life to an otherwise stressful environment.
They can essentially make mini-gardens in the office. Due to the simplicity of the gift, they can also be great corporate gifts for top executives.
Succulents may be tricky to handle at first glance but your employees will have fun with the experience. They'll appreciate the gift as it will be something that they can care for and serve as some stress reliever during long days at work.
Create a surprise by getting these thoughtful gifts for your colleagues!
Corporate Gifts for Long Tenured Employees
Corporate gifts for tenured employees are an important part of rewarding the long years of service by loyal employees.
Apart from serving as a reward to their years of hard work and sacrifices made for the company, the gifts also double up as corporate recognition gifts that can make them feel that they've made a difference to the company and is a part of the 'family'.
Although contributions from all employees are equally important and should be similarly acknowledged, you'd want the long-tenured employees to know that their unwavering commitment is appreciated by the company.
14 – Sponsored Vacation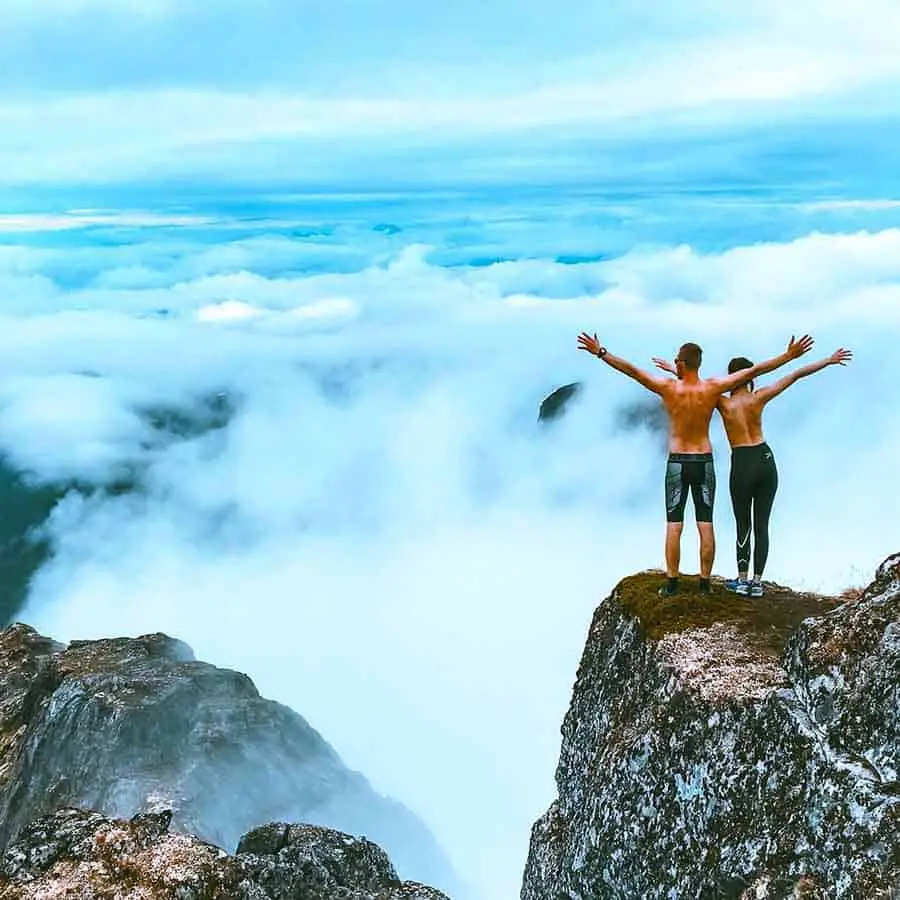 For an employee who has a family, getting to go on holidays together is always a very fulfilling experience. It's not uncommon that employees save up on their annual leave so that they can use it all for the long-awaited year-end vacation.
And to have the bills taken care of by someone else is simply the icing on the cake!
Even though this may be one of those very expensive gifts for employees, you can decide to only give this gift to employees who have served a certain number of years – milestones like 10, 15, or 20 years. And possibly with a tiered increase in sponsored amounts with longer tenures.
Set a reasonable monetary amount for each gift and let the employee choose his or her desired holiday destination and the freedom of how they'll like to spend it.
Allow the employee to submit the receipts as claimable expenses under the gift after the trip is over. This way, the company can ensure the money's been spent on the intended purpose while the employee will not feel like they've been locked into what they can spend on even before the trip's started.
Even in most cases that the sponsored amount may not cover the entire costs, it is still one of the most thoughtful employee gifts an employer can give.
Having such a recognition gift as part of the company policy can provide an incentive for employees to commit longer to the company, especially given that high staff turnover is ever-present dilemma employers have to face.
15 – Luxury Watch (still works!)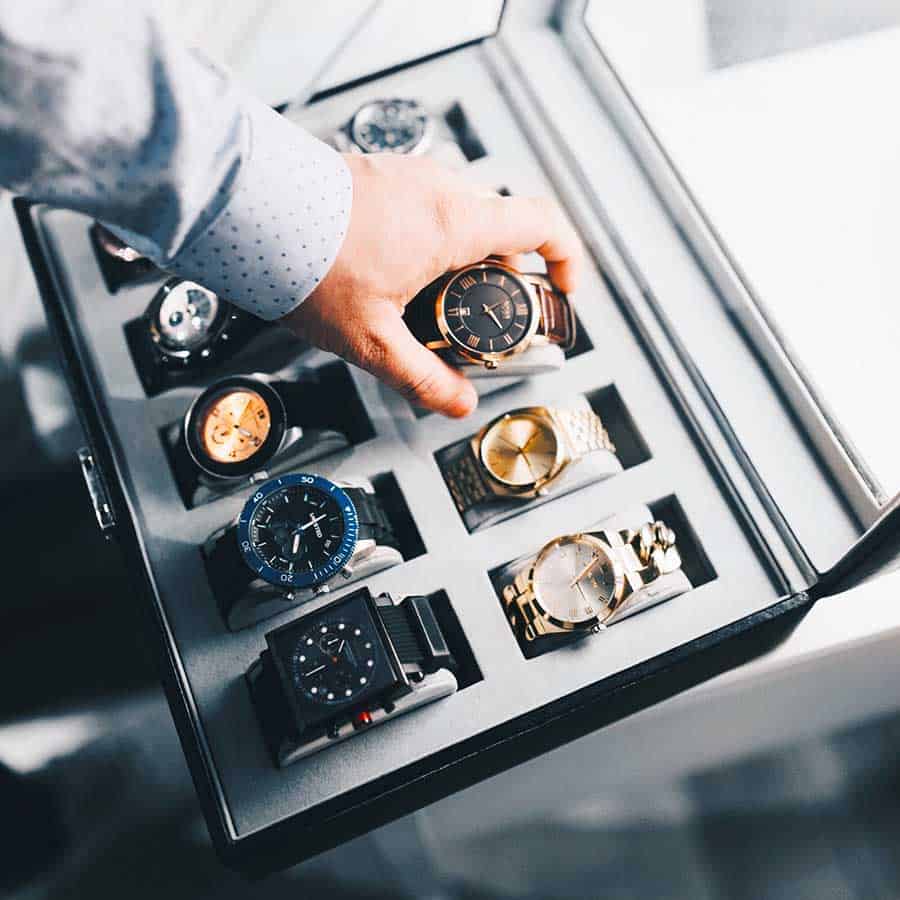 Yes, an old-fashioned gold watch gets old! In fact, it sounds so yesterday!
But a luxury watch from brands such as TAG Heuer or Rolex, just to name a few, never. A timeless piece from renowned brands will always be much appreciated!
It's another one of those expensive gifts for employees that you can decide to gift sparingly and selectively. The cost to the company is undoubtedly high with this gift but not every employee gets to have one. It is to be earned!
Perhaps this can be differentiated from a sponsored vacation gift by reserving a luxury watch gift for employees who have contributed to the company for a certain number of years, AND are being recognized for outstanding achievement at the same time!
It will be an unforgettable memory for the employee that lasts for many years to come.
Corporate Gifts for Managers
Managers are another group of employees that you may want to gift something a little different to.
With different roles to play within the company and relatively greater responsibilities on their shoulders, a different gift, or perhaps a personalized one, can help make them feel appreciated.
The following employee appreciation gift ideas can be personalized to each manager in the company. And if you wish to, they can also be great executive client gifts.
16 – Personalized Card Holder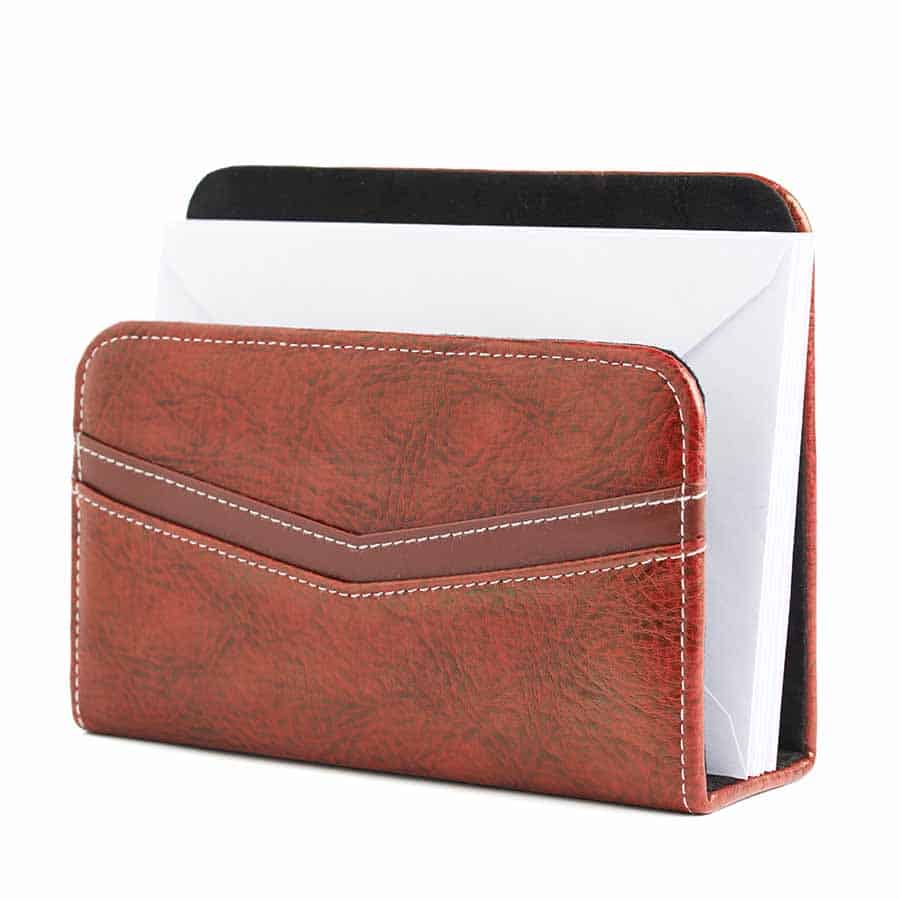 Corporate image has always been a very significant factor in the business world. You can gift your managers a personalized desk cardholder giving them a unique image that they can be proud to own.
You can either go for a classic look or a more contemporary design depending on the color and design of your office, and the desks on which the cardholders will be placed.
There is a large selection of materials that such business card holders cum nameplate can be made of. Whether it's wood, metal, leather, stone or glass, you can choose to work with a gift vendor that allows you to submit special personalization requests.
Personalization can include engraving the name and customizing the fonts for better-looking results.
You can also choose a design that's styled after an object related to your industry. Say you're in the automotive industry, a wheel-styled nameplate cardholder can be very good looking and memorable indeed.
As the unique designs make them great display items as well, your managers would be proud to have one on their desk and get glowing comments every time somebody walks by!
They could be fragile items depending on the material used, so be sure that the vendor provides extra protection for shipping.
With the amount of personalization available to you, these are thoughtful employee gifts to tell the managers how much they are appreciated. In fact, you do not have to limit these to just the managers, you can also gift them to newly promoted staff.
17 – Leadership Motivational Desk Clock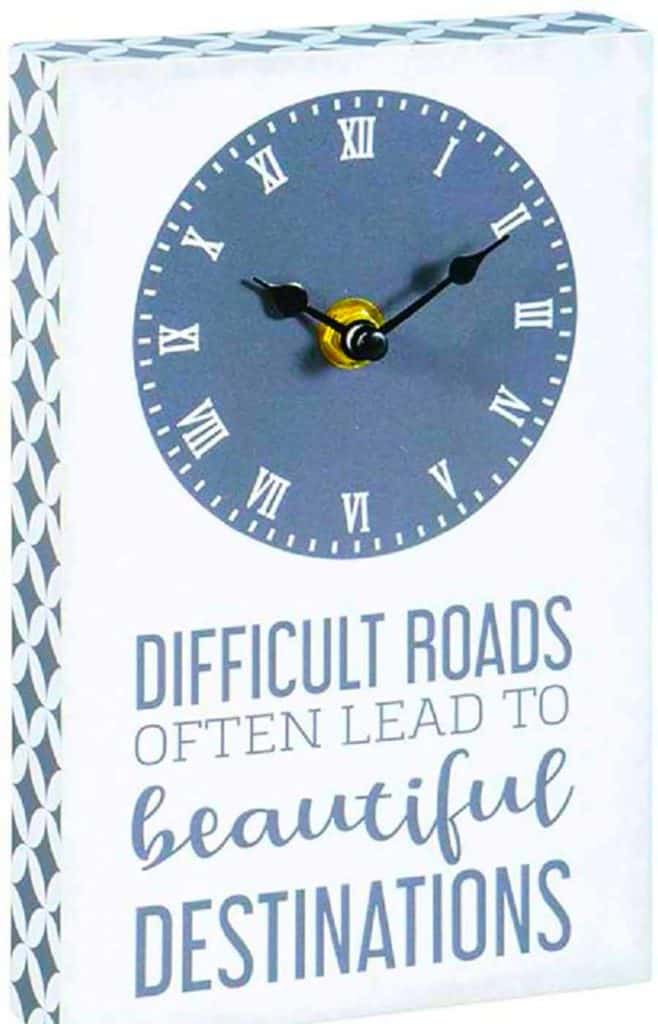 This is a functional desk accessory that combines a clock and a motivational message on leadership.
Give this personalized corporate gift to managers to encourage them to always strive to be a role model for their team members. It's a unique employee recognition gift for the managers that you count on, day in day out to lead the operations of the business.
These desk clocks can come in various quality materials such as glass, metal, or wood, or a combination of them. Go with clean and simple designs for that sleek, polished finish.
Otherwise, you can opt for a leatherette finish with accent stitching for that classic vintage look. They look great on desks and on bookshelves.
Personalization usually includes engraved name and the years of service in celebration of the employee's contribution to the company.
It can be a difficult task sourcing for the right gift especially if you're looking for a 'male' gift. Well, you'll be happy to know that this is one of the very few gift items suitable to give as corporate gifts for men.
These can be highly personalized employee recognition gifts, suitable also as corporate gifts for senior management and top executives as milestone service awards, or possibly even as a retirement gift for the company director.
18 – Leather Journal & Planners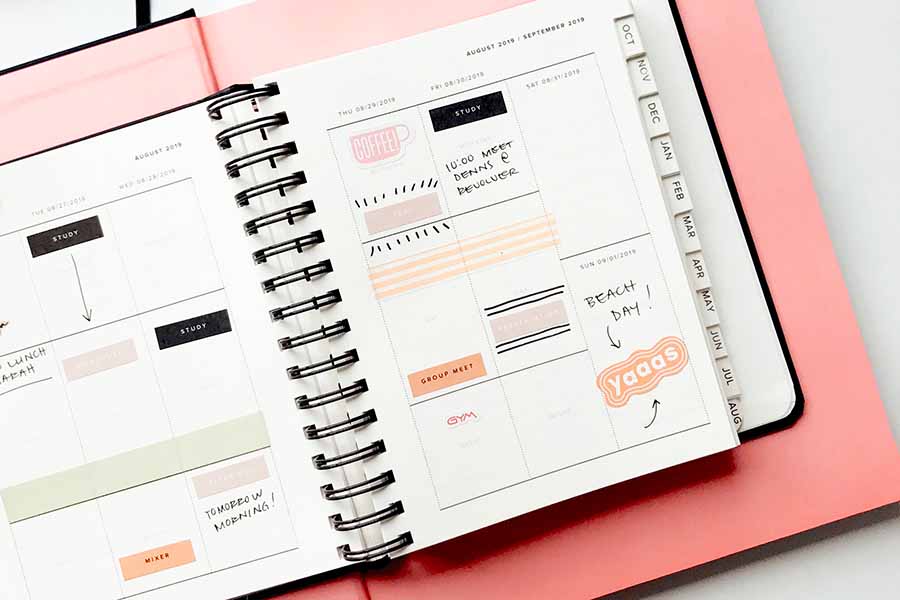 If you're looking for something a little simpler and still maintain the practical aspect, leather journals can make great yet inexpensive corporate gifts.
Leather journals are often looked at as a step above ordinary journals, in appearance and feel, as they combine exquisite leather finish with high-quality paper.
You can choose to personalize them with the employee's name or a quote on leadership.
Also, choose the right leather color to suit the personality of the employee you're gifting to and one with quality craftsmanship, and it'll become an item of pride that they'd carry with them proudly.
Consider these thoughtful employee gifts to the managers as personalized journals will become their constant companion wherever they go, and a library of their creativity as they jot down thoughts and ideas throughout the day.
Not every gift listed above is suitable for every employee, and it takes good and considerate management to figure out what would best suit your employees.
Aside from these employee gift ideas, other alternatives to corporate gifting may be well worth considering should you wish to do something a little different for your fellow colleagues!
However, take these ideas into consideration if you want to go the extra mile away from the basic and generic thank you card. Your staff will appreciate and respect you more as a boss and you'll be able to nurture happier and more productive employees!