Corporate Tea Gifts – Definitive Guide for Businesses
DISCLOSURE: TEA UNBOXED IS A PARTICIPANT IN AFFILIATE PROGRAMS WITH AMAZON AND OTHER SITES. WE ARE COMPENSATED FOR REFERRING TRAFFIC.
Corporate gift-giving is part and parcel of businesses today. Out of the plethora of types of gifts available in the market, corporate tea gifts stand out as being unique and versatile for a vast array of corporate gift-giving occasions.
Why Give Corporate Tea Gifts?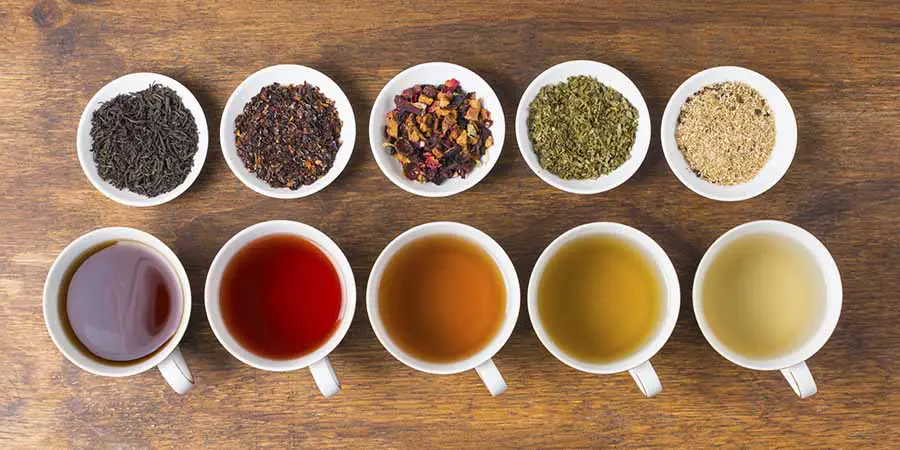 Corporate tea gifts are ideal as a subtle form of advertising. Although the importance of corporate gifts to a business is widely acknowledged, they also help build brand awareness and promote you and your company.
They send a hidden message. The message is "remember me" but it also says something else. The corporate gift says something about your organizational values and is read by your client or customer the same way you learn body language – unconsciously!
Ethical corporate gift-giving on the right occasion delivers a message. When you gift you are telling the client that you celebrate the occasion.
If it is one the client celebrates, you are showing shared values or that their values matter to you. You are celebrating with them!
In busy times like Christmas, your corporate tea gift says that you remember your customer even when you are working with many other tasks because the client matters to you.
What Occasions are Best for Corporate Tea Gifts?
All the grand celebrations throughout the year are perfect as a reason to give corporate tea gifts. You show that you know your client and their culture by gifting a token of your appreciation at the proper time.
Christmas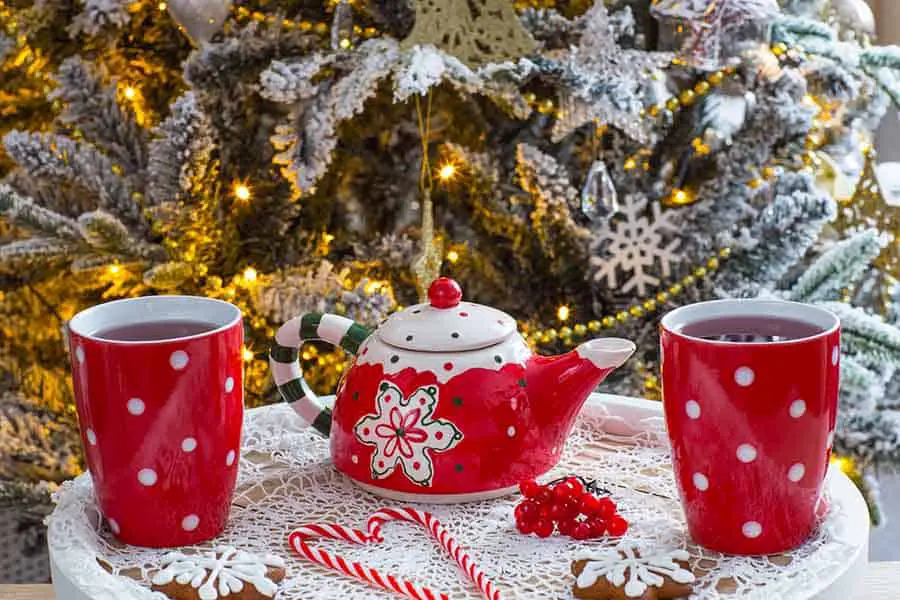 Christmas as a time of giving gifts is celebrated by businesses across the globe – not as a purely religious festival but as a holiday and opportunity for showing you care about others. As a business, you are expected to take part in the gift-giving extravaganza.
Christmas day is fixed on the 25th of December and represents a time when businesses close for the holiday or are exceptionally busy depending on their sector. The Christmas corporate gift scene is crowded with a mixture of corporate gifts and personal ones.
There are two approaches to giving gifts at Christmas – either so big it outshines everyone else or a modest item that is a place marker for your business in the client's mind.
Corporate tea gifts are ideal for both approaches. If you want your gift to really stand out you can go for the plethora of high-end corporate gifts or the more luxurious option of a beautiful tea set for your treasured clients.
A more inclusive approach is a fabulous basket filled with tea-related goodies and beautifully packaged. This corporate tea gift is multifunctional – the client can take it home to enjoy with their family or regift, it can be shared among the team or it can be donated to a charity.
A flexible, practical gift is welcome at this time of year and builds good relations with your client.
The modest approach of a small gift of tea bags or loose tea in custom packaging sends a message that you are appreciative of all your clients. Be sure to include a handwritten note to make each client feel singled out for extra care.
In amongst all the corporate gift-giving between businesses, let's not forget the importance of employee recognition in the workplace.
Corporate management and business owners can show thanks to the staff with these employee appreciation gifts. They are thoughtful gestures without overspending the annual gift budget.
New Year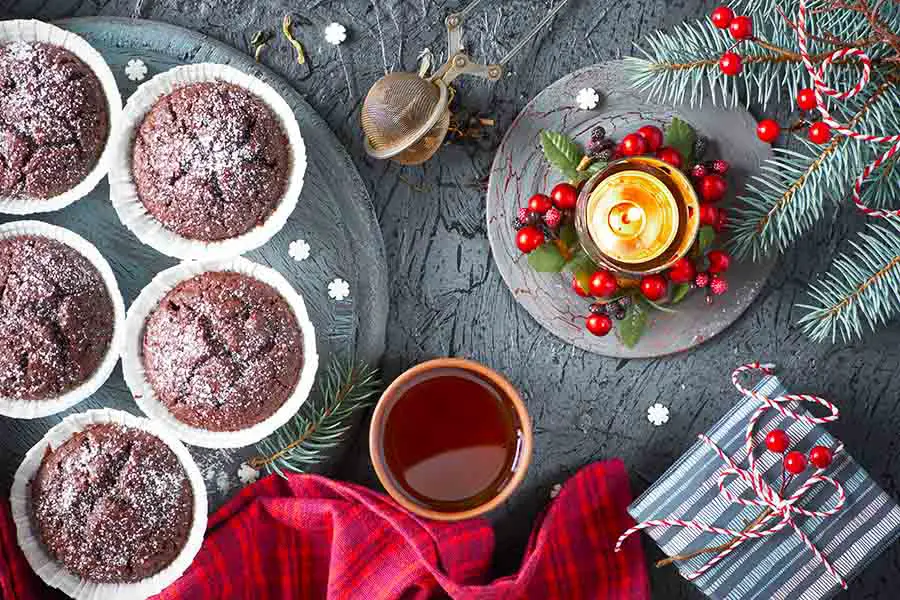 The Western New Year begins on 1st January and is an ideal time to send your corporate tea gift as a welcome back to the office. The hidden message is that you are looking forward to a year of business.
When it comes to gift-giving there is less competition in the New Year than in the run-up to Christmas. Your present is likely to stand out and be remembered as being unusual.
Rather than the usual run-of-the-mill corporate gifts, try these creative alternatives! They work well for both corporate partners and co-workers alike.
Easter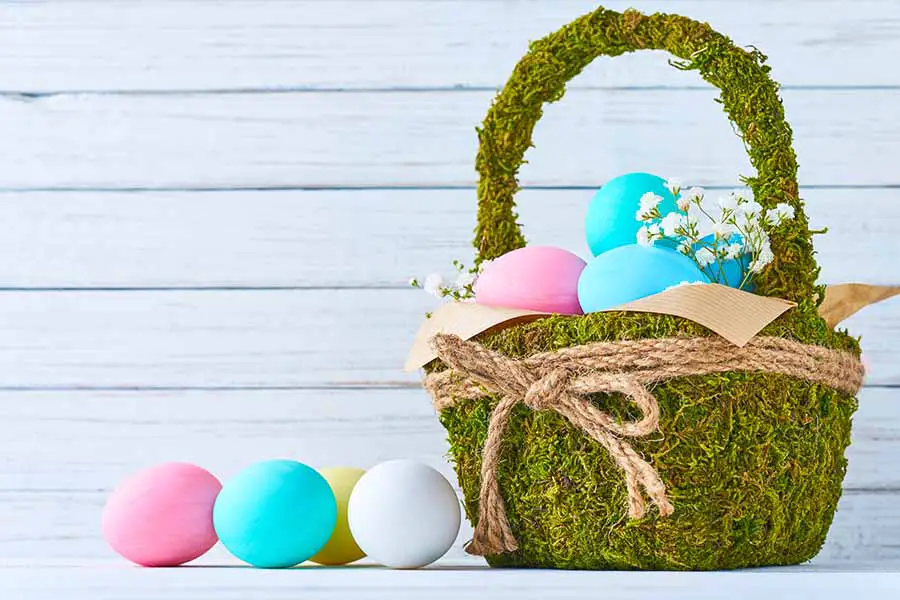 Easter is a Christian festival that has many elements of a spring festival.
Easter is also celebrated with afternoon tea making it an excellent reason to give a corporate tea gift to your clients, customers, and perhaps staff. A hamper containing a selection of tea and sweet treats is in keeping with the festival.
Thanksgiving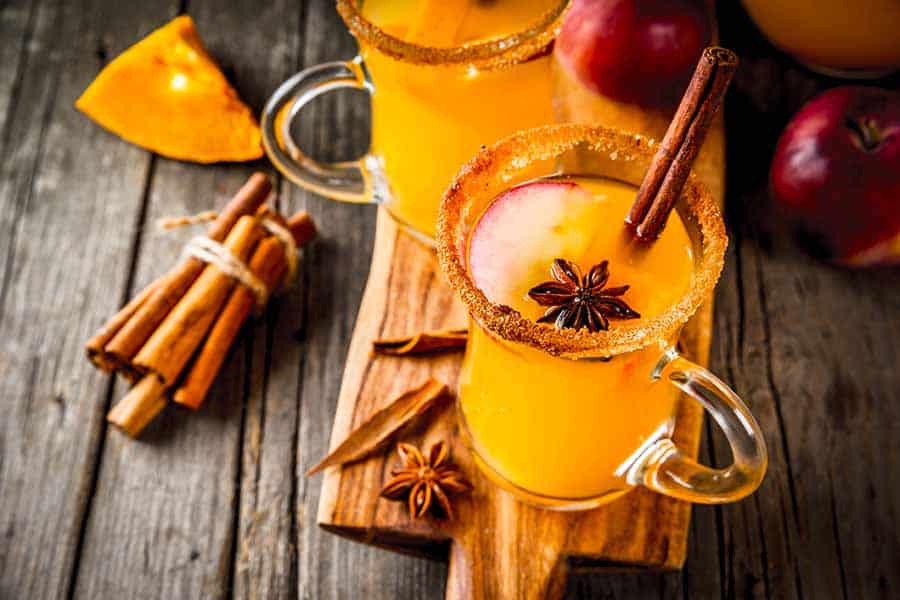 Thanksgiving is an American festival (fourth Thursday in November) that has its roots in harvest festivals celebrated across the world.
Tea is a fantastic drink to complement typical Thanksgiving food but in keeping with the theme, a corporate tea gift with flavors of cranberry, cinnamon, or pumpkin all give the nod to the tradition.
Sweet tea gift kits to create spiced and fruity tea punches make a unique and thoughtful gift and allow you to reinforce and maintain good relationships with your clients.
Chinese/Lunar New Year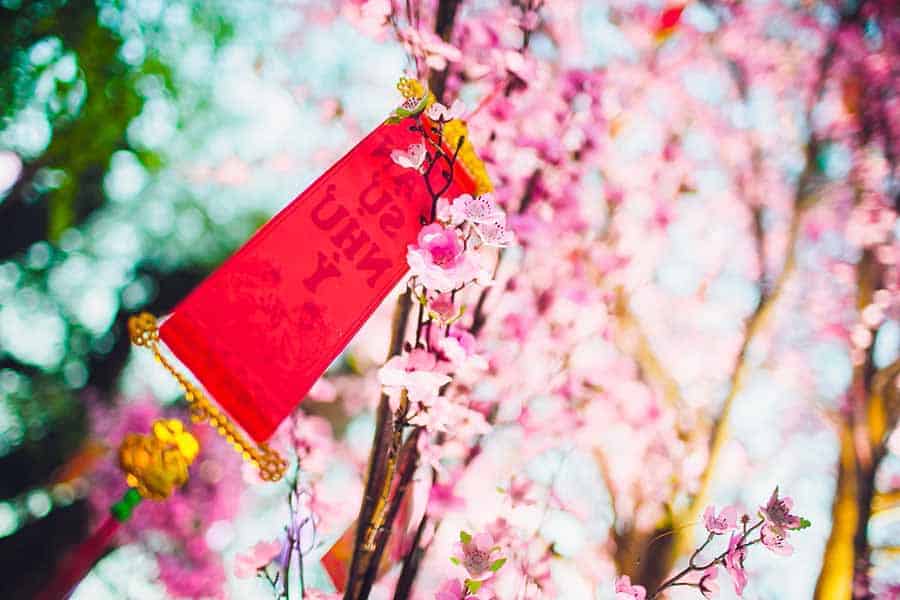 Lunar New Year is becoming a global celebration. It adds color and joy after the flatness of January following the Christmas hustle and bustle.
The Lunar New Year is not just one day – it is a festival spread across several days. It is tied to the lunar calendar, so the exact days change a little every year. It begins near the end of January and finishes in February.
Prepare in advance by checking out the official dates and animal to celebrate in any year.
The celebrations begin with the 8 days of the little year, the official New Year's Day is followed by ten days of spring festival and finishes with another four days of the lantern festival. It's an extended celebration and is themed around the new year's zodiacal animal.
Avoid giving china gifts for the Lunar New Year because if they break it is an inauspicious start. As this is a spring festival give flower or fruit-flavored teas as your corporate tea gift. Packaging in red and gold signifies luck, health, and wealth.
Looking for an eye-catching corporate gift for the Lunar New Year? Select a red tea towel and have it printed up with the year's zodiac animal and wishes for a prosperous new year.
Diwali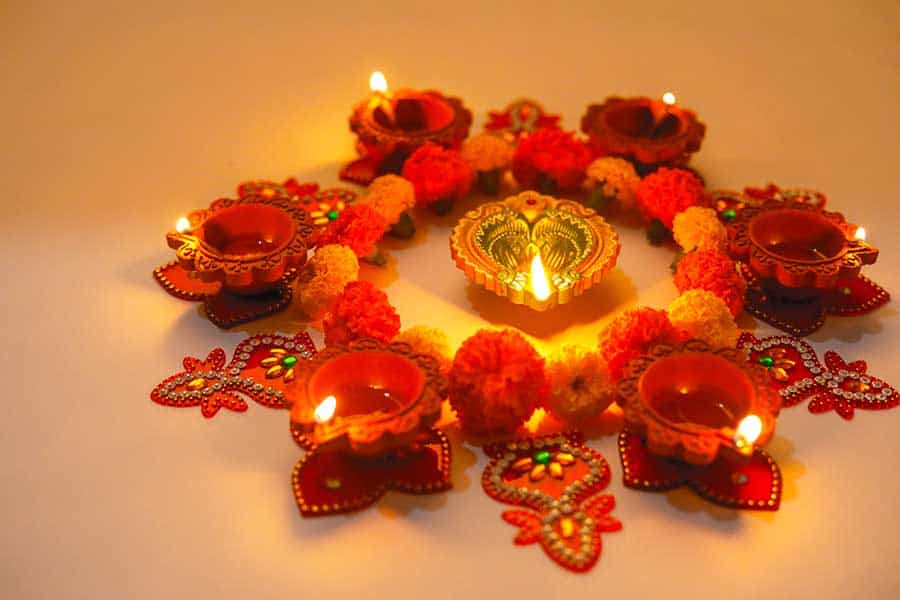 A Hindu celebration of light held over five days in mid-November. The exact date depends on the lunar calendar and shifts every year. Diwali is widely celebrated with processions, street food, and fireworks in most major cities.
This is the perfect time to give tea lights in teacups. Middle Eastern tea glasses in jewel tones are ideal for this occasion.
Ramadan

Ramadan is the ninth month (Islamic Calendar) and as a lunar celebration, the date moves every year. This is a time of daily fasting and contemplation.
At the end of Ramadan, there is a three-day celebration – Eid al-Fitr. The Eid festival is a time when gifts are given between family and friends.
As a reason to give a corporate gift, Ramadan needs careful thought. The Eid festival is the appropriate time when there are feasting and celebration.
Personalized tea mugs are made for the occasion and a tea basket is a welcome addition to any event.
Japanese Gift Seasons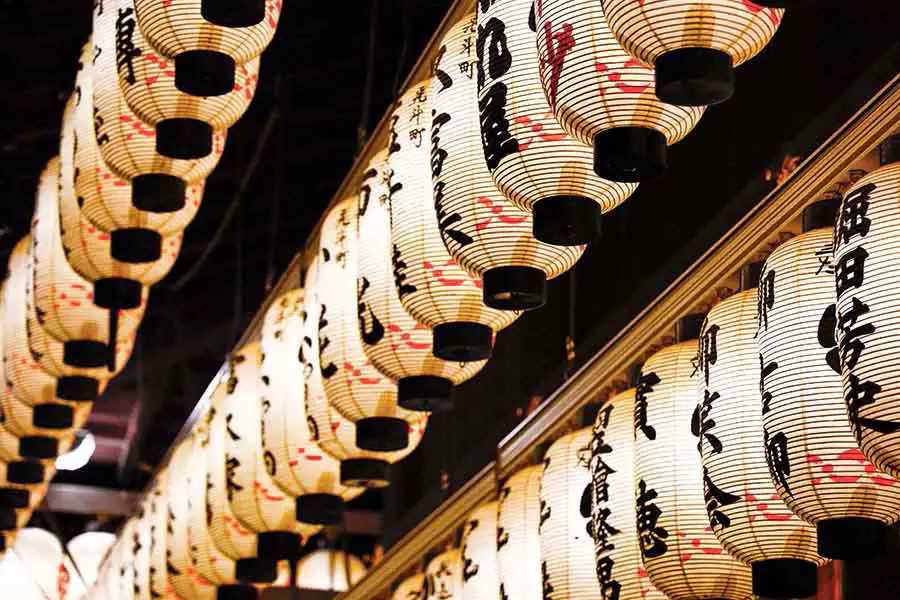 There are two seasons for giving gifts – winter (chugen) and summer (seibo). Presents are given according to a strict etiquette of thankfulness and reciprocation.
If your business works (or hopes to work) with many Japanese clients, it is worth taking some time to understand the gift-giving customs. Tea is an acceptable gift for most corporate gifting occasions.
Corporate Events
Businesses get involved in corporate events to engage with both existing and future customers, as well as to increase brand awareness as they grow.
In events such as trade shows, conferences, appreciation events, and product launches, souvenirs and corporate giveaways are commonplace as part of the brand promotion.
These practical gift ideas make a great list for any corporate event organizer.
Corporate Clients from Overseas
From time to time, corporate clients and partners from overseas visit the office.
As part of the corporate gift-giving practice, gifts are either given or exchanged. Such meetings are possibly also a meeting of different cultures.
As the host, the giving of culture-specific corporate gifts that reflects what the recipients would appreciate shows sensitivity and understanding. It can go a long way in forging stronger working relationships.
Why Does Tea Make the Best Corporate Gifts?
Tea makes an excellent corporate gift because it is unique and unusual.
A bottle of wine, a box of chocolates are standard corporate gifts around Christmas time. As a prosaic gift, they are mundane and unremarkable and don't leave the recipient feeling cherished.
Unless you are giving expensive vintages or high-end champagne the client feels you are just ticking a box with your gift.
Corporate tea gifts still have the novelty factor – in a world awash with the same predictable presents, a gift of quality tea or a tea-related gift stands out as being different and involving some effort by the giver to find an exciting gift that isn't outrageously expensive.
A tea hamper with a selection of flavored teas, biscuits, and sweet treats is a charming edible gift that is inclusive of the whole team.
Many people don't drink alcohol so the bottle of wine as a standard gift, is pointless and possibly offensive. Tea, on the other hand, is a drink that crosses all cultures, genders, ages, and is inclusive and respectful. All qualities that become favorably connected with you and your business!
Vegan living is a lifestyle choice that is promoted widely as kind to the planet. Tea is a natural product that is completely biodegradable and eco-friendly.
As a vegan gift avoid honey-flavored teas and stay with natural leaves and flowers. Choosing Fairtrade tea for your corporate tea gifts boosts your brand image by the association as you can give a present that minimizes waste and is naturally produced.
Tea is a unique flavor that is popular as an ingredient in many gourmet desserts. The various variety of teas combine well with different foods and cuisines making them an excellent addition to a gourmet food hamper.
A selection of teas provides a vast range of flavors and tastes from smoky to sweet!
Tea packaging and tea-related gifts are straightforward to customize or personalize on a small scale or for mass-market appeal. This personalization makes tea corporate gifts ideal for all circumstances! – favors to give away at trade stands, welcome gifts for clients, thank you tokens, and event celebrations.
Tea gifts are affordable and appealing for most corporate gifting occasions.
Types of Tea Gift
There are many types of possible tea gifts making it possible to produce plenty of different corporate gifts for all events and occasions around this theme.
Tea Bags
You need your customers and clients to associate your business with quality. Your commitment to quality means you don't give standard tea bags as a corporate gift – you choose the top of the range gold standard in tea bags.
When you provide tea bags you give pyramid tea bags in biodegradable plant-based silk.
Pyramid tea bags contain high-quality leaf tea with a range of potential flavors – flowers, fruits, herbs, and spices. They allow the tea to circulate and expand resulting in a quality tea infusion in the cup or teapot.
The pyramid tea bag is portable, convenient, and straightforward to use in the office or when traveling.
As a corporate gift idea, a few pyramid tea bags packaged in a personalized pouch is an ideal giveaway at trade exhibitions, seminars, and conferences.
A selection packaged in boxes is an excellent gift for an overseas visitor staying in a hotel. Teabags also make a great component of a larger gift – hamper, teacups, or with a teapot.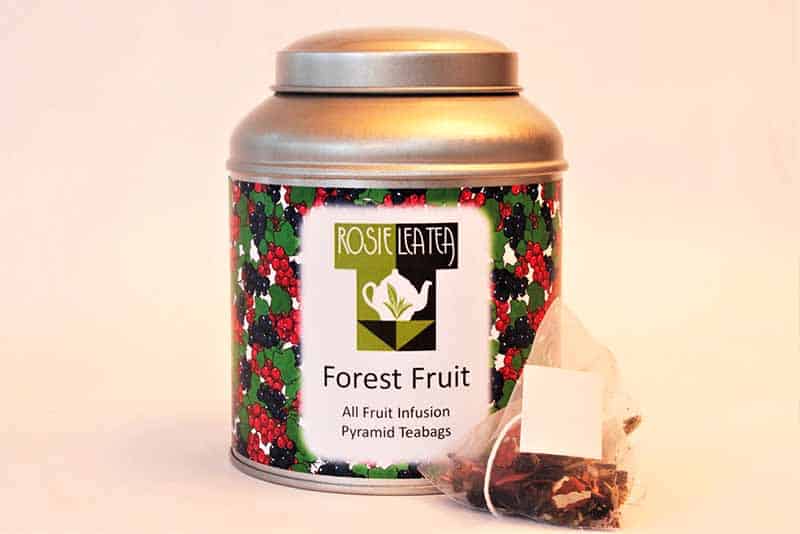 Loose Leaf Teas
Loose teas are a premium quality product. As a corporate gift idea select luxury hard to source brands – aged and fermented, first spring crop, and from boutique tea farms.
You can package your loose-leaf tea in a unique tea caddie personalized to suit your corporate brand or message. Alternative packaging includes small jars, cloth sacks, or vacuum-sealed packages.
For the Lunar New Year consider black teas or Pu-erh with a fruit blend – orange peel, lychees – or a light green tea with jasmine flowers or rose petals. Both hint of spring and new beginnings.
An excellent choice is a premium white tea attractively wrapped in gold paper – suggesting wealth and prosperity for the upcoming year.
Loose-leaf tea is a superb corporate tea gift at any time as a stand-alone present or as part of a package.
A succession of elegantly packaged quality loose leaf teas sent to clients through the year with appropriate quotes makes a memorable brand awareness campaign. The tea can be linked to the seasons, special occasions, or interesting facts.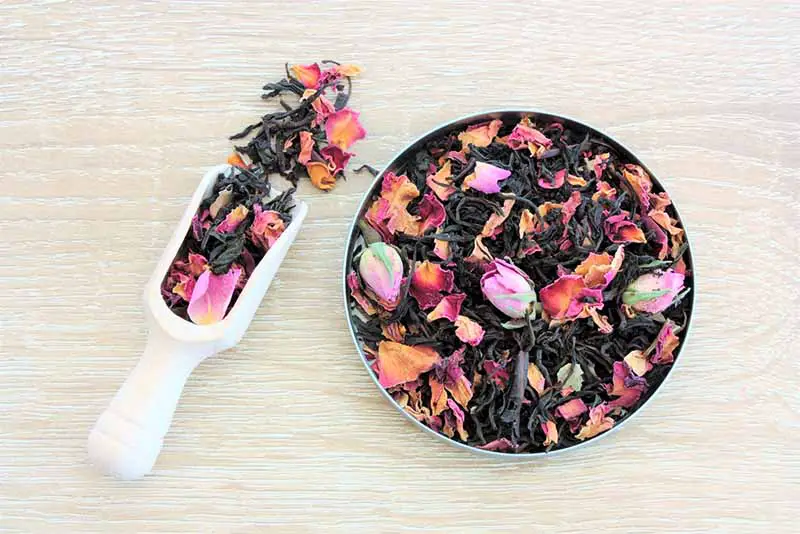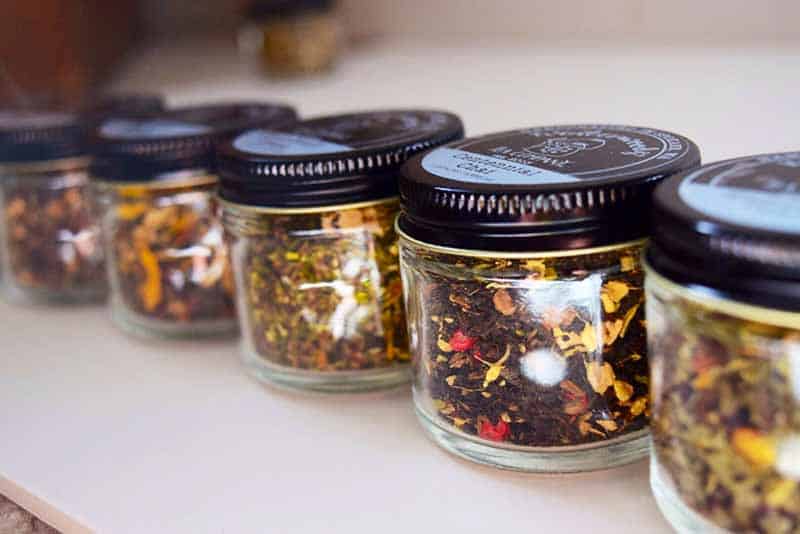 Teapot, Teacups, Tea Drinking Set
Teapots and tea sets have thousands of variations and make unique and charming corporate gifts.
Consider sending a flower arrangement in a teapot as a celebratory corporate gift when you know your client has recently married or completed a significant project.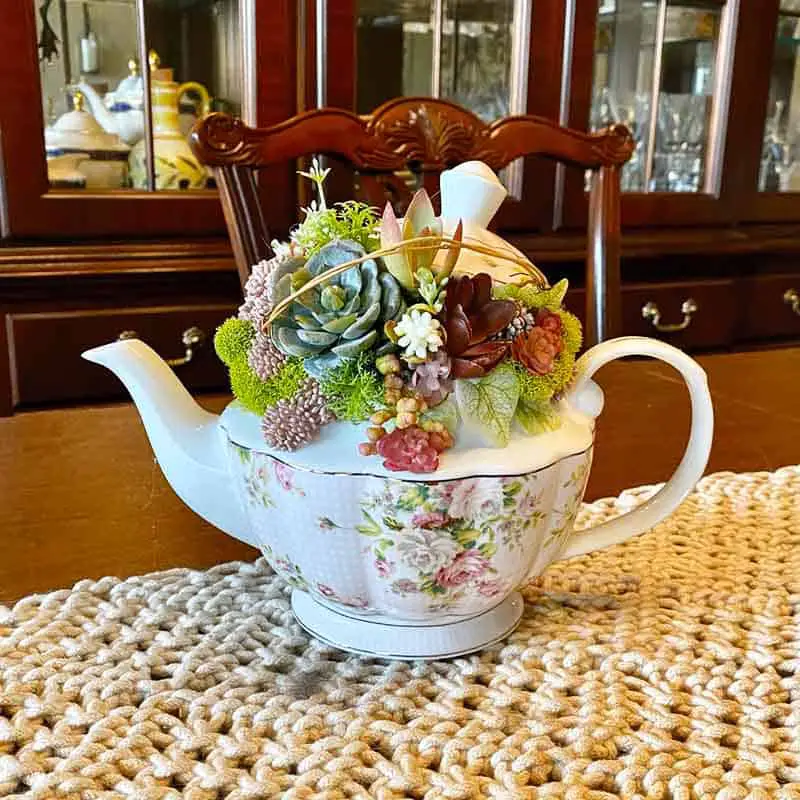 Has your client opened a new office? A thoughtful package of a tea-drinking set as a welcome to your new office is a practical gift that can be enjoyed by staff and visitors alike.
A beautiful set of Japanese teacups can be gifted as milestone acknowledgments as the client relationship progresses.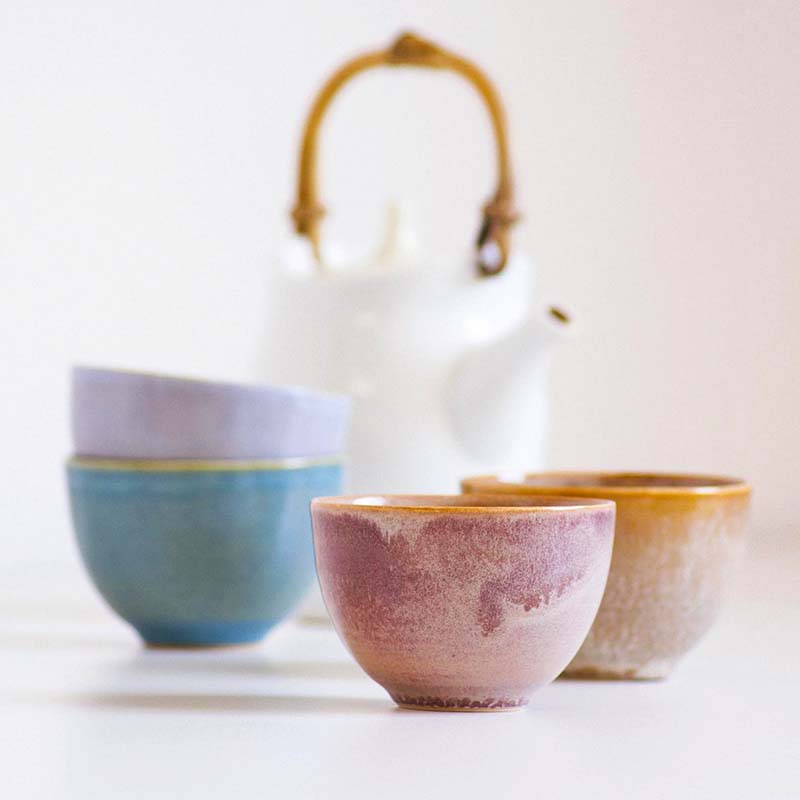 A standalone traditional Chinese teapot with a sculpted dragon on the lid and personalized engraving is a handsome gift to represent the mutual respect you have for the visiting foreign client.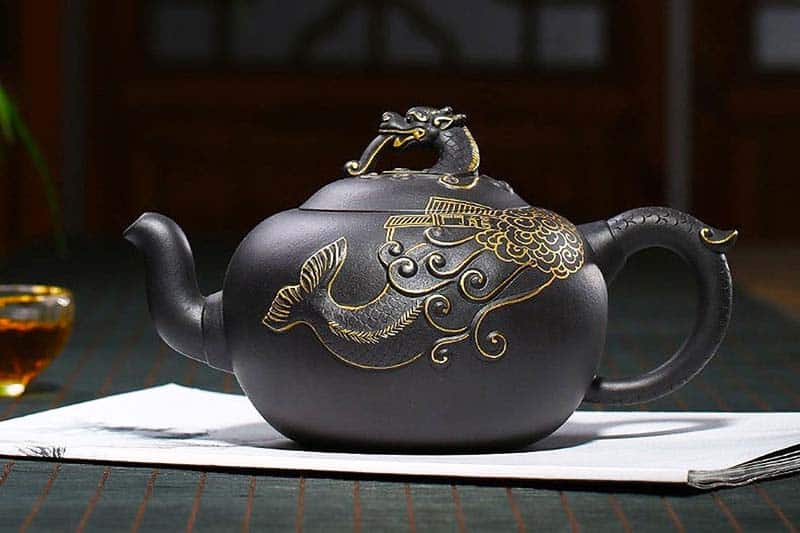 There are many other corporate occasions where tea gifts are suitable like promotions, industry awards, expansions, or taking part in a sporting event.
The corporate gift says that you are paying attention, that are you are invested in their success, and that you are a great business partner.
Being known as the corporation that gives unique and novel tea-related gifts establishes you as a business personality. It helps keep you in the forefront of your client's mind as being different from the masses as being individual and innovative.
Thank You Notes for Corporate Tea Gifts
A handwritten note addressed to the recipient distinguishes the corporate gift as having been chosen personally by the giver.
Corporate gifts to clients and customers can vary from the mass market token – we appreciate your order and look forward to your continued custom. This is like the waiter giving you a mint or chocolate at the end of a meal.
For these recipients, the appearance of a handwritten note is enough, and you can have them custom printed.
Then you have the high-value client with whom you have or want to establish a personal corporate relationship. These are the client that get unique gifts. These are the clients that need a handwritten note accompanying the present.
The art of the handwritten note is straightforward to master if you keep in mind it needs to be appropriate, sincere, and personal.
You can use stock phrases:
I hope you enjoy this small thank you gift.
I'm sending this tea it is unique to…
You've come such a long way to visit, I thought you might appreciate…
Seasons greetings, I look forward to meeting up with you in the new year.
It's been great working with you on (project) please accept this thank you gift for your support.
As you come up with your own stock phrases keep a note of what word combinations suit your delivery. The personal element arises naturally from your relationship with the client or customer.
Did they attend a corporate seminar?
Then add a line mentioning it was great to see them at the seminar and you hope it was worthwhile.
The thank-you note is brief and to the point, avoid flattery in favor of honest appreciation for their continued business. It is a polite personal gesture delivered professionally and courteously.