8+ Unique Alternative Corporate Gifts to Switch Things Up for The New Year
Whether you're looking to reward your internal team of employees for a successfully completed project after months of toil and long hours. Or, if it's to celebrate the signing of a business deal or finishing off a major partnership project with your esteemed corporate clients.
It has often been common courtesy to send over a corporate gift as a professional way of saying thank you.
While it can't be denied that this is definitely a good way to strengthen relations between the management and its employees, or between your company and other partners in the industry, there may be times when you're stumped with corporate gift ideas.
There would also be times when you intend to switch things up and have more meaningful and productive working relationships.
Well, we have some fun and creative alternatives to the ordinary gift basket that will not only let your company and your partner companies get to know each other better but they will also make you appear to be an innovative and thoughtful boss in the eyes of your employees as well.
Read on and be inspired by these 8 alternative corporate gifts, plus a few more!
1 – Joint-company party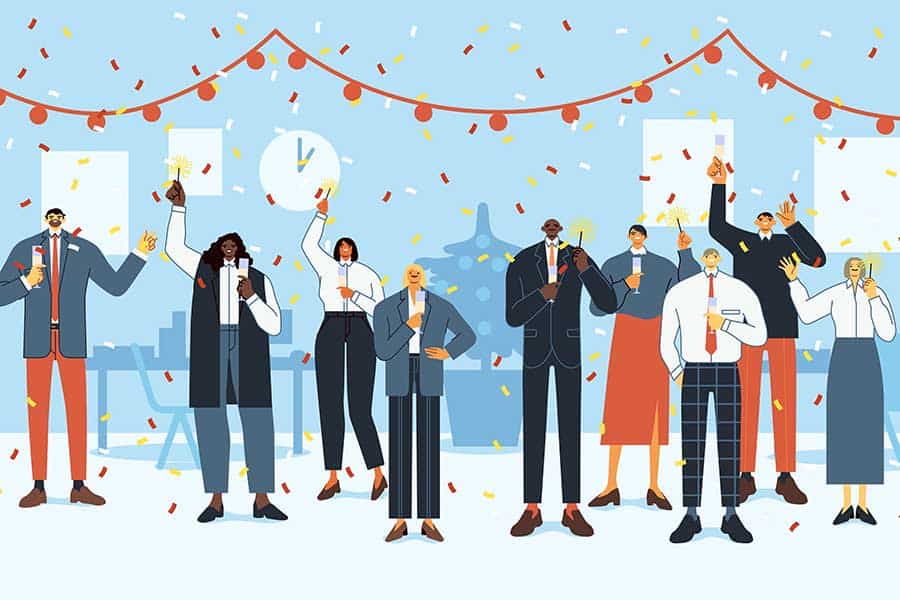 Although the importance of corporate gifting is undeniable, most of the time a standard gift basket with a generic thank you message may be seen as impersonal by certain people. Especially when you've spent so much time collaborating with each other.
It is also safe to assume that your company isn't the only business partner who has collaborated with your client. Therefore, the usual corporate gifts may not cut it, especially if you're looking to stand out from your competitors.
To show that you truly appreciate the professional partnership between the two companies, why not set up a simple soiree to celebrate a job well done?!
As it's a gathering between two companies include your entire staff as well, not just those who were involved in a specific project, as a way to make them feel part of the family and part of the company's success!
This works well because you will be able to spend more time with your staff or personnel of another company to get to know them better and establish better working relationships for future collaborations.
A joint-company party is also a fun way to get a little networking done which is always good for a budding business.
You could hire some form of entertainment, for example, a live band to keep your guests entertained and show you have good taste in organizing events. Make it a lively event where everyone can let their hair down and simply enjoy themselves outside of the confines of work.
2 – Company retreat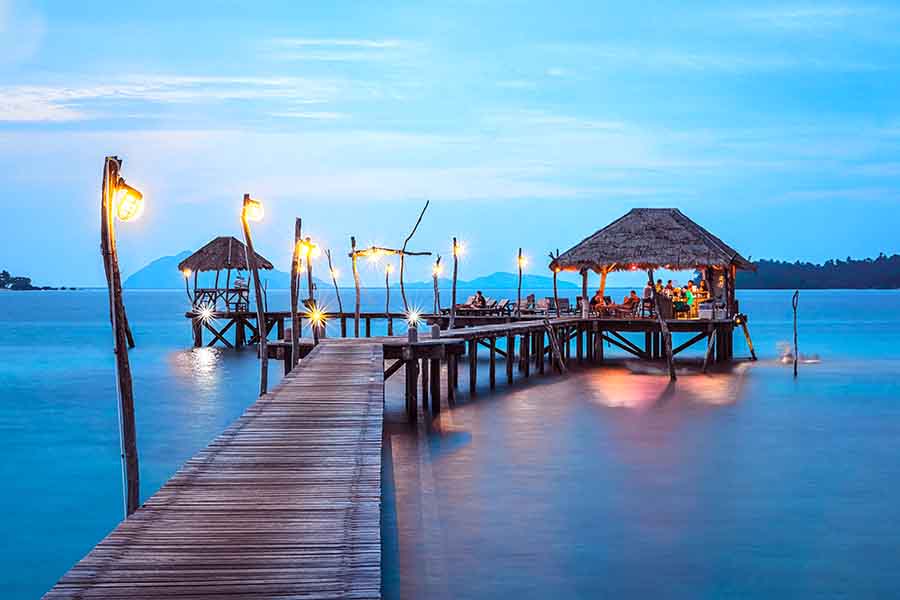 A company retreat is a great way to reward hardworking employees who have worked tirelessly for the past year. Why this serves as a better alternative to a generic gift is that your employees will be able to get some time off during the retreat to relax and recuperate.
It's also the perfect opportunity to casually get to know your employees and their personalities. You could treat it as an informal performance review by having a chat with them and get to know their goals and aspirations for the next corporate year.
When placed in an environment that encourages frankness, you'd be surprised to hear the unique idea from an employee that could help take the business forward or insight into why certain components of the company could be improved for better overall performance.
As many would have experienced, the time spent together can help increase the bond within the company as employees get to spend more casual time with one another away from the work environment.
Although it requires more effort in planning a retreat and the expenses may be higher, the takeaways from a company retreat are definitely much more valuable than just sending over an employee appreciation gift.
The video below is an example of what an enriching experience it can be for the participants!
3 – Company lunch/dinner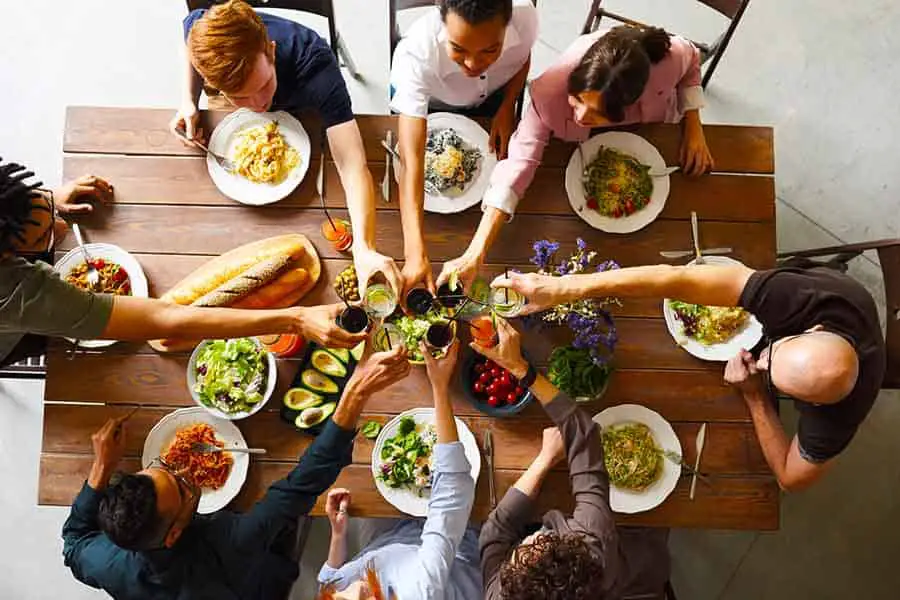 Much like the previous two alternative corporate gifts, only this one involves food and lots of it!
It's a good way to keep your guest company, and employees happy and well-nourished, while having some productive and meaningful discussions over the lunch/dinner table.
As is widely practiced throughout the corporate world, annual lunches or dinners are the perfect way to cap off the end of a good year while ushering in the next one. However, you do not have to limit them to an annual affair.
The food idea just never gets old! You can hold a food gathering the next time your company successfully completes a project or, when an employee's birthday comes up or, when the team morale is low and could use a little uplifting.
All great conversations start over good food, and if you play your cards right in selecting the cuisine, you just may score more brownie points with your guests if you've picked one of their favorites!
4 – Team building cooking class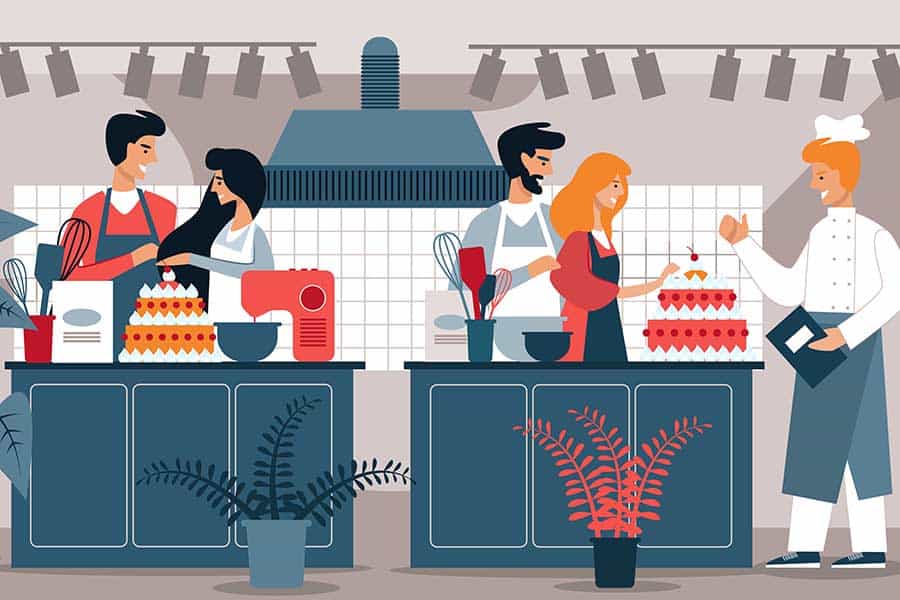 This is a good option to strengthen the bond between your team of employees and serves as a unique employee appreciation gift to them. Sign everyone up for a fun and interactive cooking class as an away day from the office.
Not only will your employees be happy in picking up a few new culinary skills, but this also builds up the team's relationship as they interact with one another by helping out in dishes or, collaborating in designing the next unique recipe or, tasting each other's food.
And once again, all good conversations start over good food! A cooking class will also increase productivity and creativity as your team will be able to expand their minds on areas outside their regular working routine.
Corporate cooking classes aren't just limited to the employees of a company, you can always organize one that involves external personnel from your corporate partners.
Quite often communications between your employees and external personnel only happen online or over the telephone. Meeting and interacting in person can certainly help reinforce trust and build stronger relationships.
All in all, it makes for a fun time out of the office for everyone involved and it can only be positive for the company!
5 – Creative Art & Craft workshops
You can try this out within your team or as an activity involving companies. Much like the cooking class option, you'll be able to boost your employees' productivity by participating in a creative corporate workshop of your choice.
Corporate team bonding activities such as this also boost teamwork and trust among your employees. Since this will involve a lot of creativity, you may be suddenly inspired during the workshop.
This may also be an avenue for you to exchange ideas with the other company while participating in the workshop and could potentially lead on to more opportunities for collaboration in the future.
From creativity-oriented workshops to corporate craft workshops, here are a few corporate workshop ideas to get your creative juices flowing:
5.1 – Art Jamming Session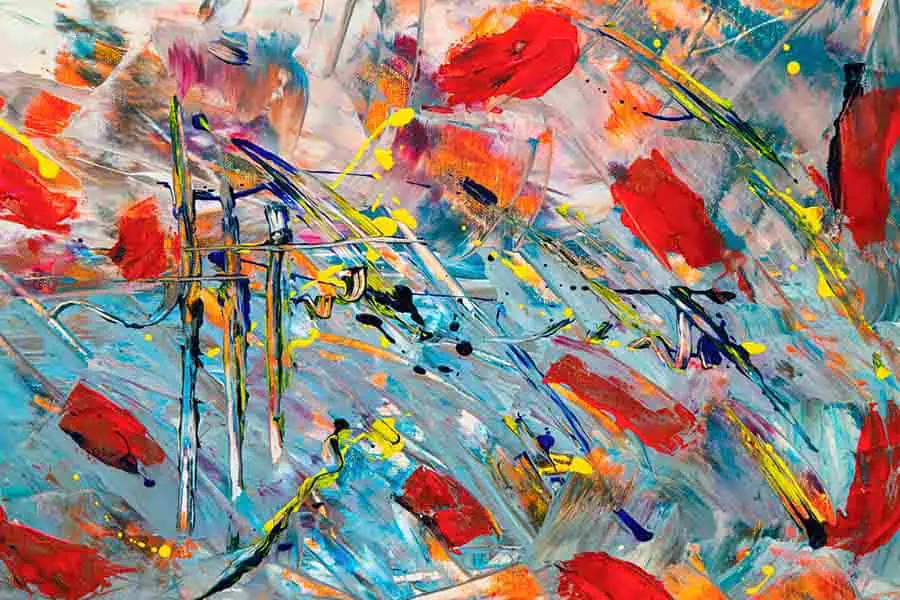 You don't have to be Picasso to be able to paint!
This is one of those corporate team-building workshops that also works well as a stress-buster! Although there will be facilitators available to provide guidance throughout the session, the participants are free to express their artistic souls and have fun doing it.
Besides, there's no better way to bond in the process than when the participants get to share a few good laughs with one another!
5.2 – Clay Modelling Workshop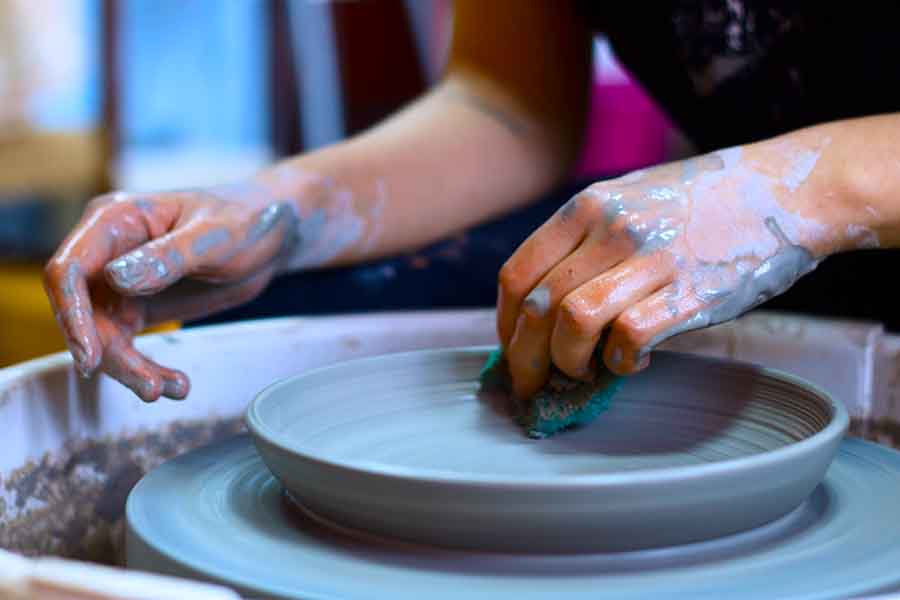 Sculpting your own clay masterpiece can be a very therapeutic experience, especially after all the stress that builds up over the long week of work.
A corporate craft workshop such as this effectively encourages you to stay away from all the modern electronic gadgets, even if it's just for the session, simply because you're forced to work with both hands.
5.3 – Leather Crafting Workshop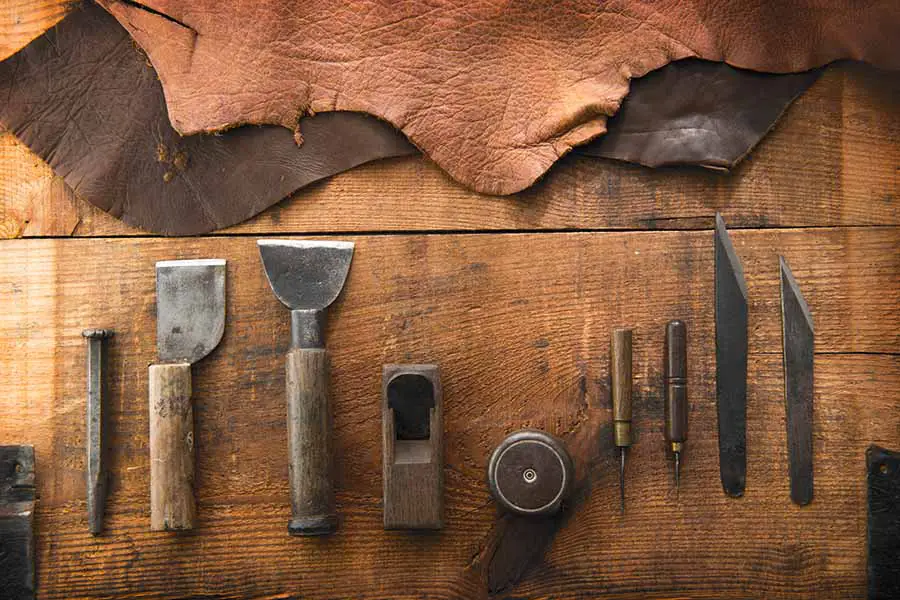 Open to all including absolute beginners, you can get firsthand experience with how leather products are made and put some of your handcrafting skills to the test.
Within the session, you can learn all the basic leather crafting skills including cutting and assembling leather, inserting studs, and hand-stamping your initials onto the leather using an assortment of leathers.
All the right leather crafting tools are made available for you to customize your project.
5.4 – Terrarium Workshop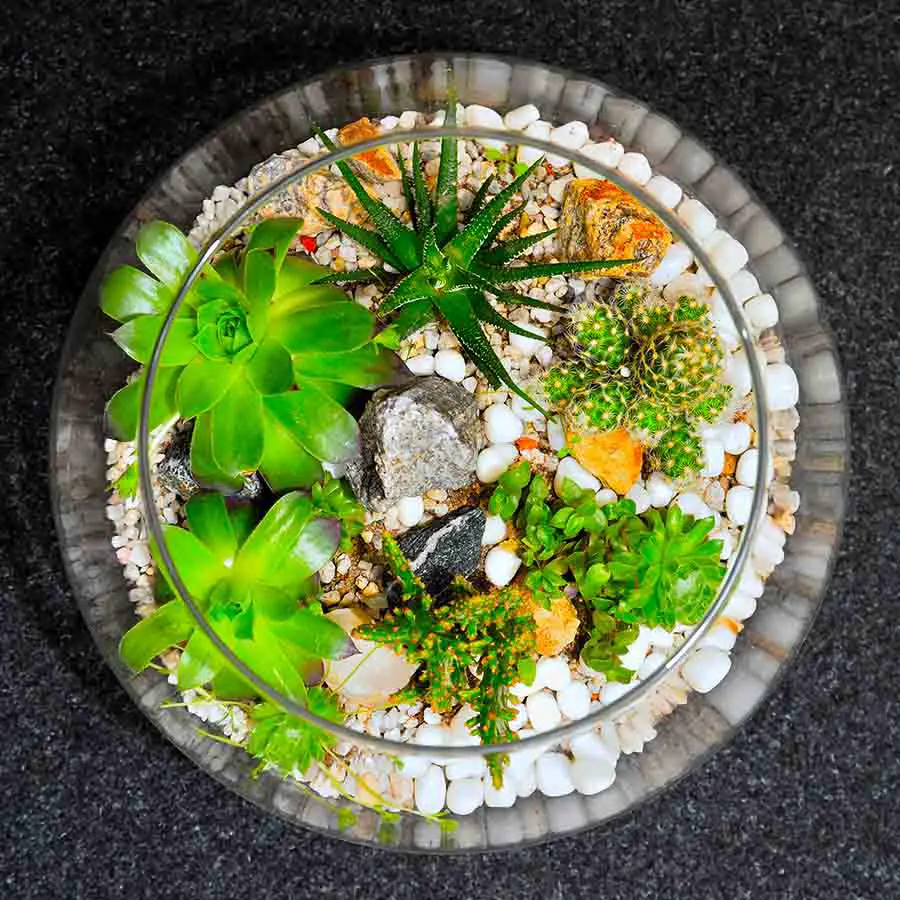 Terrarium design workshop is another creative team building activity worth exploring. A terrarium is essentially about designing a mini garden within the confines of a box.
In creating your DIY terrarium, you'll get to pick from a wide selection of succulents, mosses, pebbles, and figurines, and put them together to create a "tiny world" of your own.
Although it's designing within a box, this activity can be extremely liberating as you let your imagination guide you through your creation.
The terrarium boxes come in all forms and sizes, and if it's one that's small enough you can place it at your work desk. Not only does it add a little "life" to your workplace, but it also improves air quality, sharpens mental focus and increases productivity.
5.5 – Flower Arrangement Workshop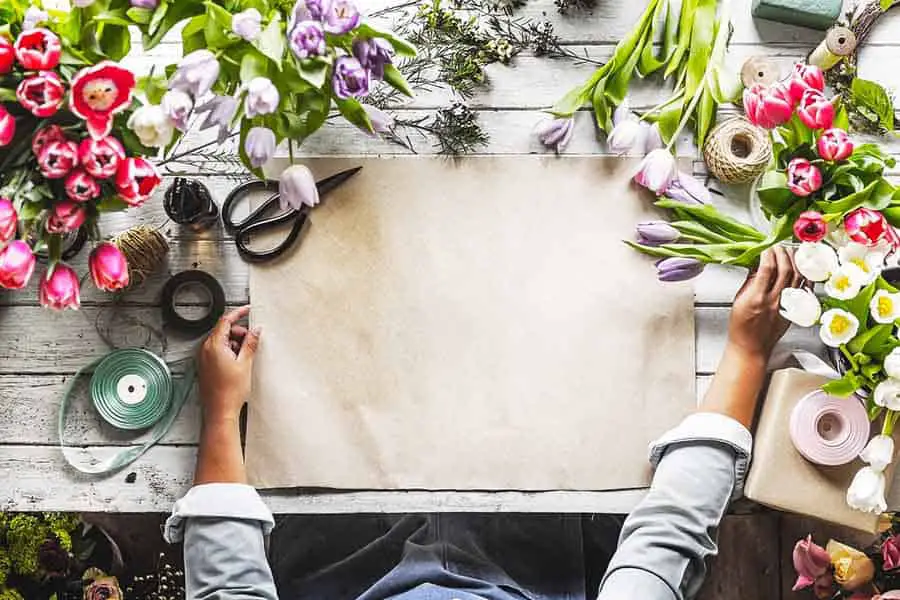 Not to be mistaken for being purely a ladies-only activity, the male colleagues can join in the fun of learning the technical skills in designing a bouquet. It's an art form that, once acquired, can come in handy when one wishes to add a personal touch to flower gifts to gift that special someone!
Held mostly in flower shops and overseen by professional florists, your team can choose to either work with fresh or preserved flowers.
As each session can accommodate a limited number of participants you may have to split them into smaller groups.
6 – Friendly Sporting Event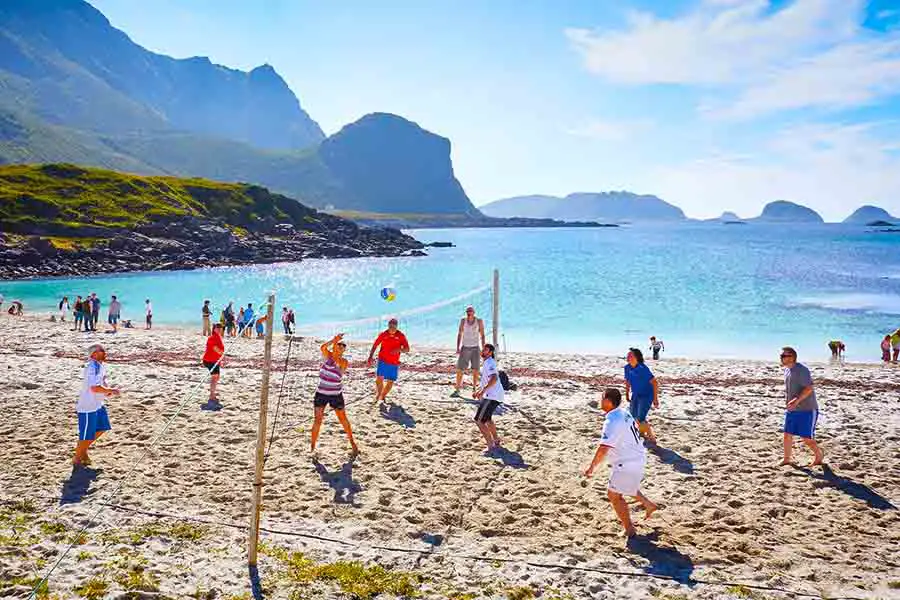 Nothing brings the team members together like a friendly sporting event. It's generally known that sports impart the essential skills of teamwork, team spirit, leadership and unity in achieving a common goal.
Pick a sport by popular votes and have a friendly match between teams. This can be done for the employees within your company or with a guest company.
Furthermore, to make the event more inclusive choose a sport that both male and female colleagues can play together.
If you get to include the top executives as well, you'd have a superb opportunity to enhance team bonding across the entire organization. Playing a friendly sporting match together can definitely deepen the relationship dynamics within your team and encourage some healthy competition between them.
A sporting event also allows your employees to move about and away from toiling at their office desks. Besides helping to release some stress after a long week of work, you can show your corporate partners that you're someone who takes health and wellness seriously for your employees' benefit.
7 – Charity Work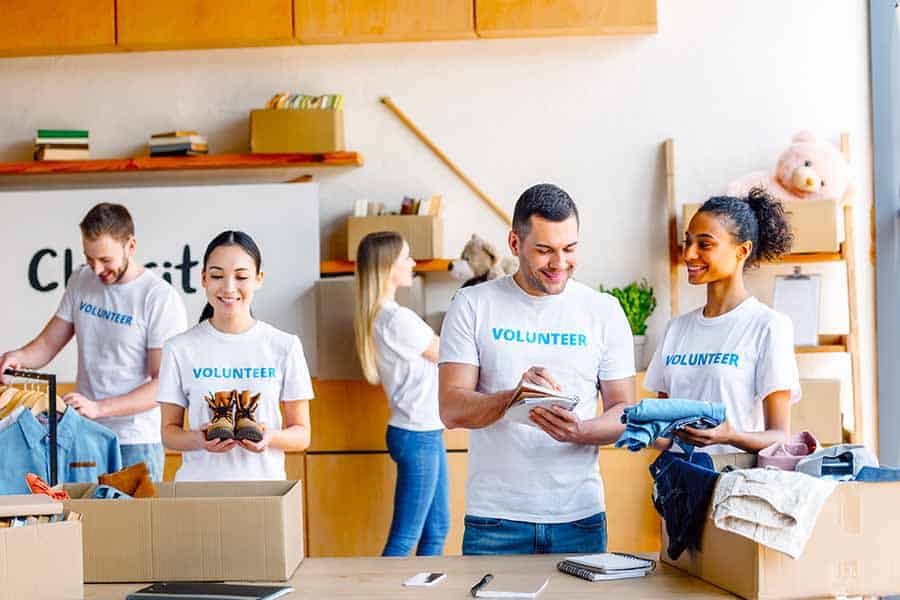 This activity will not only show your philanthropic side, but it is also a good way to write off as your company's CSR (source).
Depending on the type of charity work you choose to do, it will again benefit teamwork within your internal employees and also be a positive impact on society.
The outcome of this will make everyone involved feel better about themselves as they have made a good contribution to those in need.
More importantly, it will give them a few moments to reflect on the things that matter in life and what each individual in society can do to create more value, than worry about some trivial things that we get caught up with sometimes.
This will ultimately be a much more rewarding experience compared to just receiving a generic corporate gift.
Although giving certain gift items can make us wonder if corporate gifting is ethical at times, organizing joint corporate charity events as a gift can be very liberating indeed!
8 – Sponsored Vacation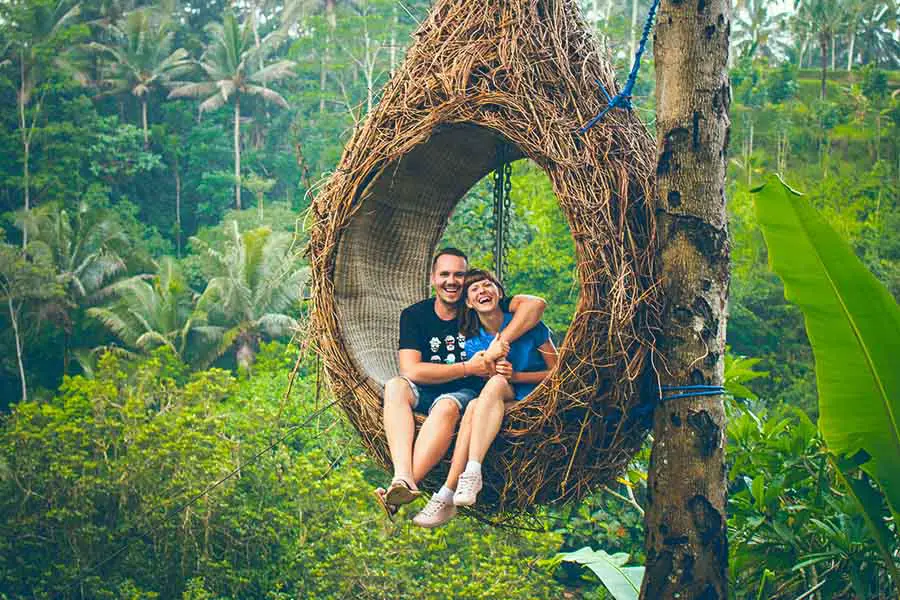 While we've produced an entire article on the unique gifts to give your employees as appreciation gifts and why it's good to do so for overall staff morale, it's important to reward hardworking employees especially those who have been serving the company for a long time.
A generic gift in this case just won't cut the mustard.
A company-sponsored vacation, whether sponsored in full or in part, will be so unique in the eyes of the employees especially when they can include their partner or family members.
The best way to go about giving such a gift is to set a maximum value claimable and allow the employees to choose their desired destination.
Such a gift isn't just effective in representing a token of appreciation for their loyalty, it will spur them on to continue contributing positively and creatively to the company for years to come!
While the ideas above work as great alternatives to conventional gift items, there are other unique and practical corporate gift ideas for clients that you could consider. Those gift ideas still maintain a good level of practicality to them so they're not simply a waste of your hard-earned money.
However, if you're looking to get something for the more affluent clients then probably only luxury gifts would suffice.