Christmas Tea Gifts – Your Essential Guide for the Holiday Gift Giving Season of a Lifetime!
Christmas is a season full of opportunities to give gifts to your close friends and relatives and some acquaintances.
Sometimes we look forward to it with anticipation and other times we stress about exactly what we are going to give as presents. We want our gifts to be appreciated and welcome, we don't want them to be forgettable or generic.
This year stand out from the crowd – give tea gifts for Christmas and surprise and delight everyone on your gift list with a thoughtfully chosen unique gift!
Tea Gifts for Christmas Gift Giving Occasions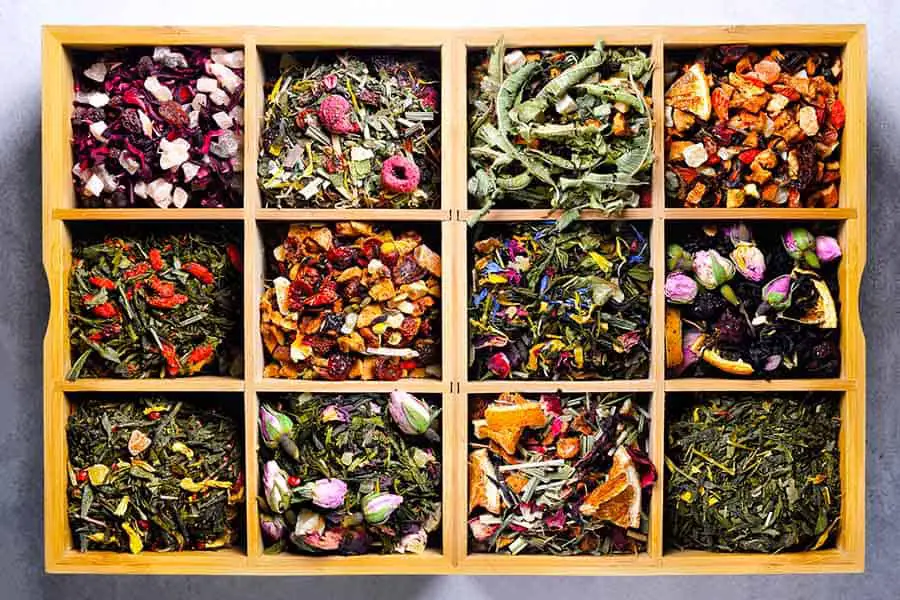 It's not just one day of gift-giving but spread across December. A carefully chosen and packaged tea present for Christmas will meet many of your gift-giving needs.
Main Event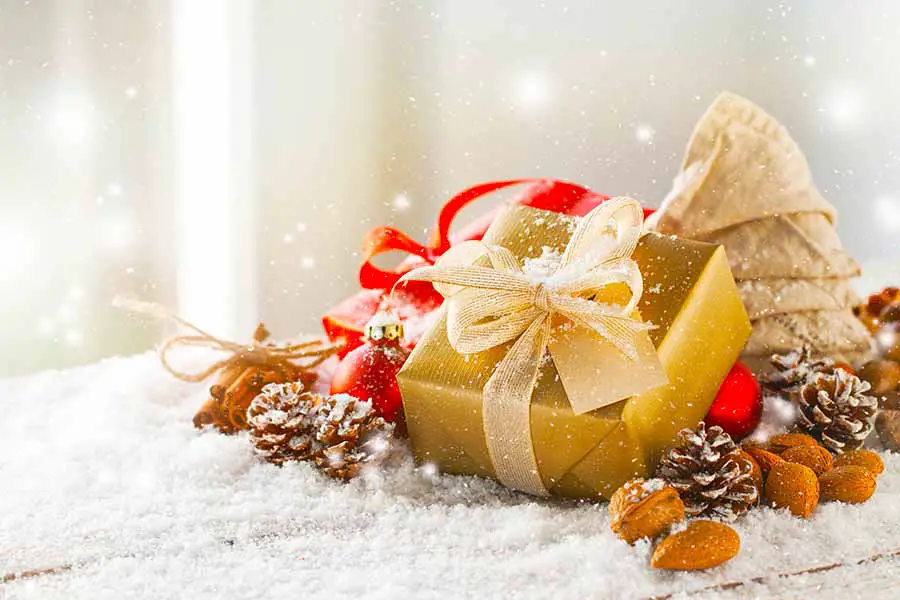 Depending on the recipient the Christmas day gift can be lavish or modest, or something in-between.
You may want to buy your gift – like a top of the range high tech tea maker, or packaged tea gift set, or spend time assembling a gift from carefully chosen tea-related components.
The best Christmas gift for tea enthusiasts is loose leaf tea – with all the variations of flavors and origins! An excellent fermented tea can cost more than a vintage wine in some cases.
You can provide one unique tea or a selection for an exquisite taste sensation. Alternatively, you can invest in an elegant tea set with classic styling or a more exotic offering from another tea-drinking nation.
There's an appropriate tea gift for everyone on your list this year – for your grandparents, spouse, siblings, or friends. If you have a gift to buy there is a gift that will suit them to a T!
Advent Gifts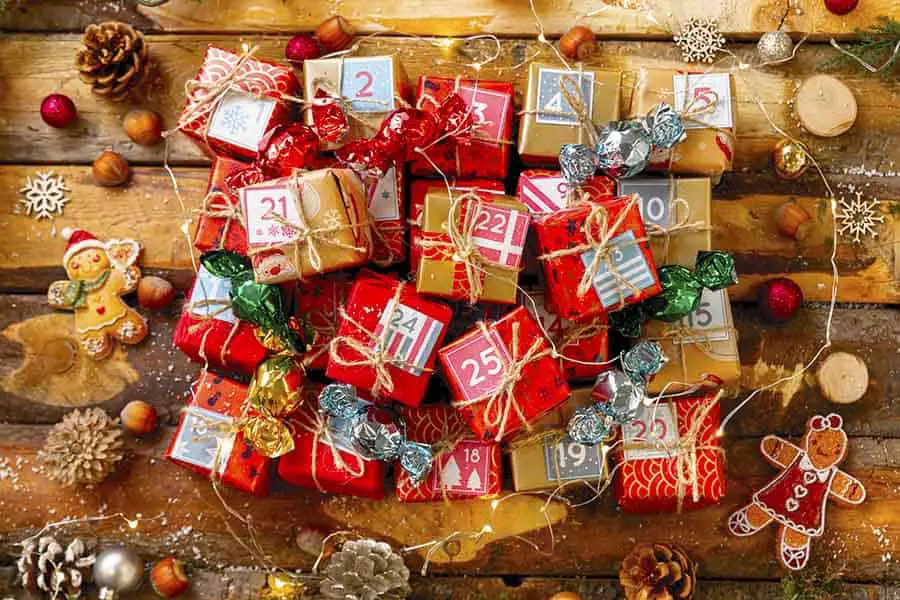 There has been an explosion of advent calendars in recent times aimed firmly at the adult market – expensively packaged and themed.
You can buy a tea-related advent calendar or one with scented tea lights for the significant person in your life, or you can go down the DIY route.
Craft stores have a vast selection of advent boxes that you can paint and decorate yourself. The space for the actual gift is tiny – pyramid tea bags attractively wrapped are perfect for these small spaces!
A more flexible approach is to fill a small basket or box with twenty-four small parcels each with a number applied to a tag or the package – this allows a variety of present sizes.
Small tea-related Christmas gifts for the tea lovers in your life that are suitable for an advent box are pyramid tea infuser tea bags (keeps the budget affordable), teaspoons (with a Christmas theme), tea infusers (single-use or novelty mesh balls), aromatherapy scented tea lights and tea towels (lovely selection of Christmas motifs).
Christmas Eve Present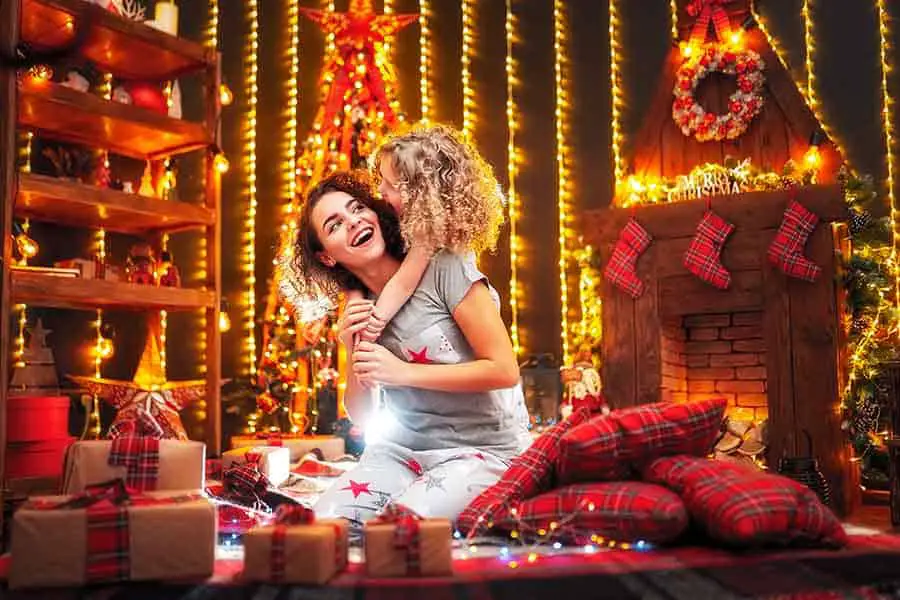 Another relatively new tradition is the giving of a Christmas Eve present – either after midnight mass or at the evening meal.
If your Christmas day explodes with noise and people, a quiet thoughtful gift the day before for a busy mother or sister-in-law of a sweet or spicy tea kit packed in a mason jar is a pleasant surprise.
Stocking Fillers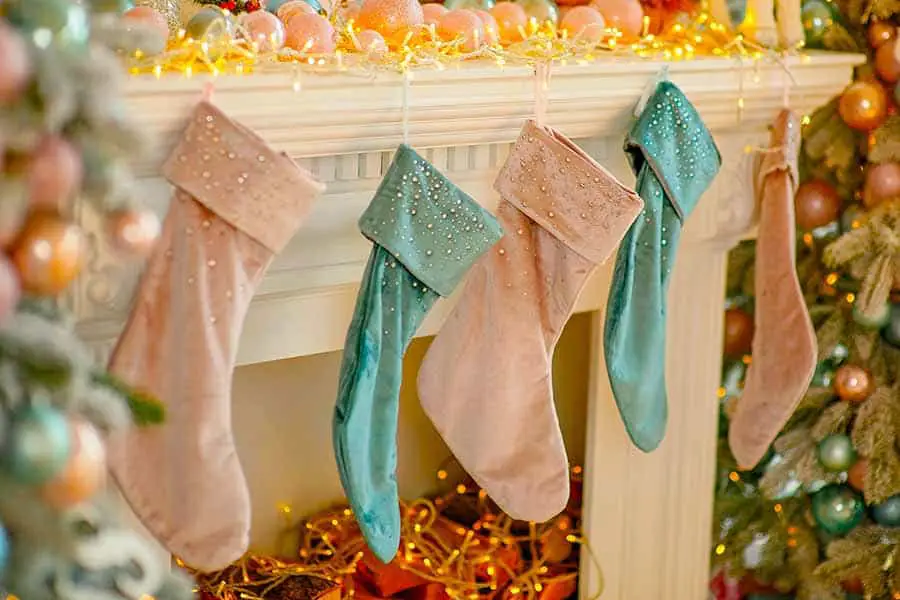 The Christmas stocking is no longer the preserve of small children as many adults also enjoy a Christmas stocking packed with a few exciting or fun items.
Christmas gifts for tea drinkers make excellent stocking fillers or you can have an utterly tea-themed Christmas sock!
There are vast choices of teas packaged as convenient tea bags, disposable infusers, flower tea balls, and loose-leaf tea packed in small jars or tins.
You can put together a tea kit in a mason jar, including a recipe for a Christmas spiced tea punch. You can include consumables like sugar cubes, dried lemon slices, and biscuits.
Then there are useful items like strainers, infusers, tea bag squeezer, and small dishes for used tea bags.
Moving up the budget scale you can add in teaspoons, teacups (single like a gaiwan, or in sets), and small teapots – just some of the seemingly endless tea gift ideas for Christmas.
Christmas Crackers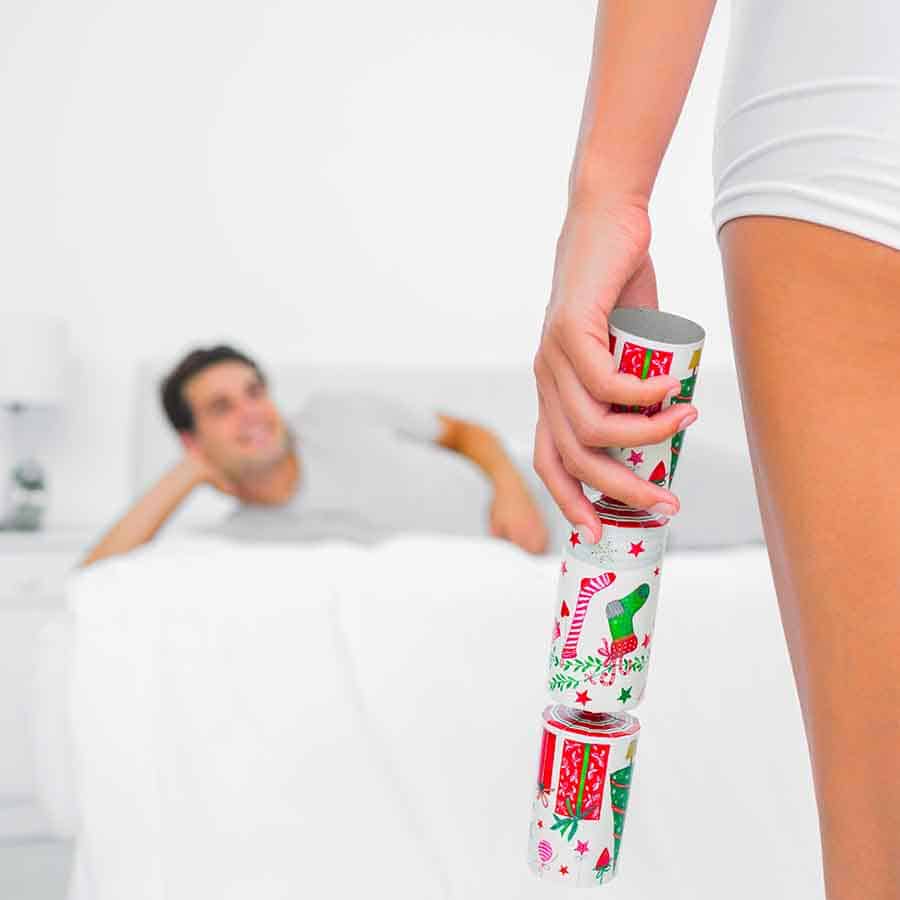 The Christmas cracker was a way of selling more sweets at Christmas. The classic elements are the snap, the joke, the hat, and a small gift.
The Christmas cracker provides everyone with a moment of fun and a hat to wear, as well as a small novelty gift.
DIY cracker kits are widely available and this lets you choose the contents. Making crackers is a lovely way of getting a younger member of the family involved in the Christmas preparations. A box of handmade crackers is a charming gift for mom, dad, or grandparents.
An ideal small cracker gift is a selection of novelty infusers for tea. Made from metal or silicone they can be charming (cute teapots), funny (animal-themed), practical (test tube), or Christmas themed.
Alternatively, small tea bags in individual packaging, flower tea balls in silk bags, or novelty teaspoons make excellent gifts.
Add in a tea quote, pun or joke and you have a great set of tea-themed Christmas crackers for your festive table!
Secret Santa Gifts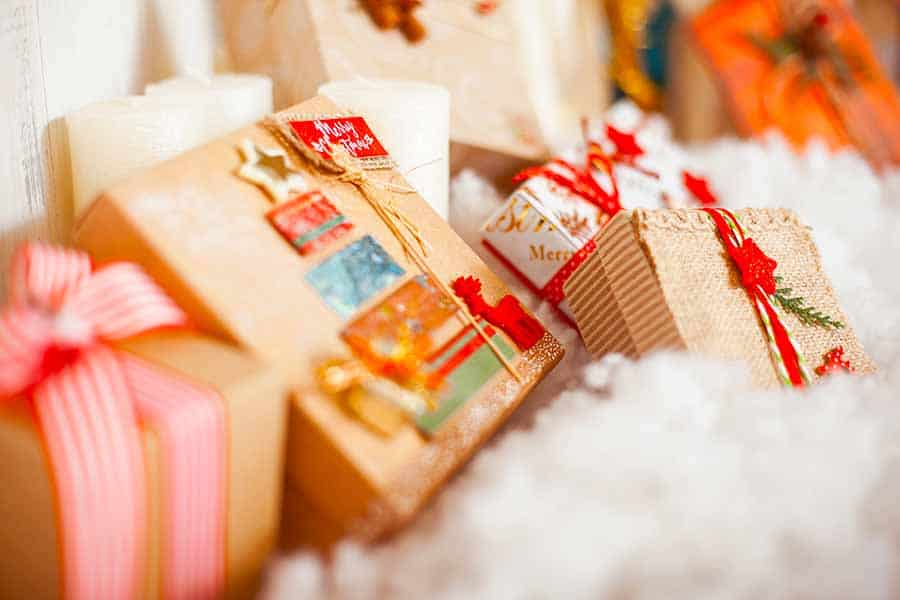 Secret Santa gifts are a practical solution to placing an unwanted expectation to buy multiple gifts for people you barely know. A set budget and the luck of the draw.
A tea gift is a perfect solution for the Secret Santa event as it is suitable for all ages, genders, and cultures.
The size of the budget determines the type of gift that you will choose. Great Secret Santa gifts include tea in tea bags, loose leaf tea in a decorative tin, tea towels, teaspoons, teacups, and tea infusers – inexpensive tea gifts for Christmas either alone or in combination.
A Christmas tea kit to make spiced Christmas tea punch is another welcome Secret Santa gift that anyone can enjoy.
Emergency Gifts
Ever had that awkward moment when someone gives you an unexpected Christmas gift that you haven't reciprocated?
It's embarrassing and can make you feel awful.
The solution is to have a couple of beautifully wrapped emergency gifts on hand at home or in an office drawer. A tea-related gift is an ideal option for these unforeseen gift-giving events.
Suitable emergency gifts include – tea bags in Christmas flavors (more on this later), small tins of loose tea, festive tea towels, and a combination of tea and biscuits as a small package.
These are all charming gifts that are also useful for yourself if you didn't need to deploy them.
Appreciation Gifts
On everyone's Christmas gift list there lurks a couple of appreciation gifts!
Your child may take in a teacher gift, your neighbor may take in your parcels and keep an eye on your property while you were away on holidays.
There are people like your dog walker, childminder, or receptionist at your gym – you have people in your life that deserve a small appreciation gift at this time of year.
A gift of a single tea, a mug filled with tea bags, or a beautiful stand-alone teacup is a lovely way to say thank you at this time of year in a fuss-free friendly way.
Charity Gifts
Christmas is a time when many of us like to make a personal donation to a local charity or good cause either for use by the charity or as a fund-raising item.
A tea gift basket is an ideal gift for this purpose. Fill your basket with a selection of tea and sweet treats.
You can combine with friends, family, or coworkers to fill the hamper and deliver it to your chosen charity.
Far-flung Relatives and Friends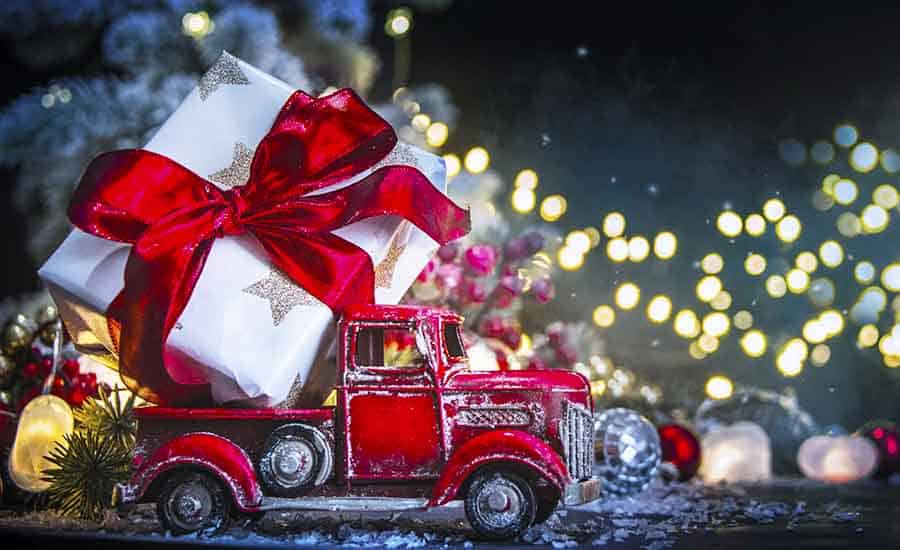 Our nearest and dearest may live quite far away from us – grandma, aunt, or brother that works in another state.
For these, we need to plan and make sure that the gift arrives on time and stays in good condition until the big event. A secondary but necessary thought is the ease and cost of posting.
The tea caddy was born out of the export trade from China to the rest of the world. The leaf tea was sealed into tins to keep it dry and in tip-top condition.
A modern or vintage tea caddy filled with a unique or favored blend of tea is a lovely gift for sending to a distant friend or relative. The tea will arrive in excellent condition and lets them know that you are thinking about them, even though they are far away.
If you are looking for a visual reminder of home, how about having a set of custom printed tea towels with photographs of the family?
You can add a festive touch with Santa hats and personal messages. Tea towels make straightforward packages for sending to any country.
Work Place Gifts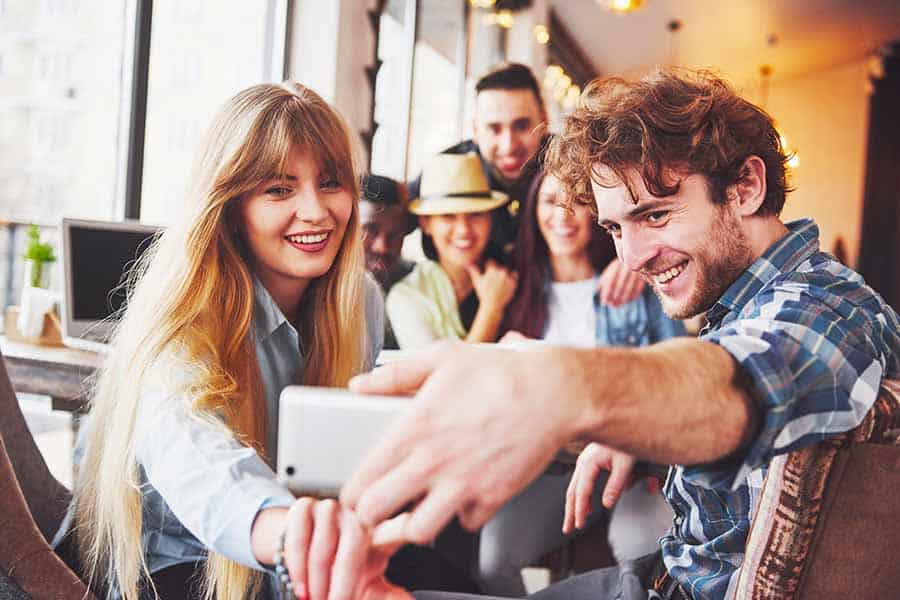 In addition to Secret Santa there are Christmas corporate gift-giving occasions.
In business, client relationships are a vital part of the equation. Nurturing that relationship takes time and effort and an appropriate Christmas gift helps cement and maintain those bonds.
A tea gift basket is ideal as it is flexible enough to act as a gift to an individual or a team.
A tea gift set comprising a glass teapot and some flower teas is an attractive gift for an individual without being excessive or a tea gift set of a selection of teas for use in the office or at home.
As the boss or manager, your employees appreciate a personal Christmas gift in addition to any organized offering. A small gift that says you took time to think of them in particular, with a handwritten note.
The present can be modest – a Christmas tea blend, a novelty infuser, or a beautiful teacup with lid and saucer – as it is the thought that counts on these occasions.
There are some colleagues and coworkers that you have worked with for years. Your bonds have formed over shared stories, laughter, and tears. They've become friends and you are in the habit of exchanging a small gift at Christmas.
A dessert in a teacup with a novelty spoon carefully wrapped, a Christmas loose leaf tea in a mason jar, or a single unique tea all make lovely gifts for a work friend.
Some offices have a tradition where everyone in a department exchanges gifts at Christmas, regardless of how new you are, and this requires a skillful approach.
A selection of teas in biodegradable pyramid tea bags is an adaptable and flexible gift that offers a variety of options for each person.
Personalized teaspoons, teacups and office mugs are also choices that can adapt to everyone!
Christmas Tea Gift Choices for Everyone

Tea as a product has infinite varieties of flavors and forms, add in all the tea-related accessories and you have a superb range of tea presents for Christmas!
Best Tea for Christmas Gifts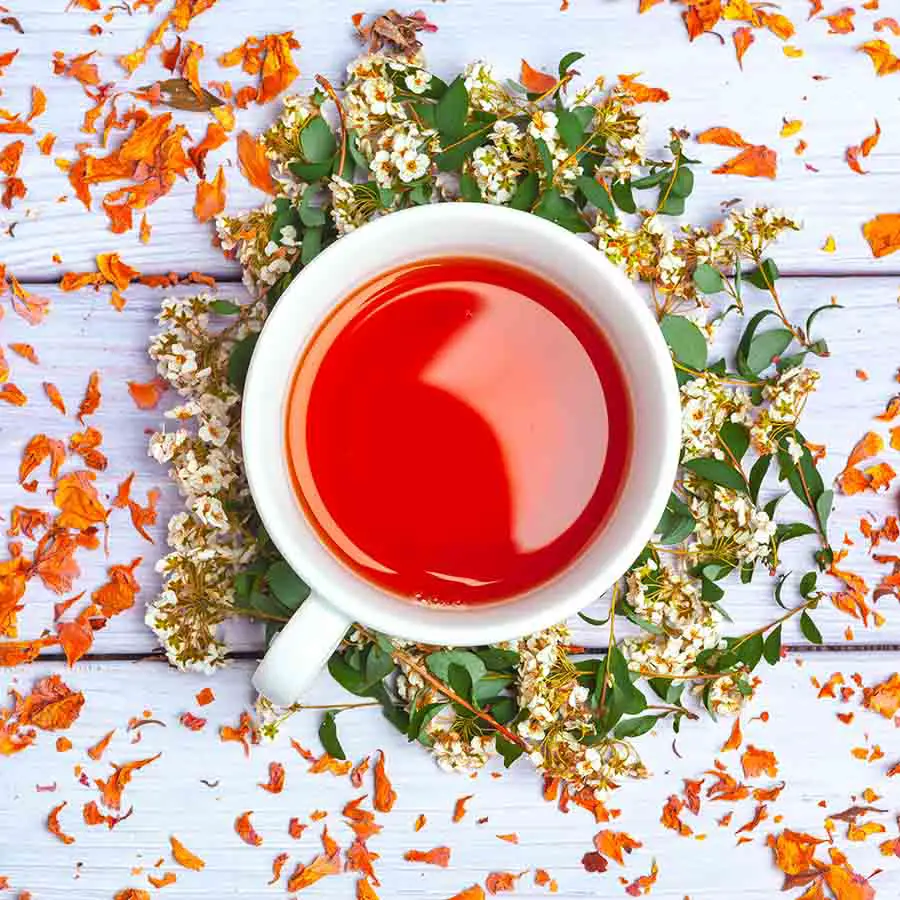 At Christmas we look for the extraordinary, the novel and traditional Christmas scents and tastes.
Tea can come as a tea bag, loose-leaf, matcha powder, flower ball, or as a tea diffuser. The tea can be black, green, yellow, white, herbal, blended with flowers or fruit, aged, fermented, or smoked.
Tea grades and degree of processing all have unique names and terms which can be confusing to the average person but fascinating for the tea enthusiast.
The best tea for Christmas gifts is the one that suits the recipient. Unique or exotic flavors, loose-leaf or matcha green powder, there is an excellent tea for everyone you know.
Match your tea choices to personality, lifestyle and individual preferences for the perfect match!
Loose Leaf for the Tea Enthusiasts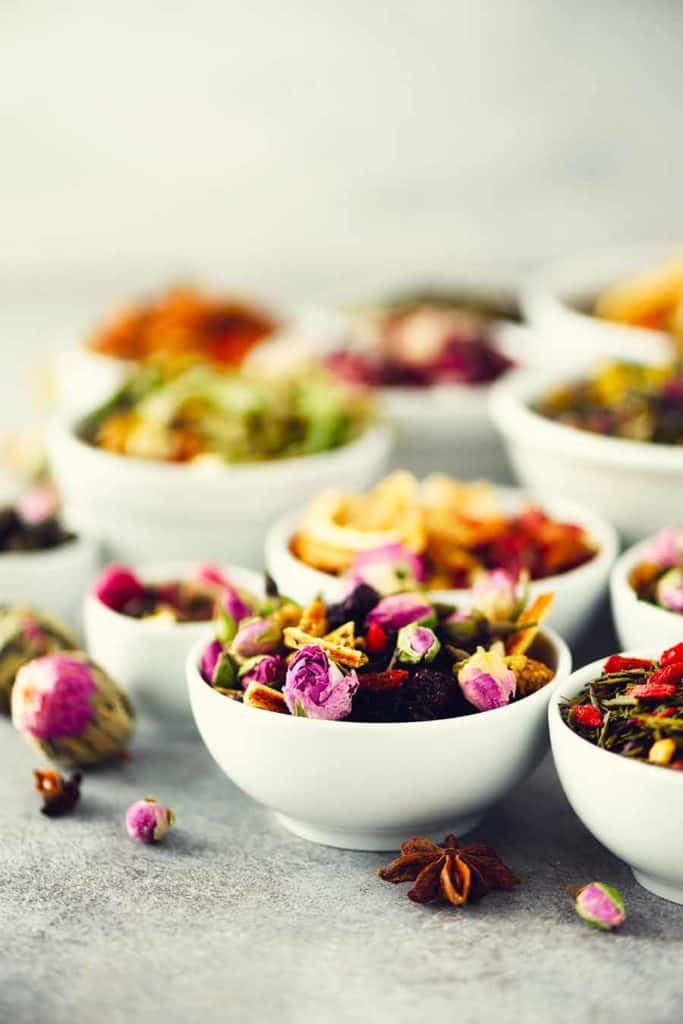 The best Christmas tea gift for the tea enthusiast is a carefully chosen leaf tea with impeccable credentials.
The basic types of tea are:
White tea: minimal processing (handpicked and dried) producing a delicate light tea, with names like silver needle.
Green Tea: The leaves are kiln fired to dry them. Green tea produces complex flavors and is rich in antioxidants. It blends well with flowers, spices, and fruit.
Oolong tea: The leaves partially oxidize before drying. A mid-stage between green tea and black tea. The range varies from 5% oxidation to 80% each with different flavor notes.
Black Tea: Fully oxidized to produce the strong tea flavor favored by western tastes.
Pu-erh Tea: Tea bricks or cakes of processed tea is aged in a dark humid store to produce rich complex flavor akin to whiskey or vintage wine.
For your tea enthusiast consider something like "100 Monkeys" – a rare White Mao Feng tea from China, Gyokuro tea from Japan where the leaves are kept in the shade before harvest or the surprising (and shockingly expensive) Poo Poo Pu-erh tea made from insect droppings.
You don't have to break the bank to provide a loose-leaf tea Christmas gift for the tea lover dear to you as there are many excellent single garden teas from around the globe.
If giving a tea selection, consider including an excellent example of each type of tea in a packaged tea gift set.
Not every tea enthusiast is a fan of Asian teas so a selection of classic black teas like Earl Grey, Assam, Darjeeling, and Chai are excellent choices to fill a Christmas gift box.
Christmas Tea Flavors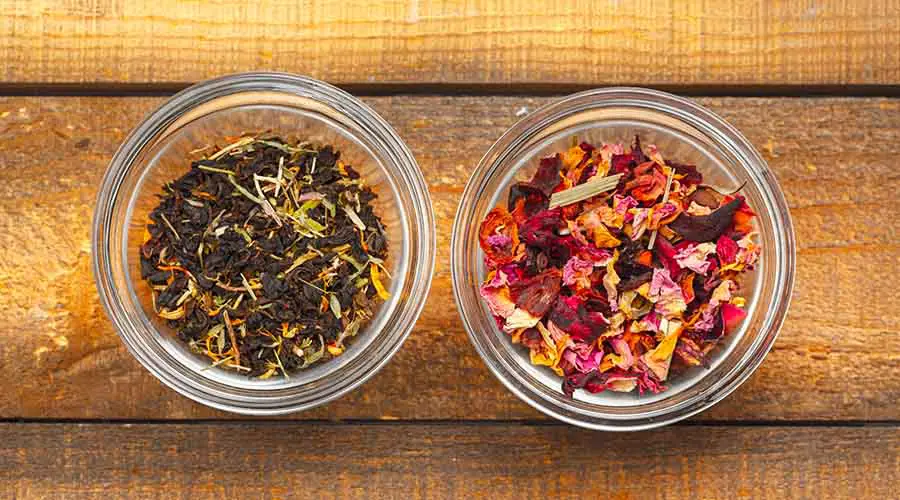 Tea is a versatile base for many flavors like black tea with buttered rum, butterscotch or caramel, green tea with cranberries or lychee, and finally an Orange Oolong with the rich Christmas tastes of chocolate and orange.
Exotic flavors may please the adventurous, but the fragrant French Earl Grey (black tea with bergamot) or herbal tea blends (fruit, flower, ginger, peppermint, and spice blends) may suit western tastes both as gifts and as beverages to serve with the meal.
The variety of flavors and blends means that you can find a different tea for everyone with all their favorite flavors as part of the combination.
Every year a range of unique Christmas tea blends are available to reflect the cinnamon and winter spice notes of Christmas food.
Biodegradable Pyramid Tea Bags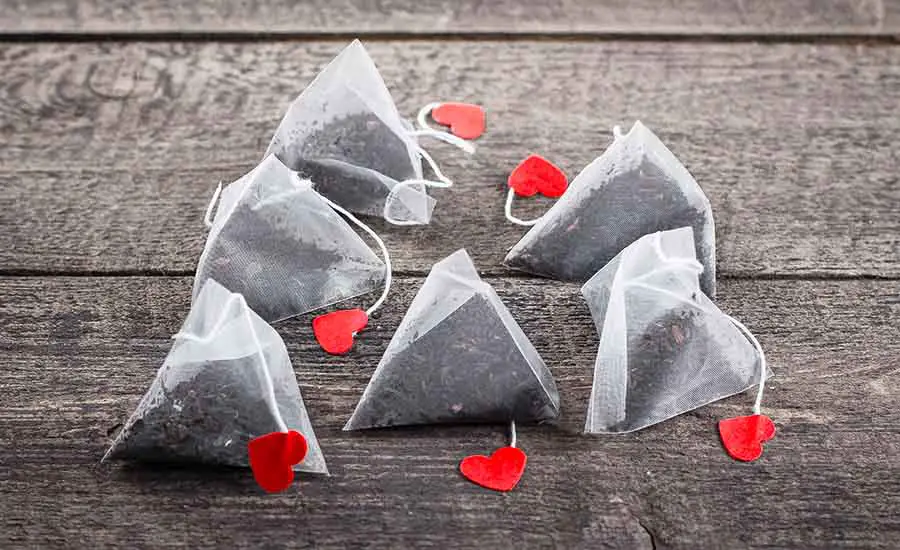 Tea bags come with a poor reputation with tea lovers because the tea used is chopped and often dusty.
On the contrary, pyramid-shaped tea bags with their smart plant-based pouches generally contain quality loose-leaf tea and larger cut ingredients to brew excellent tea in a pot or cup with no mess. You get access to a superb range of quality tea and tea blends in these bags.
They also make excellent advent gifts, stocking fillers, cracker gifts, components in tea kits and can be part of a bigger present or a stand-alone selection.
The convenient yet eco-friendly tea bags (depending on the material they're made from) are excellent gifts for tea drinkers and are thoughtful gifts especially for students living away from home, travelers for work, business or pleasure, distant friends, fitness enthusiasts, and office workers.
Tea Flower Balls & Flower Teas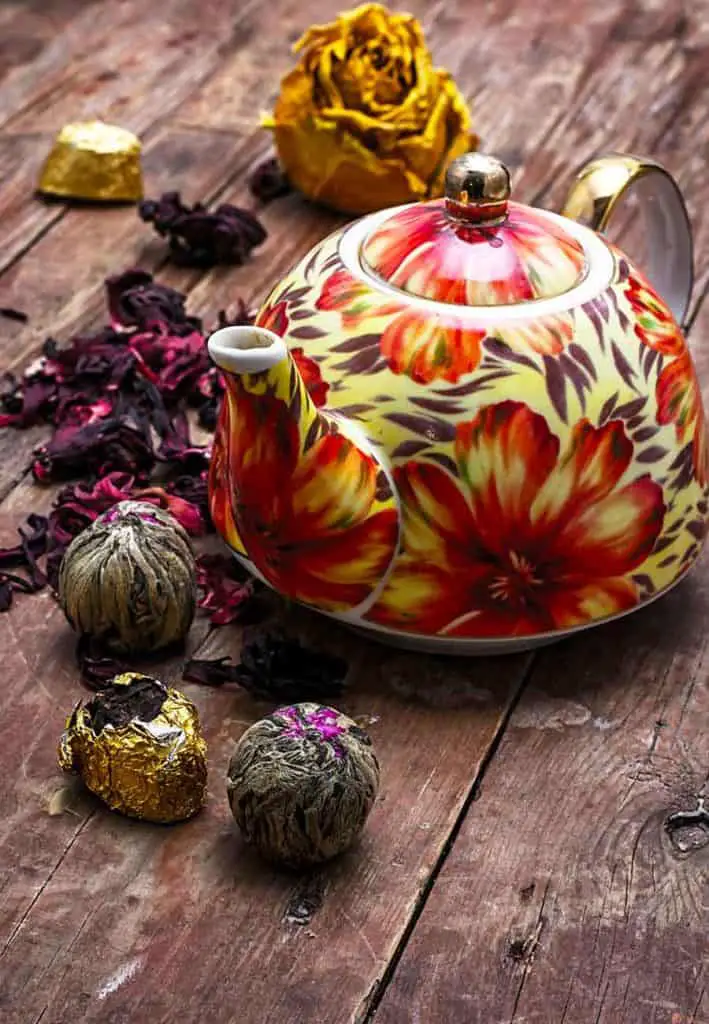 Tea flower balls are sensational for providing drama in a teacup or glass. They work best in clear containers as the flower blooms in hot water.
The tea flower ball is a compressed mixture of tea leaves and flowers (and sometimes fruit pieces) that ensure that the unfolding is a beautiful event.
Flower teas, on the other hand, are blends of leaf teas and dried flower petals. The range of flowers – rose, hibiscus, jasmine, Osmanthus, etc. – are expertly blended with black, green, and white teas using traditional methods to achieve unique aromas and tastes.
They make delightful gifts for the women in your life. Team them with a lovely glass teapot to display them to advantage as they slowly unfold and infuse.
A glass teapot and a selection of flower-themed teas are available, separately or in combination sets. They also make excellent gifts for anyone you know who likes to host dinner parties as flower teas make the perfect complement to any meal.
They are a charming secret Santa gift as they are uncommon yet celebratory. The wide selection available makes them ideal as advent box gifts, cracker inserts, and stocking fillers.
Herbal and Caffeine-free Teas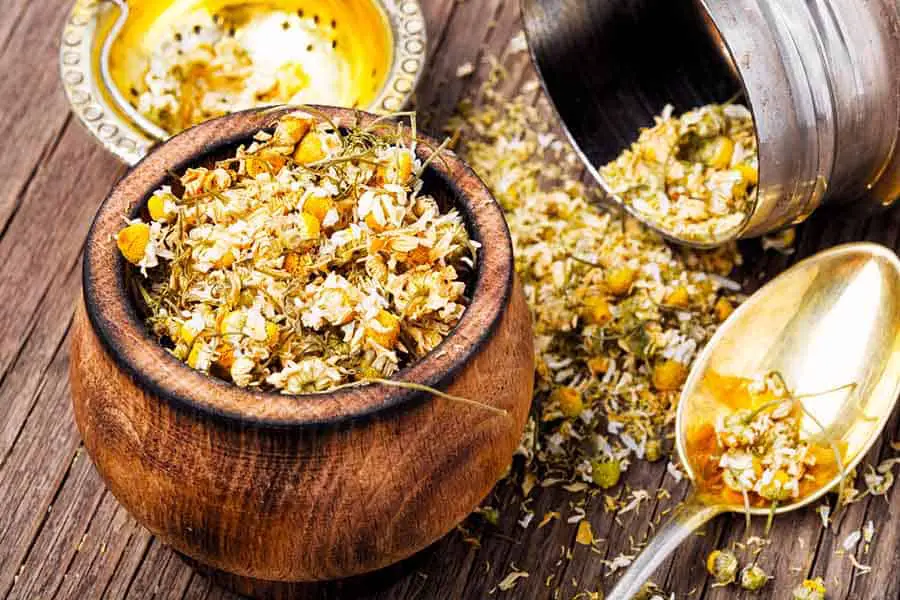 Rooibos or red bush tea from South Africa is a tea made from the Rooibos bush and is naturally caffeine-free.
It has a strong tea flavor and is enjoyed by many who want a tea drink without caffeine.
Herbal tea or herbal infusion provides a wealth of clean natural tastes without caffeine. These are in tea bag or loose tea form, and combine fruit, flowers, herbs, and spices for many exciting taste profiles!
At Christmas, cranberries, apples, ginger, and cinnamon keep to the festive theme. Herbal teas make excellent secret Santa gifts, small advent presents, as well as stocking fillers.
Teapots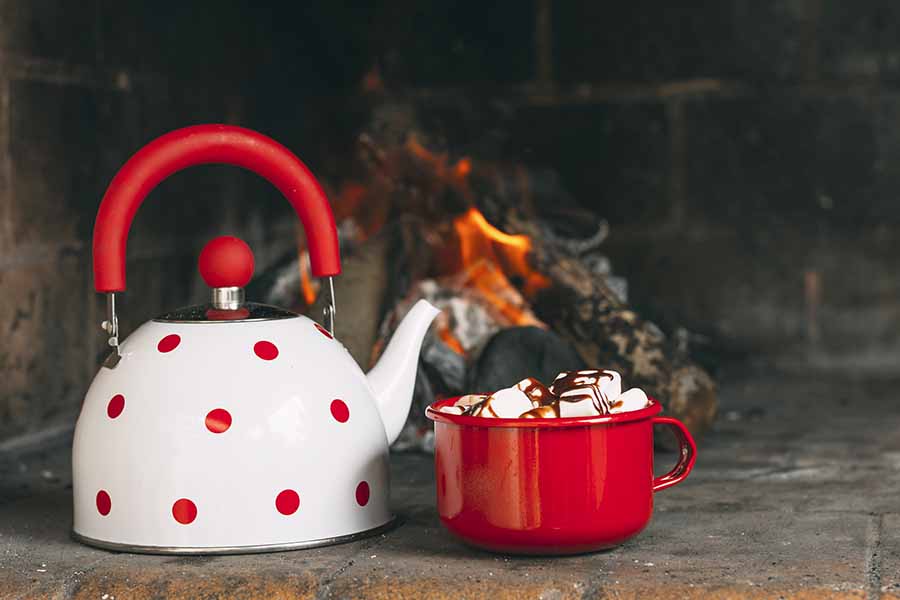 As a Christmas gift for tea lovers, a teapot is an attractive choice. There are artistic, cultural, traditional, and modern choices.
A teapot can be gifted singly or as part of a tea set. The teapot is undoubtedly an iconic part of the tea-drinking culture!
A practical large teapot and a supply of eco-friendly tea bags suit the student staying up late to study for exams. Either that or a gift of teapot set with built-in infuser and a choice of loose-leaf tea would do the job nicely for a vegan tea lover.
The classic bone china teapot (with tray and teacups) is a charming gift for the couple who enjoy sitting in their garden or porch for afternoon tea.
An oriental teapot that is decorative as well as useful for the budding interior designer who has just moved into their first apartment. Meanwhile, a cast-iron classic Japanese teapot would be the ideal Christmas gift for the tea enthusiast in your life.
Novelty teapots are quirky, fun, and still make great tea. As a tea gift for Christmas, the novelty teapot matches any interest or hobby as they come in all shapes and sizes. If you can't find the right teapot you can commission an independent potter to create one to your design.
Along with teapots there are teapot accessories – teapot stands, strainers and cozies.
A strainer prevents any errant tea leaves escaping from the teapot into the cup. On the other hand, a cozy provides an insulating jacket to keep the teapot contents warmer for longer so you can enjoy a second cup of tea.
Buy your cozy or make it using quilting, knitting, or crochet skills. A cozy can add a fun element to a plain teapot – a Santa hat or one with reindeer horns, to provide a Christmas themed gift.
If you break the lid of a teapot, don't throw it away!
Save it as a handy container for flowers or as a pot for windowsill herbs like mint. These repurposed teapots make lovely gifts at Christmas time.
Teacups and Tea Sets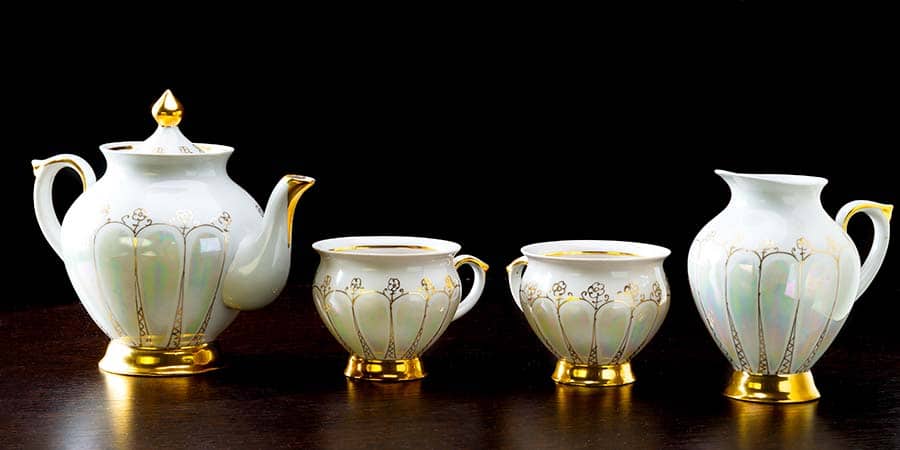 Individual teacups are a charming appreciation gift at Christmas. You can choose a unique Christmas design or have a personalized teacup created with a meaningful design or message.
Single teacups make adorable gift holders as you can fill them with gourmet chocolates or individual deserts for a hand-crafted edible gift for friends and family.
Excellent deserts to fill an individual teacup include no-bake cheesecakes, the classic trifle, and many delicious chocolate creations. One person desserts in teacup suit everyone with a sweet tooth.
If you choose the right teacup (one that you can seal the top with greaseproof paper and foil) you can steam individual Christmas puddings.
Tea sets make excellent Christmas gifts for your mom or dad, or for someone who has just moved into their place.
A new tea set is ideal for your parents because a busy family life results in chips and breakages. A complete unbroken set in a lovely design is practical and pretty.
Tea Accessories & Tea-Related Items Ideal for Christmas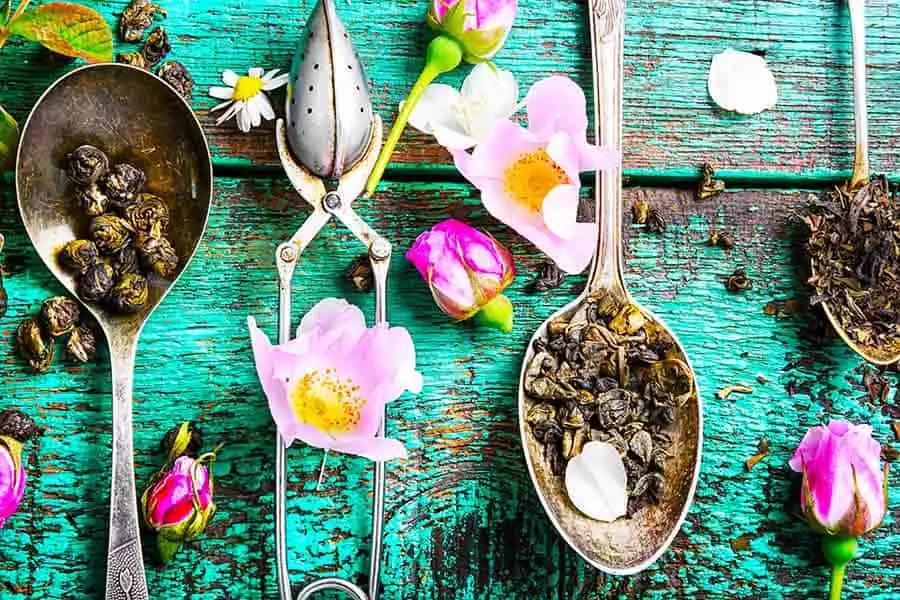 Many tea accessories or tea-related items are suitable for small gifts or combine to complete a gift package.
Tea Strainers
There are two types of tea strainers. One catches the tea leaves poured from a teapot and the other holds tea leaves in a basket for hot water to pour through.
Both make excellent small gifts to include in a tea gift set or as part of a tea-themed advent box.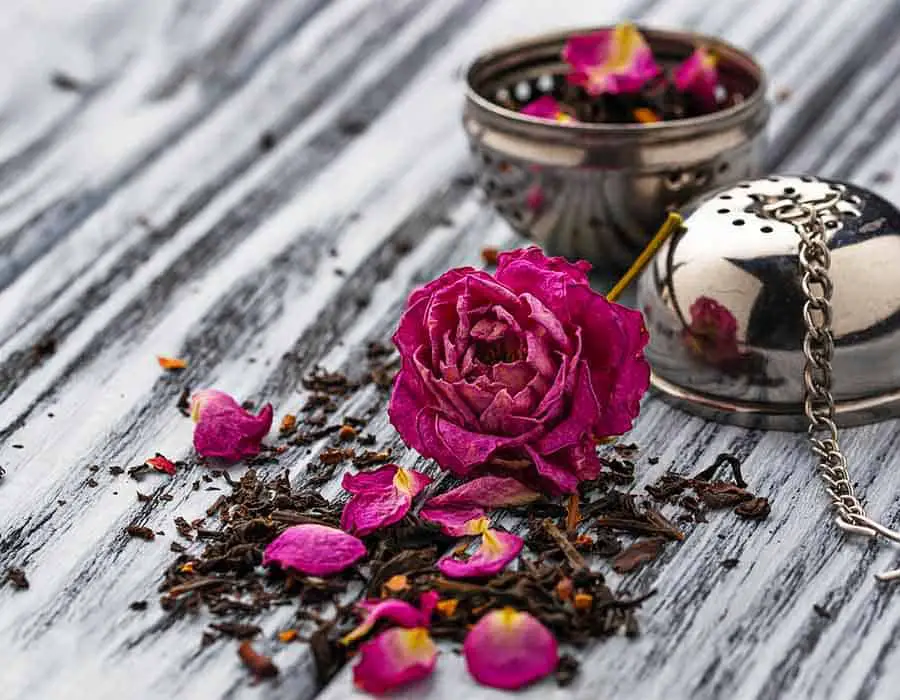 Tea Infusers
These incorporate some form of a closed container with holes to contain loose tea – ideal for both hot and cold tea infusions. Made from metal or silicone they can be plain and practical, or novel and quirky.
You can have a silicone manatee to sit in your teacup, a mesh ball attached to a tiny rubber duck or shark's fin.
These tea infusers are a fun advent gift, cracker novelty item, or a secret Santa gift combined with a small tin of leaf tea.
There are also teapots and teacups that come pre-designed with a built-in infuser – usually in tea mugs, brewing tumbler, or smallish travel tea sets – that make tea preparations more convenient and allow tea drinking experience while away from home.
For an outdoor fanatic, team a lightweight thermos flask with tea infusers or a travel mug and you have the ideal ready-made tea break!
Teaspoons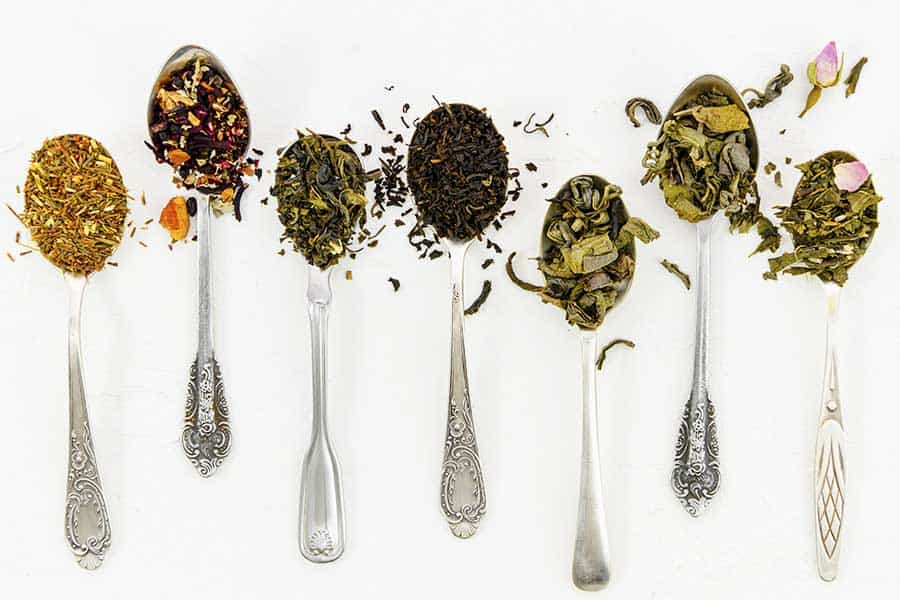 You can search out antique or vintage teaspoons or a modern personalized one. Teaspoons can be ornate, made from steel or high-quality silver.
A customized silver teaspoon is a charming first Christmas present for a baby. If you are a godparent, it may be the start of an annual tradition where you match the teaspoon and the year to a unique event in the child's life!
A set of teaspoons is a practical gift for most people as the teaspoon is the one item of cutlery that goes missing until one or two remains.
An individual teaspoon makes a super advent gift, cracker, and stocking filler. Add a teaspoon to a dessert in a teacup as a complete mini tea gift set.
Old teaspoons (especially those with ornate handles) repurposed into napkin rings and bangles are unique pieces of jewelry. Check out crafter markets and craft people for these unique vintage offerings.
Other ideas that you can use are decorating your Christmas tree with polished silver spoons as ornaments or flattening and bending the teaspoon to create a useful hook (for hanging tea towels).
Tea Towels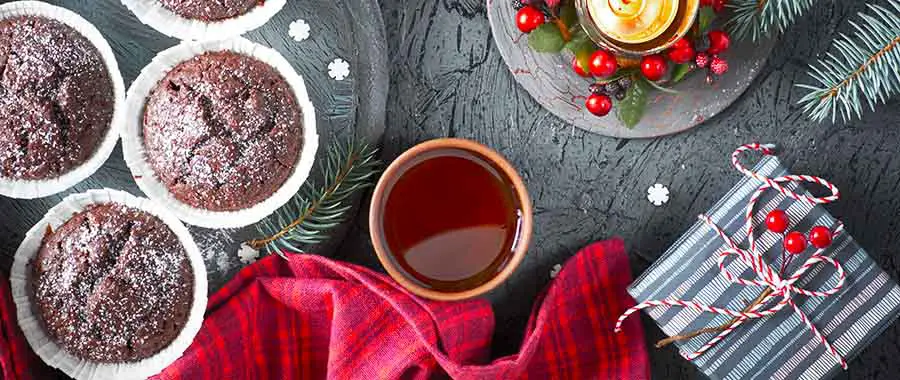 Tea towels are straightforward to personalize for a themed Christmas gift. You can have them professionally printed or DIY with fabric pens.
The DIY option is great for younger family members to make a unique gift for a grandparent or other relatives.
Tea towels are practical Christmas tea gifts to post as they are lightweight and unbreakable. If you've personalized them with family photographs, they are a charming update for a distant relative or family friend.
Tea Gift Sets and Baskets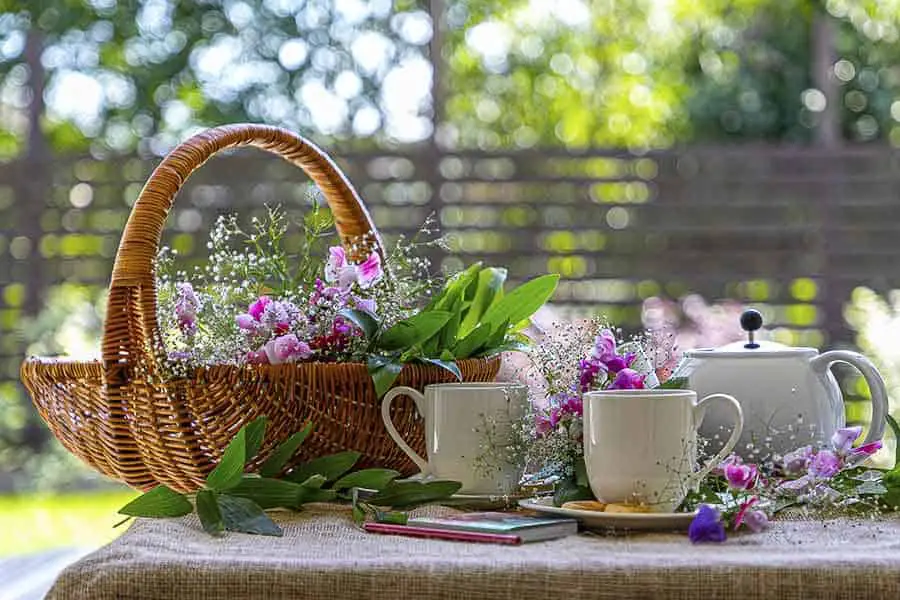 Around Christmas time you have plenty of ready-made tea gift sets and gift baskets supplied with professional packaging.
A tea gift set ranges from a collection of delicious teas in decorative tins or test tubes to china tea sets for one or two people. A lotus glass teapot comes in a handmade box with a sampler tin of flower teas for the stunning tea flowering experience.
Then there are tea goodies (a selection of loose tea, tea bags, biscuits, teapots, and teacups) packaged in reusable cloth bags or wicker baskets.
Prepackaged tea gift sets and tea gift baskets take the anxiety of choosing the right product and wrapping it well.
They are ideal if you want to send an exquisite tea gift through the post as you can arrange for them to be delivered directly to your chosen recipient with a personal gift greeting.
These sets are fabulous for friends and family.
And Finally, A Christmas Tea Gift for All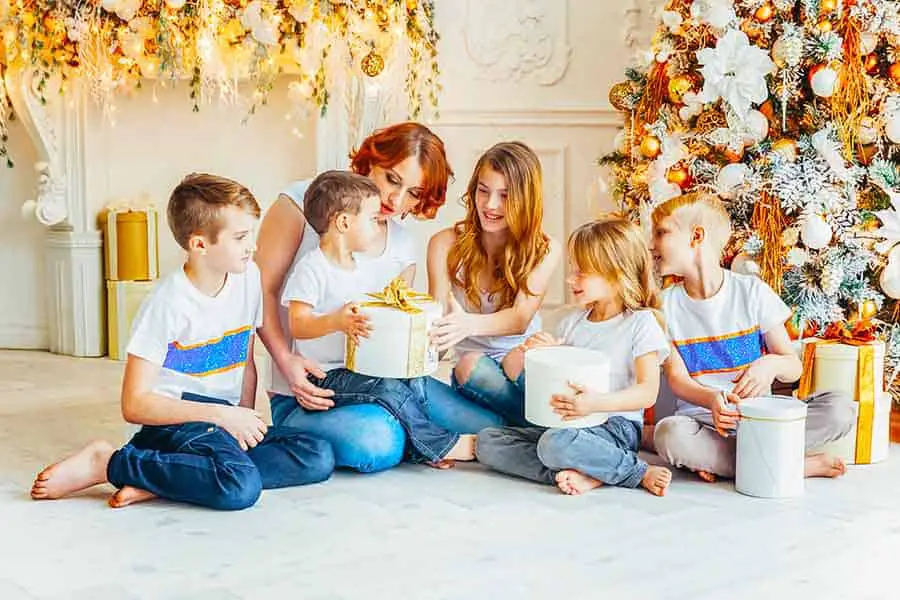 Tea is a superb product for gifting at Christmas. It allows you to match the gift to the recipient, from the tea lover to the fun-loving friend who enjoys the new and different.
Tea and tea-related items are flexible so you can choose to buy a pre-packed quality gift at Christmas or opt to add the hand-crafted touch by assembling and packaging your combination of carefully selected items.
If you want to give a Christmas gift that lasts all year to a tea lover, consider a subscription service. You set the budget and the quality of tea selected and then your favorite tea enthusiast receives a monthly or quarterly parcel to delight them for the whole year.
Prices range from very affordable to a high-end luxury package. Most tea subscriptions come with a tea-related gift like a teaspoon or an infuser.
A subscription is a perfect gift to buy for hard-to-buy-for father or partner. It also makes a lovely gift for faraway friends.
With a tea subscription tea is for life, not just for Christmas.