15 Valentine's Day Tea Gifts for Your Dearest Tea Lover Partner
DISCLOSURE: TEA UNBOXED IS A PARTICIPANT IN AFFILIATE PROGRAMS WITH AMAZON AND OTHER SITES. WE ARE COMPENSATED FOR REFERRING TRAFFIC.
Valentine's Day looms, and everyone pushes for hearts, flowers, and chocolates. But what about tea?!
Tea is romantic, think of the pleasure of hiding from the world with a morning cup of tea for two.
Some people are tea enthusiasts who search out rare blends, some health-conscious partners prefer green or herbal tea, and some tea drinkers absentmindedly reach for a cup of their favorite beverage throughout the day.
Tea works for everyone!
Tea can be every day, mundane, luxurious, exotic, and yes, tea can be romantic, and the perfect Valentine's Day gift for the special someone in your life!
His and Hers Tea Gift Sets
You can compile your own gift set, but sometimes it is easier to choose a prepacked selection packaged as a gift.
The items complement one another and are thoughtfully put together for a complete package that is straightforward to present as a token of your affection to your wife, husband, boyfriend, girlfriend, or the significant person dear to you.
1. Tea Gift Set for Her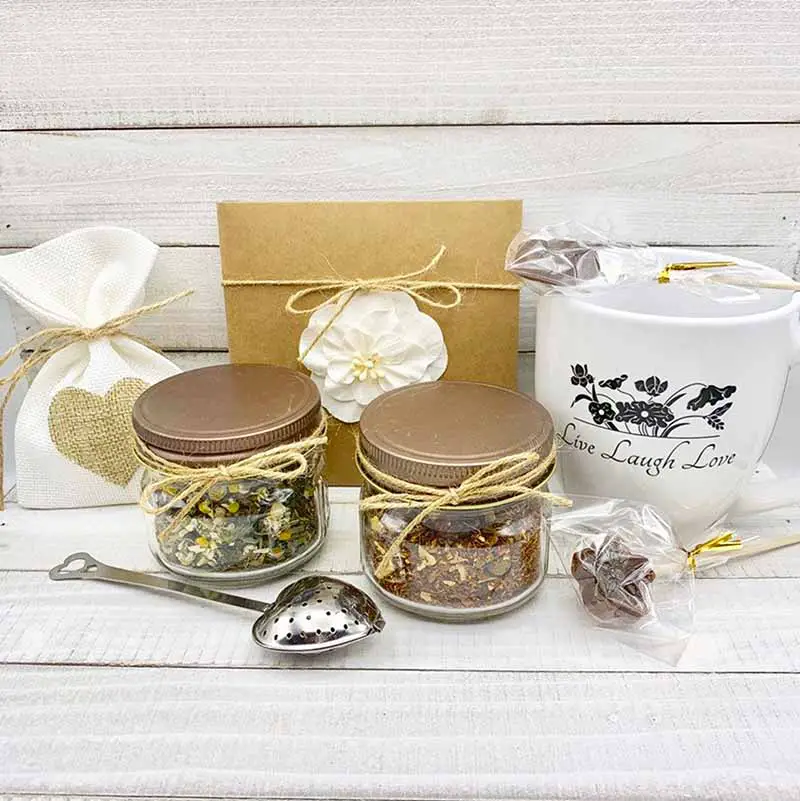 This cute tea gift set with its classic natural coffee and cream color scheme adds hearts and flowers for a traditional Valentine's Day feel.
Naturally, the strainer is heart-shaped, and the honey pop adds a sweet touch, and the flowers embellish the mug. The complete package has a cream linen bag with a heart motif, two mason jars with two different tea blends, and a personalized card.
The whole package has a rustic handsome charm that makes it an attractive Valentine's Day tea gift for the special women in your life from best friend to wife!
2. Tea Gift Set for Him
A stylish brown linen-lined box containing thirty-two silken sachets of eight quality teas makes a beautifully presented gift and is ideal on Valentine's Day for the man in your life.
This master tea blender is dedicated to providing a range of exquisite teas and tea blends in convenient sachets or loose leaves from around the world.
This no-nonsense tea collection is ideal for either the tea enthusiast to try some new blends or the guy who likes to experiment. It's a versatile gift that can be enjoyed at home, or as a luxurious office selection.
If you need an extra feel-good factor on Valentine's Day, this tea retailer is part of the 1% for the planet movement – they donate 1% of their profits to local environmental charities every year.
His and Her Teapots
Tea tastes better when you brew it in a teapot. It may take a few minutes extra and increase the amount of washing up, but a real tea lover will always prefer the taste of tea brewed in a teapot!
The essential features of any teapot are its appearance and functionality.
3. Teapot for Hers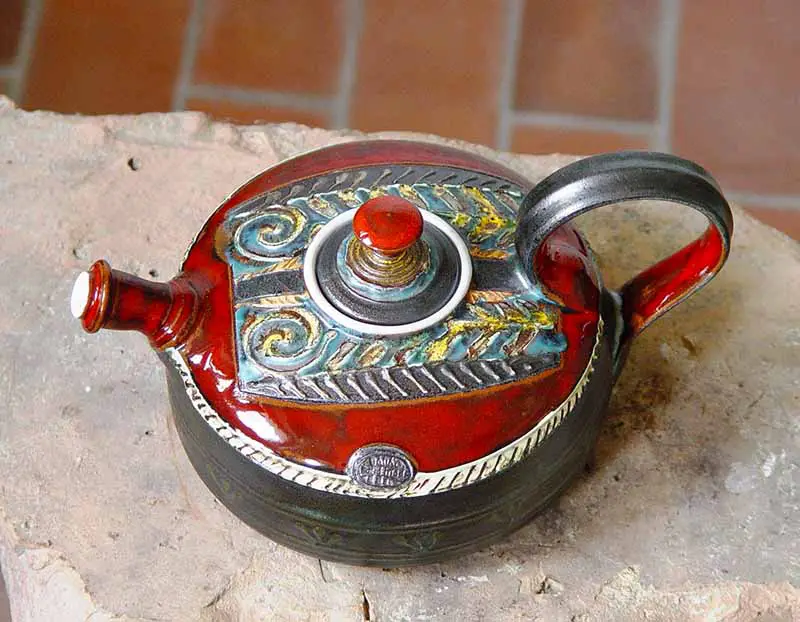 If you are giving your lady a teapot for Valentine's Day, it needs to be extra-special like a handmade ceramic teapot with a striking artistic design.
Dedicated tea drinkers highly prize a clay teapot for taking on the taste of the tea!
An artistic handmade ceramic teapot is the type of Valentine's Day gift that is lovely for a pregnant wife with a selection of healthy herbal teas (loose-leaf or quality large-cut herbs in tea bags) – including ginger for soothing away morning sickness.
4. Teapot for Him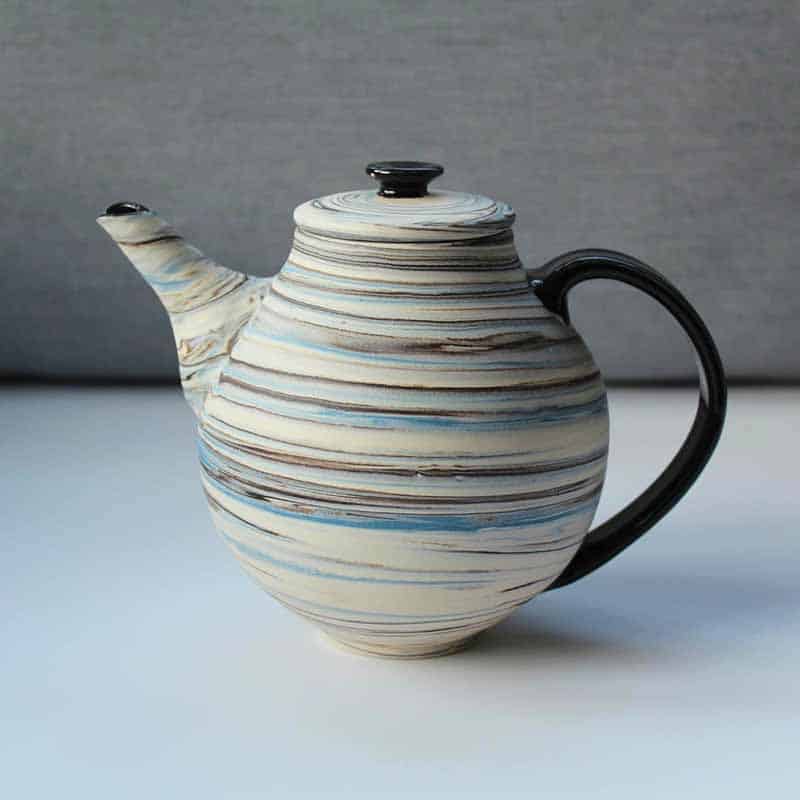 A handsome ceramic teapot that looks carved from some exotic sedimentary rock is a stylish Valentine's Day gift for any man!
This artistic twist on a traditional design fits an ultra-modern glass and chrome apartment or a more rugged rustic home.
This teapot is an ideal Valentine's Day gift for a husband or boyfriend as it is practical and beautiful.
Teacups and Tea Mugs
Teacups and tea mugs appear in a range of styles and cultures. Some people prefer the elegance of a teacup and saucer combination, but others like the simplicity of a mug for everyday use.
A Valentine's Day gift for him or her that is attractive, affordable, and understated is a blessing. In a new relationship or a long-lasting friendship, you want to give a gift on Valentine's Day, but you need a modest idea.
Teacups and tea mugs vary from the humorous, sentimental, plain to luxurious and extravagant. Whatever the nature of your relationship, you can find a teacup or a tea mug that suits your partner.
5. Teacups for Two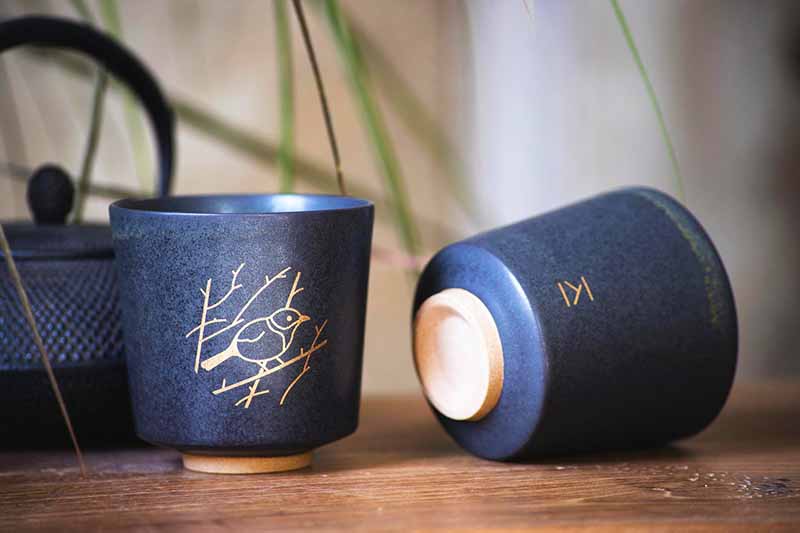 As a couple, a gift you can share on Valentine's Day is a thoughtful idea.
This matched pair of classic blue teacups features a gold bird design – uniquely appropriate for Valentine's Day and beautiful for daily use.
In nature, Valentine's Day is when birds pair up and get ready to build a nest together. This charming bird design is reminiscent of that thought and represents your relationship of a couple, pairing up to make a home and life together.
6. Tea Mug for Her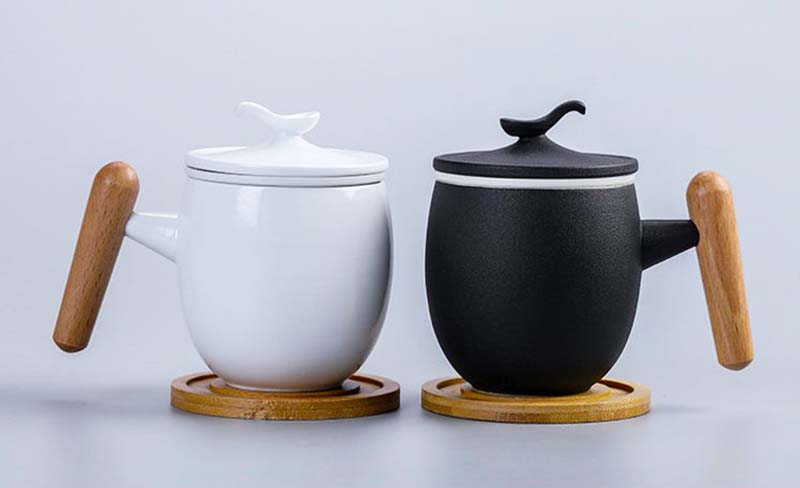 This combination of teapot and tea mug in one stylish design is an ideal Valentine's Day gift for the woman who loves quality loose-leaf tea but prefers the simplicity of a teabag.
The ceramic filter lets the leaves infuse and impart flavor while the lid keeps the contents hot. When the tea brews to perfection, the filter removes to separate the leaves from the liquid and prevent bitterness, or over brewing.
This tea mug is ideal for home and office and is a thoughtful gift that is decorative, useful, and space-saving – perfect for a girlfriend, or best friend, or any tea lover you wish to delight with a tea gift.
7. Tea Mug for Him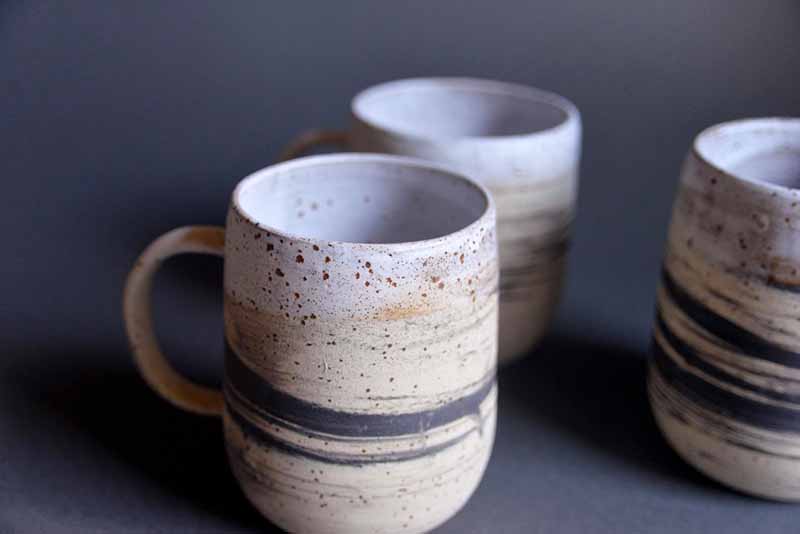 An extra-large (17 fluid oz) man-sized mug for your boyfriend or husband can still be stylish and artistic.
This handmade Nordic design classic mug in comforting marbled and speckled stoneware will suit any man as a Valentine's Day gift. Its large capacity makes it ideal for an office, workroom, or with feet-up on the couch at the end of a long day.
An artistic handmade mug that he can use every day will always remind him of you!
For married couples, these anniversary tea gift ideas may provide more exciting options to choose from.
His and Her Tea Sets
A whole tea set is a substantial gift, and it makes a statement about the nature of your relationship. A tea set shows you are in a stable relationship and that you value the other person.
8. Tea Set for Her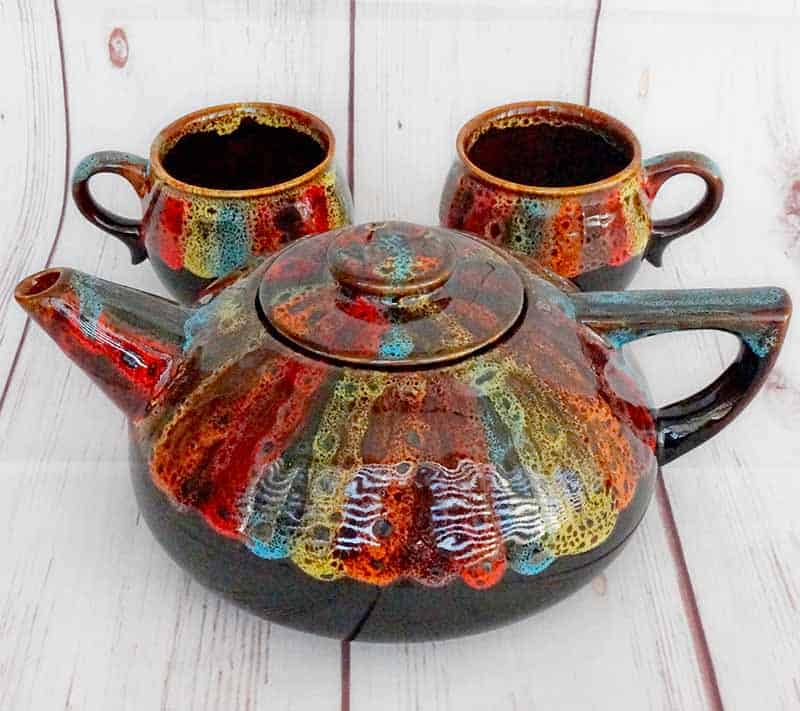 This distinctively glazed rainbow teapot and teacup set are artistic and classic with a modern twist!
The dark brown background echoes practical utilitarian ware, but the splashes of rainbow colors make it lighter and more joyful.
It's an exquisite Valentine's Day gift for your wife that adds a stylish splash of color to the breakfast table.
(P/S – Moms would love this too!)
9. Tea Set for Him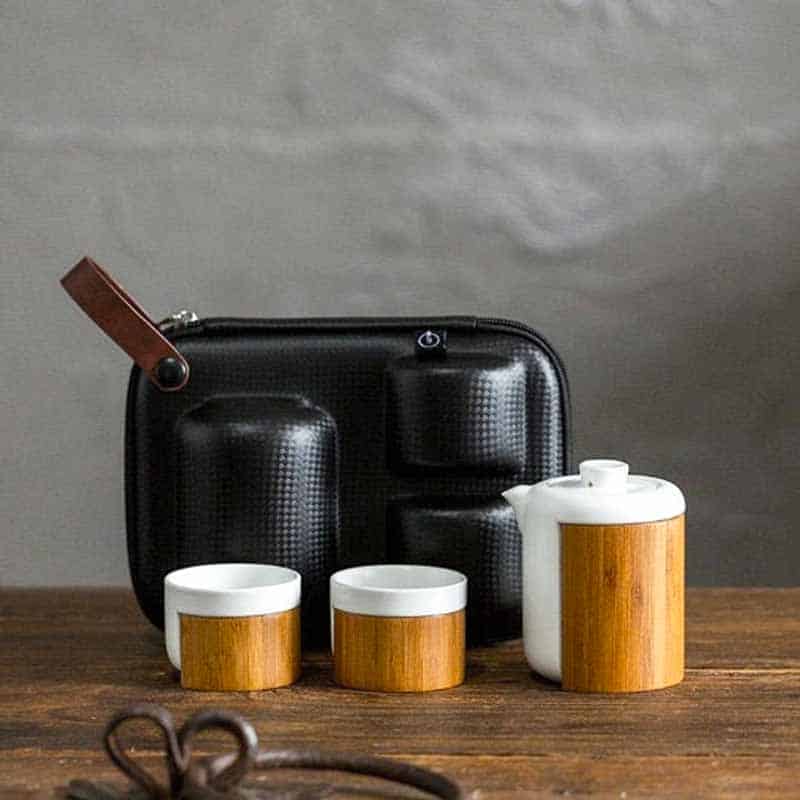 A thoughtful Valentine's Day gift for a husband or boyfriend who needs to travel for his work is a travel tea set. Anyone who regularly travels soon yearns for the comforts of home and nothing is more comforting than tea brewed to your taste!
This teapot and teacup combination packs neatly into a purpose-made travel case and fits into the cornet of a suitcase.
Two teacups make it an ideal set to load into the car when the two of you head for a day out or a weekend break, or for older couples celebrating years of Valentine's Day together.
Tea Towels
Tea towels feature in every kitchen – even if you leave the dishes to air dry or mainly use a dishwasher, you still need a tea towel or two.
Printed tea towels are attractive, and some people like to collect them, and they make a neat Valentine's Day gift idea for any gender or relationship.
10. Tea Towels for Her or Him
You could go all out for a hearts and flowers theme or have your personal message digitally-printed, but if you are looking for a tea towel to buy why not one of these?
One that celebrates tea or one that celebrates wine, or maybe both as a decorative pair.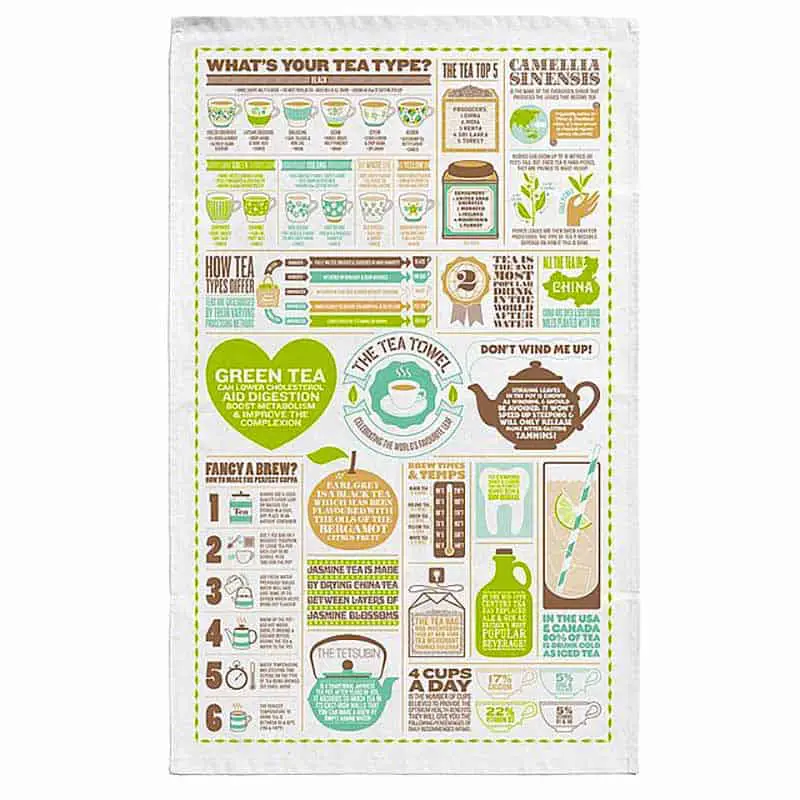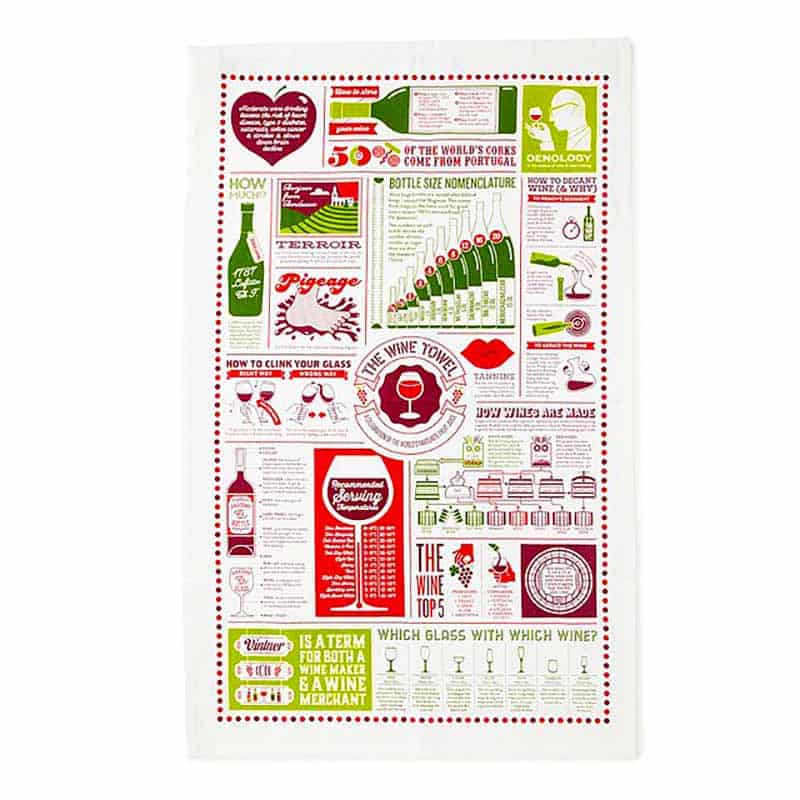 These are tea towels you can enjoy and use for drying dishes. Or you can display them as attractive fabric posters. Plus, they are packed full of interesting and fun facts!
Extra Touches for that Soft Romantic Glow
Tea light provides the candlelit mood that Valentine's night demands and they make excellent Valentine's Day gift sets.
11. Candle Light and Scent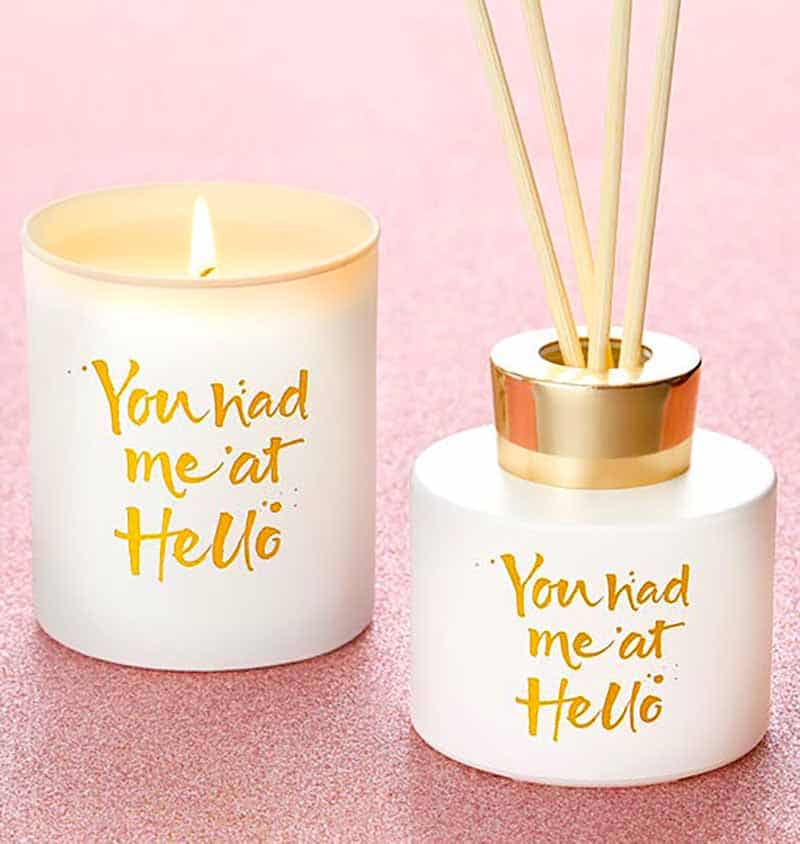 A natural wax candle in a glass holder and matching infuser with a romantic message – "You had me at hello" is a gift pack for Valentine's Day that suggests romantic love and a pampering session with a candlelit bathroom or a romantic night at home.
The light and flirty message make this classy set an ideal gift for a girlfriend.
12. Names in Lights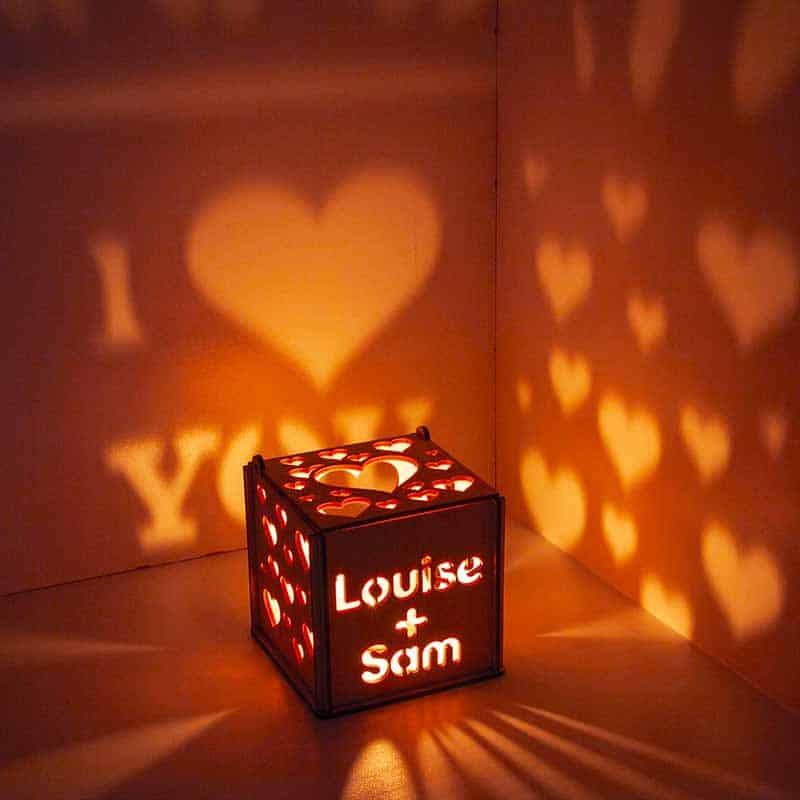 A personalized wooden tea light holder lets you combine your names, hearts, and a romantic message to cast interesting shadows on the wall in the corner of the room. A lovely Valentine's gift for a new wife in the first year of your marriage – it's cute, quirky, fun, and it says, "I love you".
Spending on Valentine's gift for your wife or the first year into a relationship doesn't have to be expensive.
13. Versatile Glass Mosaic Bowl
On Valentine's Day, a gift that has more than one use is welcome.
This decorative handmade glass mosaic bowl can house a tea light (wax or electronic), be a flower vase, or fill up with candies. Even better, it is a unisex gift that can be presented to any gender and in any relationship.
It's an attractive, decorative item that can be used all year round and is an affordable Valentine's Day gift.
The Eternal Rose
Love and roses are a classic combination, and the price of red roses increases before every Valentine's Day.
Sadly, these hothouse blooms often wilt before the evening is over, but not these roses!
14. Silver-plated Rose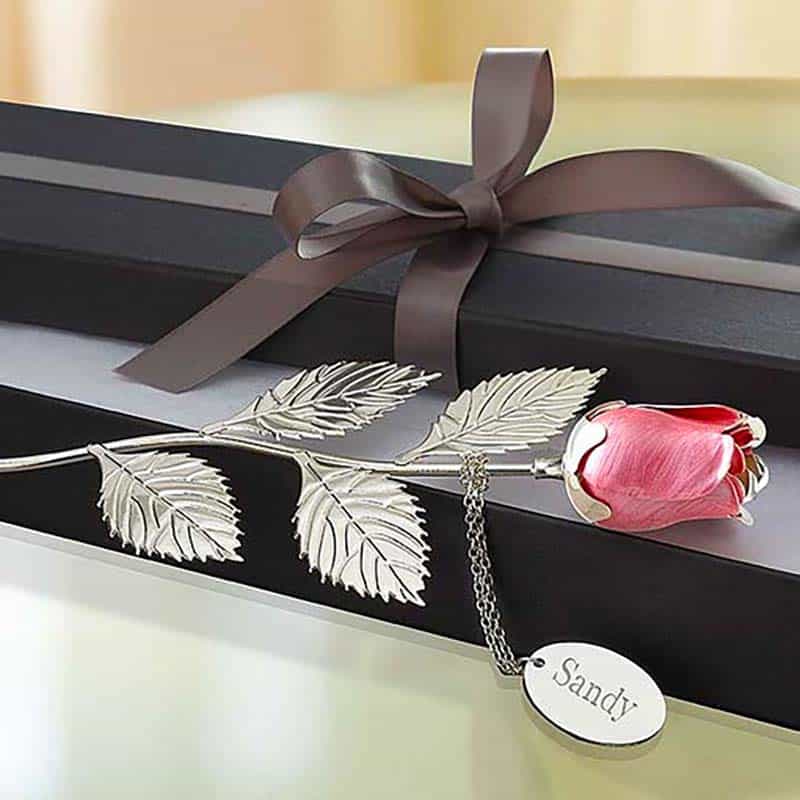 A lovely silver and pink rose that comes in an elegant gift box will last and last without the need to water.
The personalized name tag is a charming detail that lets the recipient know that this gift was bought for them alone.
15. Crystal Glass Rose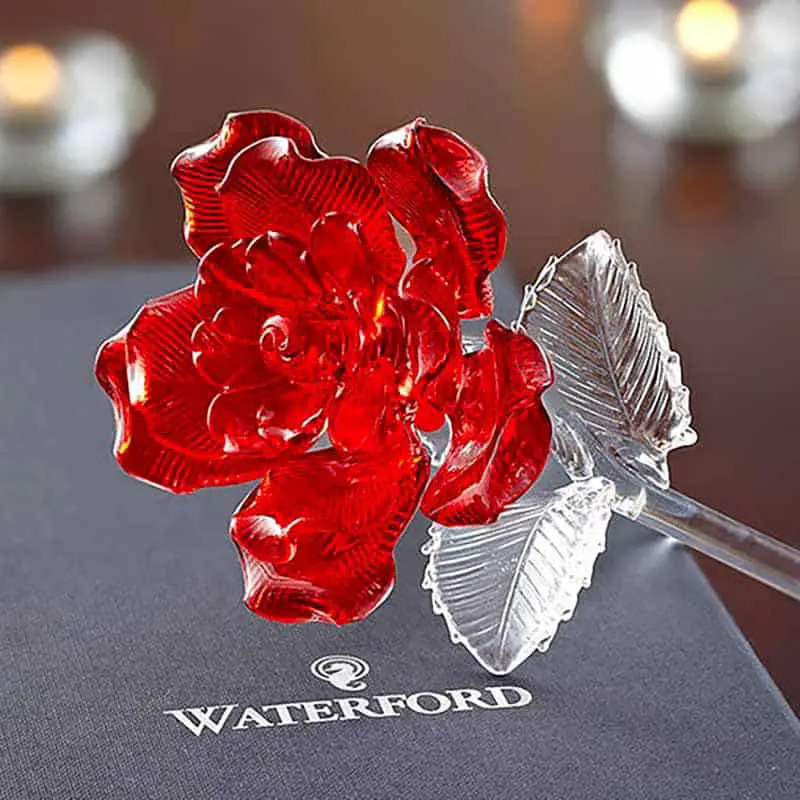 Alternatively, you can gift a beautiful glass rose with a choice of clear, pink, red, lavender, or pearl white petals in another classic black gift box.
Glass is fragile and prone to break if treated harshly. Hence, a glass rose is a perfect metaphor for love and the need to cherish a relationship.
These roses make lovely stand-alone gifts or add to another Valentine's Day gift to keep it in line with traditional Valentine's offerings of roses to your one true love.
Valentine's Day to a Tea
Love and romance and a nice cup of tea is an excellent way to celebrate Valentine's Day with the person you cherish.
Everyone likes gifts, and tea and tea-related items make charming and useful presents that can be your beloved's perfect cup of tea!