Everything Tea Wedding Favor: Complete Guide (21+ Options)
DISCLOSURE: TEA UNBOXED IS A PARTICIPANT IN AFFILIATE PROGRAMS WITH AMAZON AND OTHER SITES. WE ARE COMPENSATED FOR REFERRING TRAFFIC.
After the wedding date is confirmed, there are many things that need careful planning.
The selection of wedding favors, souvenirs, or door gifts that's just right for your wedding event can be confusing – especially considering the endless wedding favor ideas available in the market today.
Tea wedding favors are getting increasingly popular among wedding couples. The fact that tea is widely consumed, yet is easily customized and personalized to the wedding theme, make it both practical and highly desirable for the wedding guests. Aside from tea, tea accessories and other tea-related items can also make great wedding favors.
An Introduction to Everything Tea for Wedding Favors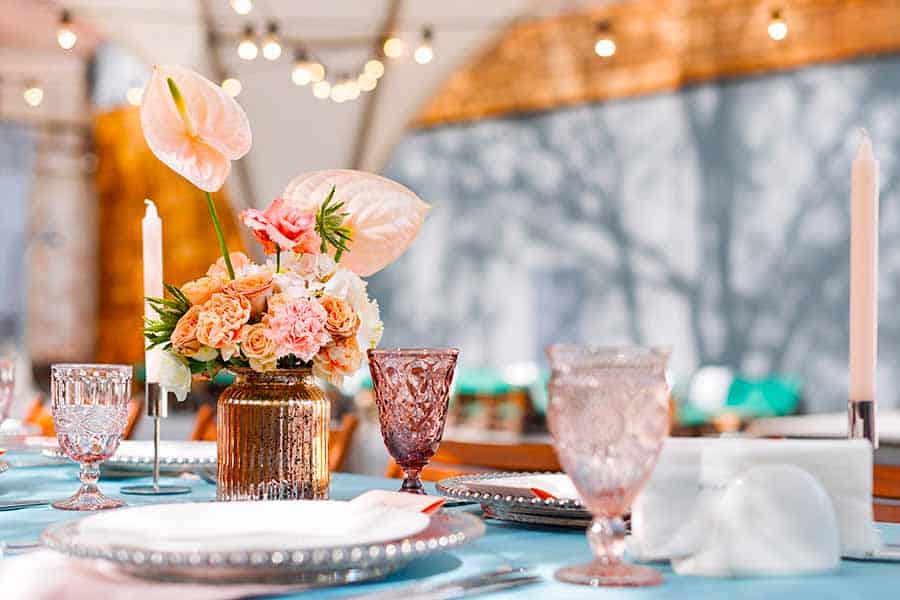 The giving of wedding favors as a token of appreciation from the newlyweds to their guests is ancient, recorded as far back as the 13th century amongst the noble families.
Tea drinking for health and happiness is an ancient practice with its roots in China, but now widespread across the world. After water, tea is the most consumed beverage (hot or cold).
Moreover, tea wedding favors are the perfect complement to a beautifully-themed wedding that makes guests smile with appreciation because tea weaves through all cultures and societies.
As tea drinking is an experience that involves teas and a multitude of accessories used in the making and enjoyment of them, the possibilities available to you to find and tailor one for the wedding are boundless.
Through this written piece, it is hoped that you will be able to find something about tea that interests you and a tea favor that can be gorgeously paired with your wedding theme!
1. Loose Leaf Tea Wedding Favors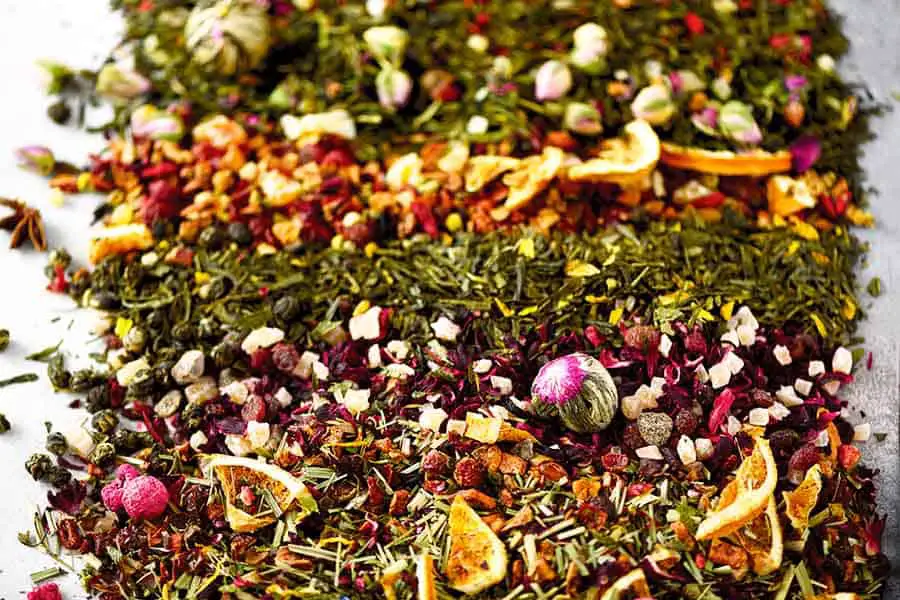 Some prefer the beauty of their tea gift in tea bags neatly manufactured for convenient packaging as a wedding favor.
Others might opt for loose leaf tea blends attractively packaged in separate tins or containers as tea gifts for wedding guests.
Either way, the tea wedding favor is sure to delight the guests who have all come to celebrate your special day!
Loose Leaf Tea – Why Loose Leaf?
Loose leaf tea is a luxurious product, implying that it is worth taking time to brew the tea slowly and then to enjoy it. Making and consuming tea in loose-leaf form is for an experience and a relaxing time out.
Weddings are a celebration and we make an extra effort! – beautiful flowers, dresses, table settings, and carefully chosen food.
Thus, selecting a packaged loose leaf tea as a wedding favor is in keeping with the attention to detail needed for a well-planned wedding.
Loose Leaf Tea – Wedding Favor Packaging
Packaging loose leaf tea as a wedding favor makes a luxurious gift more substantial as the leaves and ingredients can be packed in small bottles, test tubes, or see-through tins.
You can buy your loose leaf tea wedding favors ready-packaged in ready-made designs for that unique presentation to match your wedding theme!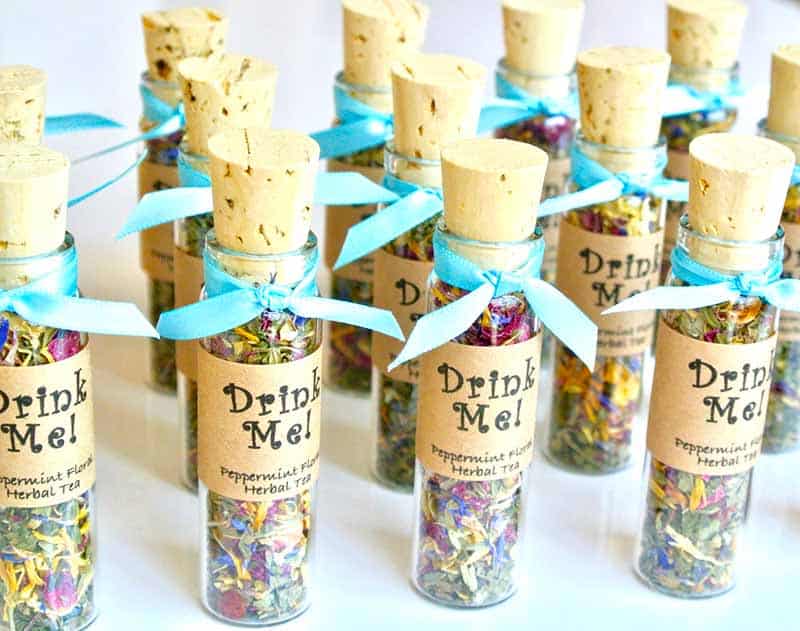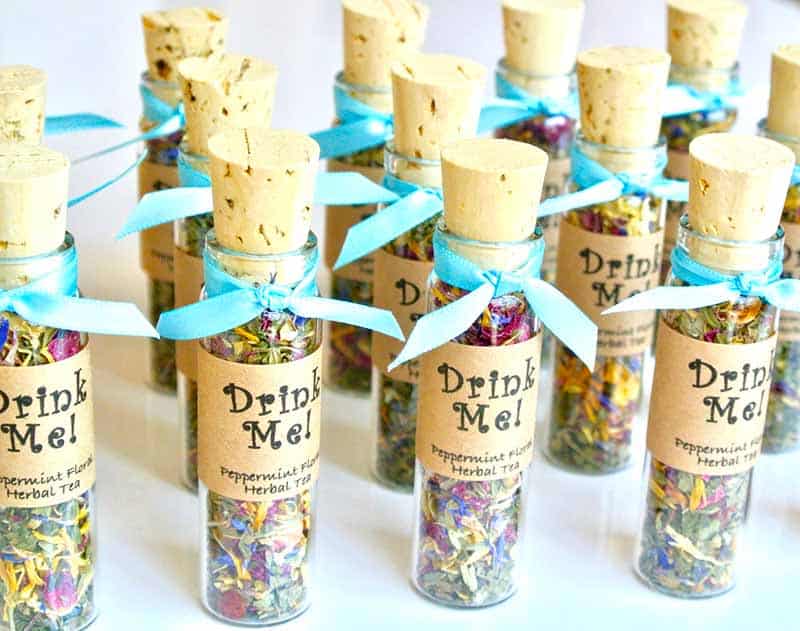 Alternatively, if you're buying the tea and a favor packaging solution separately, you may need or want to package them yourself.
There are plenty of packaging ideas in our DIY section below.
Loose Leaf Tea – Personalized Wedding Favors
Personalizing the presentation of loose tea blend favors is straightforward.
You can print tags, bags, boxes, and labels with all the wedding details to customize your chosen packaging.
Packing a small jar of a unique blend of tea in a beautiful box with an explanatory note telling your guests that this blend is for your wedding day making this a memorable one-of-a-kind wedding favor!
Loose leaf tea favor in a personalized tin: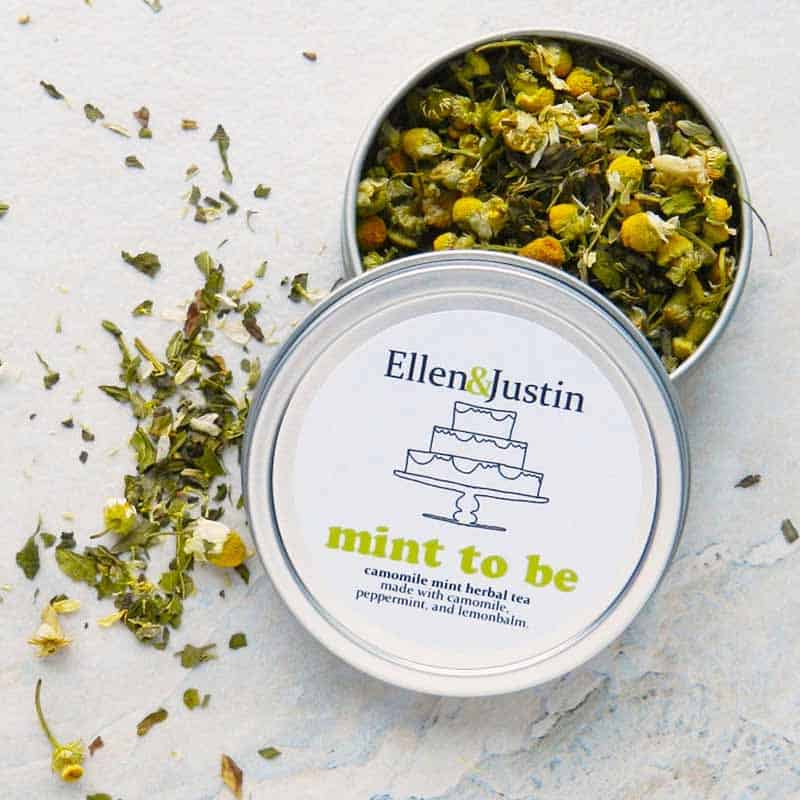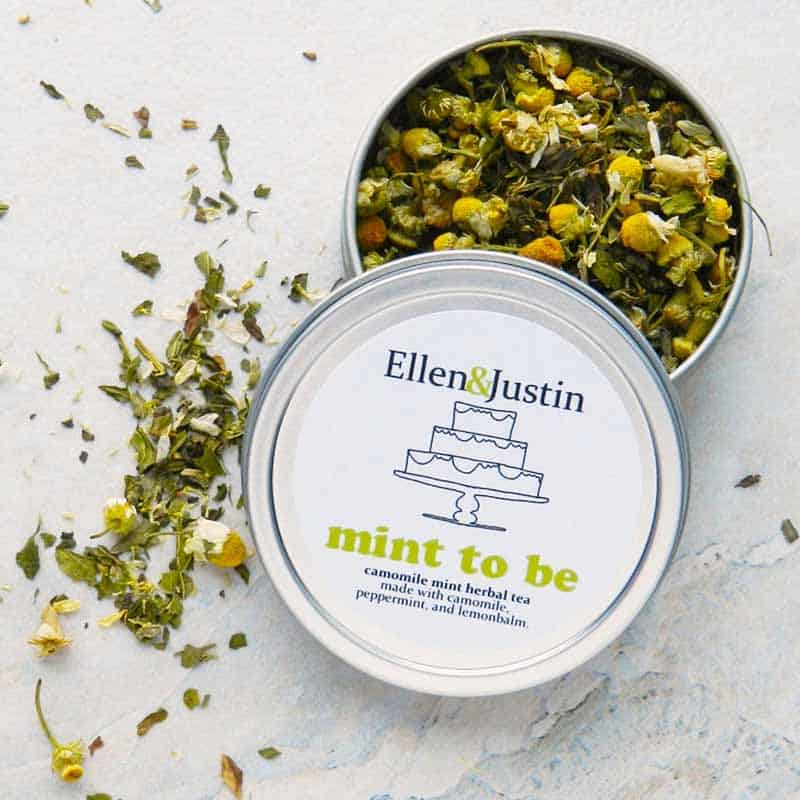 Or (beautiful see-through tin):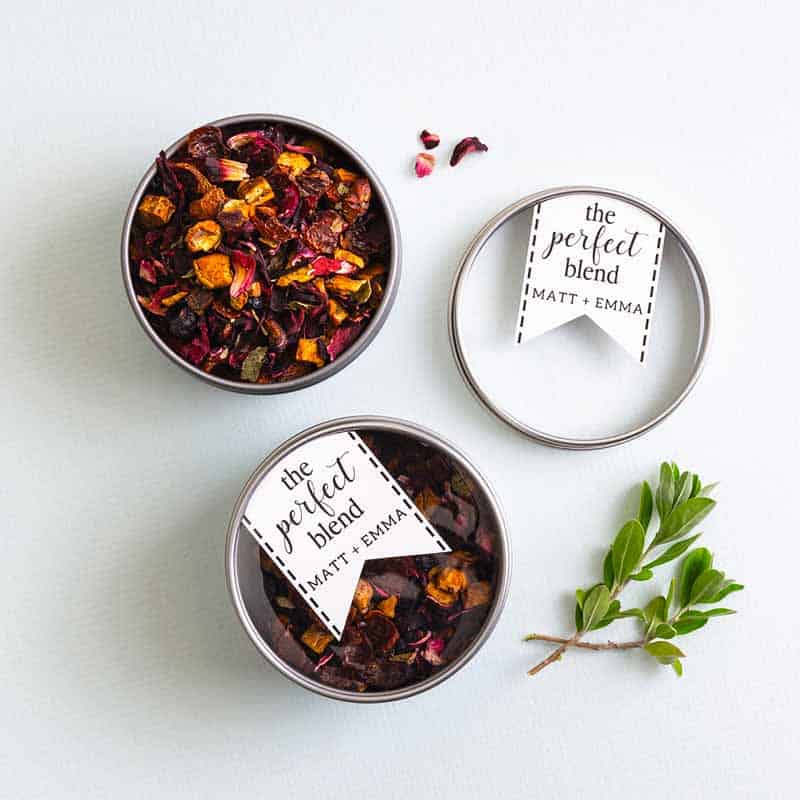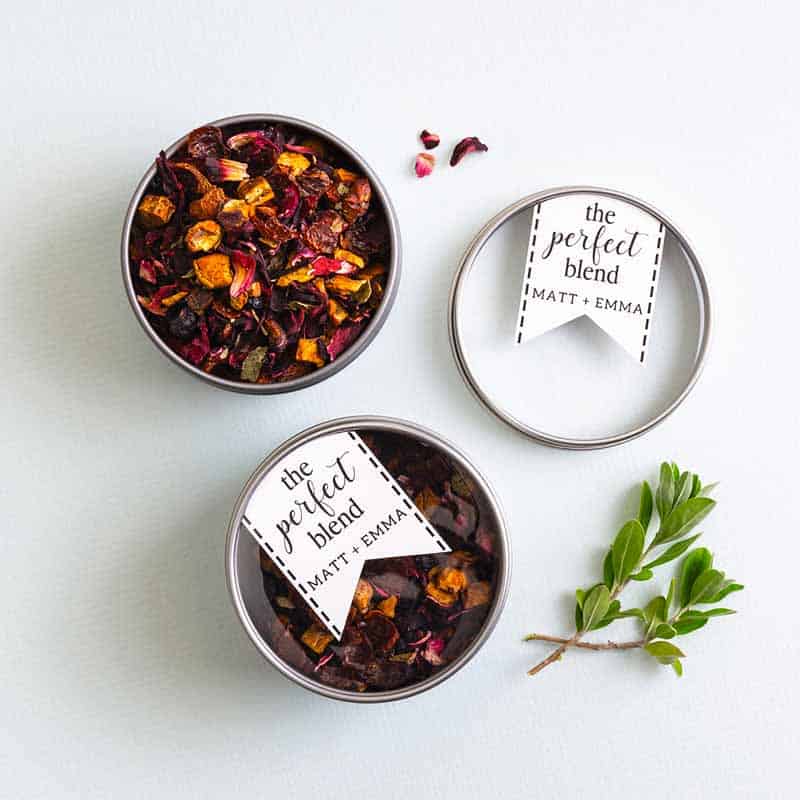 Or (for a smaller number of guests, and if your budget allows):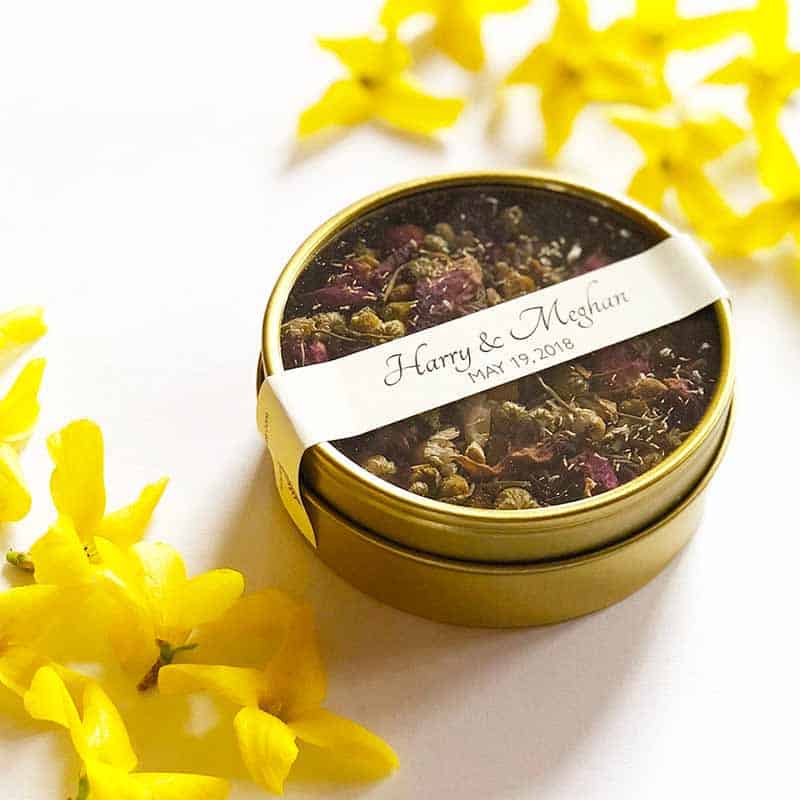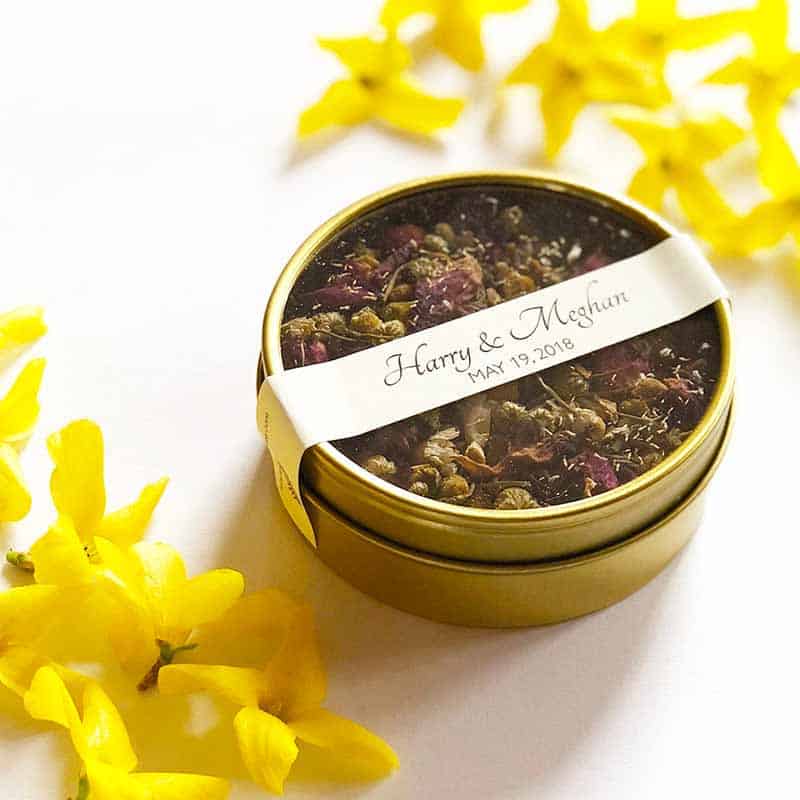 Loose leaf tea favor in test tubes: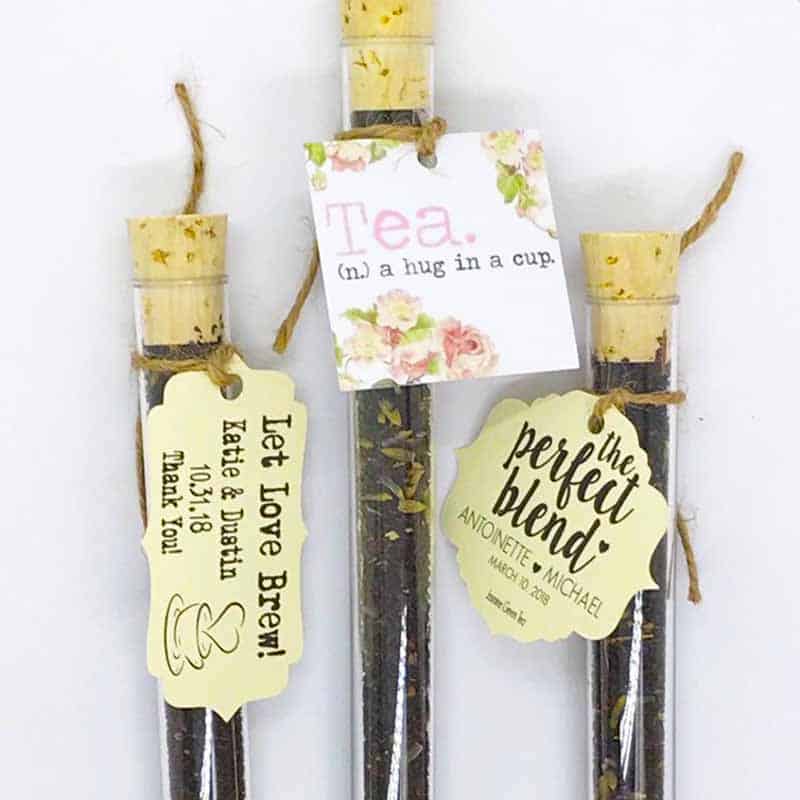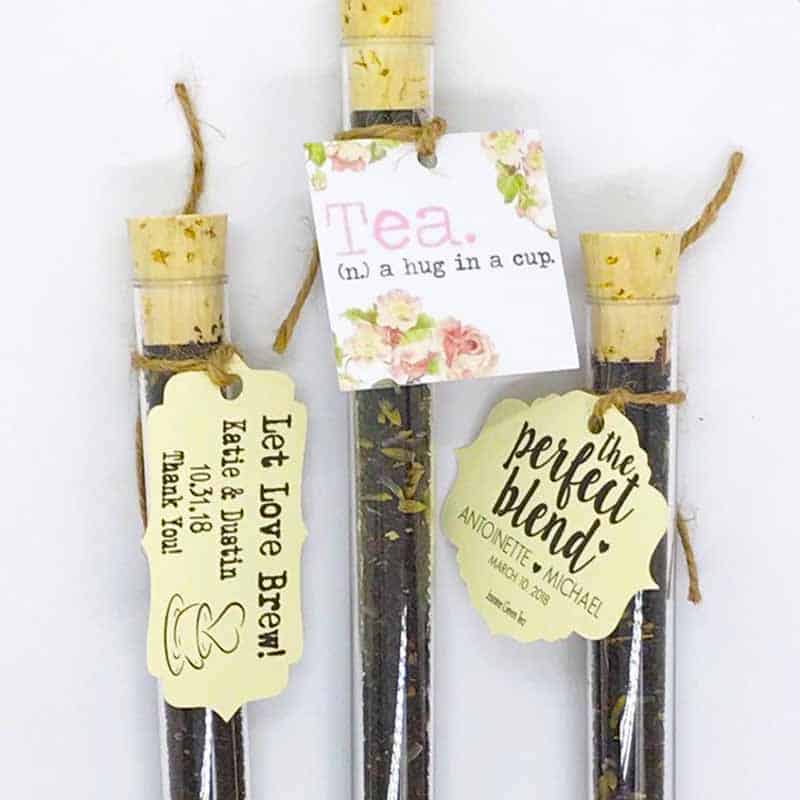 Or (these test-tube tea favors – a little pricier per tube but you get to choose from a larger variety of teas):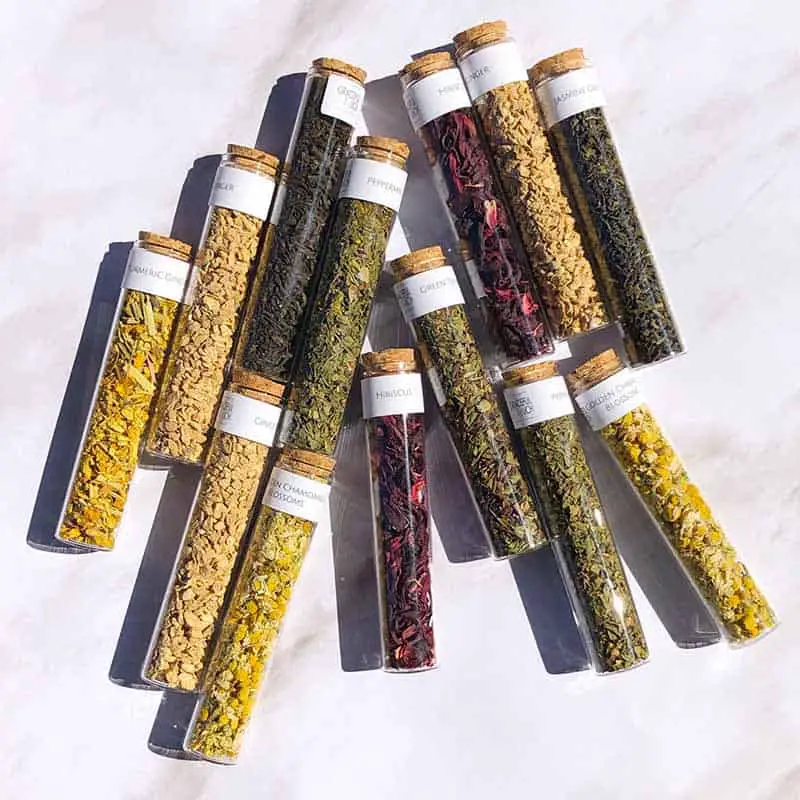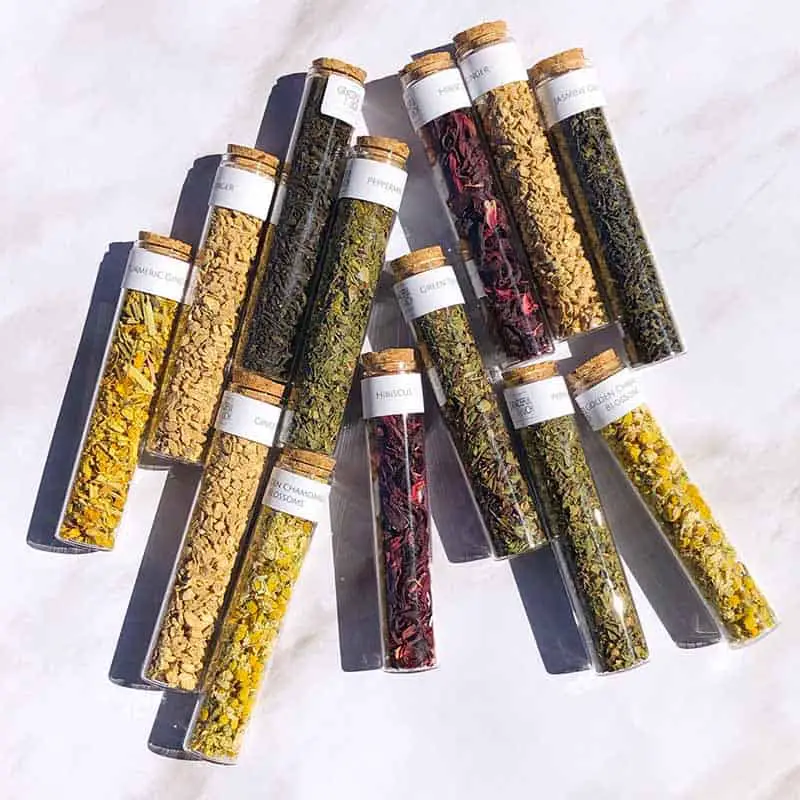 Or (with the ones below you get to personalize the sticker label with your own text by contacting the seller):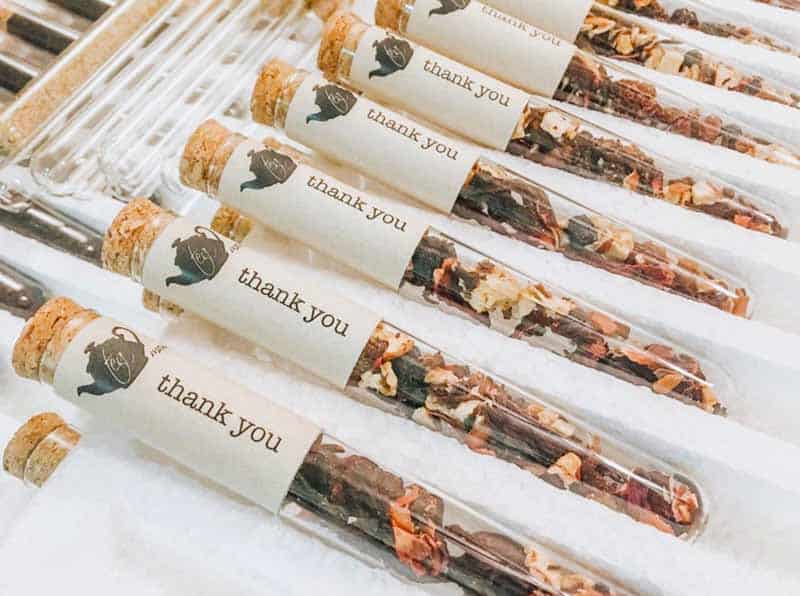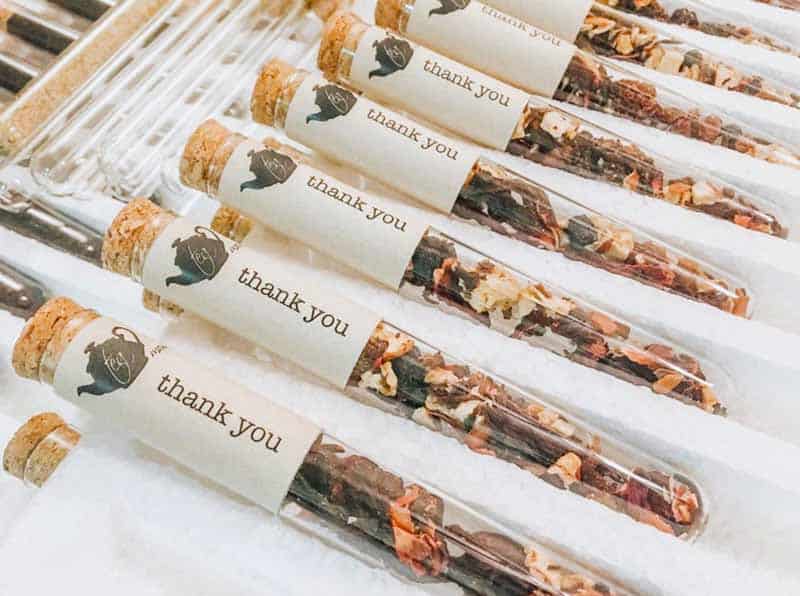 2. Tea Bags Wedding Favors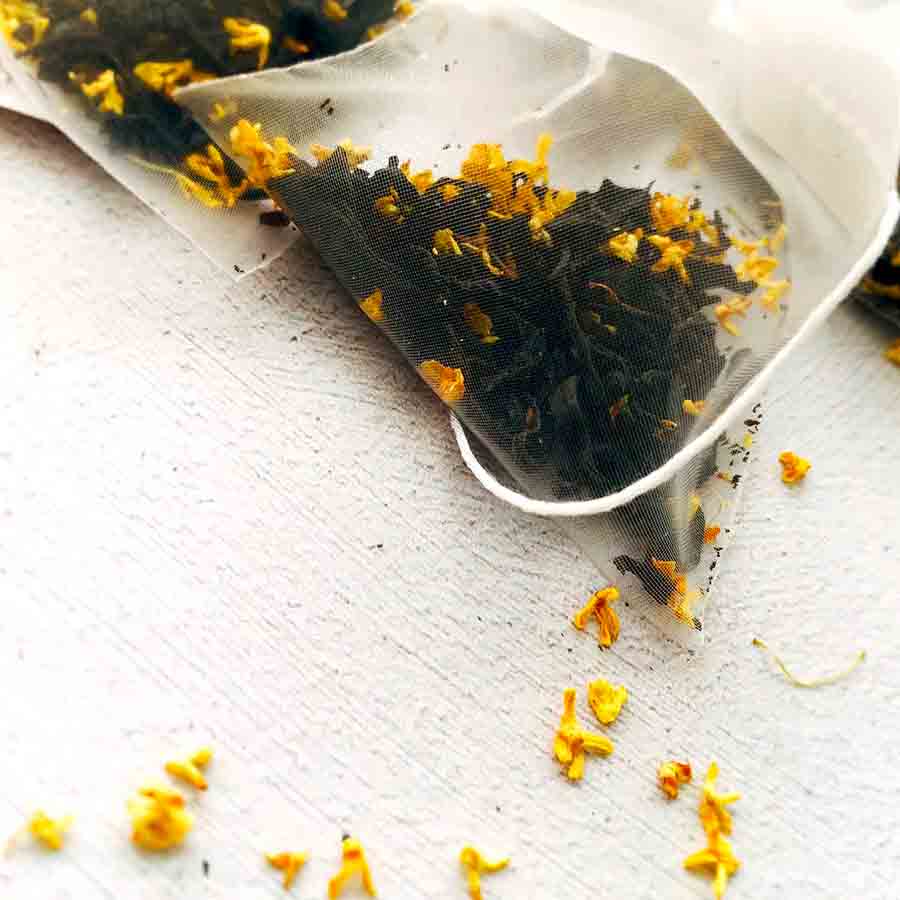 The tea bag is an accidental invention by Americans in 1908. They wanted to market their loose-leaf tea by giving out neat and tidy samples in a bag.
They thought people would rip the bags open and brew the tea in the typical fashion. However, a customer realized that you could brew the tea in the bag and a whole new product developed.
Over the decades, tea bags and the materials used to make those bags have developed as the market demand for better quality, greater enjoyment, and higher eco-friendliness increased, on top of the convenience that tea bags provide.
The earlier iterations of tea bags were square or rectangular in shape, typically made of filter paper or silky/nylon mesh.
These nylon tea bags, however, break down and release microplastics when steeped in water at a brewing temperature. Furthermore, these bag materials are practically non-biodegradable and not compostable.
Needless to say, an all-round better substitute is needed.
The safer and healthier alternative is the plastic-free eco-friendly tea bags – made from 100% plant-based biodegradable material which are not just safe for consumption but are also kinder to the environment.
On top of that, these see-through pyramid shaped tea bags look great and visually add to the enjoyment of a perfectly-brewed cup of tea. They combine the essence of high-quality tea ingredients (of larger cuts) with the convenience of the teabag!
Tea Bags – What's Good About Them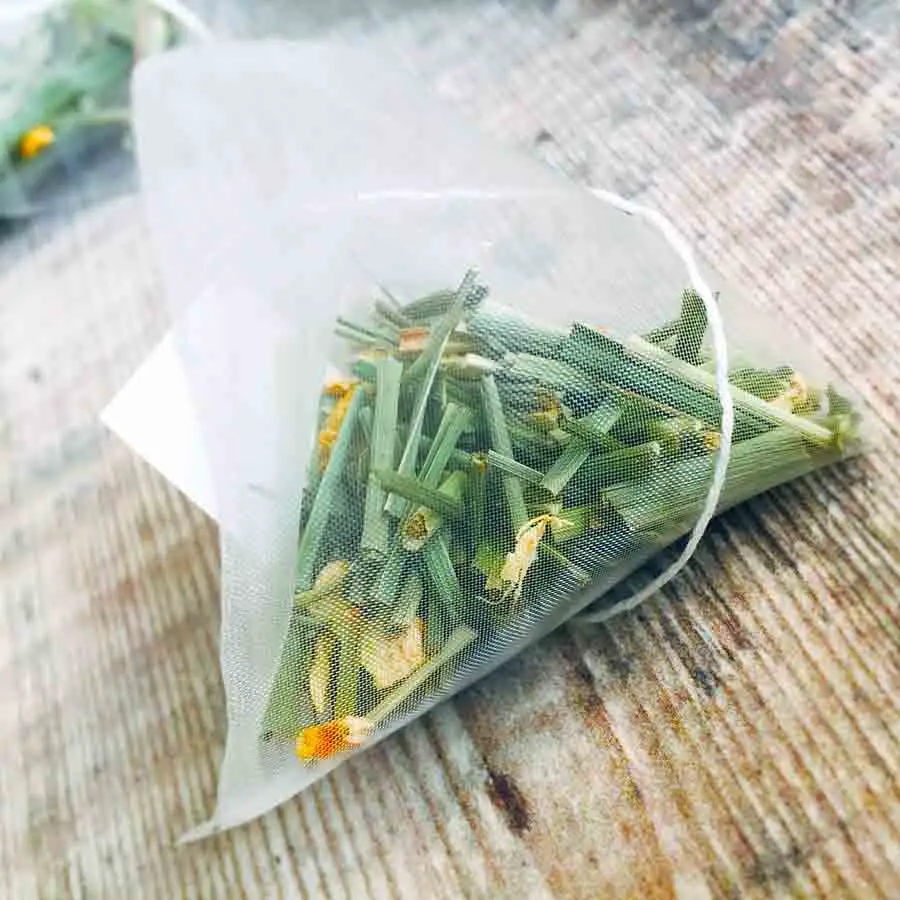 Teabags are a convenient and practical way to have your favorite tea wherever you have access to hot water. They are straightforward to use and simple to dispose of in an eco-friendly way.
The shape varies from a traditional rectangular bag (with or without a tag) to the newer pyramid bag (with string and tag) containing high-quality leaves with room to replicate the experience of brewing with loose leaf tea.
You can get unique floral teas in pyramid-shaped tea bags in keeping with the romantic theme of a wedding celebration.
Teabags make excellent wedding favors because they are practical and acceptable to young, old, and all genders. Pyramid tea bags give the option of providing high-quality or exotic tea in a small package.
You can even opt to buy or make charming pyramid favor boxes echoing the tea bag shape!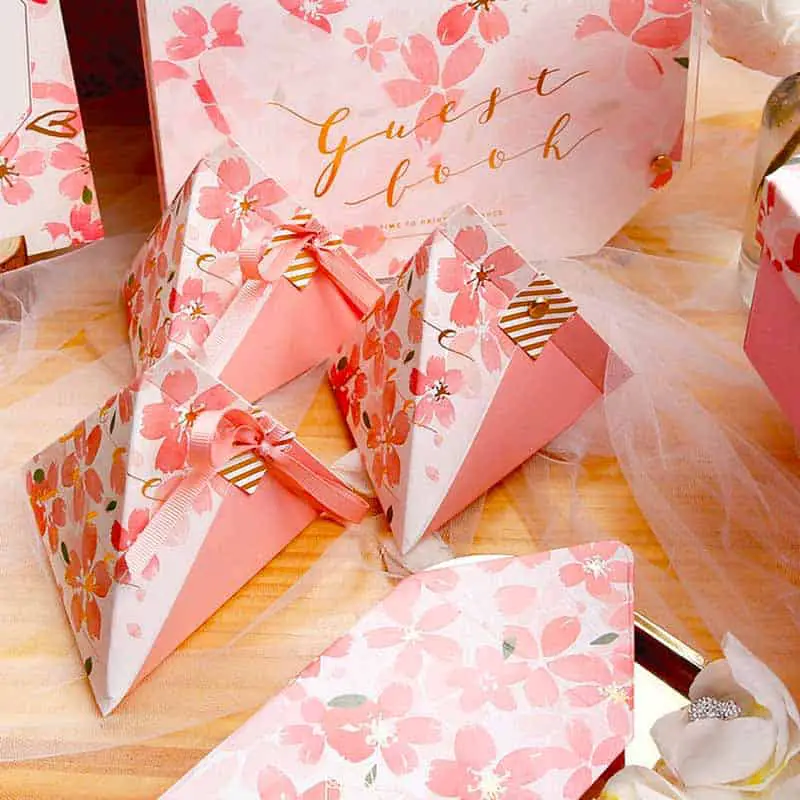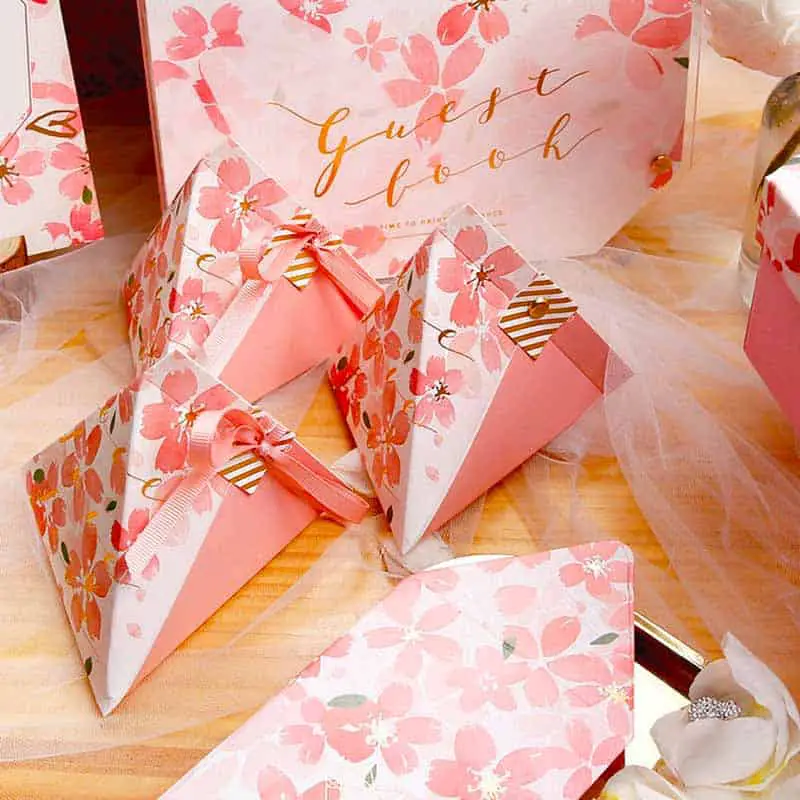 Tea Bags – Wedding Favor Packaging
Making the humble tea bag into a beautiful wedding favor is straightforward with the right approach. Teabags are an everyday item so select the best quality natural ingredients tea in pyramid bags.
Tea bags as wedding favors can be packaged attractively in pouches or containers with appropriate tea-related messages for that delightful touch!
These neat little packages are attractive and easy to slip into a pocket or handbag without fear of accidental mess. You also have the option of creating your own packaging for a DIY wedding favor.
These tea wedding favors are going to be straightforward for your guests to take home after the wedding.
Tea Bags – Personalized Wedding Favors
A step up from generic tea bag wedding favors – the personalized touch.
You can have the packaging printed up at the same time as invitations, thank you notes, and all the other paper items needed for the big day.
Or you can opt for a bit of DIY with printable bags and boxes digital templates that you can customize with dates, names, and personal messages.
(The digital product below is for you if you have a Cricut maker – which is essentially a cutting machine)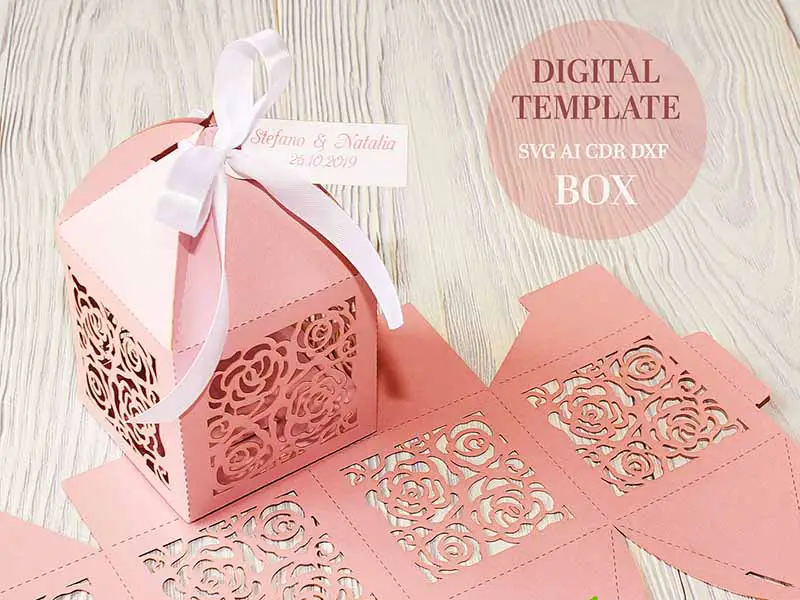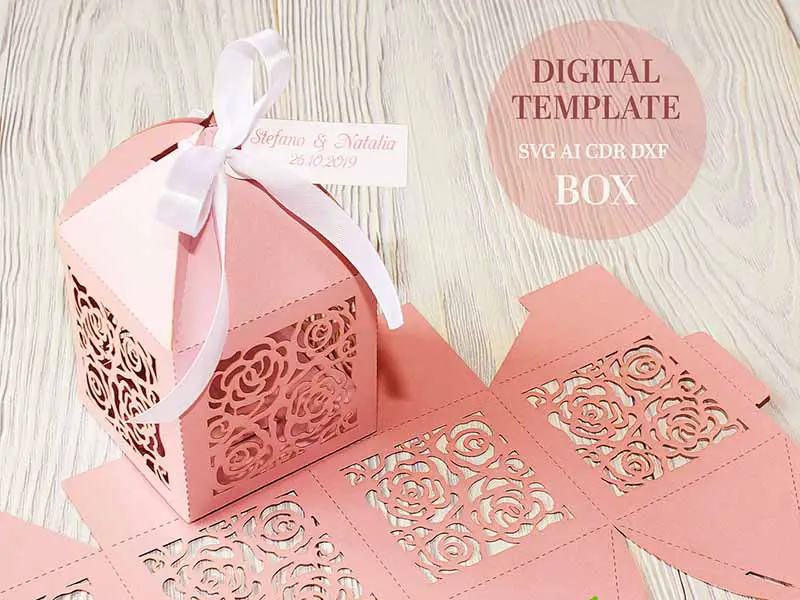 More on tea wedding favor personalization later in the article…
3. Flower Teas – A Gift for the Senses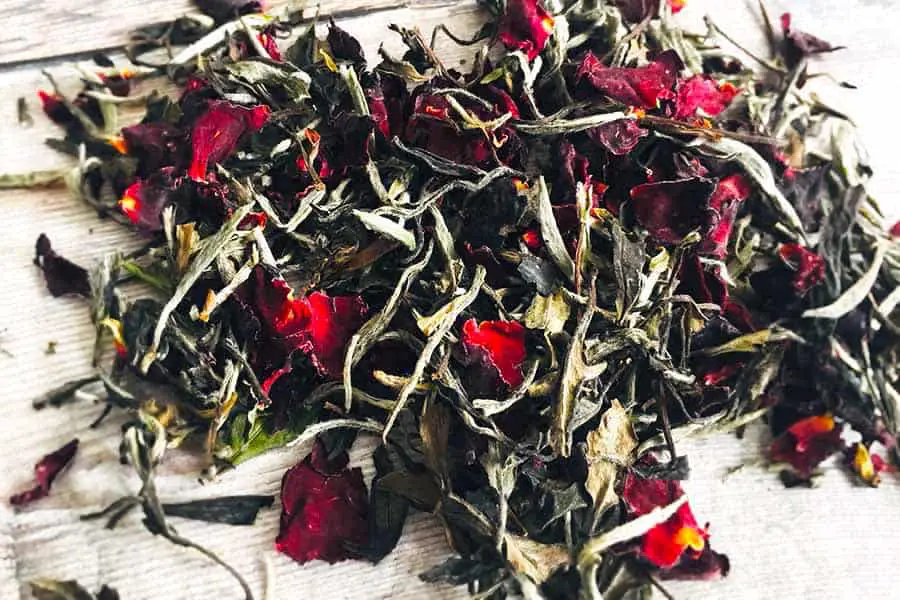 Asian (and more specifically, Chinese) teas combine beautifully with other floral ingredients like rose petals and Osmanthus.
There's an exquisite range of floral Asian teas that you can choose from:
Jasmine green tea naturally scented with rose petal (using traditional scenting process),
White tea (known to be one of the most delicate tea varieties) aromatized with rose or Osmanthus flower,
Pu-erh tea (aged through natural fermentation process) similarly blended with rose petals or Osmanthus blossom, and
High-mountain Oolong with the special sweetness of Osmanthus aftertaste.
Even the ever-timeless blend of chamomile (daisy-like flowers), though more widely consumed in the West, can make equally lovely wedding favors.
These flowers are delightfully and naturally-scented, and the unique combination of Chinese tea notes with floral highlights is truly a gift for the senses!
A flower tea gift, either in beautifully-made pyramid tea bags or in loose form, wrapped as an elegant wedding favor is a charming and surprisingly affordable souvenir to thank all your wedding guests.
Tea Balls – Unfolding Exquisite Flowers
A flowering tea ball is a delight for the eyes, nose, and mouth – a skillful weaving together of tea and flowers that bloom in hot water.
This special presentation tea ball displays best in a clear glass teapot or teacup.
The flowering tea ball makes an excellent tea gift for wedding guests because it is a floral celebration – attractive as a dried tea ball and as it gradually opens and reveals itself in hot water.
To avoid crushing the flowers and spoiling the effect package in a tin or jar. You have plenty of personalization options for the packaging.
4. Teacup Wedding Favors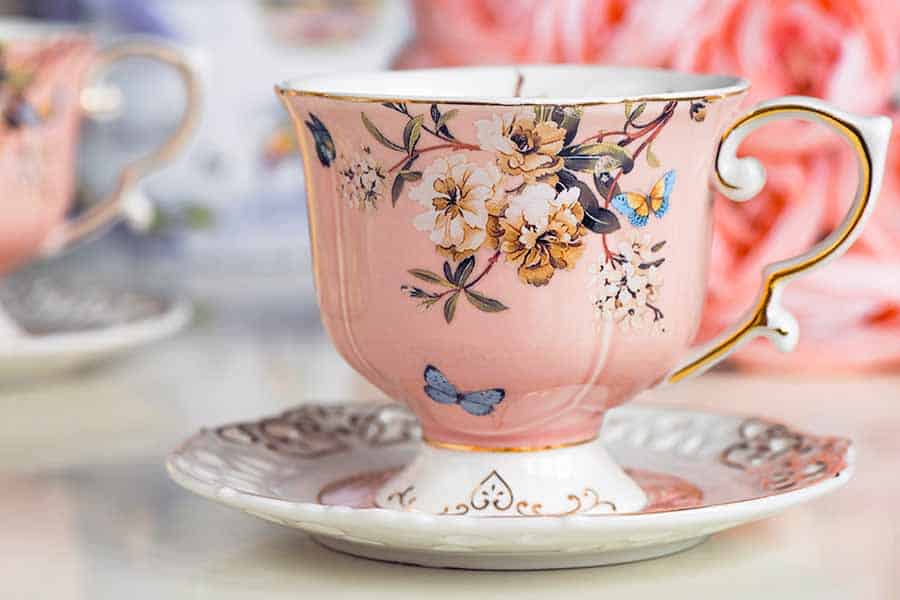 Teacups vary across the world from the glass teacups of Morocco to the porcelain treasures of the East. Teacups make a charming wedding favor – a single set in a beautiful box.
A little more care involved for your guests to take away with them after the event, but a beautiful teacup is a lasting and practical reminder of your celebration.
Teacups are typically encountered as part of a tea set but giving a whole tea set to every wedding guest is ruinously expensive.
A single teacup, however, transforms into a delightful (and affordable, but luxurious) wedding favor with imagination and careful packaging!
Pack your teacup with little treats – alone or in combination: tea bags, tea infusers, or biscuits. Or a slice of dried preserved lemon or orange, sugar cubes, and a sachet of black tea for a single portion of sweet tea when your guests return home or retire to their hotel.
Wrap your thoughtful package of a teacup and treat in a pretty box or use wedding veil tulle or cellophane in pastel or metallic shades as wrapping materials.
Many people exploit the perfect size and shape of teacups as perfect holders for tea lights with the wax poured into the teacup – the wax can be colored and delightfully scented.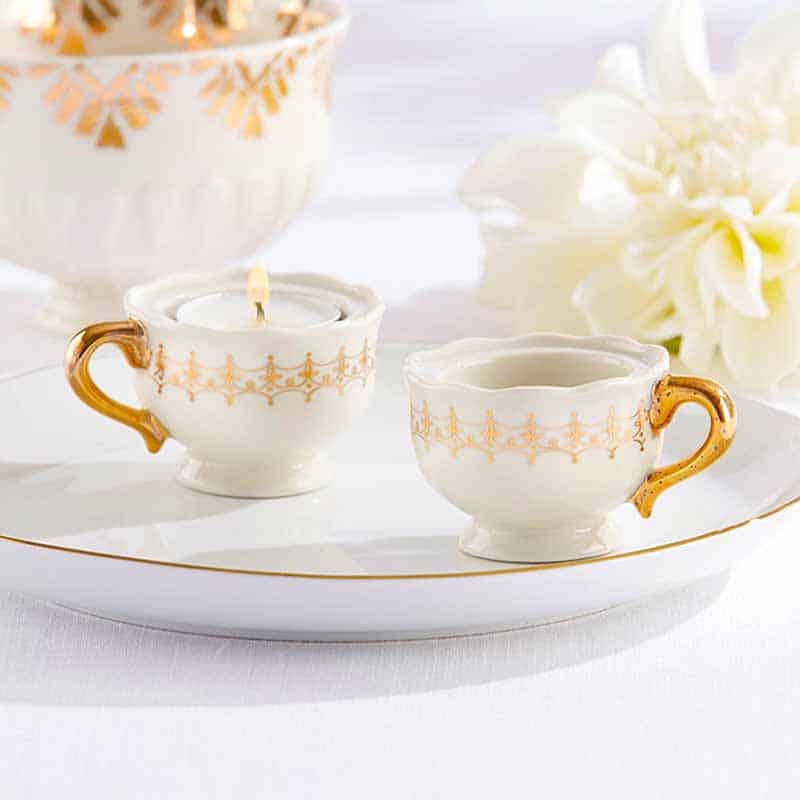 Middle eastern style glass teacups with a metallic gold finish or colored glass make stunning tealight holders.
The single teacup (paired with a saucer and teaspoon) elegantly wrapped with iridescent cellophane and beautiful silk bows given as a gift at the bridal shower is a stylish favor to impress your close friends and colleagues.
Teacup Set Wedding Gifts
The western vintage style teacup set consists of a bone china cup (with a handle), a saucer, and a side plate.
A vintage set comes with three pieces, but a modern set may contain a teacup and saucer.
A middle eastern style teacup set will consist of either a tea glass or a tea glass with a metal cup holder.
An oriental teacup set comprises a small cup (without a handle) and a saucer.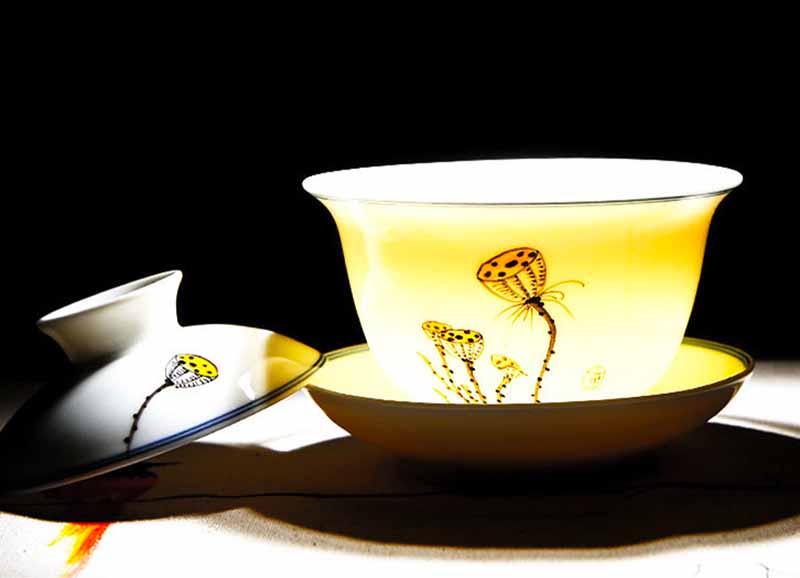 All types are attractive and welcome gifts for a wedding.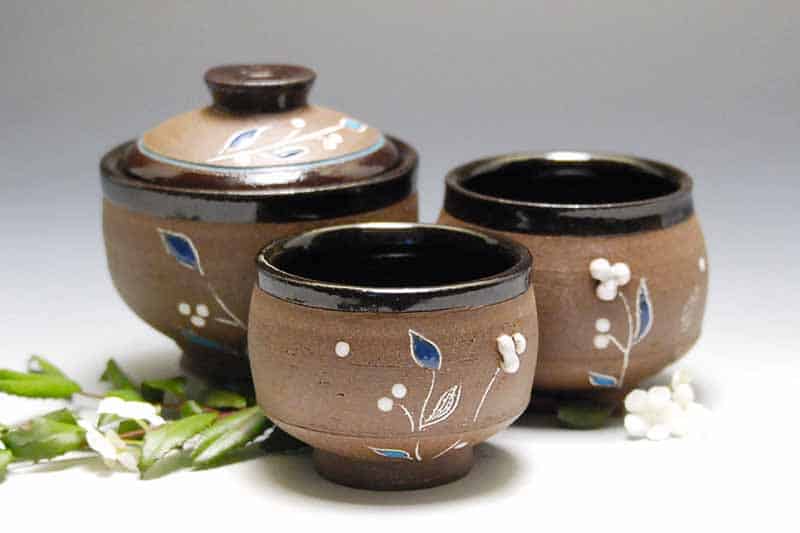 How to Personalize Wedding Tea Cups
It's straightforward to commission teacups tailored to the wedding with a special message, the couple's initials or names, and a date. A long-lasting reminder of the special day that is decorative and practical.
Invest in some porcelain paints, invite some friends round and you can add a unique decorative touch to white teacups!
5. Tea Spoon Wedding Favors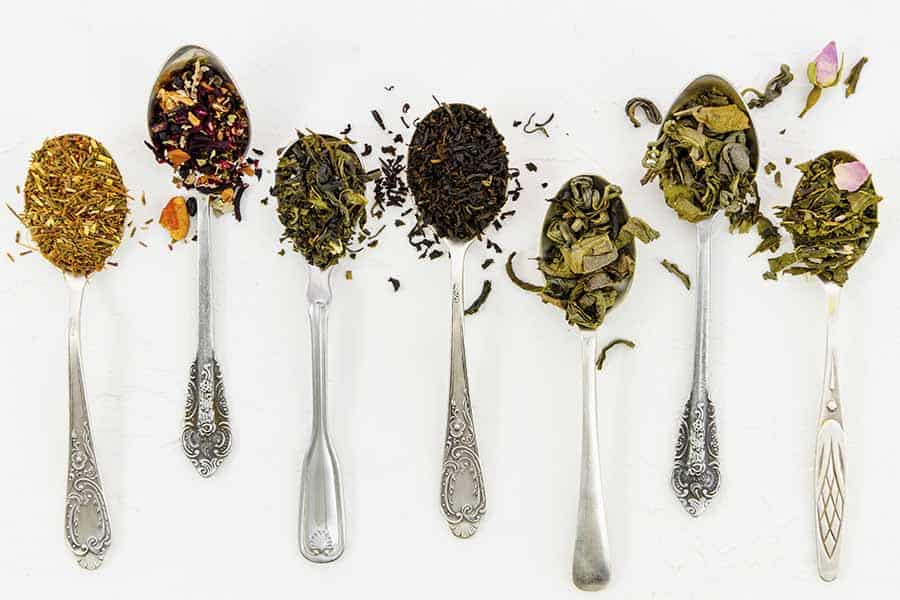 There is no specific name for a collector of teaspoons, but teaspoons as souvenirs and antiques attract collectors.
This small, useful item makes an ideal wedding favor as the recipient can choose between keeping it as a keepsake or using it (perhaps both).
There are many styles to choose from – antique to modern, made from precious metals or utilitarian steel.
Personalized Teaspoons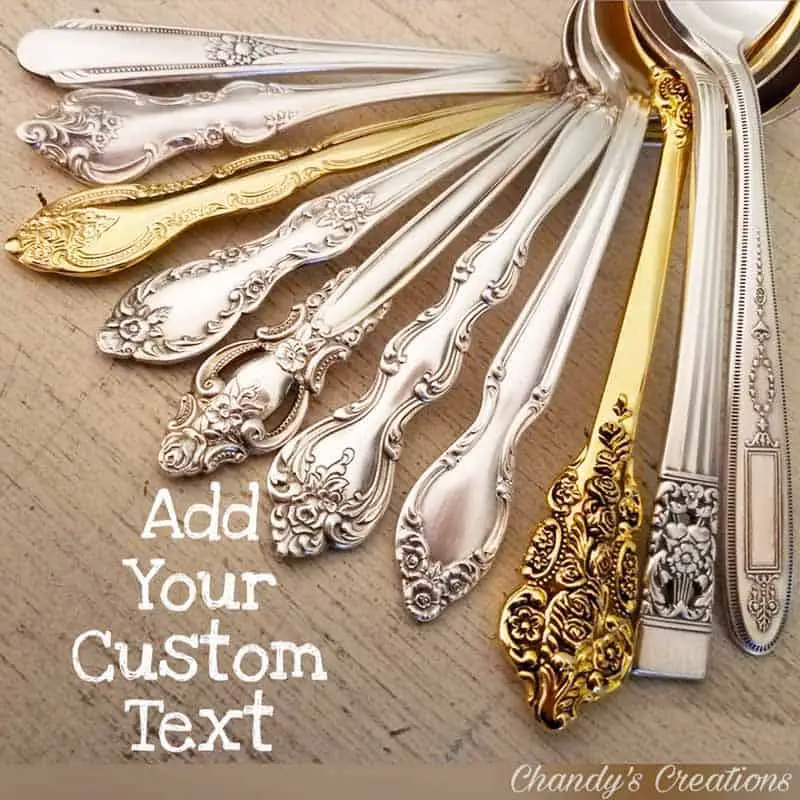 Your carefully chosen words impressed or etched on the bowl or handle of the teaspoon creates a lasting keepsake of your special day for your guests.
The standard spoon bowl as a classic heart or charming flower adds an unusual romantic twist to an everyday item, elevating it to a treasured memento.
If your budget allows – a charming polymer figurine (bride or groom) sculpted around the handle makes a unique one of a kind wedding favor.
The degree and type of personalization (increases the cost) provides a modest but charming wedding favor or a superb miniature treasure.
(Personalized teaspoons gift set as a wedding gift for the couple):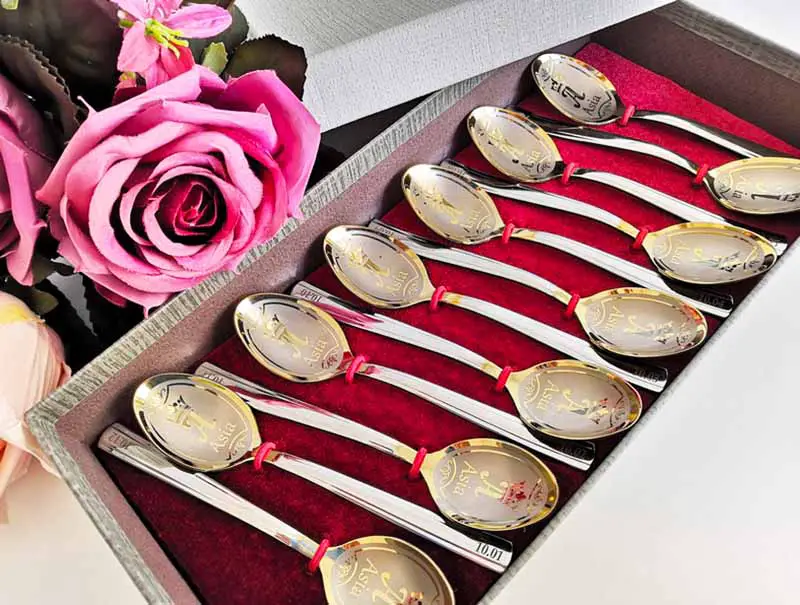 6. Teapot Wedding Favors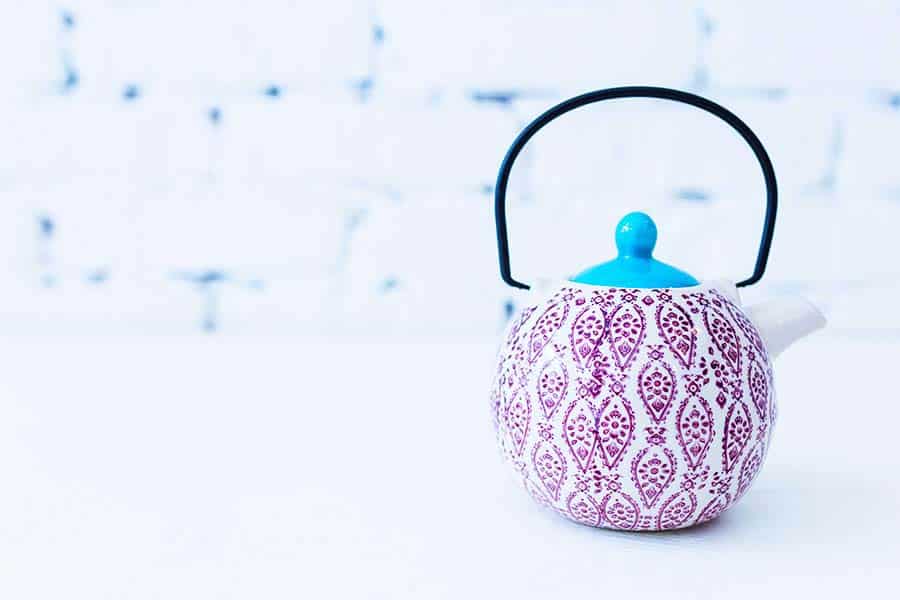 The teapot shape is iconic and lends itself to a variety of wedding favors – teapot-shaped candy boxes for traditional sugared almonds or a slice of cake, handbag or phone charms, and actual teapots.
There is something about a teapot that puts a smile on everyone's face – the cute shape or the romance of tea for two!
Western Teapots
The western teapot has a round shape with a spout and a side-mounted handle directly opposite it. It is straightforward to personalize a small ceramic western teapot as a unique and charming tea-related wedding favor.
Eastern Teapots
The eastern teapot looks like a small western kettle with a handle on the top. The handle is either detachable or swings to the side to allow hot water into the teapot.
The eastern teapot as a wedding favor gives an exotic touch.
Middle-eastern Teapots
The teapot shape is like a western coffee pot with its tall elongated oval for a body or an exotic combination of metal and glass that is ideal for mint tea.
Samovar Teapot
The samovar is a metal container heating water to make tea. A matching teapot is kept warm on top of the samovar until the water is ready for the tea.
This combination is Russian and is the origin of the sweet tea of the southern states of America as Russian tea is a black tea flavored with lemon and sweetened with sugar, jam or a fruit preserve.
Teapot Wedding Favors & Gifts – Choosing the Right Pot
A teapot is going to cost tens of dollars, making it too expensive (unless you have an astronomic budget) as a wedding favor for everyone.
But for a small boutique wedding or occasions during a more massive celebration, the personalized teapot favor is a surprising and welcome tea wedding souvenir.
A glass or porcelain teapot is ideal for artistic hand-painted decorations – the wedding flowers, butterflies, bells, and two birds snuggling together!
The possibilities are endless and can provide a treasured future heirloom for those special people like the chief bridesmaid, mothers of the bride and groom, and a beloved grandmother or aunt.
A smaller budget can still stretch to a teapot wedding favor by using teapot-shaped boxes as packaging, or teapot-shaped tags painted with a simple floral motif.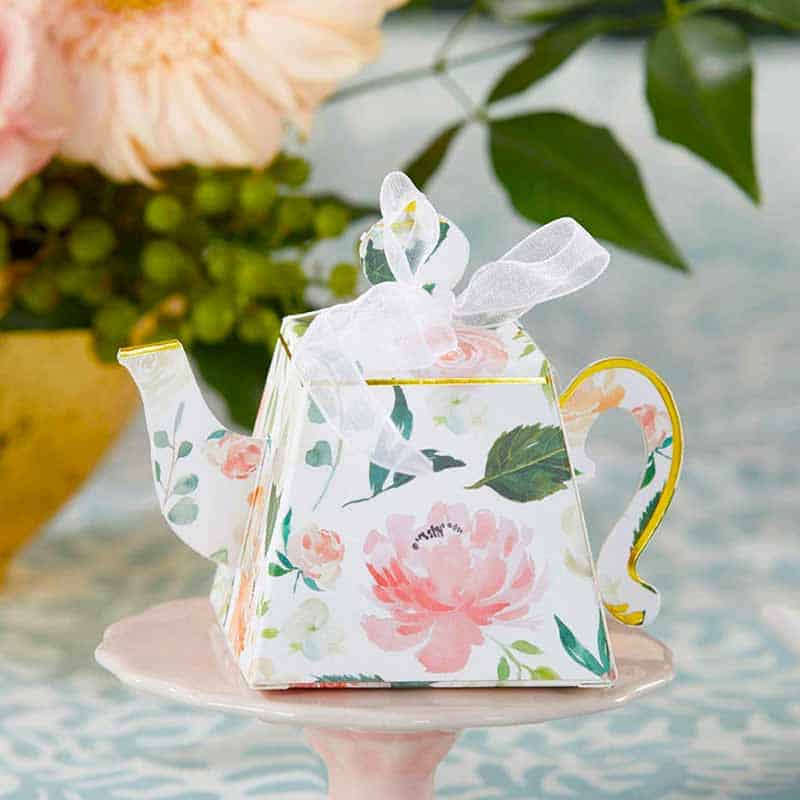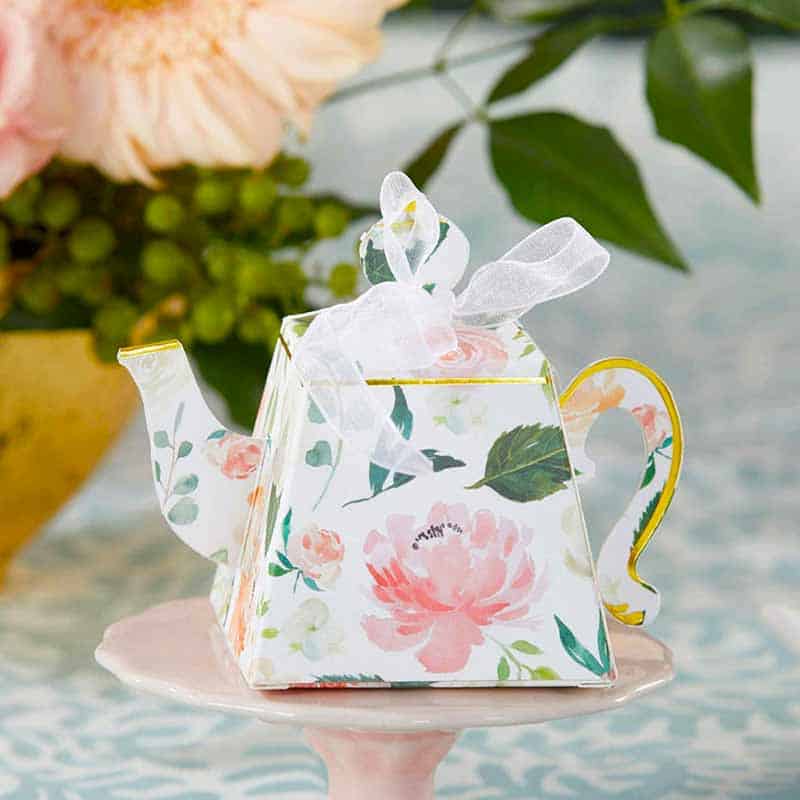 Alternative teapot-styled gifts are teapot-shaped infusers and strainers or small teapot novelty items like a teapot-shaped dish for used teabags. These cute dishes are simple to embellish with a custom design.
Teapot for Wedding Tea Ceremony
For a Chinese wedding tea ceremony, a traditional gaiwan (lidded tea bowl) or a teapot ceremony set in plain red or red with flowers is the essential star of the show.
Red is the color of prosperity and flowers are celebratory!
The serving of tea by the newlywed couple to married family members (of any seniority) is a mark of respect and acknowledges their change in status.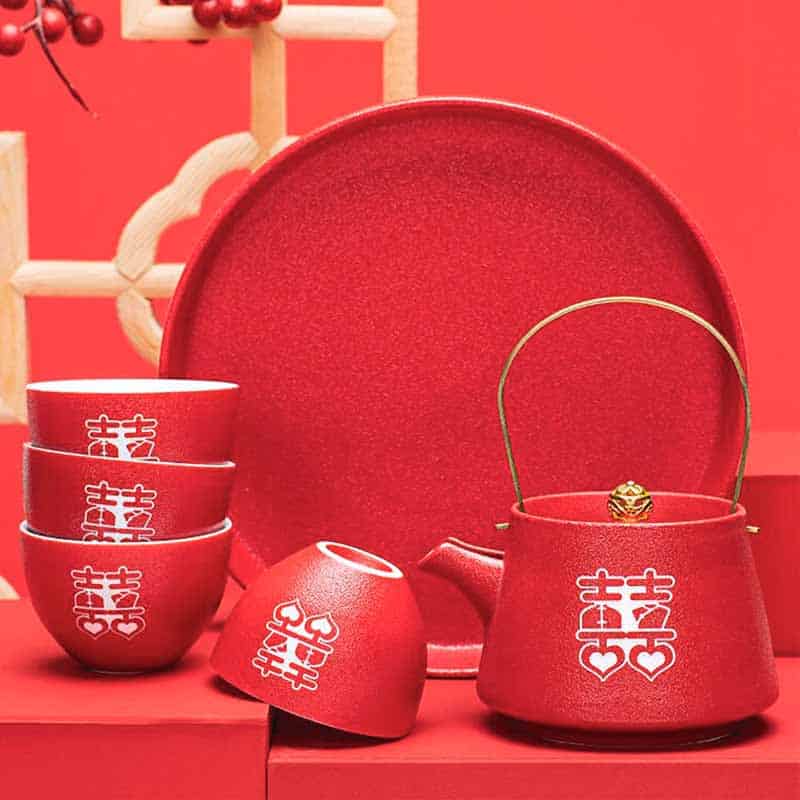 Or (if you prefer a red color tea set without engraving):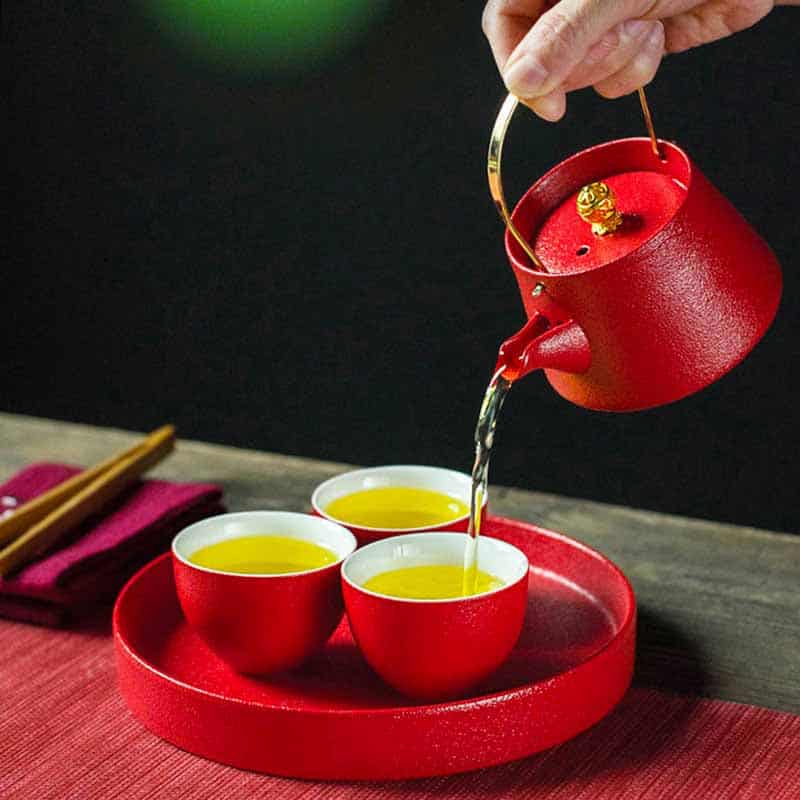 Teapot Centerpiece for Wedding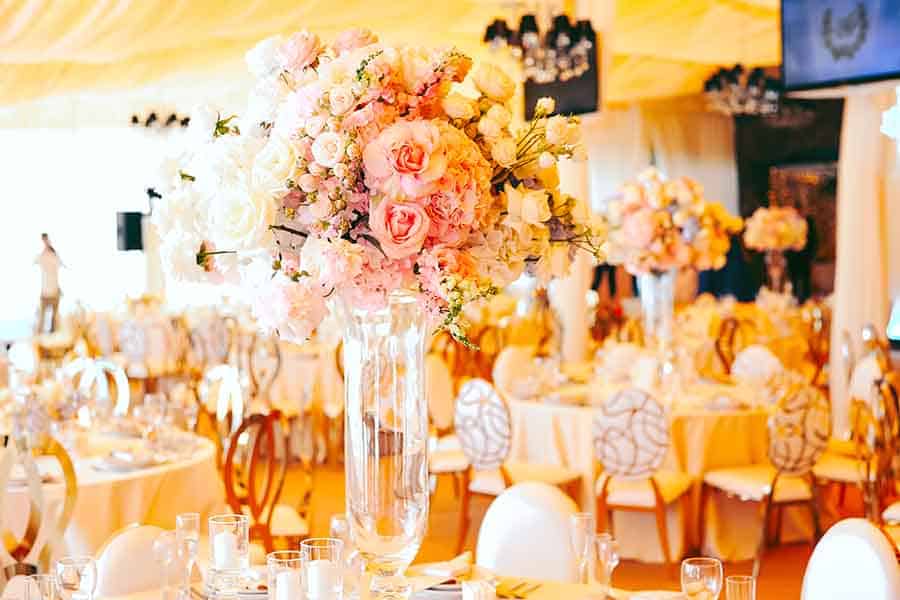 Vintage or modern teapot filled with flowers is a stunning centerpiece on the wedding table!
Add height with thoughtfully chosen old books and select the teapot that matches the couple's personality – brightly polished silver, highly decorated porcelain, or modest stoneware.
Teapot Wedding Favor Packaging & Personalization
A teapot needs secure packaging to allow the guests to transport it with them, but the packaging allows the opportunity for further personalization of the tea wedding favor.
You can have specially printed wrapping paper or boxes with a meaningful design.
For an artisan touch you can use colored tulle and ribbon as decorative gift wrap – perhaps add a printed wooden tag with the bride and groom's name and the date of the wedding.
7. Tea Strainer Wedding Favors
A Catcher of Tea Leaves Escaping from the Teapot…
A tea strainer prevents tea leaves from the teapot entering the cup.
The tea strainer is a practical tea gift as a wedding favor that allows personalization either as an engraving on the handle or as part of the packaging. These typically come as a simple round design or teapot-shaped.
This wedding favor combines well with a gift of tea (loose tea or tea bags) and a teapot for the people playing a crucial role on the day or as a wedding welcome gift.
Brewing Tea in the Cup…
A deep tea strainer like the exquisitely beautiful flower-shaped Koziol Audrey tea infuser allows the tea to infuse inside the teacup as the inset does in a teapot.
Pour hot water into the cup through the infuser and remove it when the tea is to your taste. They are ideal at producing the perfect cup of tea for one.
However, it is not suitable if the tea is in loose form with particularly fine cut as the bits may simply fall through the holes.
An attractively designed tea strainer is a wedding favor as a single item or in combination with a selection of tea.
8. Tea Infuser Wedding Favors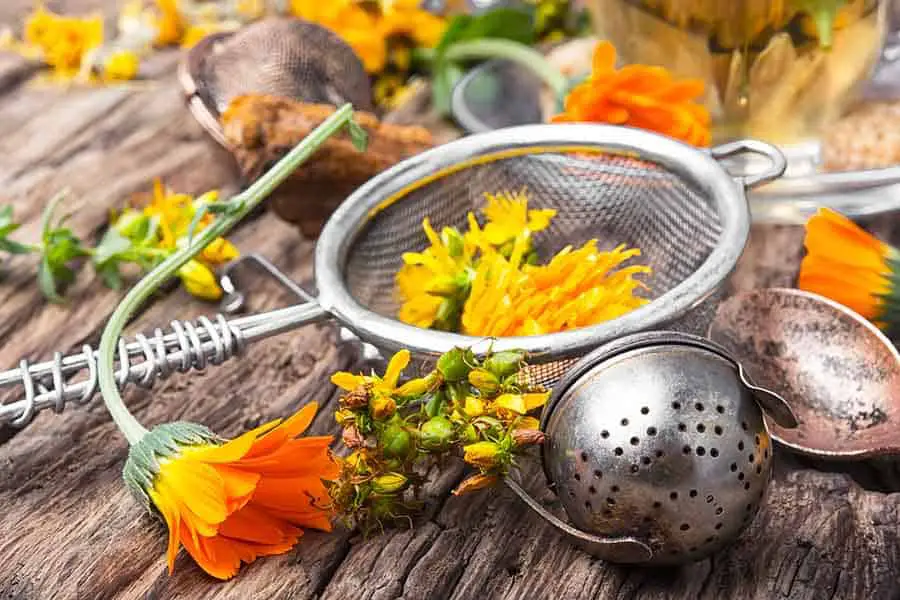 A tea infuser gives the convenience of a teabag with the high-quality taste of leaf tea.
The steel mesh ball filled with a leaf tea is a great size for packaging as a practical wedding favor. This little favor converts any cup into a mini teapot for brewing the perfect tea drink.
For a double tea inspired wedding favor – the teapot-shaped tea infuser is sure to make your guests smile – available in stainless steel or colored silicone.
Personalized Heart Tea Infuser
Tea infusers come in many shapes (there are collectors) from the plain to the ornate – for a wedding a heart shape is a happy choice, add the couple's initials and the date and you have an ideal wedding favor for tea lovers everywhere.
The heart-shaped tea infuser is found as a modified teaspoon or as a heart-shaped container on a chain.
Both styles of heart-shaped tea infusers are a charming wedding favor – fill with a sweetly scented flower tea, so the guest is met with the fragrance when opening the package.
Personalized Tea Infuser Bottle
A tea infuser bottle lets you take your favorite tea with you and will keep it hot for around twelve hours or cold for about 24 hours.
The infuser fits inside the bottle. You pour in hot water, allow to infuse, remove the infuser and you have your perfect drink of tea for later!
It's not cheap- upwards of $50, so it is not a gift for the masses, but a thoughtful wedding gift for members of the wedding party.
Tea Infuser Stick
Tea infuser sticks are a new product that performs a similar function as a more traditional infuser, but in the form of a stick that more readily rests beyond the depth of the teacup.
This innovative product needs DIY packaging to make it into a delightful and surprising tea wedding favor.
The combination of a heart-shaped infuser with loose leaf tea in a test tube as a wedding favor unit is a brilliant idea as it allows the guests to try a type of tea of your choice with the infuser.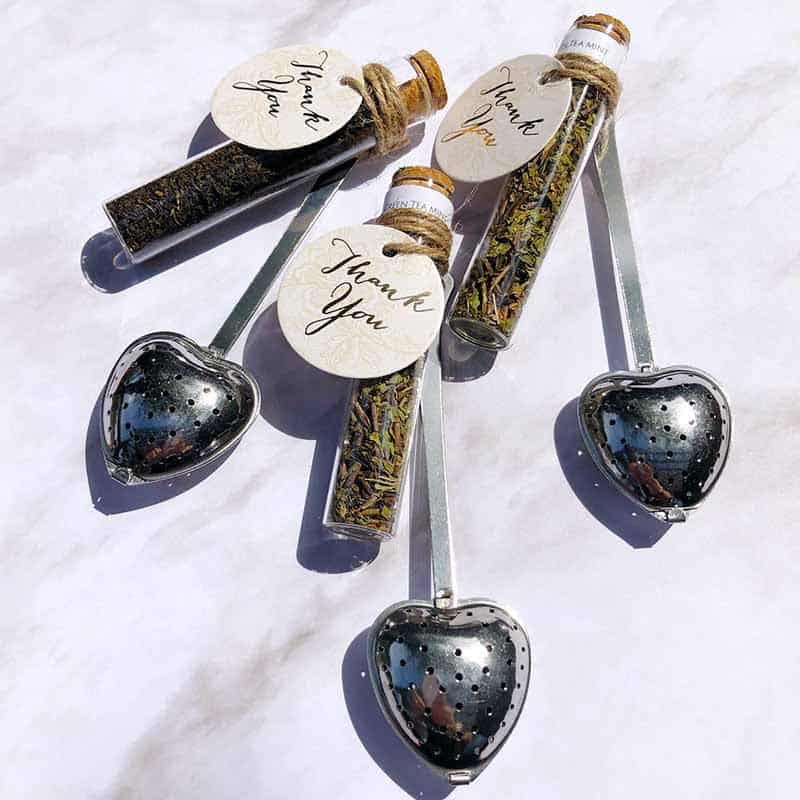 9. Tea Caddy Wedding Favors
Tea came to Europe in the 16th Century and as an expensive luxury product was under lock and key. Lead or tin-lined wooden caskets with a lock contained the household tea.
These antique tea caddies are highly collectible.
The best tea needs storage free from air, light, and dampness. Tea is a sensitive product that can be contaminated by other items – this allows tea scenting with flowers to produce special and rare teas.
Beautifully decorated tins for the storage and sale of tea are ideal tea caddies, but porcelain, ceramic, and glass with airtight seals are excellent choices.
A lovely range of miniature pocket-sized tea caddies containing a special tea makes a charming wedding favor for all your guests. They are beautiful to look at and easy to transport.
You select the color and design to match the wedding theme.
(Tea canister set as a wedding gift):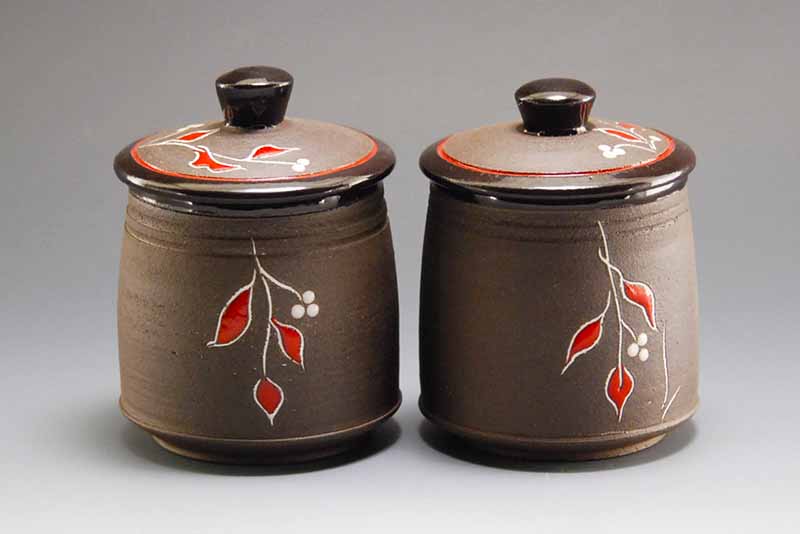 10. Tea Towel Wedding Favors
A tea towel is a kitchen essential that everyone uses. A beautifully printed tea towel – with a picture of the happy couple, floral motif, or a meaningful poem with a decorative border – makes an unusual wedding favor.
Tea towels ordered in bulk for all your wedding guests are one of the most accessible items to have personalization as it is as straightforward as printing on paper.
You choose the company, supply photographs, artwork, and text and they print your chosen quantity and quality of tea towel.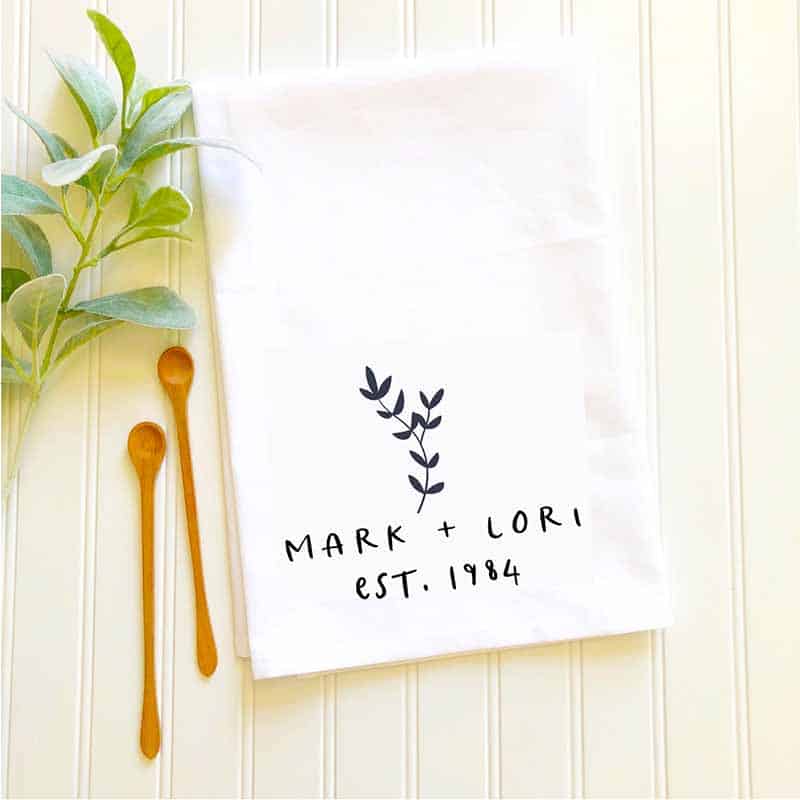 Alternatively, have them custom embroidered for an elegant touch of old-style embellishment.
When presenting the wedding tea towel as a wedding favor remember that you can fold and roll them with a simple fold. Each of your guests could receive a swan or a faux wedding cake embellished with silk or real flowers.
To create a mini wedding cake from your tea towel, fold the short sides together three times. Then roll the long rectangle (starting at the short side) like a jelly roll.
Hold the roll together with a fancy ribbon to keep the cake shape. Decorate the top by pushing the stems of flowers between the folds.
Alternatively, you can fold a tea towel into a rose as demonstrated in the video below:
Or a bunny rabbit:
Personalized Tea Towels Made by You
High-Quality linen or cotton tea towel allows you to add your embellishment with easy to use fabric paints, iron-on transfers, or embroidery.
Using transfer paper, a computer, and a photograph can result in a tea towel wedding favor worthy of a royal wedding!
Plan an evening or weekend and a group of you can have fun making unique wedding favors.
11. Tea Light Wedding Favors
What has a tea light got to do with tea other than the name?
A teapot (or other food) sat on a stand and a small candle under the stand kept the tea warm – a tea light!
Tea lights are now decorative accents in many homes and make delightful wedding favors as you can choose the scent – perhaps a delicate pink scented with roses?
They are easy to package and transport for all your guests.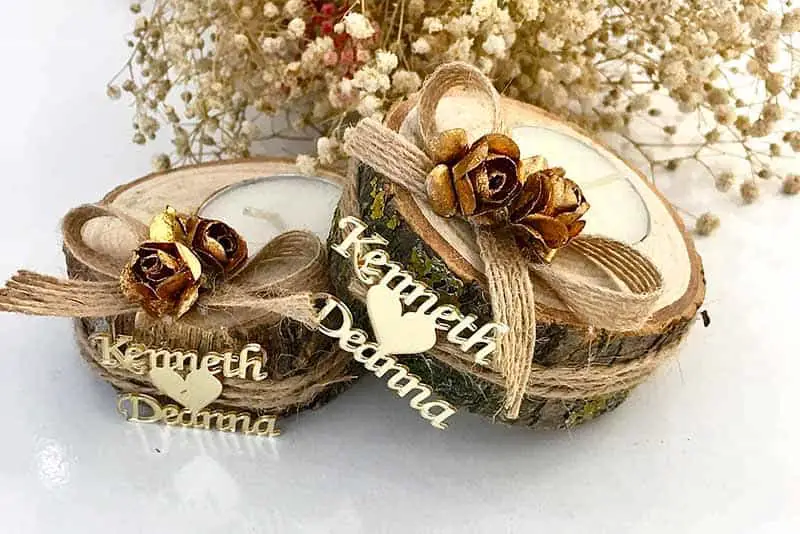 12. Tea Set Wedding Favors
A whole tea set as a wedding favor is exceptionally luxurious and will let your special guests like your bridesmaids, parents, groomsmen, and ushers know how greatly you value their support.
There is a wide variety of styles from across the globe. The option of personalization means each gift is as unique as the recipient.
The tea set wedding favor needs careful presentation to showcase this high-end wedding favor as the beautiful thank you it represents for your guests.
Consider presenting it in small wicker baskets or use cotton cloth squares to wrap the boxes in the Japanese way.
As they are typically pricier gifts, reserve tea set gifts for only the select few who are close to you.
(Tea mug with infuser – good thank you gift for the bridesmaids and groomsmen):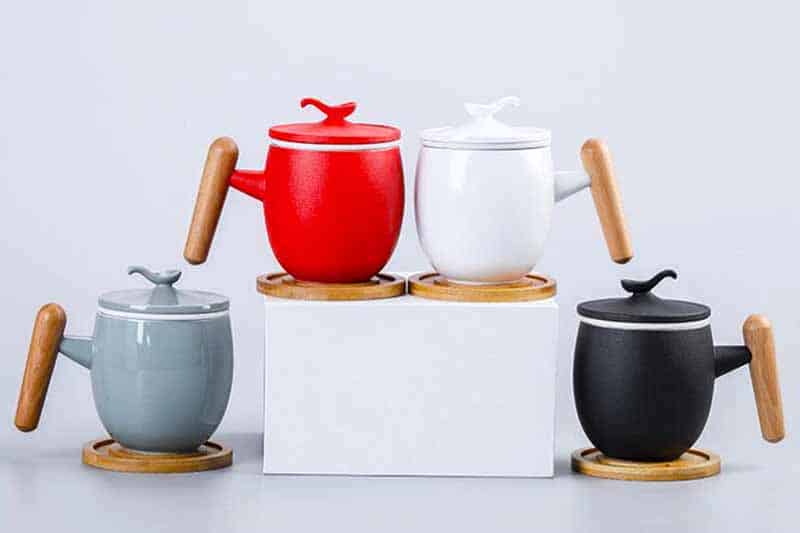 (Beautiful tea set for the newlywed couple):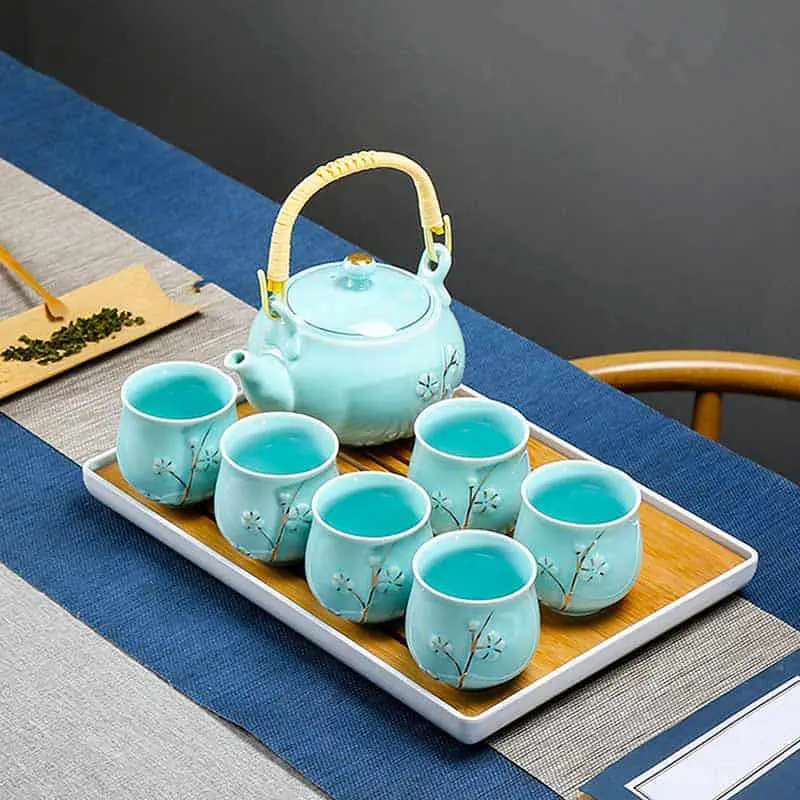 13. Sweet Tea Wedding Favors
Sweet tea is an iced tea sweetened with sugar or syrup during the infusion process. It is a popular beverage in the southern regions of the USA (the northerners prefer their iced tea without sugar).
Enhance the sweet tea with fruit like strawberries or lemon to taste.
As a wedding favor, you can gift your guests with personalized mason jars with all the necessary ingredients for a perfect southern-style sweet tea. As an extra-special touch throw in a sweet fruit-flavored lollipop as a tea stirrer.
14. Tea and Honey Wedding Favors
Honey and tea are a classic combination of two products that are rich in natural antioxidants.
Before the advent of refined sugar, sweetness came from honey. A marriage is a combination of two lives, and a unique wedding favor gifting a pairing of tea and honey is symbolic of that union!
You can make up a package of tea with a small jar of honey or opt for tea that is infused with honey to introduce your guests to the delightful combination.
15. Tea and Biscuit Wedding Favors
To dunk or not to dunk? That is the question – in the western world (mainly the UK) a cup of tea would not be complete without an accompanying biscuit from the classic rich tea to the sweet shortbread.
As a wedding favor, a combination of black tea and a couple of beautifully wrapped biscuits will please most guests.
16. Tea Wedding Welcome Gift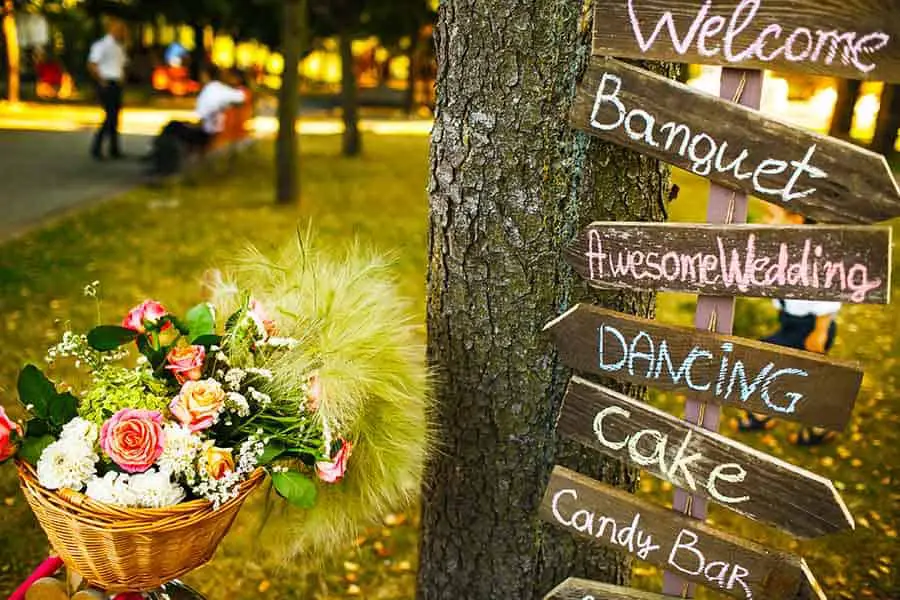 Tea is the perfect gift for providing the ideal greeting for those guests from far away.
A welcome wicker basket shaped like a teacup with a thoughtful mixture of teas, biscuits, and cake offers a refreshing addition to their hotel room.
Or, you can go with a simpler basket shape and pack it full of a selection of tea, teapot or infuser, teacup, biscuits, and tea lights for a complete tea-themed wedding welcome gift!
(We explored wedding welcome gifts in greater detail in the linked article.)
17. Personalized Tea Wedding Favors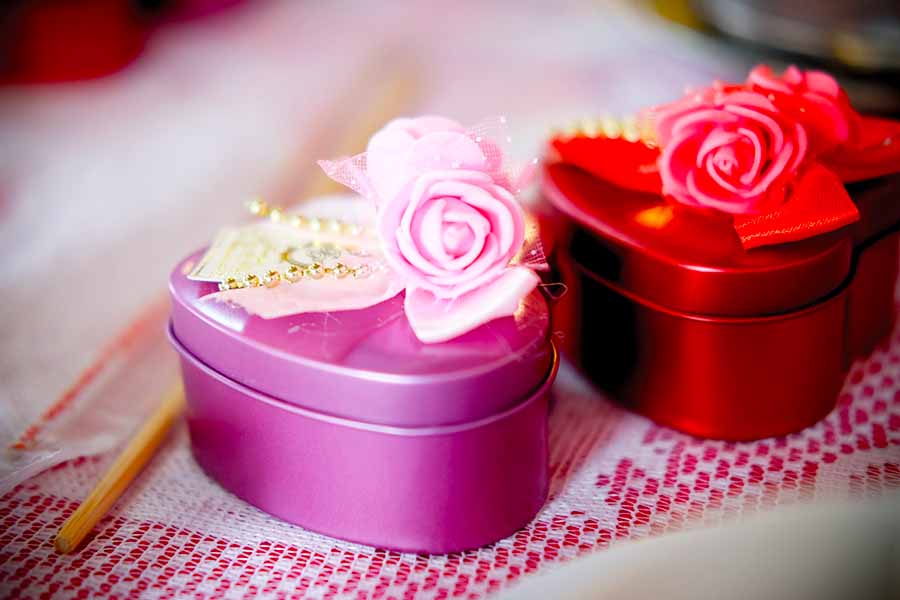 Tea and tea-related products make excellent wedding favors.
However, it is essential on this special day to emphasize the care and thought that goes into the choice of wedding favor by personalizing it to fit in with the theme of the wedding.
Commission your personalization when you buy the product or add it later in the form of packaging, labels, tags, and extra crafted embellishments.
Personalization of wedding favors usually consists of the names or initials of the couple and the date of the wedding. Add decorative motifs like wedding bells, horseshoes, flowers, hearts, and butterflies to enhance the look of the tea wedding favor.
Custom Tea Packaging
You can have your tea packaged professionally in boxes, pouches, jars, or tins with custom printing included.
The process that produces samples for big retailers can package your tea in small quantities for use as a wedding favor. These packages can be given on their own or combined with other products and packaging.
Tea Wedding Favor Packaging
Wedding favors are a celebration of a family event and there are many ways of enhancing the gift – tulle in white with colored ribbons, a flower tucked under the ribbon, or the addition of silver bells or lucky charms.
Consider all the decorative elements of the wedding – the colors, the flowers, and the personality of the couple. Then you have plenty of ideas for unique packaging.
For unique packaging materials look for products like handmade papers delicately tinted and containing flowers and leaves.
Then there is iridescent cellophane tied with ribbons – the florists packing material of choice. Cellophane is bright, shiny, and transparent and kind to the planet – you don't recycle it but it is biodegradable.
Unusual shapes for boxes include pyramids, polyhedrons, cones, treasure chests, cake slices, and teapots. The cardboard for the boxes can be pearlescent, glitter, or colored with raised embossed designs.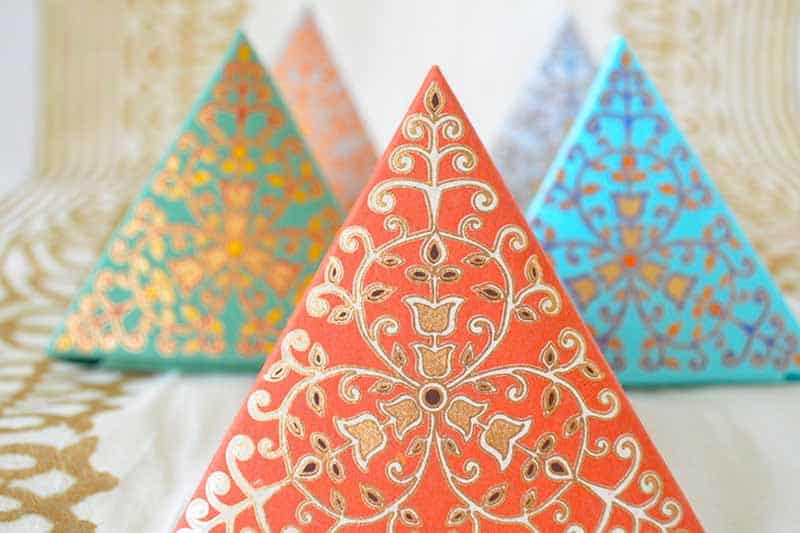 (Conventional square boxes):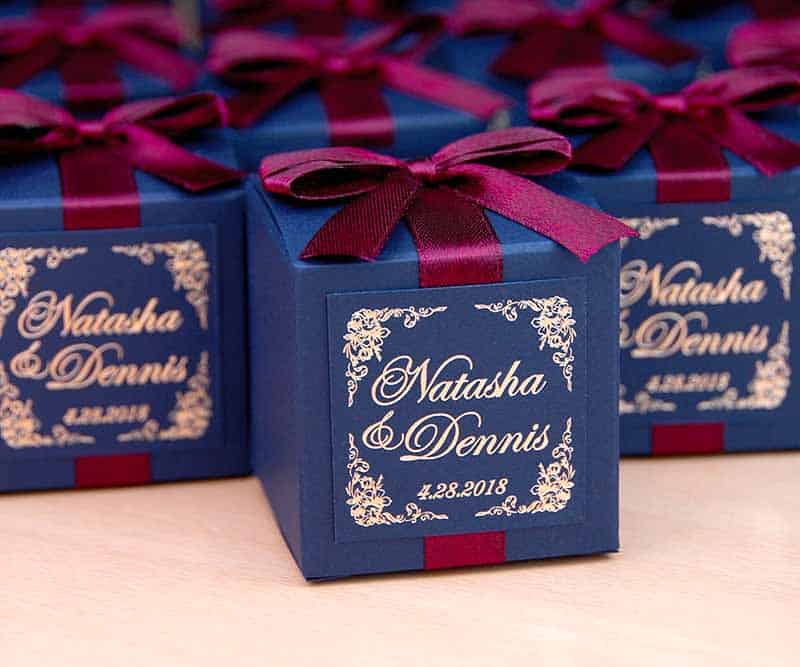 (Rustic-theme boxes with twine):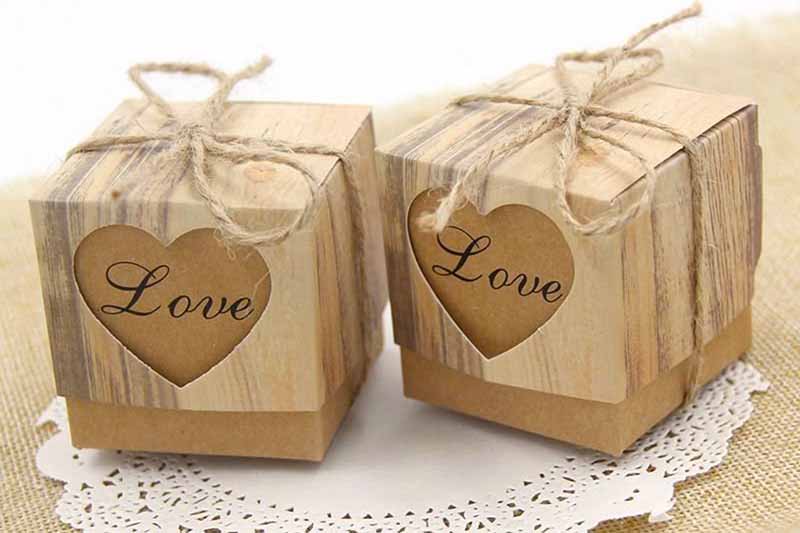 (Irregularly-shaped but beautiful boxes):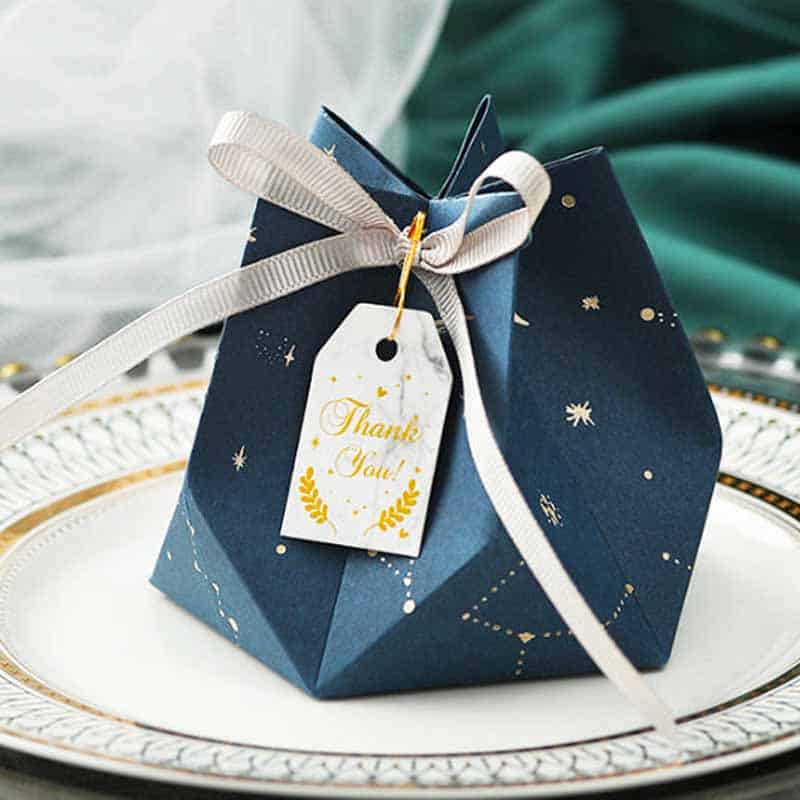 Instead of paper and cardboard consider small jars, tins, and wooden boxes.
You have an infinite choice of materials to ensure that your wedding favors are exquisitely beautiful and picture-perfect!
(These see-through acrylic wedding favor boxes complete with ribbon and personalized tags are truly unique! You can opt to purchase the tea separately):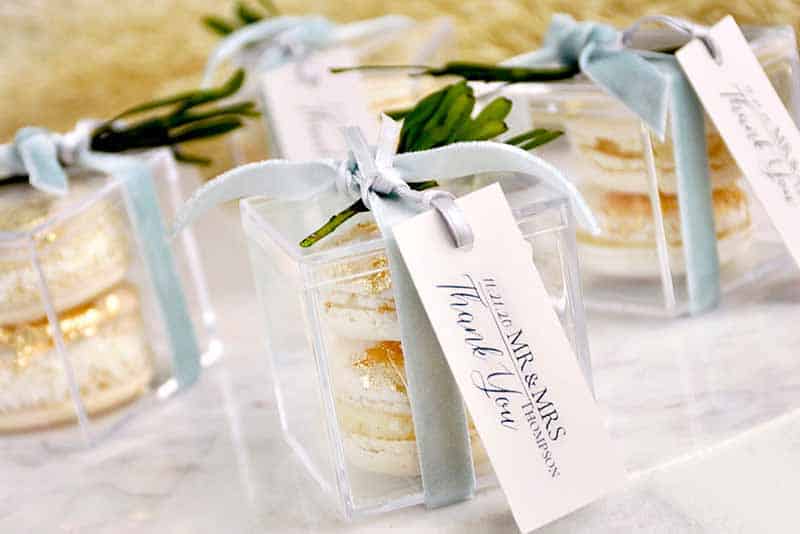 Tea Wedding Favor Tags
Ready-made tea wedding favor tags are quirky and original with artists using hand brush lettering, lovely colors, and surprising quotes.
If you need an off-the-shelf solution to add a finishing flourish to your tea wedding favors the sheer range of ready-made tea wedding favor tags will delight you!
For budget reasons or the desire to give a personal touch to the favor, many people choose to assemble and create their wedding favors.
A professional finishing accent added with a unique tag designed for the day – you can have them printed or download and print yourself. There are so many styles and designs with glitter card, beveled gilt edges and cute folksy messages.
You can match your tags to your wedding theme keeping the look of the day consistent and beautiful.
The tag can be unique – shaped like a teapot or a teacup, made from wood, pottery, or glass-like material.
A handcrafted tag can be as much of a wedding favor as the favor. A nice touch is to attach your tags with a lobster claw or keyring fitting turns into a keepsake.
(We've curated 2 simple yet wonderfully-designed wedding favor tags for your selection):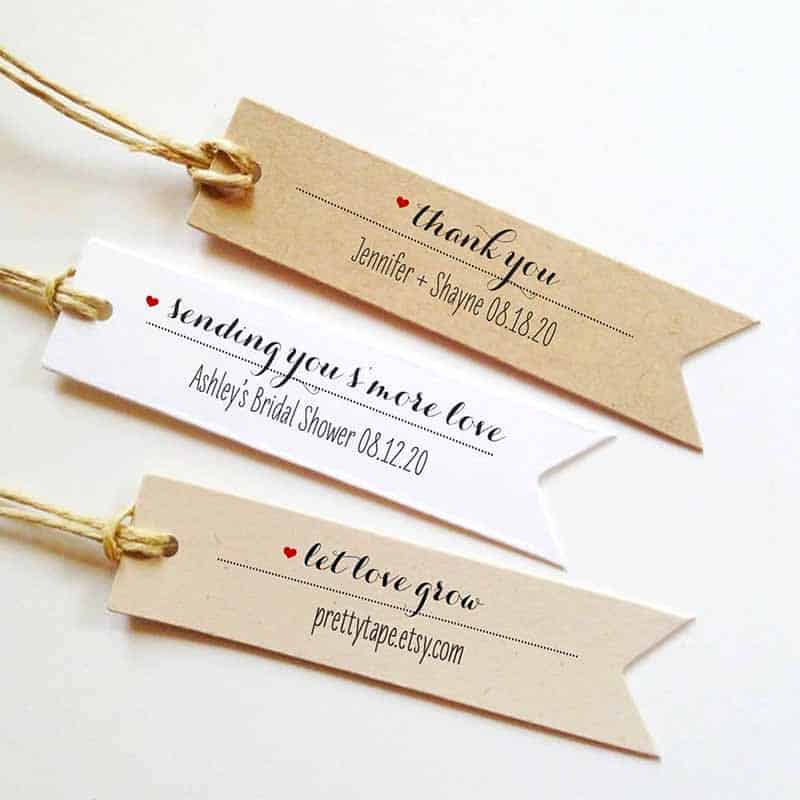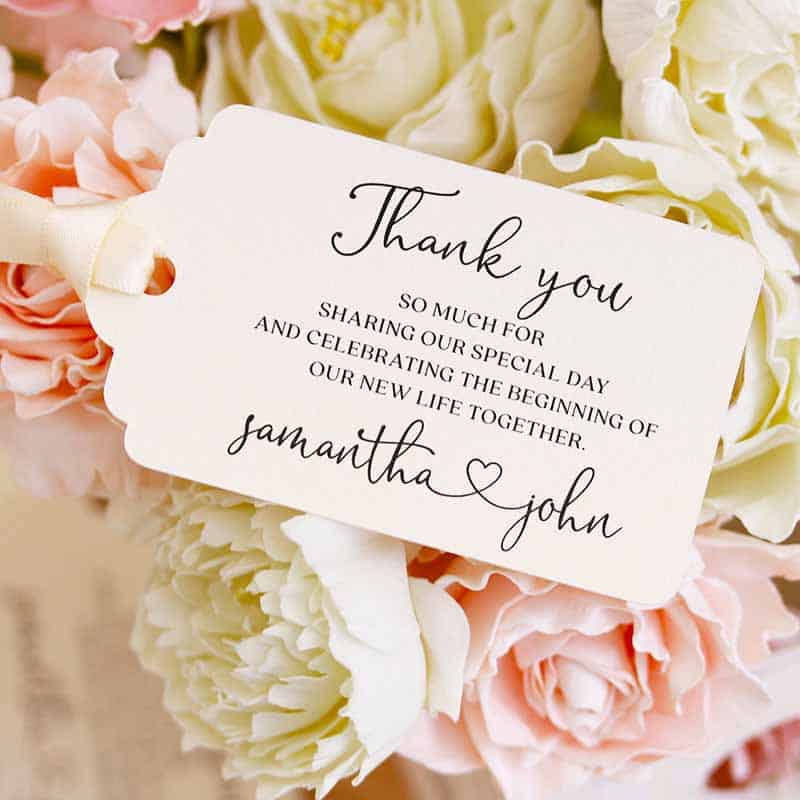 (The following 2 tag designs are digital design files which you can purchase and customize with your own text):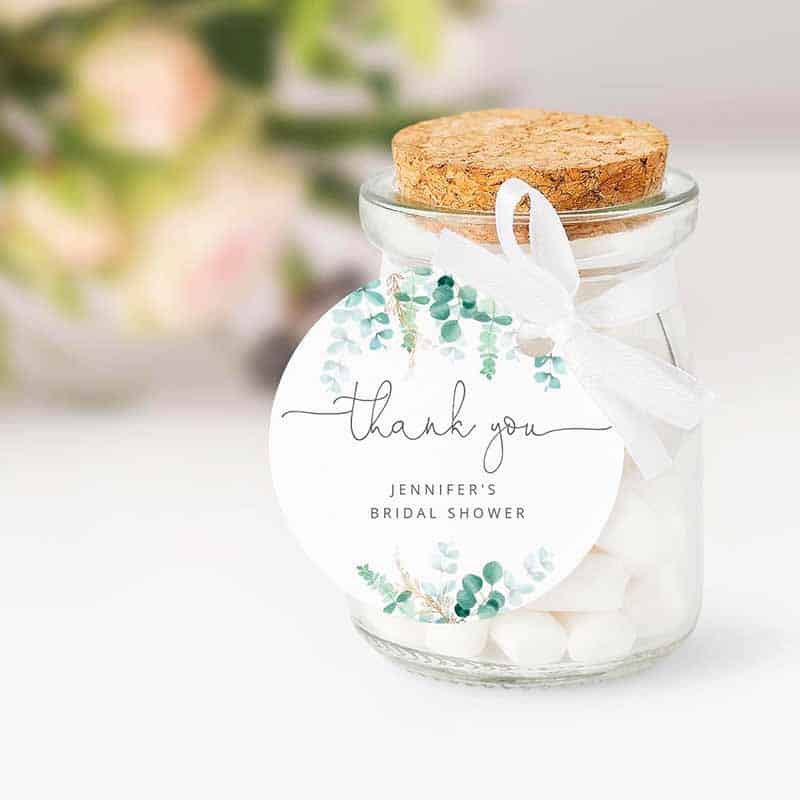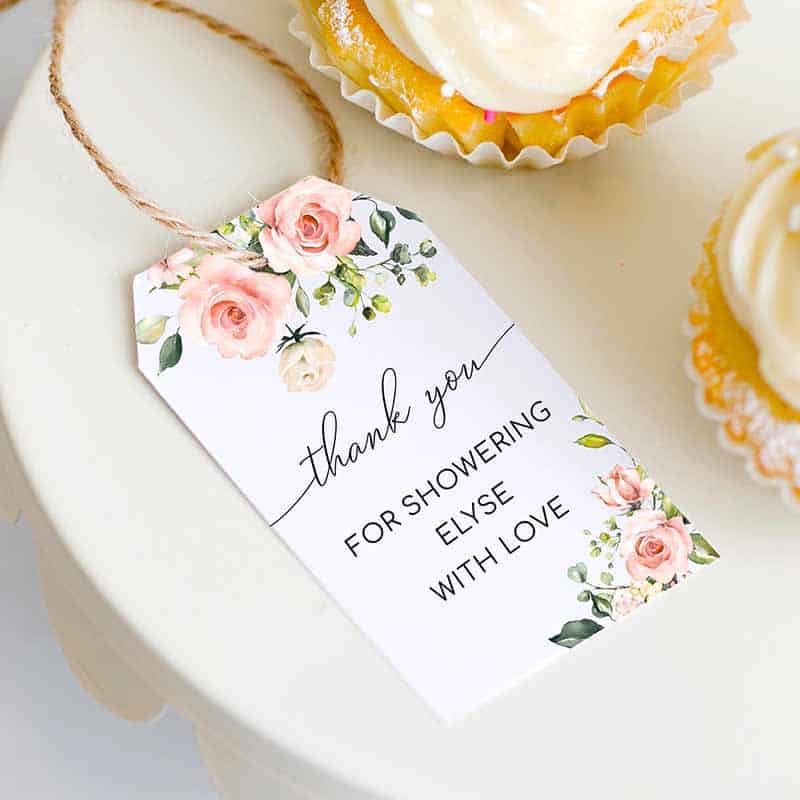 Tea Wedding Favor Quotes
There are many words written about weddings that try to express warm wishes and advice for the couple.
There are plenty that mentions tea, like:
"Love is like a cup of tea – it's how you make it!".
You can choose one message for all the guests or use a selection. A thoughtfully chosen quote will enhance your tea wedding favors.
Going one step further, you can use a variety of quotes, so the favors are similar but a little different on each table.
Depending on the ways you adopt in displaying the favors, they are fitting complements to your chosen wedding décor!
18. DIY Tea Wedding Favors
When it comes to tea as a wedding souvenir or door gift you have lots of options for handcrafting or assembling your tea wedding favors.
You can package tea bags, leaf tea, or the tea accessories in origami boxes or bags, glass jars, boxes, and tins.
How to make an origami box:
How to make a secret stepper box:
If time and energy permits, use porcelain paints to hand-paint teacups or acrylic paints to decorate a stylish tea caddy.
You can also bake biscuits and wrap them in greaseproof paper with raffia twine to accompany a rare black tea.
Making wedding favors is a brilliant activity to do as a group – perhaps during a bachelorette party or as a way of involving the youngest family members in making them part of the preparations in a meaningful way.
19. Benefits of Tea Wedding Favors Over Other Types of Favor
Tea is an inclusive gift that young and old of any culture enjoy.
Tea is a part of our everyday lives but as a wedding feast is different from an ordinary dinner, tea as a wedding favor reminds us all that the most mundane ingredient has hidden secrets and can be so much more in celebration!
Infinite Varieties of Tea
Tea is not just green, black, and white – there are so many variations from one humble plant – Camellia Sinensis (source).
Tea is smoked (Lapsang Souchong) or fermented (oolong and black tea) and aged (pu-erh) to produce a vast range of flavors. Add the different blends and flowers and there are even more options, flavors, and experiences – all with humble tea.
Tea makes an excellent wedding favor because its infinite variety means you can surprise and delight your guests with a new taste from an old favorite!
Practical Wedding Favors
A poor wedding favor has no possible use and occupies space while contributing nothing.
Weddings are a celebration and guests enjoy having a keepsake reminder of the day, but the favor is a gift to spark a moment of joy – a small taste and a happy memory.
Tea and tea-related wedding favor gifts can be practical – for a single moment of pleasure or more prolonged use and a happy reminder of the celebration – a teacup or spoon for example.
Tea is one of the best drink favors and edible favors as it is non-alcoholic and as such widely acceptable by wedding guests of all ages.
Depending on what tea product you select and the accompanying packaging, it is also one of the few affordable wedding favor ideas that are attractive at the same time.
A practical gift packaged in celebration with care and attention lavished on the details is a visual treat for the recipient!
Tea as Wedding Favor Keepsakes
Tea keeps in excellent condition for a very long time so the guest has a choice with the tea wedding favor – they can keep it as a keepsake for a week, a month, or longer.
Then when they are ready to use the tea, it makes an excellent beverage enjoyed with great memories!
Pressed decorative teacakes are like gingerbread – consume today or keep as a souvenir.
Flower teas keep in excellent condition and look attractive in a glass jar until the day you are ready to enjoy the fragrance and the spectacle of their gradual unfolding and releasing of flavor to hot water.
Teacups, infusers and other tea-related gifts to keep and use every day are a long-lasting keepsake that reminds your guests both of you and the happy day shared.
20. Tea Wedding Gifts
Tea makes a lovely and welcome gift for the newlyweds and ranges from items that are affordable by young people (or those with a tight budget) and more luxurious products like a full tea drinking set providing a lasting gift for many years.
Traditionally, wedding gifts help to set up a young couple in a new (and empty) home and were practical.
Now most couples have acquired their useful items before they marry, and a gift of tea or tea-related products is ideal. It expresses the desire of friends and families to nurture and support their relationship.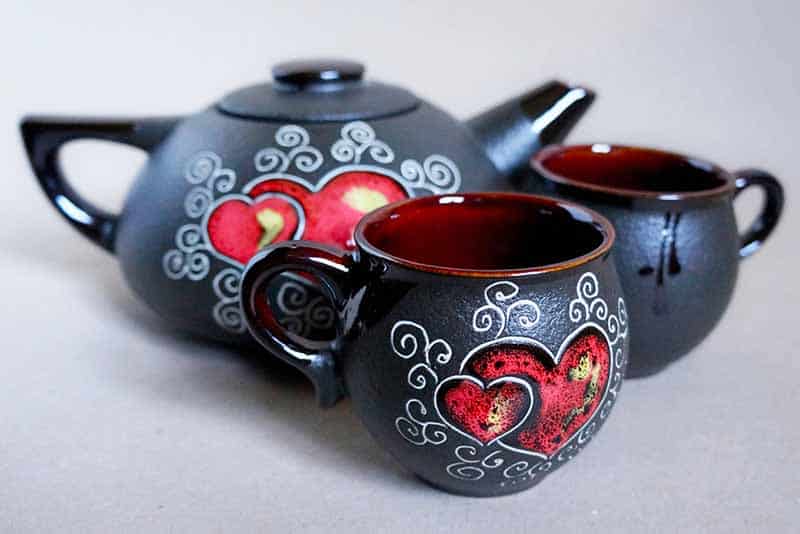 All the wide variety of tea gifts for wedding favors are suitable for presents for the couple. If desired, you could scale up and provide a selection of high-quality rare teas or give them as a larger gift set complete with a mini tea drinking set.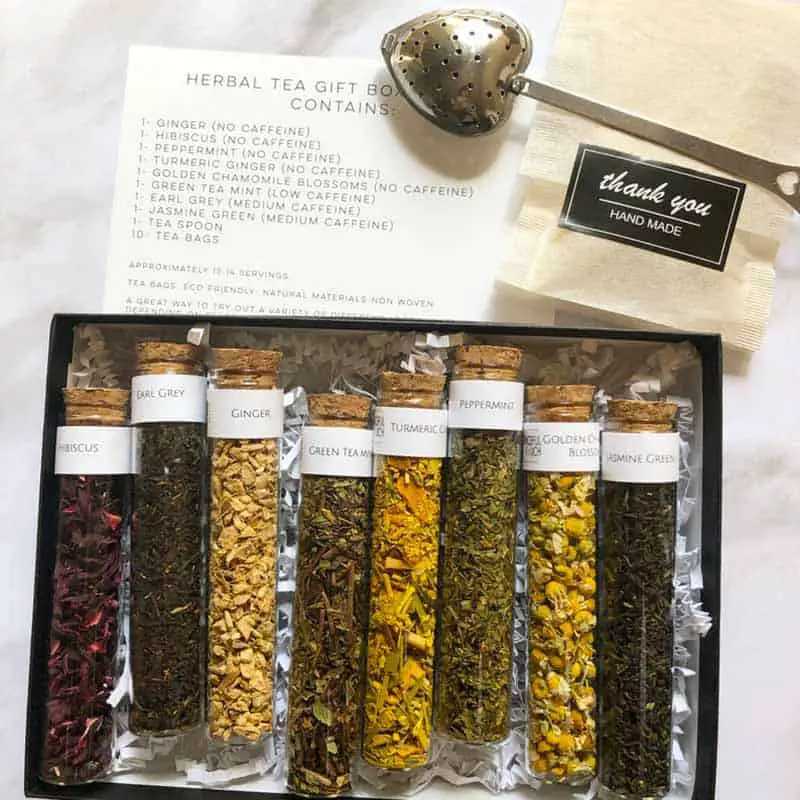 Likewise, a gourmet food hamper of tea-related gifts including tea-scented chocolates and tea-based pastry is an excellent wedding gift for a newly married couple.
21. Other Occasions Deserving an Excellent Tea Gift
Tea is an inclusive drink for celebrations, giving health benefits as well as enjoyment.
Any of the tea or tea-related product for wedding favors, with some appropriate adjustments to the presentation, can enhance any party or event and please the recipients.
Bridal Shower Tea Party Favors
The bridal shower is a practical way for a woman's friends to shower her with gifts in advance of the wedding. This part of the wedding celebration and organization belongs to the friends of the bride rather than the family.
A bridal shower tea party complete with dainty sandwiches and sweet morsels makes a superb and relaxing event.
The prepared bride wishing to express appreciation for her friends' warm wishes and affection can give small tea party favors as a parting gift.
A special tea gift, beautifully-wrapped is a lovely way of expressing thanks.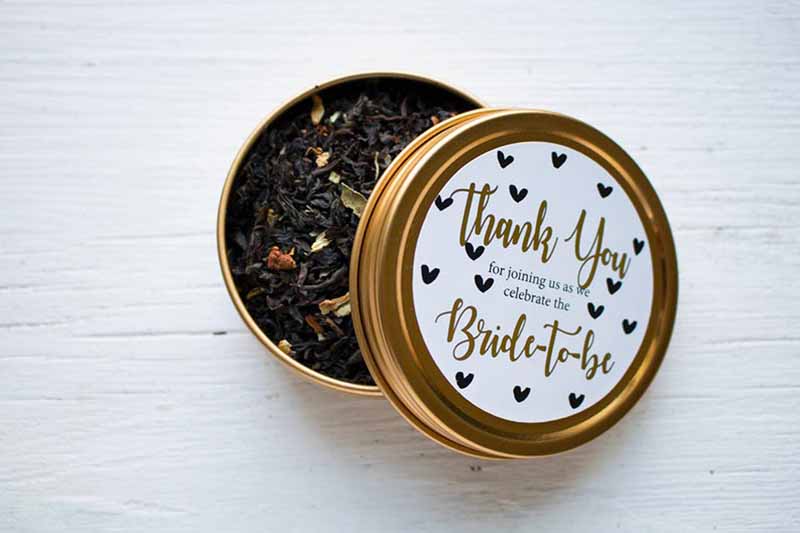 Bachelorette Tea Party Favors
Bachelorette parties differ from bride to bride and need to include all the attendees and ensure everyone enjoys the occasion.
Some events last a single night and some a whole weekend, but sending the guests home with a small parting gift or keepsake is a pleasant finish.
Any tea party favor fits the occasion, but perhaps an attractive personalized teaspoon, or a mason jar filled with sweet tea ingredients, or a tin of hangover tea for a refreshing post-party drink is ideal.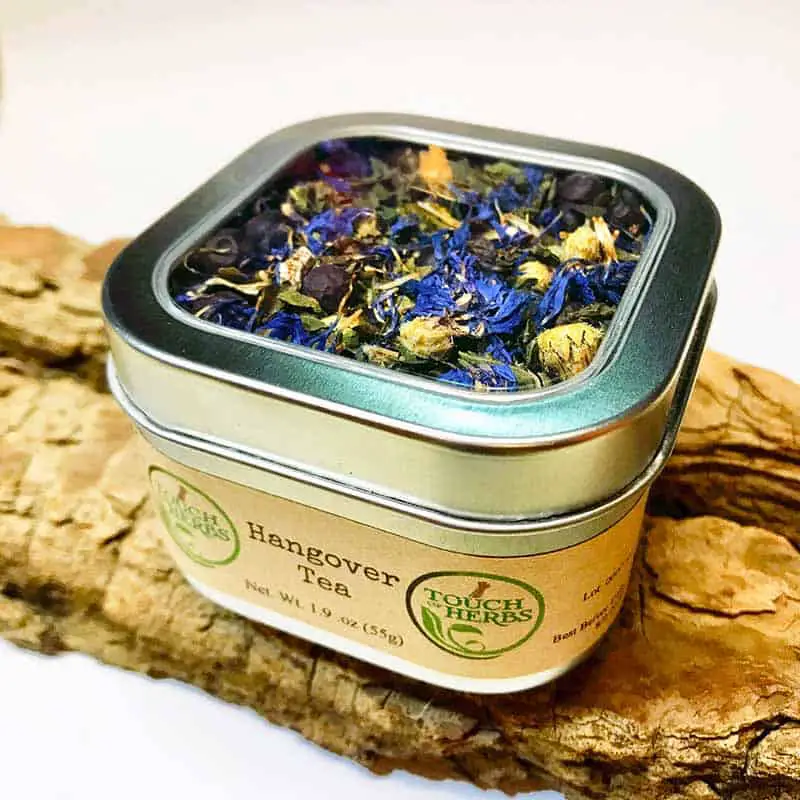 Christening Gifts
Silver is a traditional christening gift and a personalized silver teaspoon is a delightful present. In keeping with the Christian tradition, apostle spoons are appropriate.
Although antique and vintage, they are available at reasonable prices.
Gifts for Tea Lovers
If you know avid tea drinkers, then you're never stuck for a gift to give them!
The sheer variety of tea available provides plenty of opportunities to find a tea type or tea blend they have yet to try.
Then there is the tea paraphernalia – gravity-fed tea infusers and specialty tea kettles that heat the water and wait until the ideal infusion temperature before adding tea leaves.
An unusual gift prized in the West and the East is the opportunity to experience the Japanese tea ceremony – often in the beautiful surroundings of a landscaped garden!
For the tea devotee, lessons to become a master of tea or learn to blend their teas is a thoughtful gift.
Conclusion
The humble tea leaf provides an uplifting beverage across the world.
The wide variety of tea, tea products and accessories related to tea make them a versatile choice for general gift-giving and provides an inspiring source of tea wedding favors for that special occasion to surprise and delight your guests.