31 Christmas Tea Gifts That Your Tea Lover Family and Friends Would Absolutely Adore!
DISCLOSURE: TEA UNBOXED IS A PARTICIPANT IN AFFILIATE PROGRAMS WITH AMAZON AND OTHER SITES. WE ARE COMPENSATED FOR REFERRING TRAFFIC.
Christmas comes around every year and provokes a frenzy of decorating, gift buying and wrapping. One day a year when you let everyone from co-worker to grandma that you value their place in your life.
When planning a major event (buying that many presents is a major event), it helps to have a plan. One approach is to choose a theme to base your gift buying choices.
Tea and tea-related gifts is a superb theme because tea is universally popular!
Some people keep a Christmas journal so they can track who they are buying for and what they bought. But everyone has a list (even if they keep it in their head) with a rough idea of how much they want to spend.
A tea theme fits small gifts and luxurious ones, and you can tailor your present to the recipient and your budget.
Is it tea you are looking for? A wise choice and you are in the right place!
Tea in Bags, Tins, and Boxes
You can find tea gifts throughout the year, but at Christmas, you can also find Christmas blends and tea packaged for the festive season as a combination of practical tea and a charming gift item.
1. Tea Gift Box with Teacup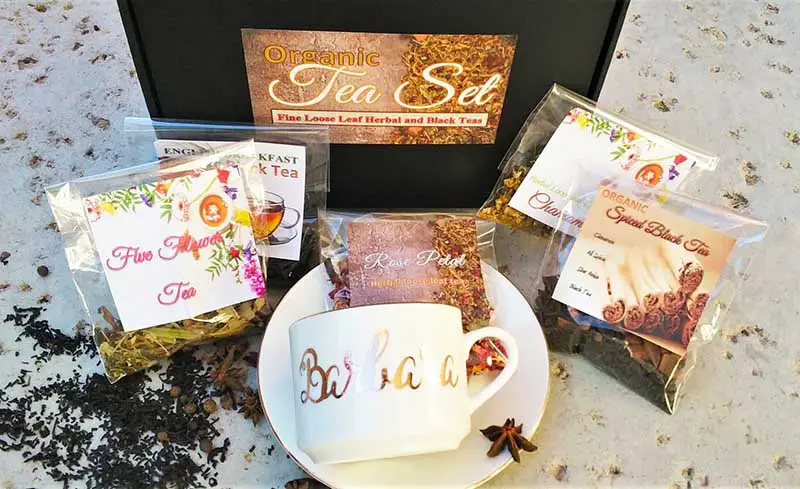 Five exotic organic teas (five flowers wellness, rose petal, chamomile, spiced black tea, and traditional breakfast tea) paired with a classic teacup and saucer make up the contents of this gift set.
Personalize the teacup with the name of the intended recipient. Adding the personal touch shows the individual that you bought the gift with them in mind.
It is an excellent gift for any tea enthusiast that enjoys herbal teas and is ideal for Mom, sister-in-law, or a female colleague at work.
2. Twelve Organic Teas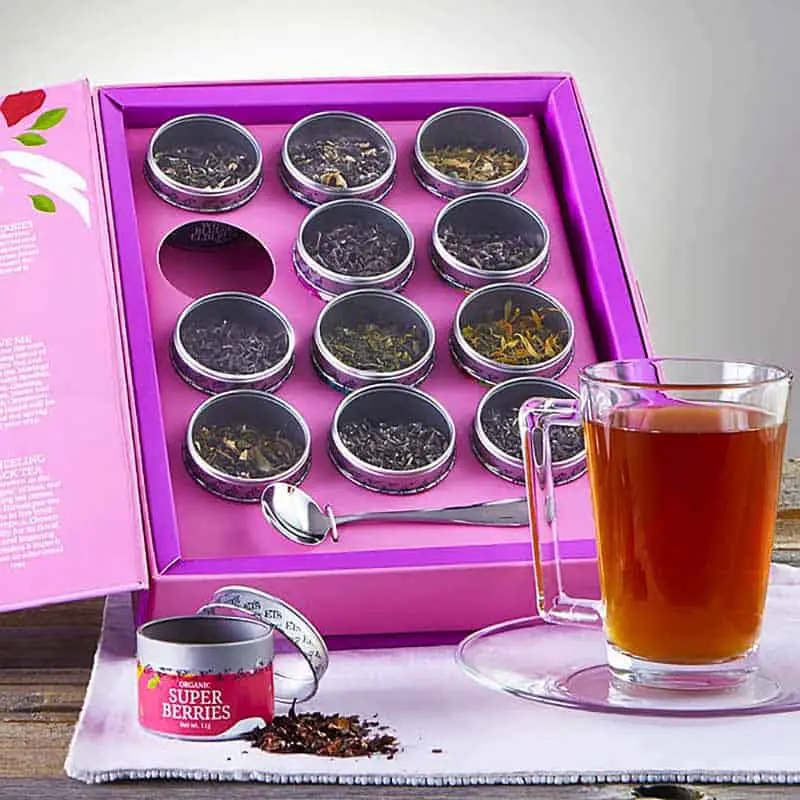 This beautifully packaged gift box presents twelve loose-leaf organic teas in individual canisters in a book box format.
The inside cover has tasting notes describing each of the teas. The package is straightforward to gift wrap, and the canisters are reusable.
This set is a lovely gift for a sibling, aunt, uncle, or any tea enthusiast on your gift list.
3. Christmas Tea Gift Set (for Her)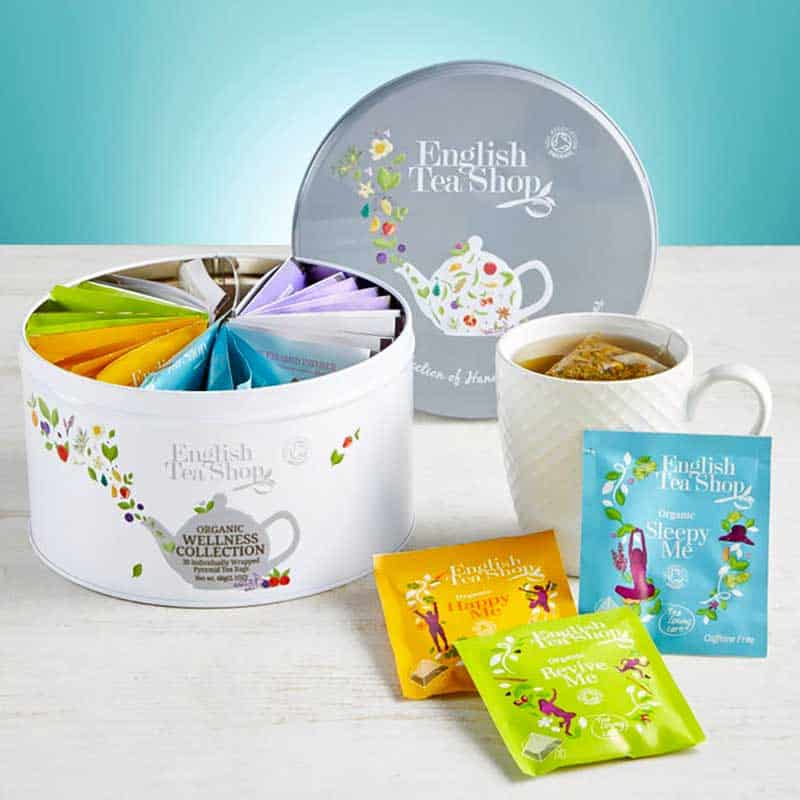 Tea bags artistically arranged in a decorative round tin are a refreshing change from biscuits or sweets.
Individually wrapped tea bags are a convenient way to carry a selection of tea bags with you, to give you a better range of choices for a refreshing beverage. These blends promote wellness in all its forms.
This set is a lovely gift for a mother-in-law, distant aunt, or any tea enthusiasts on your gift list.
4. Herbal Tea Gift Box
A delicious selection of 14 different naturally caffeine-free herbal teas in a presentation box.
A lovely Christmas gift collection for any herbal tea lover or someone who is looking after their health by adopting a healthy diet.
The perfect gift for the best friend who is going to sign up with a Gym in the new year, a girlfriend who is a wellness enthusiast, or a vegan friend who is into plant-based diets.
5. Green Tea Gift Box
A refreshing selection of green teas packaged in an attractive box makes an ideal Christmas gift for any green tea lover. Not just green tea but a collection of fruit and flower blends to add a festive twist.
Four single-steep bags in each of seven different popular blends makes a practical Christmas gift or an ideal hostess gift for any pre-Christmas party.
Teapots in All Shapes and Sizes
A teapot is a practical and decorative gift for any tea enthusiast. Taking time to brew tea in a pot and pour into a cup to enjoy alone or with a partner, is one of life's pleasant rituals.
Preparing tea in a teapot is an invitation to spend some relaxed time together at a slower pace than throwing a tea bag into a mug.
6. Stoneware Asian Handmade Clay Teapot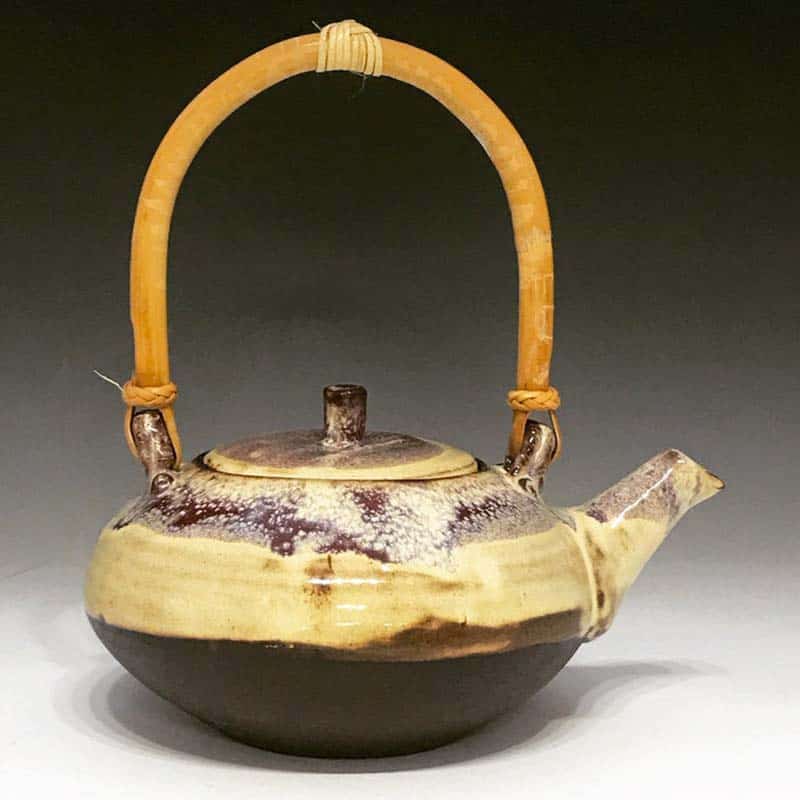 Natural colors and materials ensure this beautiful teapot fits effortlessly into any home!
Tea enthusiasts value clay teapots because they absorb the flavor of the tea. When the teapot is well seasoned, it begins to add additional flavor notes to each brewed pot of tea – like whiskey barrels improve the flavor of red wine.
The outer glaze gives the appearance of a teapot carved from rock, and the bamboo handle tones beautifully with the earthy colors.
This charming Christmas gift suits any significant man or woman in your life.
7. English James Sadler Floral Teapot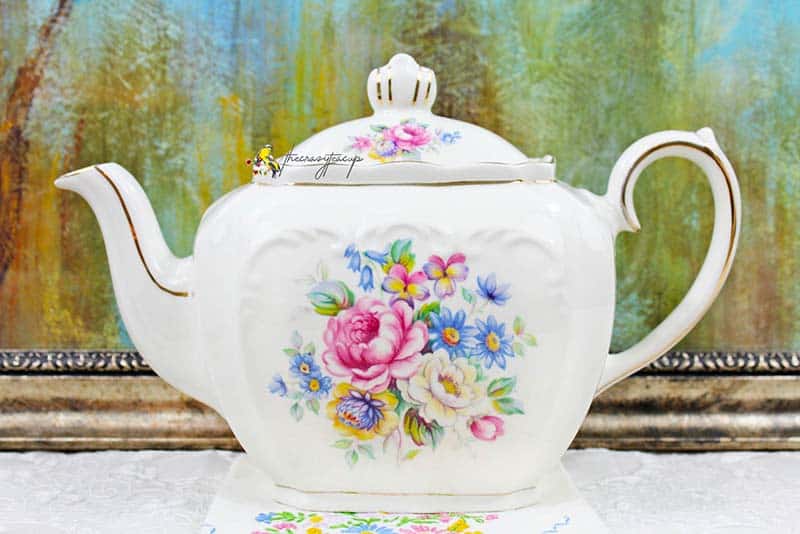 A vintage teapot with floral motifs is the iconic teapot of English garden parties complete with cucumber sandwiches and croquet on the lawn.
Fine bone china does not react with the tea, so it is an ideal material for using one teapot to brew different teas like breakfast tea in the morning and green tea in the afternoon. Both teas taste clean and fresh without traces of the other tea.
A vintage teapot brings the style and elegance of a bygone age to the dining table, and it makes an ideal Christmas gift for your parents, grandparents, or a stylish friend who's into vintage art.
8. Faux Succulent in a Teapot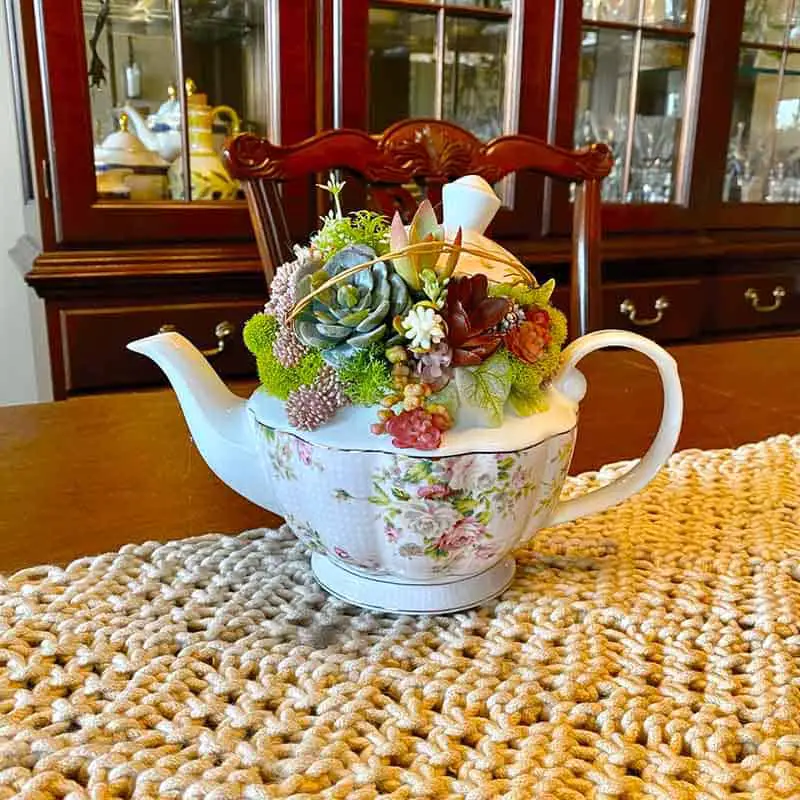 A teapot is a quirky way to display a faux indoor plant. This DIY gift kit gives you three pots (one of them a teapot) complete with the artificial succulents and soft Spanish moss.
Over the Christmas season, the teapot and plant combination makes a beautiful decoration for the coffee table or kitchen counter, and you then have the option of re-using the pots afterward.
It will make a lovely gift for grandma this Christmas!
Charming Tea Sets
A complete tea set for one, two, or a crowd is a delightful gift for anyone spending their first Christmas in a new home, or for any tea enthusiast.
9. Rainbow-colored Tea Set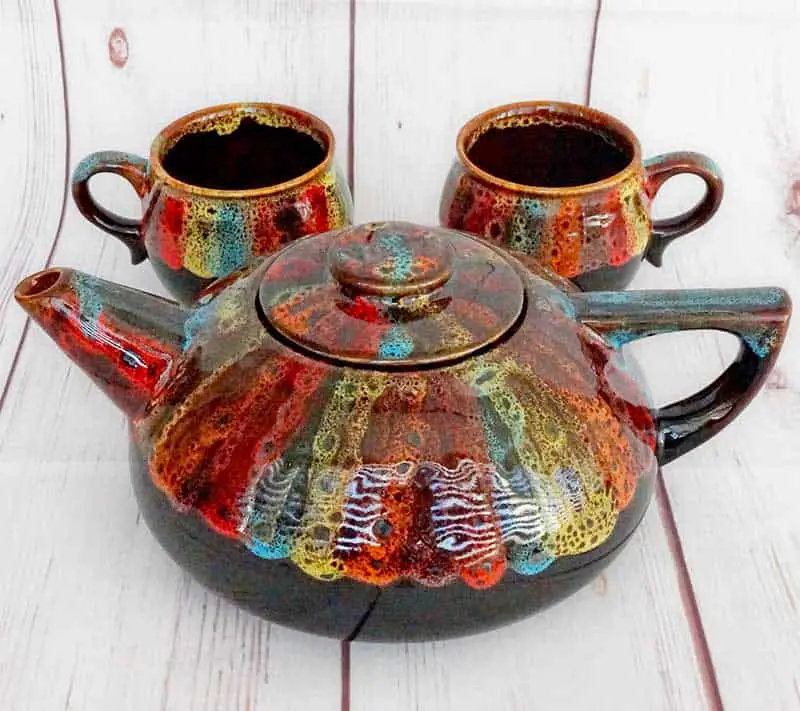 This colorful set of teapot and teacups takes the classic dark brown glaze and twists it.
The colored glazes make the ceramic look like molten rock. The effect is striking and produces a modern tea set that has an antique feeling.
As a Christmas gift, this tea set will charm young and old alike – from your significant other to any member in the family.
10. Japanese Stoneware Pottery Tea Set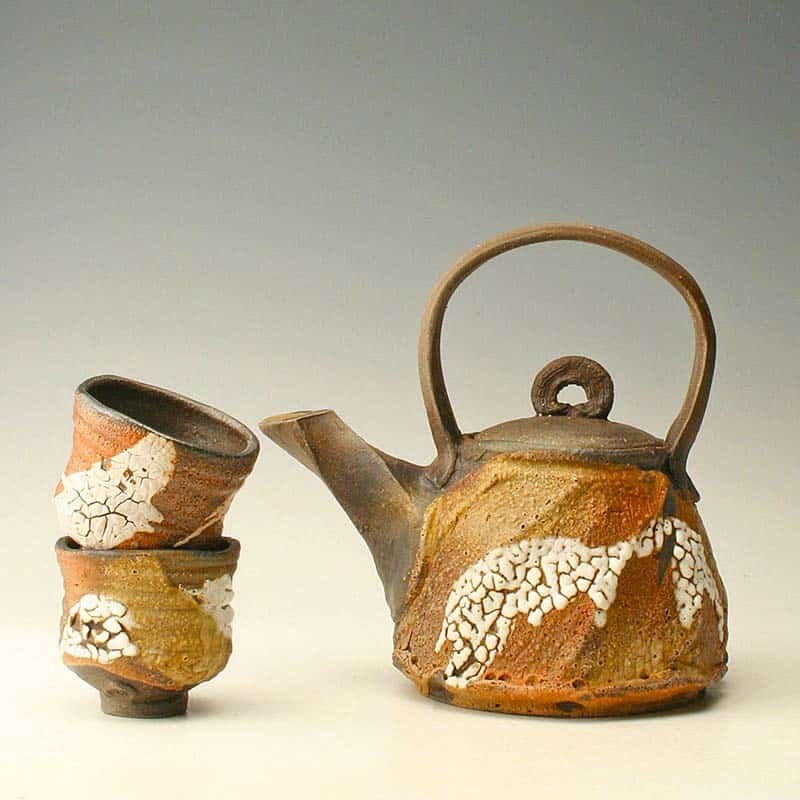 This handmade ceramic teapot with teacups is aiming at presenting a rough finish, not-quite- completed look. It is a look that needs a high degree of skill from the potter.
These rustic, artistic pieces are beautiful to look at and delightful to hold.
This set makes an ideal Christmas gift for your partner or anyone who appreciates art pottery as well as being a tea lover.
11. Vintage Japanese Porcelain Tea Set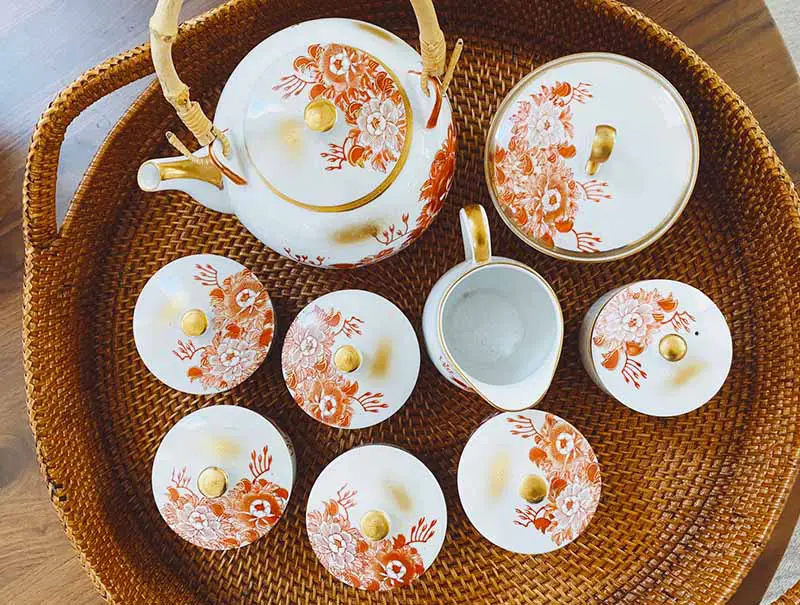 Vintage Japanese tea sets are elegant and beautiful. The quality of decoration is outstanding when you realize that only one color highlighted with gold decorates each item.
Red and gold are the colors of the festive season, and this tea set makes a unique gift for Dad or Mom.
12. Chinese Calligraphy Tea Set
A beautiful modern tea set in lucky red with Chinese writing containing a teapot and four cups in a classy presentation box ready to wrap and present to a friend or relative.
All the ceramic parts are dishwasher safe (remove the handle before washing), and this bold set will add a splash of bright color to any kitchen or living room.
It is a beautiful tea set that any tea enthusiast would love to own!
13. Ceramic Celadon Kungfu Tea Set for Two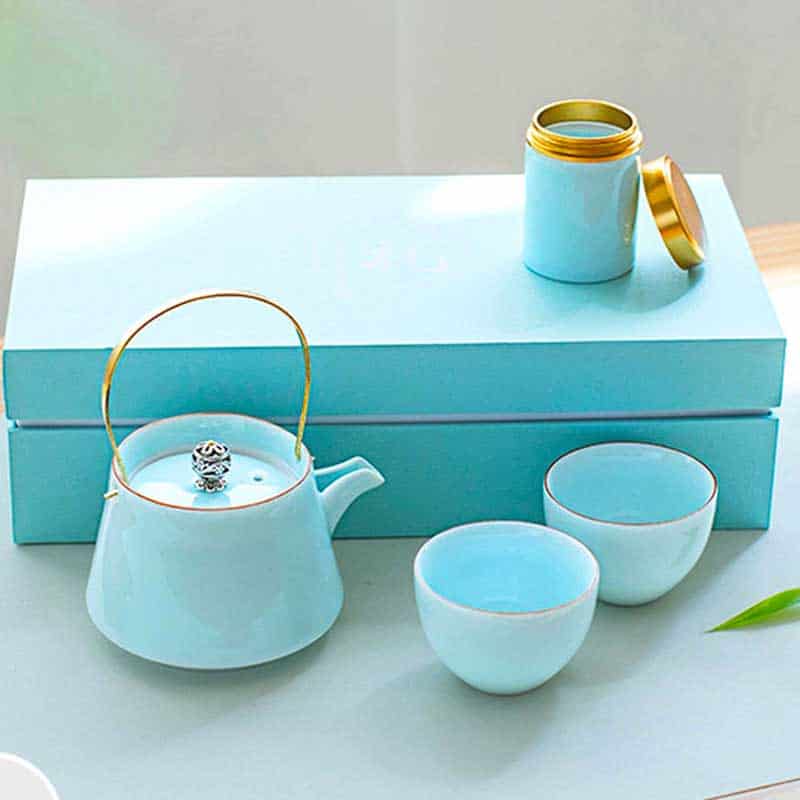 This exquisite gift set contains a teapot, two cups, and a matching ceramic canister to hold your tea of choice.
It is a beautiful tea set for a couple as a bedroom set for that first cup of tea in the morning before emerging to face the day.
14. Hand-Painted Mini Tea Set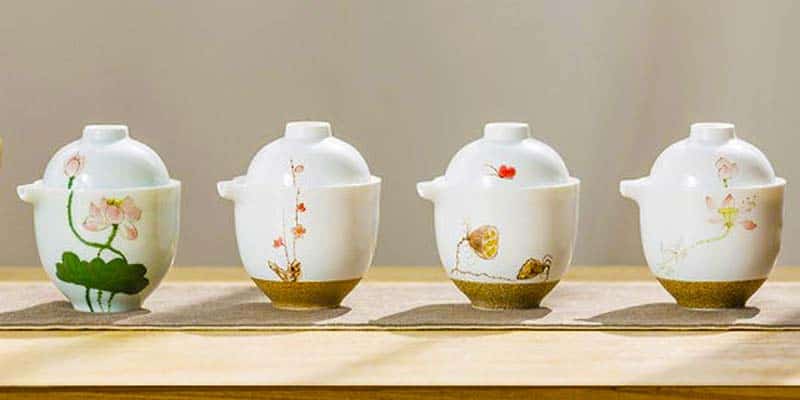 This tea set is sooooo cute!
That is the only possible reaction when you unpack one of these pretty sets.
In one neat package, you get a teapot and two cups (one larger than the other) that fit together like a puzzle box. The hand-painted motifs are delicate flowers and insects.
This set is a lovely gift for anyone on your list – it is compact and ideal for a travel set or a super-elegant office set.
15. Personalized Tea for One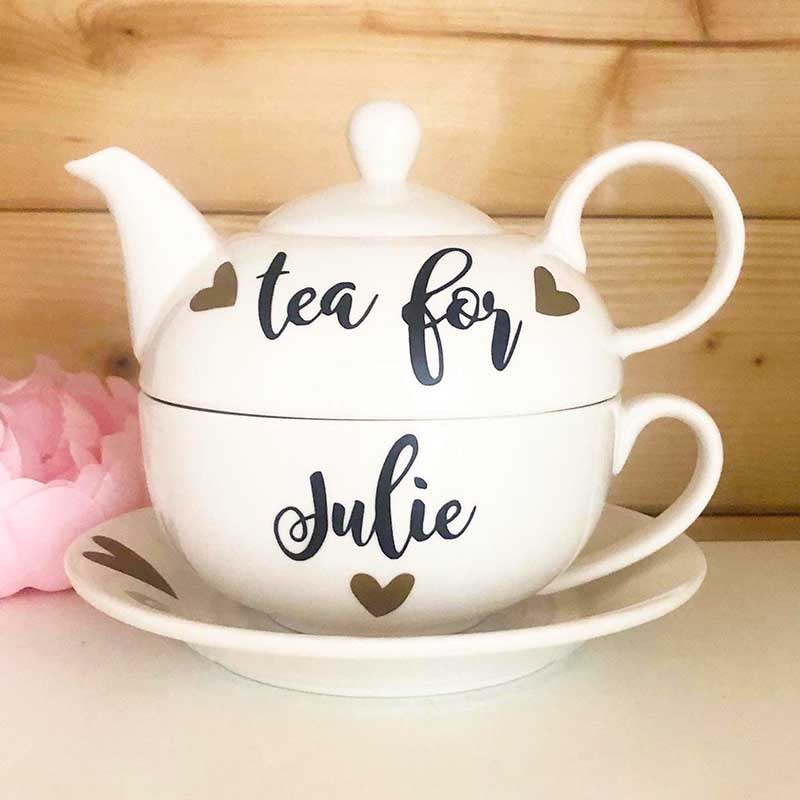 An ideal tea set for one person to enjoy their tea brewing in a personalized china teapot, cup, and saucer set.
This set is compact as the teapot stacks on top of the teacup – an ideal Christmas gift for a friend or co-worker.
Teacups
A set of teacups or a unique single teacup makes an excellent Christmas gift both as a decorative and useful object.
16. Kintsugi Japanese Teacup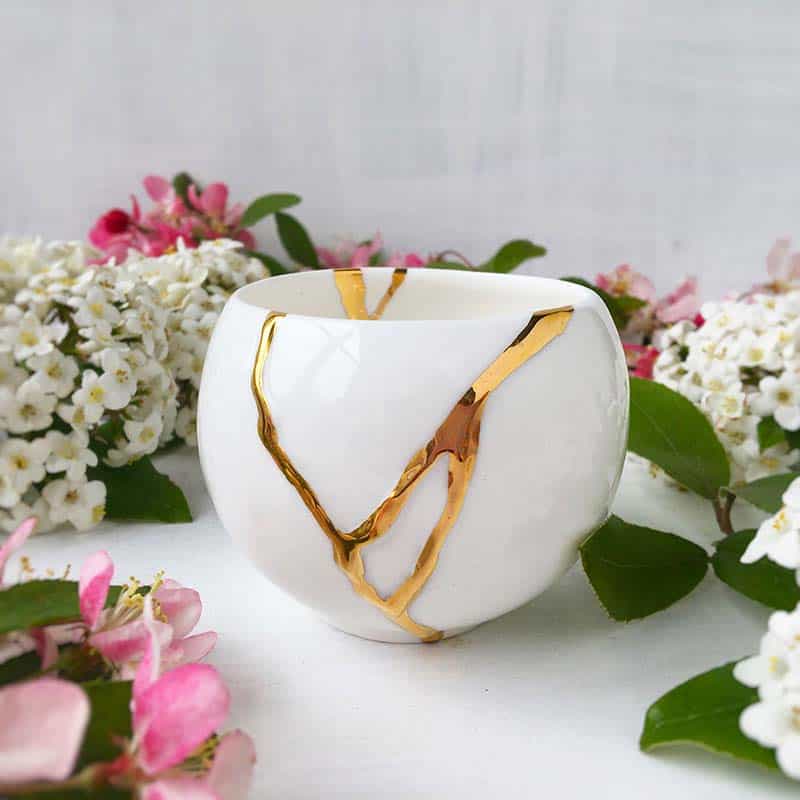 Kintsugi means golden joinery and refers to the Japanese way of repairing broken pottery with lacquer and gold.
There are three feelings involved – wabi-sabi (the imperfect and the old is beautiful), mottainai (sorrow over waste), and mushin (everything changes).
This white and gold teacup represents the practice of kintsugi – as a decorative feature. Each teacup is hand-painted with gold and is a unique item.
It is an attractive gift that can be used as a teacup or as a tea-light holder. The body of the cup is English bone china, and the candlelight glows through the translucent walls.
A Christmas gift that will delight anyone on your list!
17. Japanese Teacup – Set of Four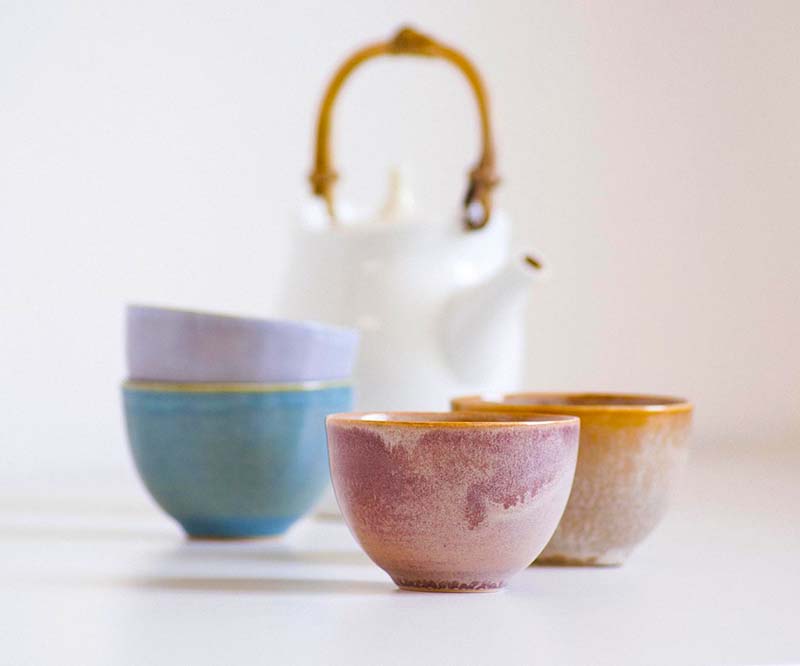 A Japanese teacup has no handles and is smaller than a western cup. They are comfortable to hold, and this ceramic set comes in four toning colors instead of having four identical teacups.
Japanese teacups are versatile small bowls that can serve as tea light holders, small snack bowls or containers for individual desserts.
This attractive set is a stylish gift for tea drinkers and lovers of beautiful ceramics – for the relative with a small family or the tea lover friend who is into collectibles for display.
18. Handmade Ceramic Teacup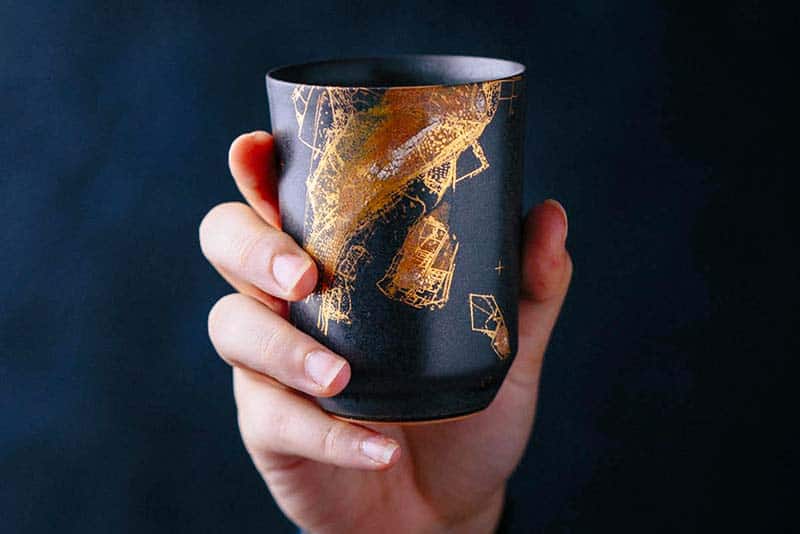 The beauty of a handmade ceramic teacup is that each one is a small work of art and has minor variations.
The inspiration for these glazed charcoal black cups with gold accents is the idea of ancient maps. The shape is the traditional Yunomi cup from Japan.
The Yunomi cup is tall and holds a similar amount of tea to a western tea mug. There is a range of styles, but all of them are for everyday tea drinking.
This Yunomi-style handmade teacup is an ideal Christmas gift for the men in your life – father, brother, uncle, husband, or boyfriend.
19. Handmade Matcha Teacup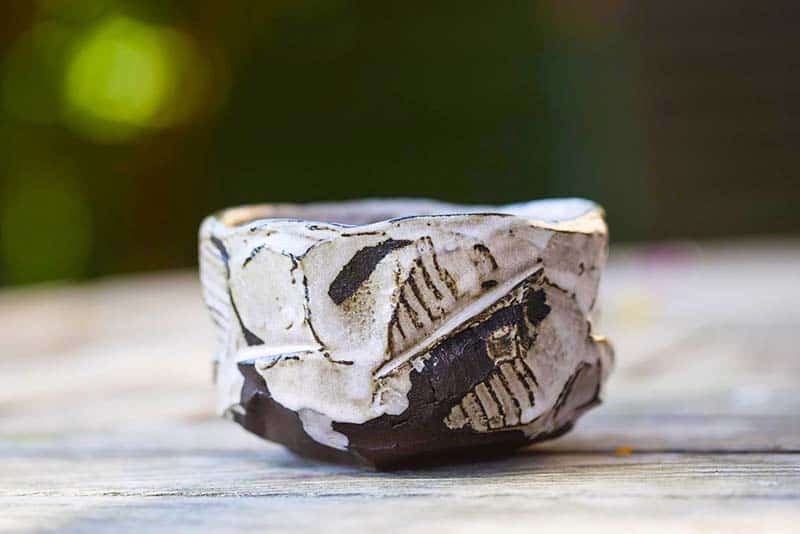 Matcha tea is powdered green tea made from tea bushes grown in the shade. The powder whisks into hot water, and you consume the whole leaf with the water.
This drink means you benefit from all the tea nutrients instead of only getting the water-soluble parts of the tea leaf.
The chawan is wider than it is tall to give room for the bamboo whisk to do its work. The chawan comes in different styles, but a rough-textured cylinder shape represents the natural world.
This chawan is a charming gift for the matcha tea lover or the health-conscious in your family.
20. Handmade Glazed Ceramic Mug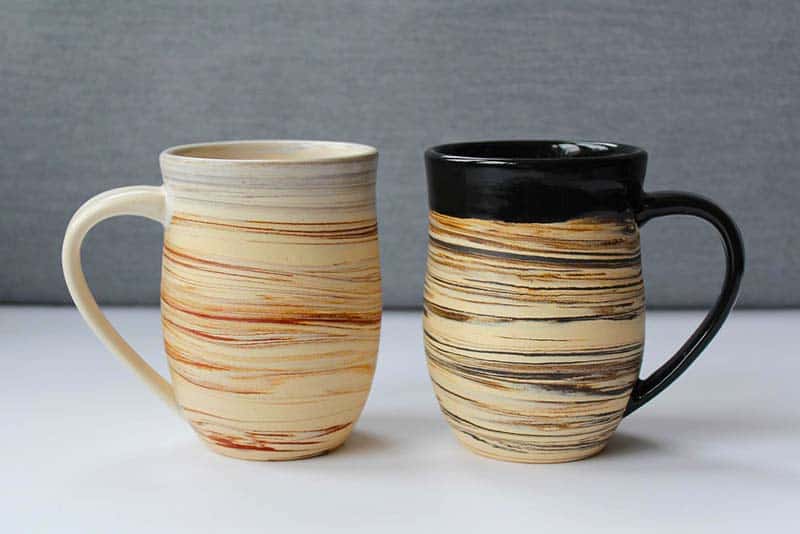 Tea mugs are popular because they are informal and hold a lot of tea.
This modern rustic mug holds 16 fluid ounces, which gives you plenty of tea to drink while working at your computer or reading a book.
The glaze recalls layers of sand, and the shape is comfortingly round. It encourages you to cup your hands around it.
This lovely mug is sure to become the favorite mug of anyone who receives it as a Christmas gift!
Tea Towels
A tea towel has a place in every kitchen and makes an excellent gift that is straightforward to post to a distant friend or relative.
21. Tea Themed Tea Towel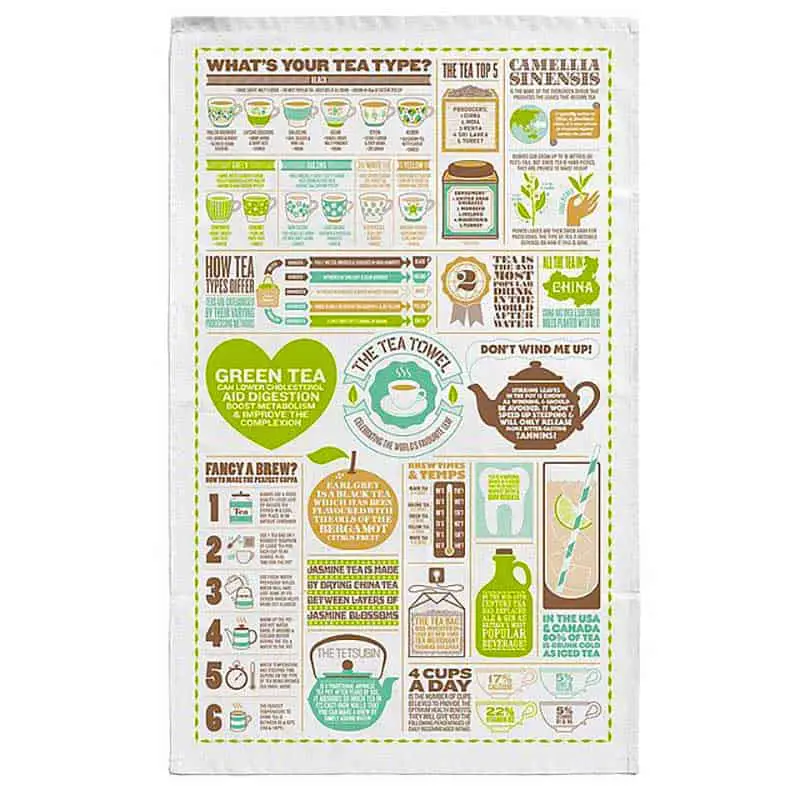 Is there someone in your life that is a complete tea enthusiast?
This Christmas gift of a tea-themed tea towel is fun for the knowledgeable and educational for those who are beginning to explore the world of tea.
22. Humorous Christmas-themed Tea Towel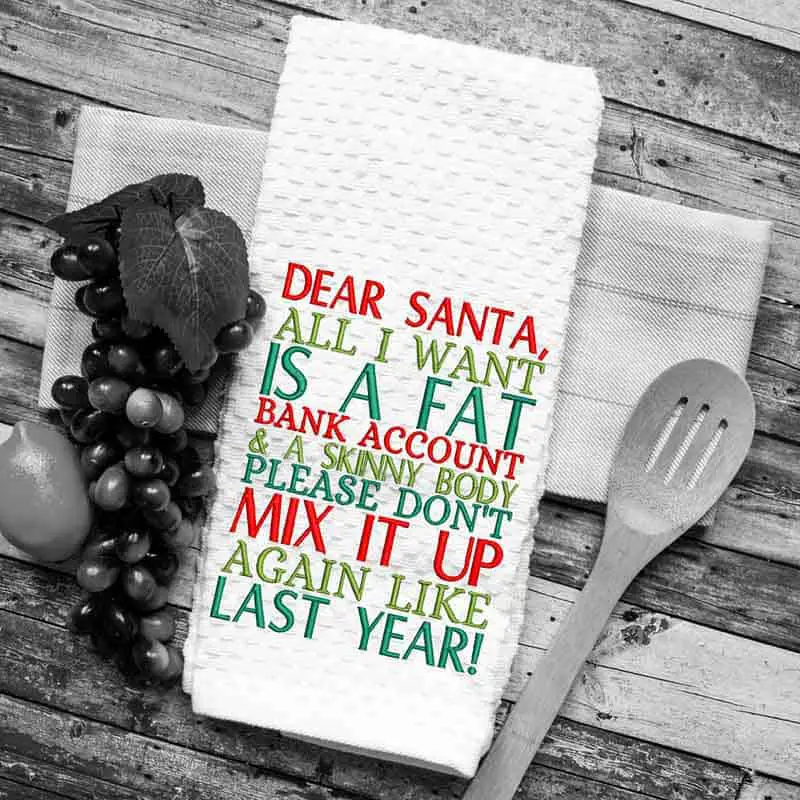 Embroidered tea towels with humorous messages are more affordable, and they brighten up the kitchen at Christmas time.
You can choose to have a unique message embroidered or select from a range of sentiments about Santa and the gift-giving season.
23. Another Funny Tea Towel
Either one of the above with funny Christmas tea towel sayings should provide your friends or siblings with a light-hearted gift that is certain to stand out from the crowd!
Tea Lights
Candlelight is part of the Christmas scene because there is something magical and hopeful about the small golden glow of the flame on a tea light.
Tea light sets and holders make budget-friendly gifts for co-workers and friends.
24. Star Tea Light Holders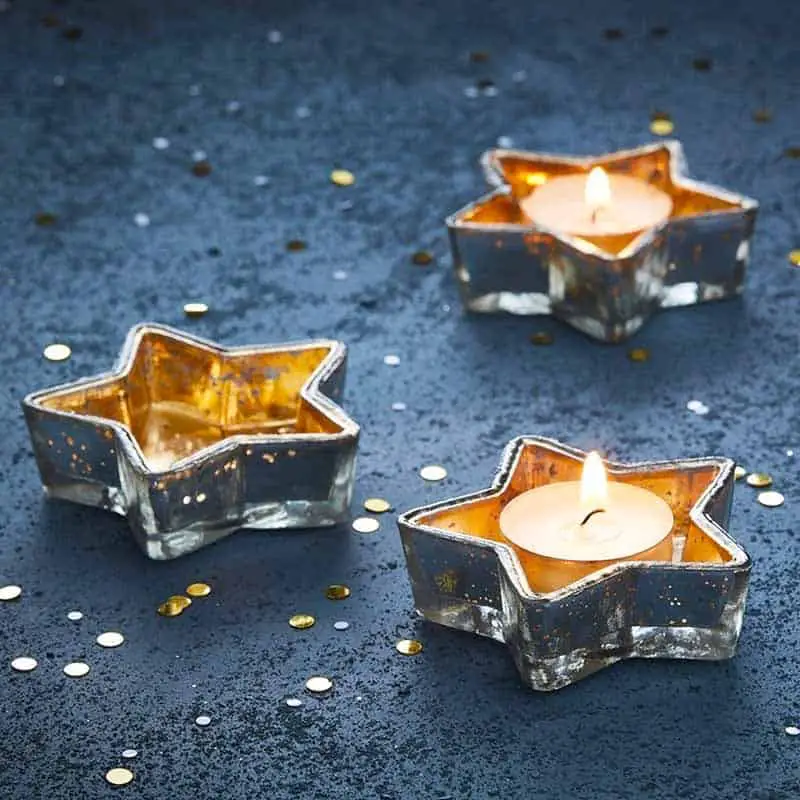 This set of three star-shaped tea light holders is a superb Christmas gift that helps set the scene for festive fun.
The star motif at Christmas reminds us of the star that led the wise men to the stable as well as being sparkly and celebratory.
These tea-light holders are silver on the outside and gold on the inside, and although lovely for Christmas, they will fit easily into any home to provide some candlelight magic.
25. Christmas Themed Tea Light Holder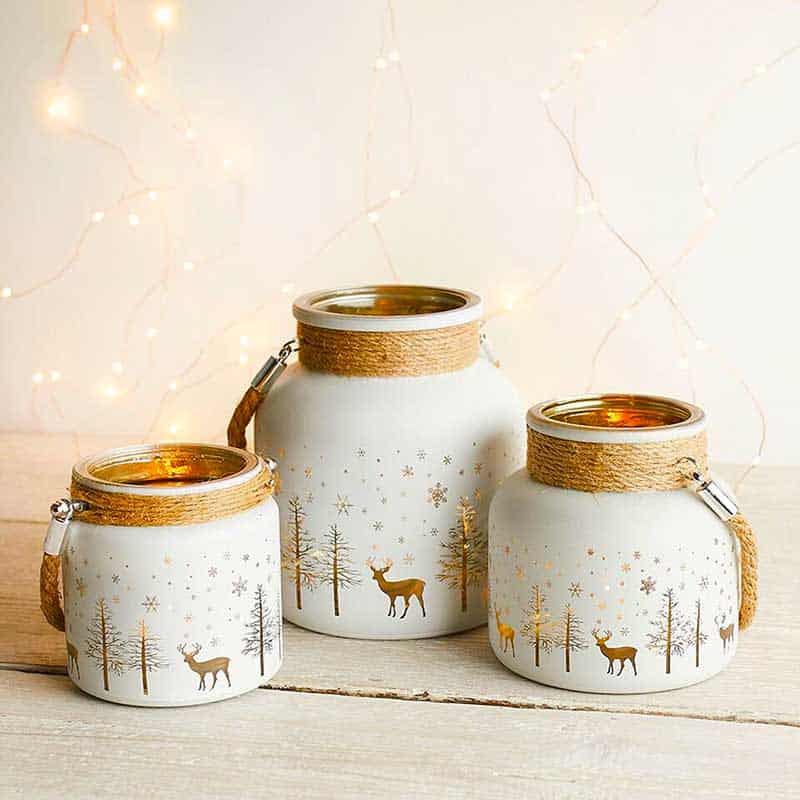 Christmas holds a special place in our hearts and is the one time of year when everyone decorates to a theme.
This set of three rustic tea light holders with a classy rope finish fits the winter theme for Christmas. Whoever gets these as a Christmas gift is going to be proud to display them every year as part of their decorations!
The white and gold design will suit any style from rustic farmhouse to ultra-modern.
26. Wooden Tea Light Holder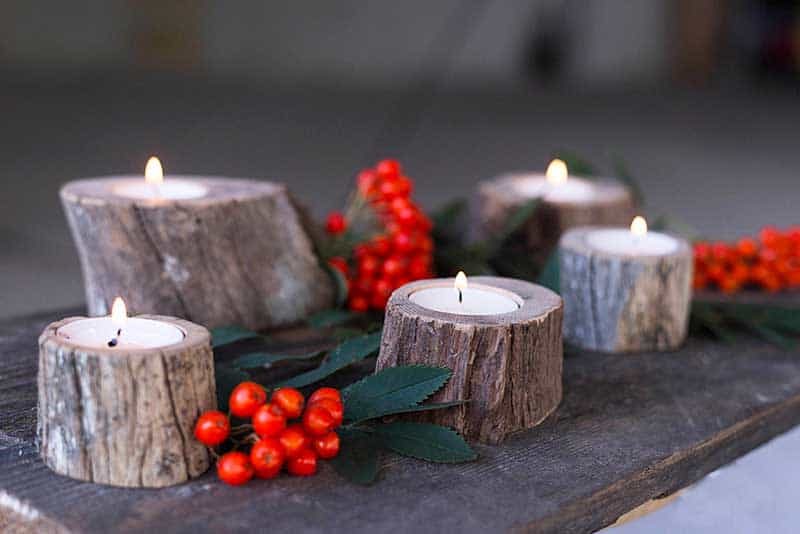 These versatile "tree stump" tea light holders will be used all year round as a decorative display. This set of five lends itself to a Christmas display with holly and ivy or a Spring display with flowering bulbs.
These are a lovely gift for any friend or relative who likes to change their home decorations with the seasons.
27. Personalized Tea Light Holder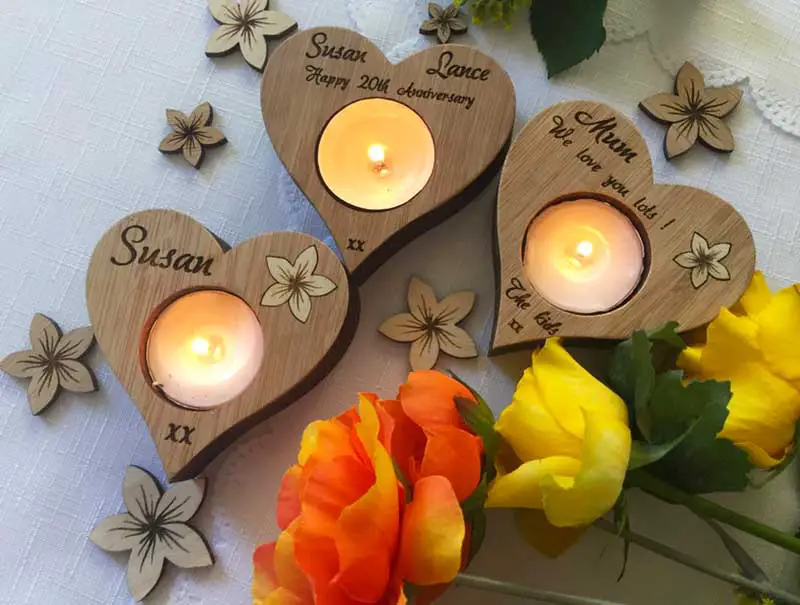 A gift with your name on it always feels extra-special.
If you have a couple of friends that you like to buy similar gifts for at Christmas, then these personalized wooden tea light holders will solve your gift buying problems.
There is a choice of shape (flower, heart, or star), and if you combine it with different scented tea lights, you have similar but different gifts for your friends or co-workers.
Tea Gift Baskets
Gift baskets are an excellent gift choice for friends and relatives as you can have them delivered directly to them if they live some distance away.
28. Christmas Tea Gift Crate – for Her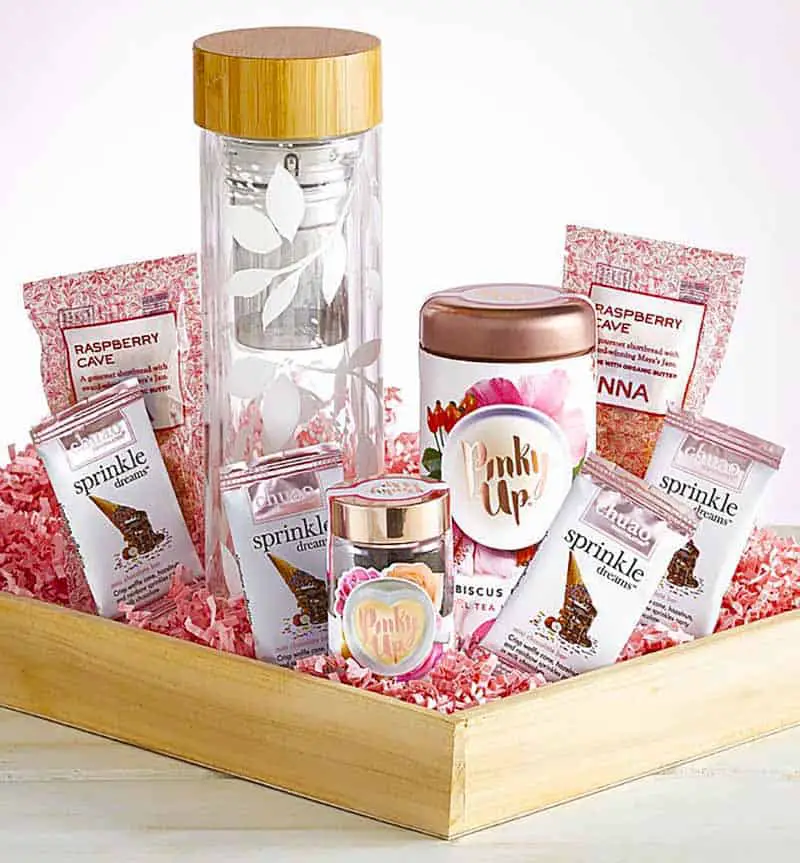 This gift box has a pink theme with hibiscus flower tea and delicious cookies in handy travel bags. The reusable part of the gift is the glass travel infuser.
This pretty gift box is a lovely Christmas gift for a girlfriend, sister, wife, or mother who likes to visit the gym, go walking, or has a long commute to work.
29. Christmas Themed Gift Basket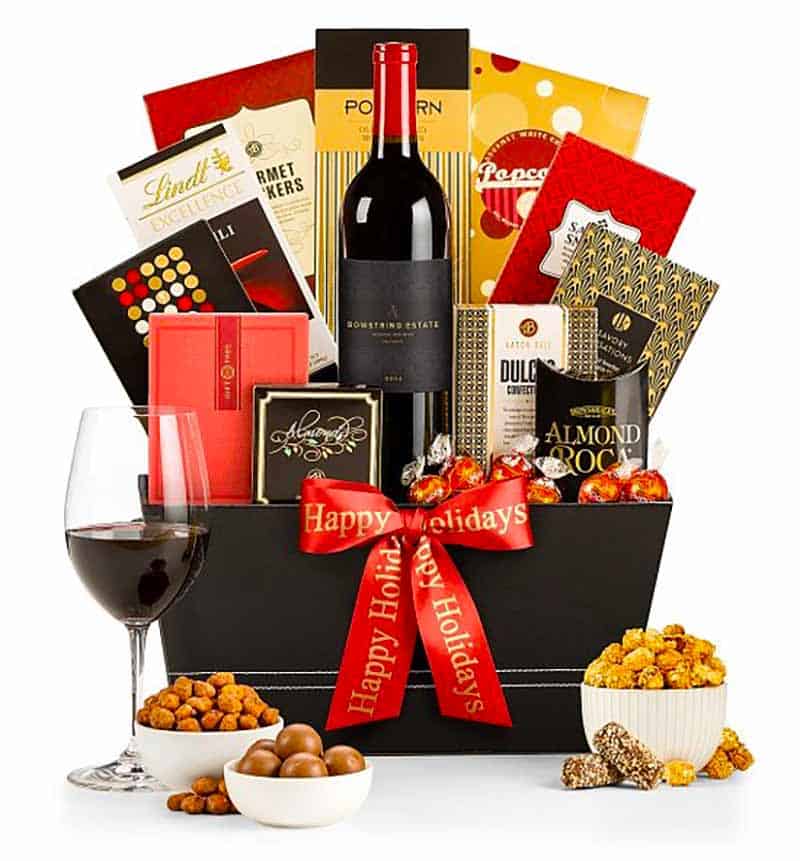 If you need to give a family gift at Christmas, a gourmet Christmas gift basket with quality red wines and an assortment of luxury snacks is a welcome addition to any household.
The presentation is elegant, and it suits everyone because it contains plenty of useful quality items to be shared or enjoyed alone.
30. Christmas Tea and Cookies Gift Basket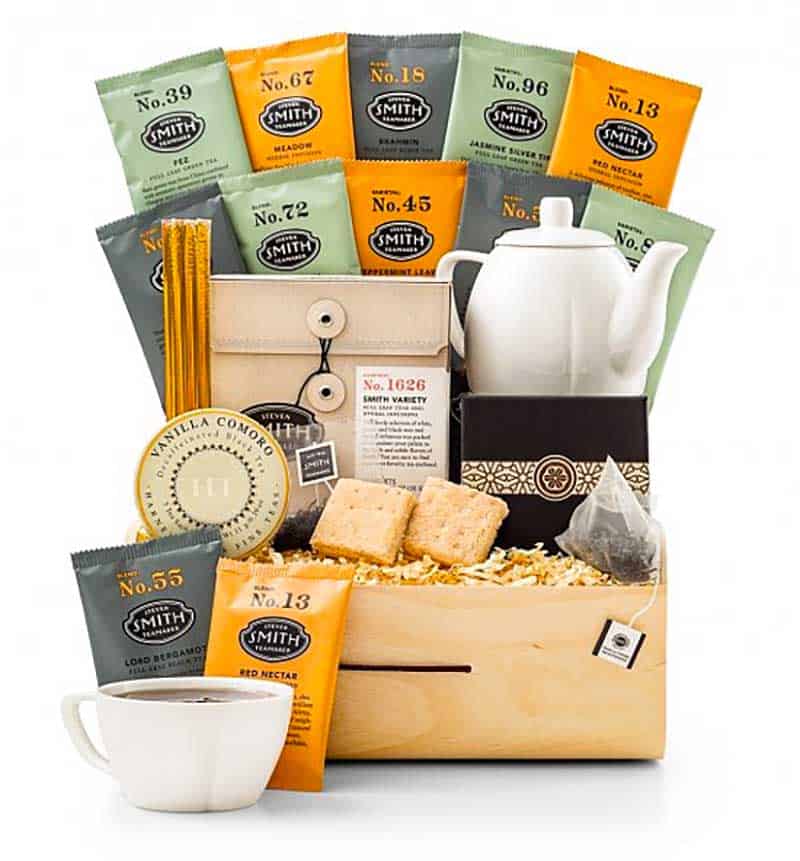 This gift basket contains a teapot and teacup to make tea for one, together with cookies and plenty of sachets of exotic teas.
This basket is an ideal gift for a tea lover who lives alone or for someone who is spending time away from home like a student.
Tea Cozies
Tea cozies keep the tea in a pot at the right temperature for longer, so the last cup is as pleasant as the first.
The principle is the same as lagging a pipe or boiler by adding a layer of insulation to stop the heat dispersing into the cold room air. You wrap your teapot up, so it stays cozy and warm – hence the name.
31. Christmas Tea Cozy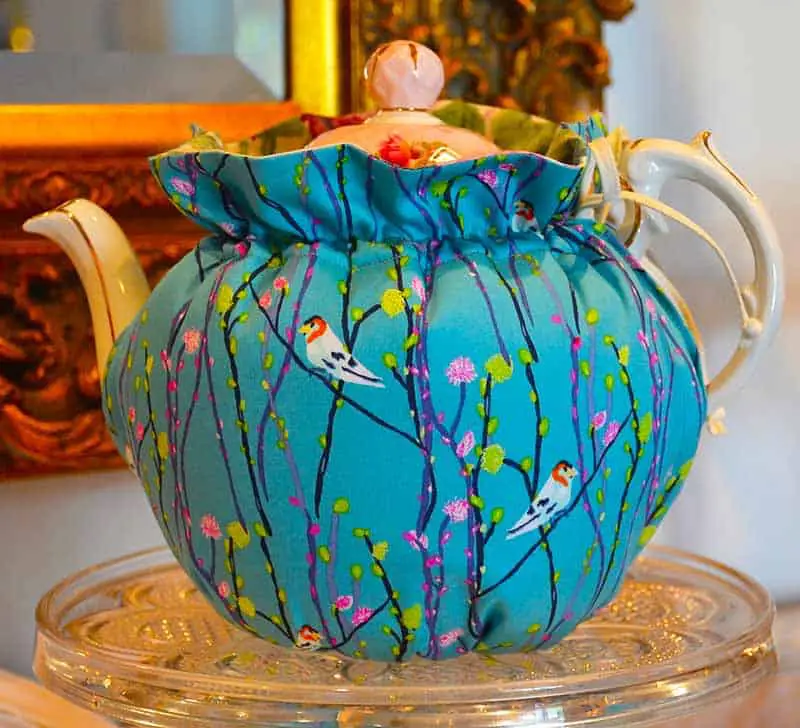 A tea cozy is an excellent gift for a busy family or a friend who makes a big pot of tea in the morning and wants to drink several mugs before leaving for work.
It will stop your friend from needing to reheat their tea in the microwave (which does nothing for the flavor!). Save your friends from tea misery by gifting them with a Christmas tea cozy.
Tea Gifts for All This Christmas – The Organized Approach
An organized approach means you get everyone a gift they love that you can afford. As with so many areas of life, planning prepares the way for success.
Write a List
List everyone you are going to buy a gift and why.
You can section the list up into close family, distant family, friends, co-workers, and tokens of appreciation. If you have kids, you are probably going to need a list of their close friends as well as your own.
Set a Budget
Before doing this part, you are probably going to want to make yourself a cup of soothing chamomile tea.
Write the amount you are going to spend as a maximum next to each name on the list. Then add it up. Then drink your tea and think about the total figure and how happy (or not) you are with it.
Review the List
People like nieces and nephews that are going to prefer cash or an online voucher need to go on a separate list.
Then there may be a category like co-workers where you might want to go down the DIY approach by bulk buying a selection of quality pyramid tea bags (the eco-friendly type, please) and cookies and repackaging as small gifts.
That leaves you with the individual presents for the significant people on your list.
Source the Gift for Each Person/Family
Decide what you are buying and find out how much it will cost. The essential approach is to remember that your budget figure is the maximum you are going to spend, not a target.
If you can find an excellent gift that suits the recipient for less money than you budgeted, then you win the Christmas gift game.
It's helpful to know that as part of the planning process, there are also various other types of gift-giving occasions leading up to the Christmas Day main event which we have explored in greater detail in this Christmas tea gift guide.
Christmas Tea Sayings
If you are following a tea theme for your Christmas gifts this year, you probably want to include some tea sayings on the gift-tag and card.
Fortunately, the word tea is adaptable for creating custom tea sayings because the letter 'T' sounds like the word 'tea'.
As it is Christmas, you can adapt the standard 'Happy Xmas' to 'Happy Tea-mas.'
Instead of 'Seasons Greetings', you can substitute with 'Teasons Greetings'.
Then the absolute classic – 'Teas the season to be jolly'.
A little more philosophically, you could use 'I couldn't buy you happiness, so I bought you tea, as it is practically the same thing'.
Alternatively, 'This Christmas get teapsy!' is a fun message for a tea lover.
When you've finished your Christmas shopping, wrapped all your parcels, and written every card, it is time to make a pot of tea and relax.
You've done a tea-rific job!