Bridal Shower Tea Party Guide (7 Things to Know)
Bridal showers are a chance to meet informally with the bride, her family, and friends to celebrate the upcoming wedding.
It is less stressful than the main event for the bride because she only needs to turn up and enjoy herself. Also, it is an excellent place for the female relations of the bride and groom to meet and get to know each other before the wedding.
1. What is a Bridal Shower Tea Party?
A bridal shower is a daytime event for the women friends of the Bride. The timing and guest list mean a tea party is an ideal theme for a bridal shower.
The Bride or Groom's mother or the bridesmaids usually host the party.
The guest list includes the bridal party, female relations of both the bride and groom, and the bride's female friends. Only the guests going to the wedding come to the shower.
Sometimes coworkers will host an office "shower," but this is not part of the official bridal shower.
A bridal shower does not have to be exclusively women guests; the party can include male relatives and friends as well. Most showers are female orientated by tradition.
If the guest list is extensive, then multiple showers hosted by different people can spread the cost around family and friends. The bride's mother or aunts can host one for family, and the bridesmaids provide one for close friends.
Good communications mean that guests get invited to one shower and not multiple showers.
A tea party is an event for the late afternoon with tea (naturally), and small bite-sized snacks – both sweet and savory. It lends itself to beautiful presentation with tablecloths, fine china, and dainty nibbles.
A tea party is infinitely more relaxed than a dinner party. It allows straight forward catering and guests mingling together.
2. How to Throw a Bridal Shower Tea Party?
After you establish the number of guests, you can choose a venue – either an upscale restaurant or hotel, a hired hall or hold it in a garden.
The place chosen will depend on the budget and the amount of effort needed to dress the room and cater to the guests.
For a hired hall or garden, you can rent the crockery and tablecloths and buy in the catering. Or you can amass willing volunteers to loan equipment and prepare small sandwiches and snacks.
As with any party, the host will need to consider:
Setting up the room – layout, tableware, flowers, and decorative touches.
Catering – buffet layout with prepared savory and sweet snacks.
Activities
Dress code
Find out in advance if the Bride intends to open the presents at the shower or would prefer to take them away to share with her fiancé.
Provide a space where gifts can be collected – bear in mind that they will need carrying away at the end of the event, so large boxes or baskets are ideal.
The party comes to a natural end when the fiancé arrives to collect the Bride (and the presents). After they have departed, it's time to distribute the bridal shower tea party favors and tidy away the decorations.
3. What to Wear to a Bridal Shower Tea Party?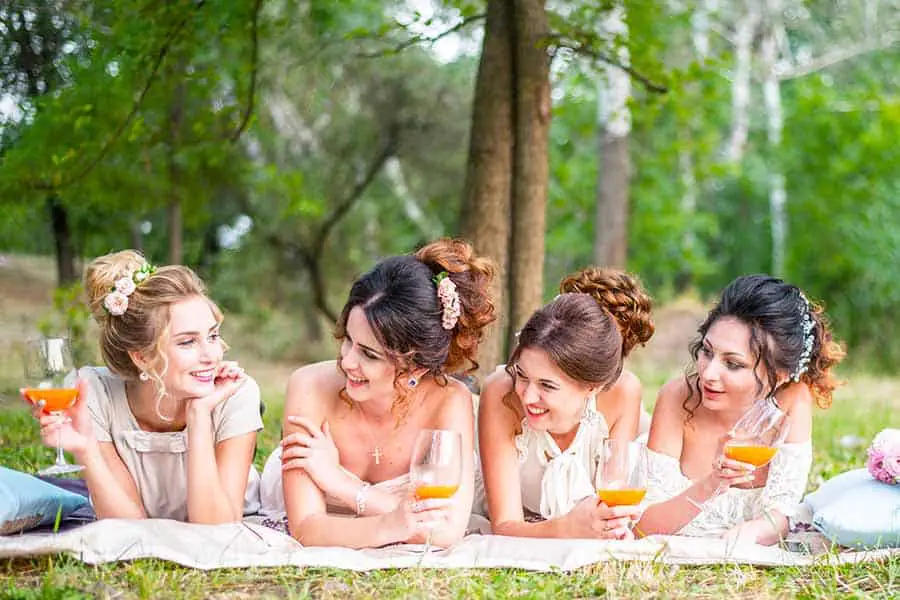 Including a dress code on the invitations can avoid any embarrassment or confusion over what clothing is appropriate for this bridal shower tea party.
In the absence of instructions, how do you decide what to wear?
A tea party bridal shower is a semi-formal event and part of the round of celebratory rituals accompanying the wedding.
The classic tea dress is a light dress with a hem that falls between the ankle and the knee. As the name suggests, it started as an informal garment suitable for a lady's tea party.
You can accessorize a dress for a highly formal occasion or tone it down for a more relaxed affair. A dress is a safe choice for any female guest.
Your clothing choices depend on the season, the host, and the location of the bridal shower. A winter party is more likely to be indoors, and a summer tea party likely to be outside in a garden.
The host and the bride's style set the tone of country casual comfort or high heels, hat, and pearls.
Dress code for a tea party for female guests generally involves a dress or skirt and blouse combination. The hemline is below the knee, and the colors depend on the season. Light pastel colors suit spring and summer, richer tones suit fall and winter. Black is never an appropriate color for a tea party.
Male guests without instructions have more of a dilemma. The safe choice is smart office casual with a cotton or silk shirt, paired with polished shoes and not sneakers.
4. What to Serve at a Bridal Shower Tea Party?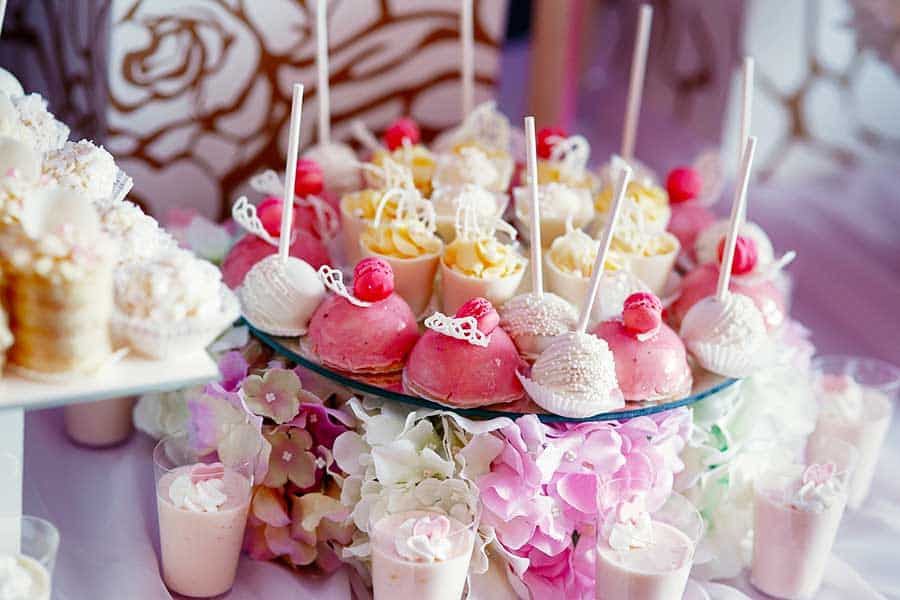 There are two distinct types of tea parties – low tea and high tea.
Casual low tables and light sweet bites represent low tea. High tea is more substantial and served at a dining table, and there are meat snacks as well as sweet ones. For a bridal shower tea party, you have a mixture of low and high tea depending on your venue and how you set up the room.
For catering purposes, allow a minimum of three savory bites and three sweet bites for each guest. Supplement these with bite-sized fruit (chocolate-dipped strawberries, for example) and vegetables.
If the guest list includes males, provide more savory snacks as generally men will eat more than women even at afternoon tea.
To avoid being left with a mountain of leftovers, have a supply of paper bags or cardboard boxes available. Each departing guest can be provided with a selection of snacks to take away together with a thank you tag.
The tea can be all one type (Earl Grey or English Breakfast), or a selection allowing guests to try out different teas. At a hot garden tea party, iced tea is refreshing.
As one of the games, you can have a tea tasting challenge to crown one of the guests as a master of tea.
5. What Do You Do at a Bridal Shower Tea Party?
Bridal shower games are not compulsory, but they are fun and help to break the ice between groups of friends and relatives. They may be meeting for the first time before the wedding.
About two or three games with small prizes for the winner will fill in the afternoon and allow plenty of time to chat with the bride and to open the gifts.
Some games can be static, for example – a display of photos showing the bridal party (bride, groom, groomsmen, bridesmaids, and parents) in their toddler years and as they are now – the game is to match the person to their younger picture.
This game does not need a prize as it provides more of a talking point between guests as they try to puzzle out the links.
A trivia quiz means everyone can remain seated and caters for older and less mobile guests. Popular quiz topics include -how well do you know the bride and groom, wedding traditions, or as it is a tea party – tea trivia.
Guests can compete individually or in teams. The only equipment needed is the question and answer sheet.
If the bridal shower tea party is held in a garden, setting up some garden games allows younger guests (and some older ones) to amuse themselves during the event.
Activities like manicures and craft workshops are available but add to the cost of the event.
The bride may choose to open her gifts during the party or afterward with the groom.
6. Where to Have a Bridal Shower Tea Party?
The chosen venue for the bridal shower tea party depends on the number of guests, catering choice, and the host's time, energy, and budget.
Home and Garden
A home-based bridal shower tea party can be held inside the host's home or at one of the bride's relative's homes if they are willing to provide the venue.
The party can be set up indoors, outside in the garden, or both.
Using a house and garden cuts down on the costs of hiring a room, but there may be additional costs of hiring furniture and equipment.
Hire a Room Without Catering
You can hire function rooms in many places like community halls, church buildings, libraries, and many others that hire out rooms for workshops, events, and meetings.
When you hire a room, you can dress the room but will have to adapt to the furniture available.
The points to check when making your booking is that you have access to hot water for making the tea and can decorate the room in keeping with your tea party theme. You may consider buying prepared food or organizing a home-cooking team.
Restaurant or Hotel
The plus point of a restaurant or hotel is that they will probably decorate the area for you as well as providing the food and tea at a set price per head.
Plus, you will get staff to bring out the delicious snacks and serve the tea. The restaurant or hotel staff will also clear up after the party is complete.
As the host, you have less work to do in preparing for the bridal tea party shower, but this option will cost more, and you may have less choice about the details like the tea set, table decorations, and have an inflexible finish time.
7. How to Decorate for a Bridal Shower Tea Party?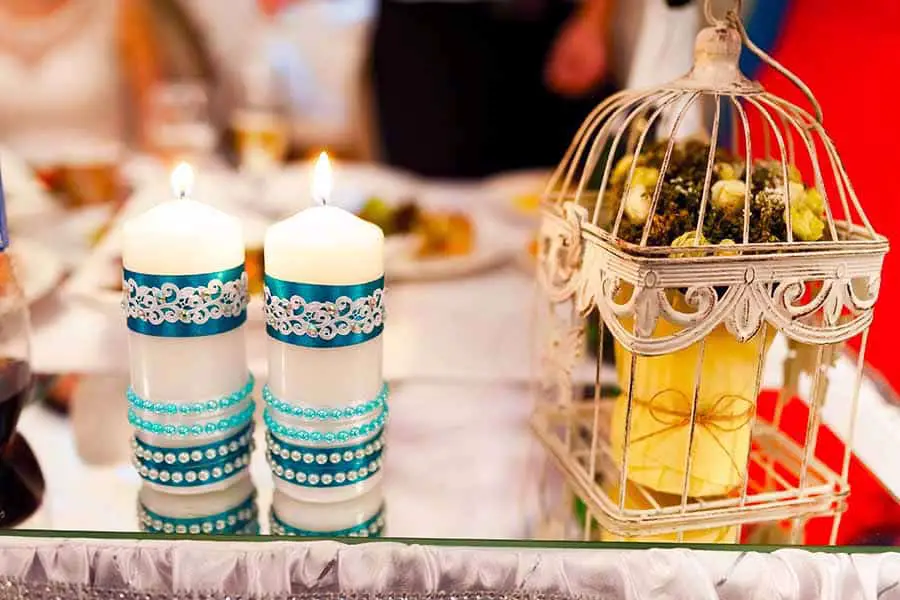 Setting up the room can be done as a vintage afternoon tea with round tables for the guests to sit around and a large buffet table for the food.
The theme can be floral and traditional, Mad Hatter or oriental. Teapots can serve as quirky flower arrangements, and the tablecloths can be in the wedding colors or vintage tearoom style.
It's not necessary to provide seating for every guest at a table as mingling is encouraged to allow people to move about and talk to each other.
If you have creative control over the space, you can hang bunting, fairy lights and tie huge bows on every chair. Decoration for a bridal shower can be a team effort with many hands joining in to make the decorations and set up the tables.
If you have plenty of time to prepare for the event, you can collect vintage china from thrift shops to provide pretty plates and cups for the party. Alternatively, you can hire or borrow enough tea sets to set the theme.
When decorating, think of your tea party theme as an overall structure for your decorations or mix and match with zones for more than one theme.
How much and how you decorate depends on how much time, budget, and helpers are available to you.
Relax and Enjoy the Tea Party
A bridal shower is a fun event for the bride, gifted to her by friends and family. It isn't as big an event as the wedding, but it is an opportunity for the bride to chat with her guests in a relaxed environment.
Weddings are formal with the whole day mapped out. A bridal shower tea party (different from a wedding shower) is different because the atmosphere is lighter, and it's a chance to catch up with distant friends and relatives over a cup of tea and a few dainty cakes.