36 Lovely Tea Gifts Specially Curated for Tea Lover Moms on Mother's Day and Other Occasions
DISCLOSURE: TEA UNBOXED IS A PARTICIPANT IN AFFILIATE PROGRAMS WITH AMAZON AND OTHER SITES. WE ARE COMPENSATED FOR REFERRING TRAFFIC.
Mothers occupy a special place in their children's hearts, and Mother's Day is an opportunity to show how much your mother means to you.
A tea-related gift is ideal for Mother's Day because it reminds both of you of all that helpful advice dished out through the years over a cup of tea. Sad times or great times discussed with tea and possibly cake.
There is a wide range of tea gifts from beautiful teacups to delicious teas that suit every budget and every type of tea-loving mother.
Apart from Mother's Day, these carefully curated tea gifts for mom work equally great at other times – from mom's birthday to Christmas and every gift-giving occasion in between.
Beautiful Teacups
A quiet moment spent with a freshly made perfect cup of tea in a beautiful teacup is a moment of pure joy in any woman's life.
When your mother was dealing with your younger self and fitting in the avalanche of daily tasks and trials, a stolen moment to enjoy a quiet cup of tea would be doubly precious.
A Mother's Day gift of a teacup shows that you hope she can enjoy many quiet moments.
1. Handmade Ceramic Tea Bowl – Chawan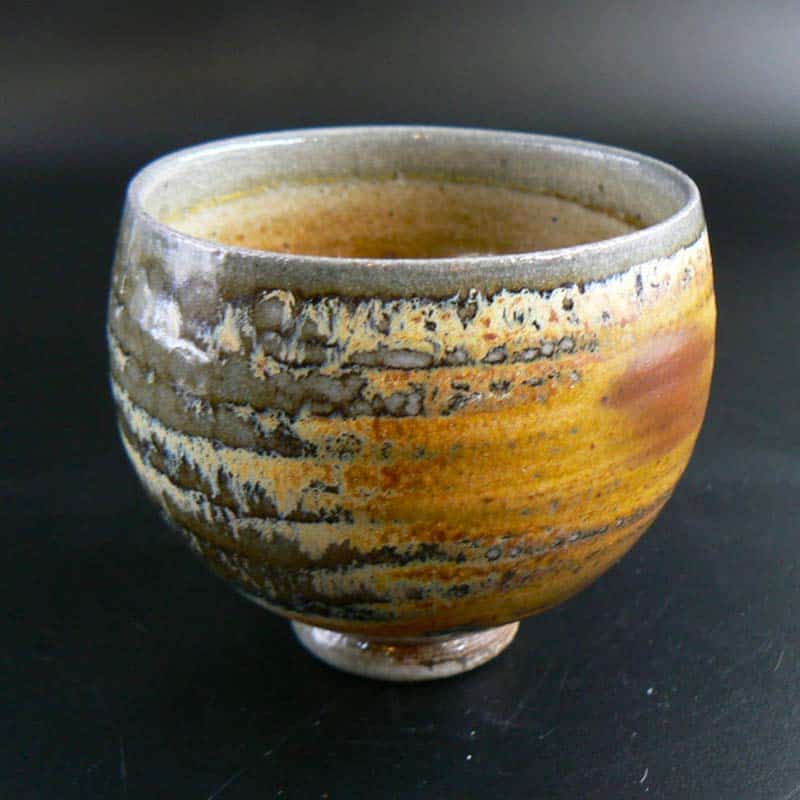 A tea bowl or chawan is for preparing and drinking tea – matcha green tea.
This lovely handmade ceramic tea bowl combines rustic charm with the simple elegance of a practical object designed as a tactile cup that fits the hand.
Matcha green tea is rich in antioxidants and is a popular ingredient in many recipes for color and health benefits.
Japanese tea bowls are sought by collectors and passed down through family members.
Combine the tea bowl with a small bamboo whisk and some matcha green tea powder and wish your mother or grandmother a long life and happiness on Mother's Day.
2. Chinese Teacup with Saucer and Lid – Gaiwan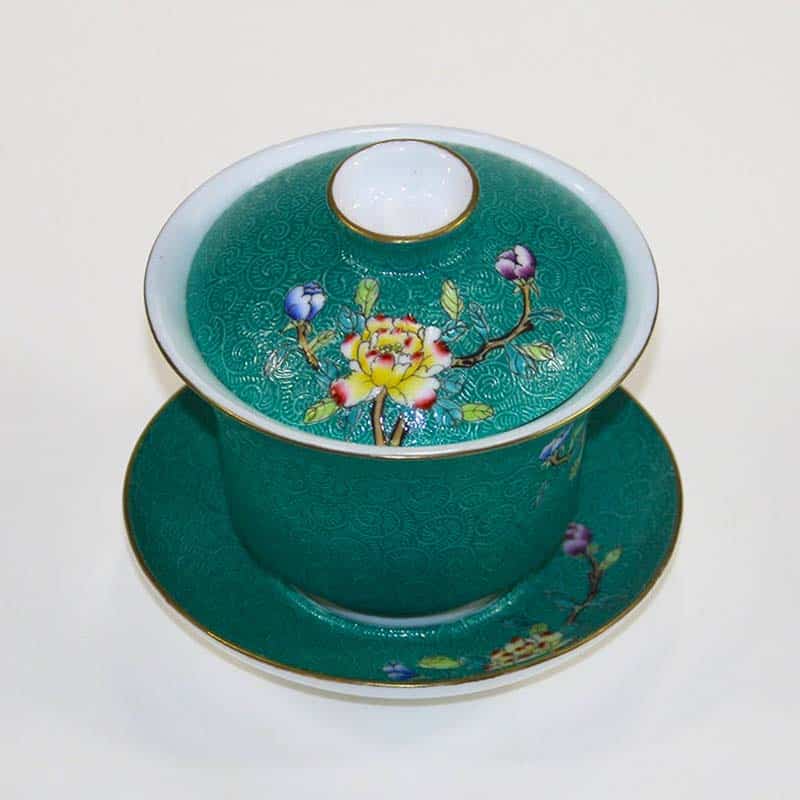 The gaiwan or zhong was invented in the Ming dynasty for brewing and drinking tea. The design is elegant, practical and straightforward in one neat package of saucer, bowl, and lid.
Traditionally, using the gaiwan allows you to concentrate on experiencing the full range of flavors offered by the tea.
The technique involves filling the bowl loosely to two-thirds volume with the loose-leaf tea. Pour in hot water and drain using the lid to retain the tea leaves in the cup.
This first infusion rinses the tea leaves removing any dust and beginning to rehydrate them. Refill with hot water and allow to infuse for ten to twenty seconds.
You can drink the tea straight from the cup using the lid to hold back the tea leaves or decant into another tea bowl.
You continue to brew the tea in short infusions, taking longer as time passes. You can brew any tea in this manner, but this technique allows your mother to appreciate the whole range of flavors offered by quality green teas, oolongs, and pu-erh.
With this beautiful standalone Chinese teacup set, you gift your mother with a mini tea ceremony every time she uses it.
This gaiwan is also the ideal tea gift for new moms or soon-to-be grandmothers who enjoy Tai' chi or sitting quietly while watching the birds flitting amongst the spring blossom, enjoying the fragrance and taste of an exquisite tea.
This green fine bone china set is a high-quality decorative item that looks lovely on any table!
3. Glass Gaiwan
Alternatively, invest in a superb glass gaiwan with stylish metal motifs that makes tea drinking a pleasurable experience and can be converted into an unusual tea light holder when not in use.
4. Turkish Teacup with Saucer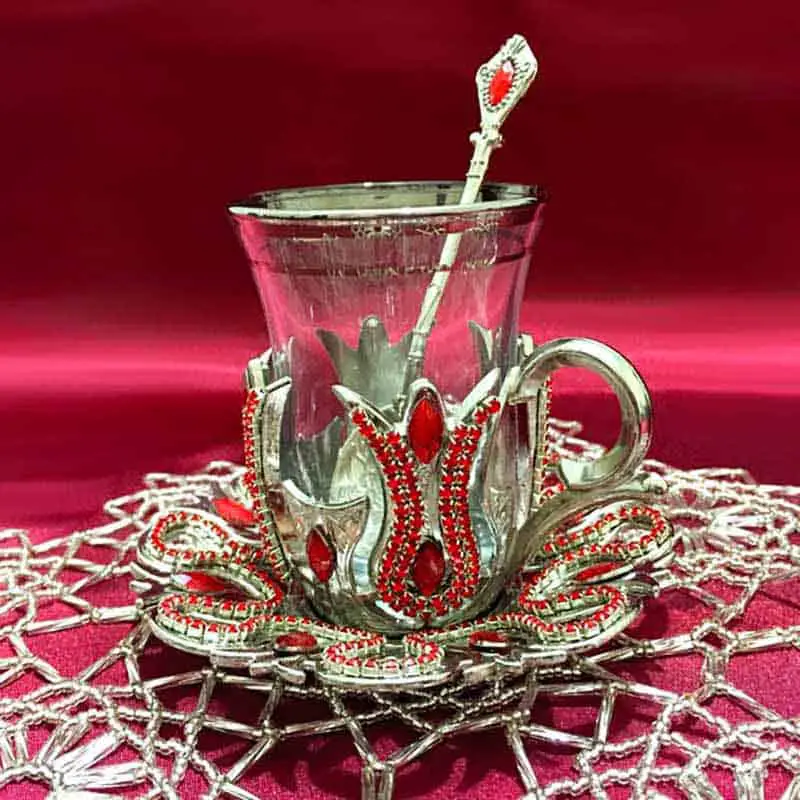 There is something unashamedly exotic and over-the-top about this Turkish teacup set. The saucer and holder for the tea glass are fantastical and blinged out to the max!
This teacup suits a larger than life personality who would enjoy lounging around on silk cushions and nibbling on Turkish delight while sipping sweet mint tea – a suitable Mother's Day tea gift for pregnant moms, or surprise present for a mom who has everything.
5. Japanese Satsuma Teacup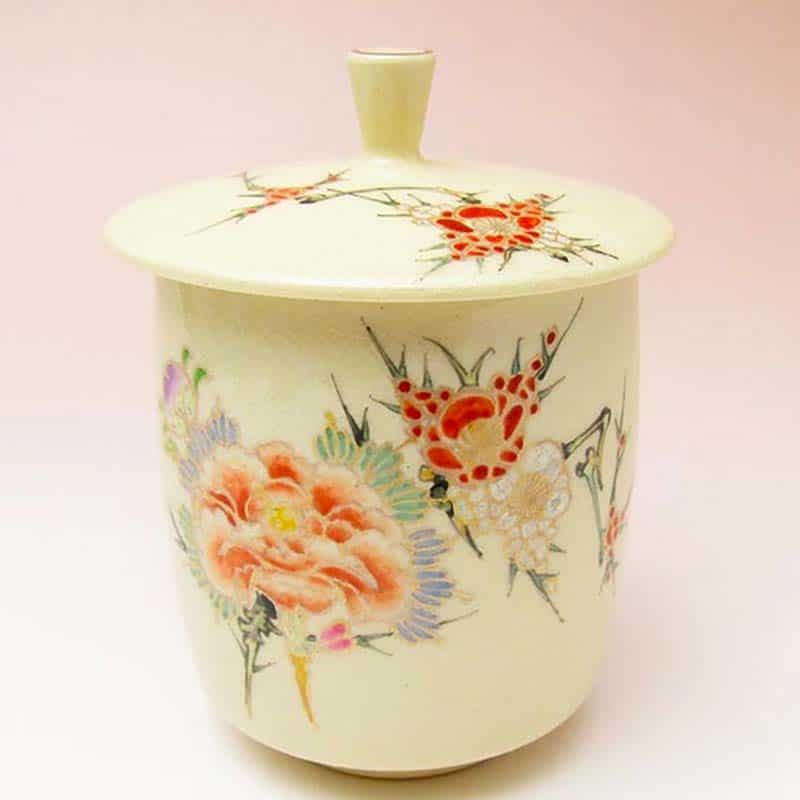 Antique Satsuma ware can sell for thousands of dollars, but the beautiful processes still practiced today produce elegant pieces like this satsuma teacup with lid.
The outlines of the floral motifs are pure gold, and the colors subtle and harmonious.
Any wife or mother would love this charming teacup and lid as it would also make an elegant trinket box on the dressing table.
Tea Mugs
The practical, no-nonsense tea mug has become the vessel of choice for everyday tea drinking at home and in the office.
The classic cylinder shape lends itself to endless ways of expressing ideas through text and pictures.
6. Personalized Tea Mug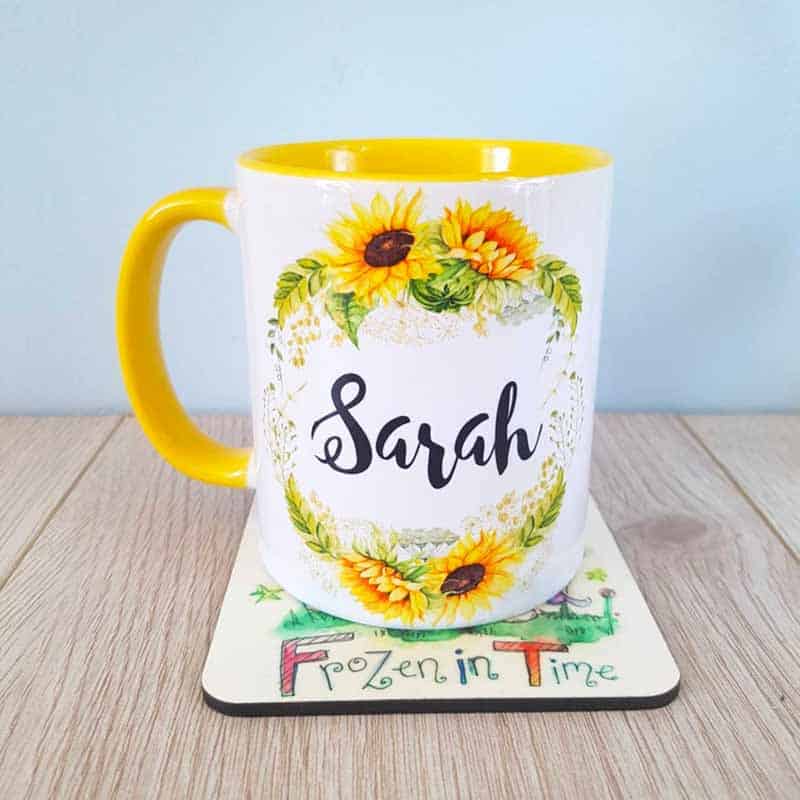 A beautiful tea mug with your Mom's name on it means that no one is going to pick up her tea by accident in the office or at home.
Personalized tea mugs are fun and show your mother that you spent time picking out and tailoring a gift for her.
Everyone has room in their life for one more tea mug, and this gift will remind her of you every time she has a drink of tea.
7. Agate Geode Inspired Ceramic Mug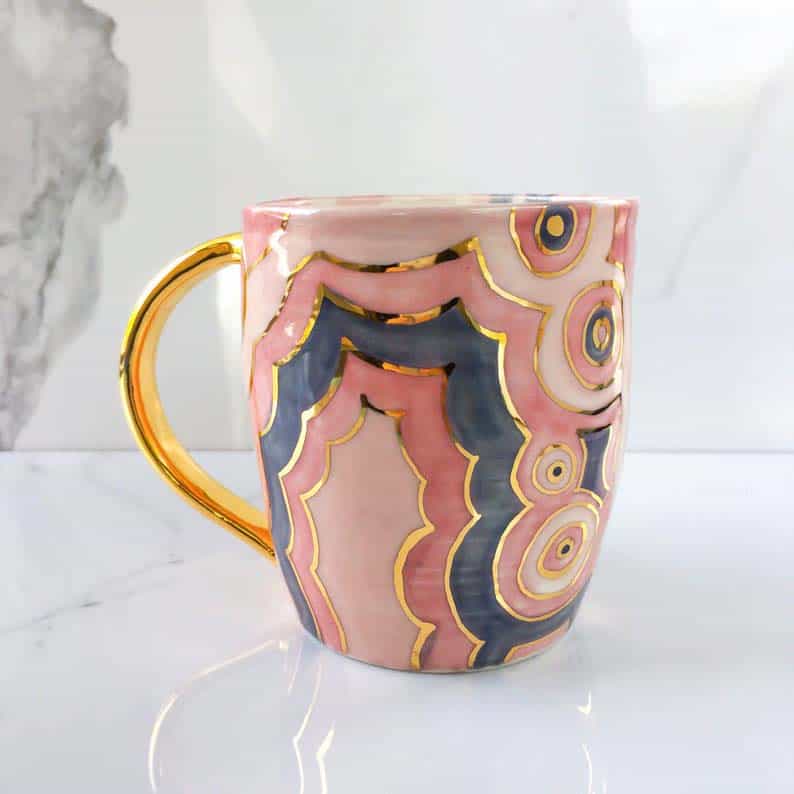 Agate, with its amazing colored bands, is a hidden gem inside a dull stone interior.
In crystal healing, agate is a stabilizer – it supports you when you need stability and bringing back to earth – like mothers.
The artist has designed this ceramic mug to look as if it is an agate carving – bright pink bands separated by gold. It's an attractive mug, and with the hidden meaning of agate, it makes a meaningful gift on Mother's Day.
Remember to add a tag telling your mother that you have chosen it because of the supportive role she plays in your life – like agate.
8. Ceramic Travel Mug with Infuser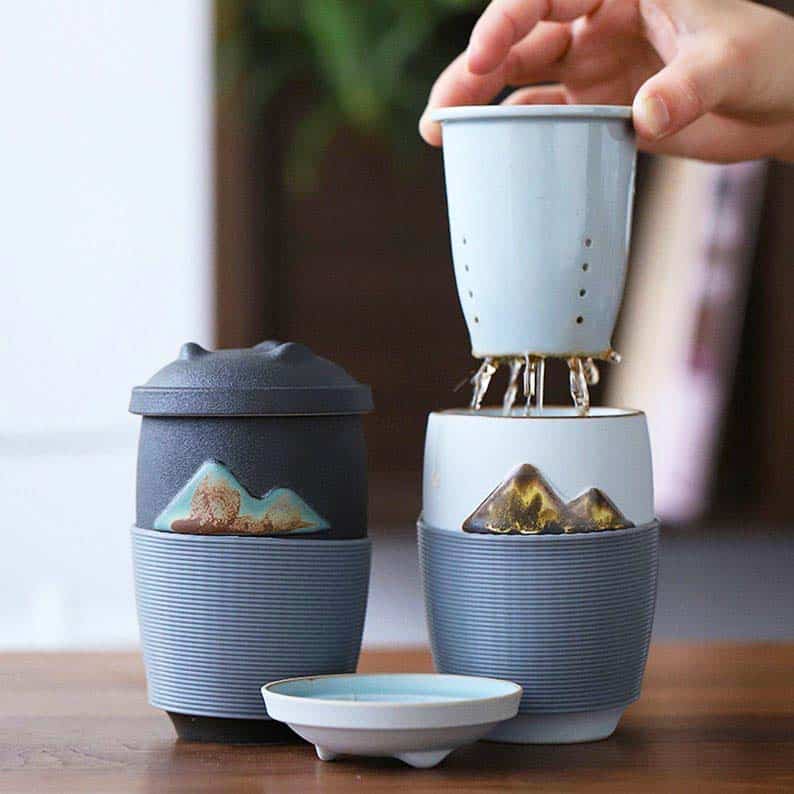 A travel mug allows your mother to enjoy her favorite beverage on the go, and the infuser means she can make it to her taste.
This durable and attractive travel mug keeps hot drinks warm for longer and, with the added sleeve, is more comfortable to hold than thin-walled plastic.
If your mother is a busy lady or simply enjoys an early morning walk with tea, then this thoughtfully designed travel mug will ensure she can take her best tea everywhere.
With a color choice of white, black, or earthy yellow, it's easy to find one that suits any woman in your life needing a Mother's Day gift – from your mother-in-law to aunts or your daughter-in-law.
9. Ceramic Travel Mug with Handle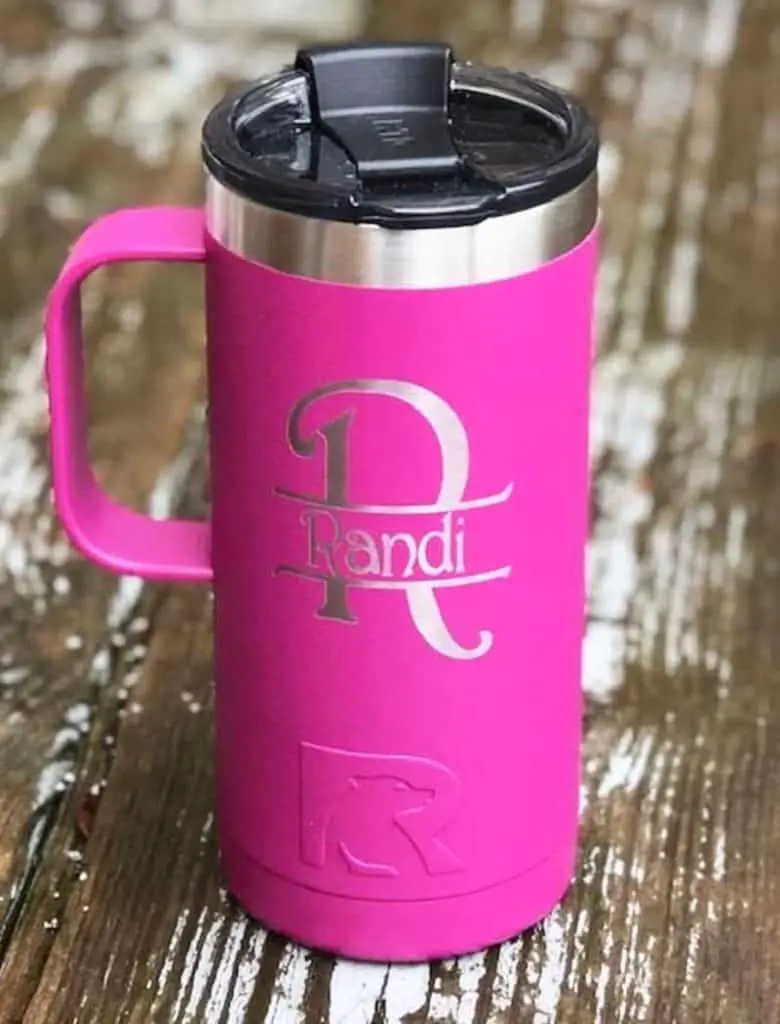 There is something civilized about drinking your tea out of a mug with a handle.
This ceramic travel mug sits comfortably in the cupholder in the car as the handle is to the top of the mug – doesn't get in the way.
While there are plenty of travel mug choices in the market, finding one with a handle that's designed appropriately to sit in the cupholder isn't as easy.
Your mother is a refined and elegant lady, so treat her to a ceramic travel mug that matches her values so she can enjoy her tea in style and while stuck at traffic lights.
Teapots and Teakettles
A teapot is a vessel for brewing tea whereas a tea kettle is a vessel for heating the water for the tea. Both items can be decorative as well as practical and vary in shape and decoration across the world.
10. Vintage Asian Ceramic Teapot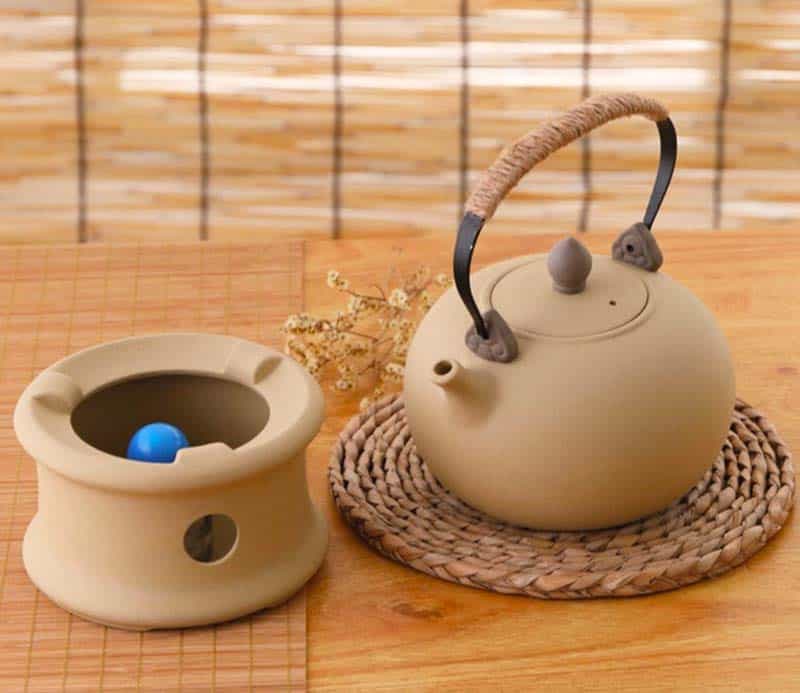 This cream ceramic teapot has a cute, gently rounded shape and comes with the teapot warmer. A teapot warmer allows the brewed tea to keep at the perfect temperature with a tealight.
This combination of teapot and teapot warmer is a delightful tea gift for Mother's Day as it allows your mother to enjoy her tea in the garden, with a book, knowing that every cup of tea will be at the ideal enjoyable temperature!
In fact, it's a fine tea gift for any book lovers.
The natural cream and brown tones mean this gift will suit any home décor from ultra-modern to country cottage.
11. Vintage English Royal Albert Floral Teapot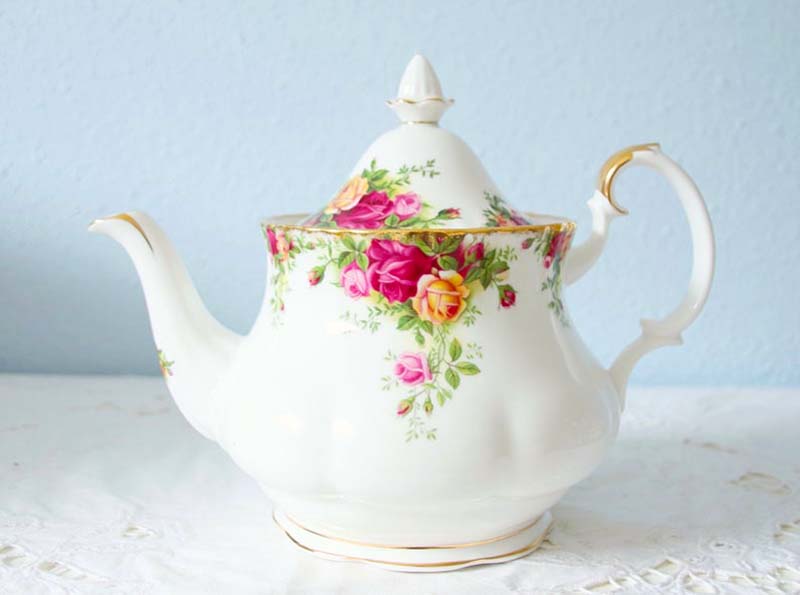 If your mother has a taste for earl grey tea with a slice of lemon on a sunny afternoon, then she will love this elegant vintage teapot!
It will look beautiful, surrounded by plates of dainty sandwiches, or as a stylish way to share a pot of tea when friends drop by to visit.
Something is comforting about the process of making tea in an elegant china teapot. The world slows down and allows you to appreciate a quiet moment by yourself or with a good friend and a chat.
This teapot tells your mother that you enjoy spending time with her and sharing some genteel gossip.
12. Handmade Copper Tea Kettle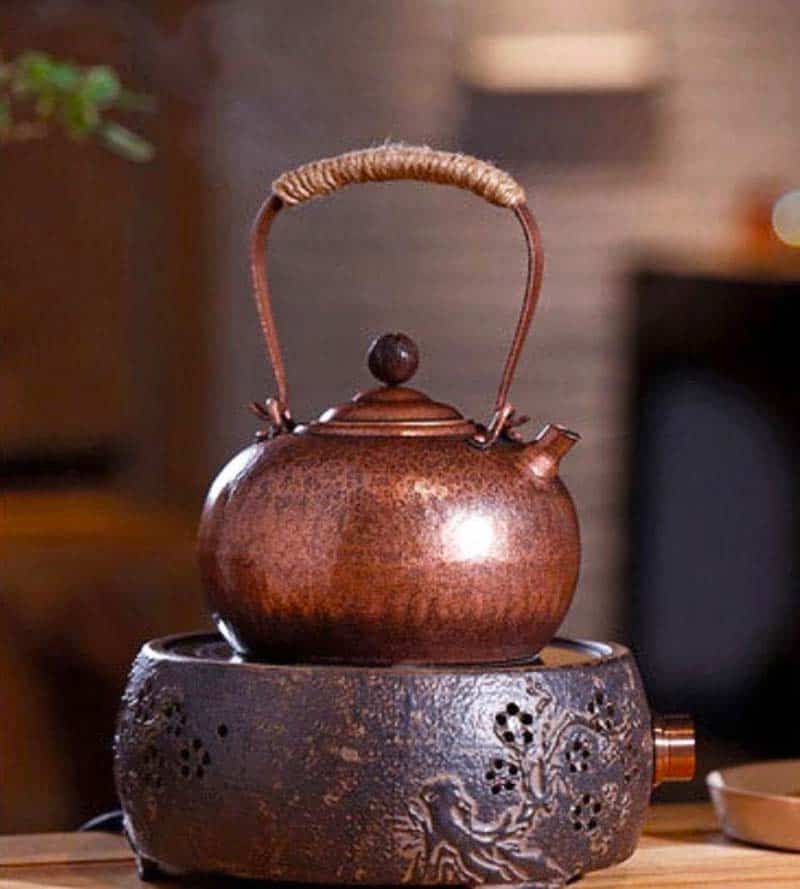 The burnished warm glow of a copper tea kettle is a beautiful addition to any kitchen – decorative and practical.
An electric kettle is convenient and boils water at the flick of a switch. A copper kettle brings water to the boiling point and then holds it at that temperature.
Copper is an excellent conductor of heat, and medium heat on the hob will rapidly boil the water in the copper kettle – saving time, energy, and the environment.
Copper does not retain the taste of tea so that the tea kettle can serve as a teapot.
A beautiful handmade copper tea kettle is an excellent Mother's Day gift for the tea enthusiast seeking perfection in brewing or the woman who likes to add a decorative touch to a kitchen or hearth!
13. Turkish Ceramic Teapot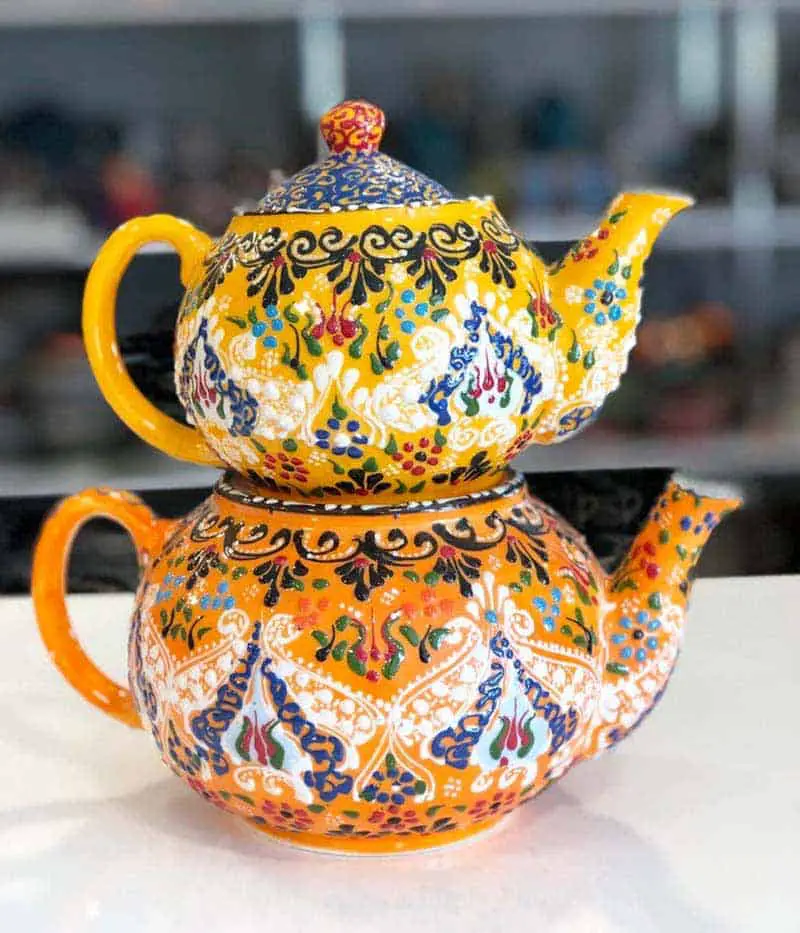 At first glance, a Turkish teapot seems like someone has accidentally stacked one teapot on top of another. This arrangement is essential to brew the tea the Turkish way!
Black tea leaves go in the top pot, water in the bottom. The stacked teapots go on the stove to boil the water. The boiling water starts to warm the top teapot.
Some of the water is poured into the top pot to infuse the tea. You now have a pot of very strong tea and a pot of hot water.
The tea is served by filling a tea glass with one-third tea and filling the glass up with hot water to dilute it. However, you can use the shortcut of using hot water from a kettle to fill the two teapots instead of the traditional boiling method.
The combination of teapots in a colorful design adds an exotic note to any tea-drinking table. The Turkish ceramic teapot is an ideal Mother's Day gift for any mother who enjoys trying out tea in new ways. Or if she enjoys having a talking point to discuss with friends.
Excellent teas to give with this teapot are an Assam or a Keemun black tea (source).
14. Vintage Russian Teapot
Russian teapots have a vaguely similar shape to a western teapot – a spout with a handle opposite, but they have subtle touches that distinguish them.
Vintage Russian teapots have ornately designed tops that provide an elaborate crown for the top of the teapot. The glazed designs are bold and based on folk art with colorful cockerels and flowers.
If you want to give your wife or daughter a unique Mother's Day tea gift, look for a vintage Russian teapot and add in some Russian Caravan tea and perhaps make some Russian tea biscuits (flavored with vodka) for a complete surprise gift!
Tea Towels
You can't have too many tea towels – so if you are looking for a practical but attractive gift that you can send through the post for Mother's Day, think about a set of tea towels.
15. Personalized Tea Towel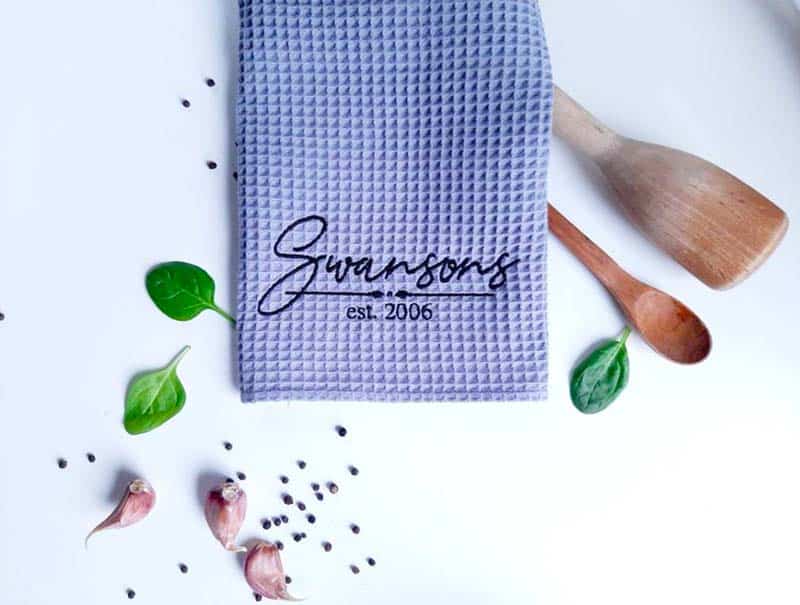 To elevate the tea towel from the mundane kitchen cloth to the treasured gift category, you should search out a personalized tea towel.
Digital printing means you can design a one-of-a-kind tea towel using photographs or artwork to give your mother a fantastic present.
Machine or hand embroidery allows you to give your mother a classy tea towel with a monogrammed initial or other design of your choice.
Hand lettering is all the style now, and you can commission a hand-lettered tea towel with your mother's favorite saying – perhaps a phrase that is only used by your family!
With the option to choose the towel fabric and color, as well as thread color for the personalized name, this is a suitable Mother's Day tea gift for both the young and old ladies dear to you.
Tea Lights
When you think of tea lights, you probably think of decorative uses providing a candlelit atmosphere. As the name suggests, these candles were to keep teapots warm by placing the teapot on a tea warmer stand.
Now the humble tea light is used in any application where you want candlelight or a gentle heat source for aromatherapy or food.
The range of fancy tea lights has expanded to include scents, colors, shapes, and wax sculptures of flowers and animals.
Mother's Day gifts are to pamper your mother. Hence, a set of aromatherapy tealights is a relaxing present allowing her to turn any room into a candlelit sanctuary for meditation or a quiet afternoon with a book and a box of chocolates.
16. Herbs and Flowers Aromatherapy Tea Lights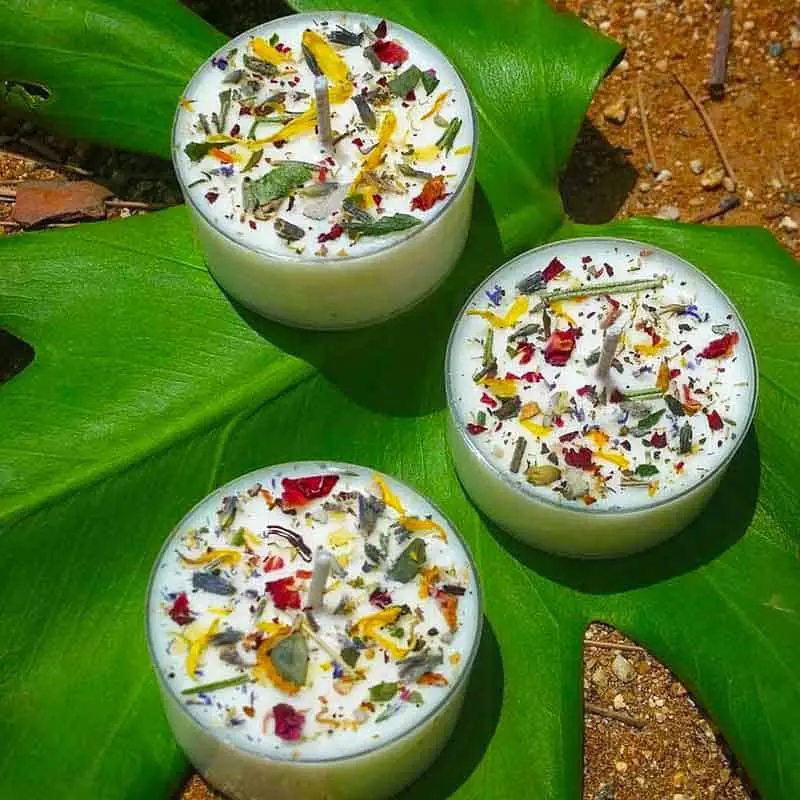 Top-quality tea lights made from soy wax with added essential oils provide the fragrance herbs and flowers – alone or in combination.
As the tea light burns, the oil evaporates and fills the room with the subtle scent of the herb or flower. Familiar scents can take you time traveling, evoking memories, and a sense of place.
Give your mother a selection of her favorite herbs and flowers as aromatherapy tea lights for her to enjoy as a straightforward room scent or for relaxation.
These tea lights are also inexpensive tea gifts, perfect for church congregations or any sort of gift-giving in large quantities. At the time of writing, there's a total of 40+ scents to choose from so you can be sure to find one that suits the recipient!
17. Crystal Aromatherapy Tea Lights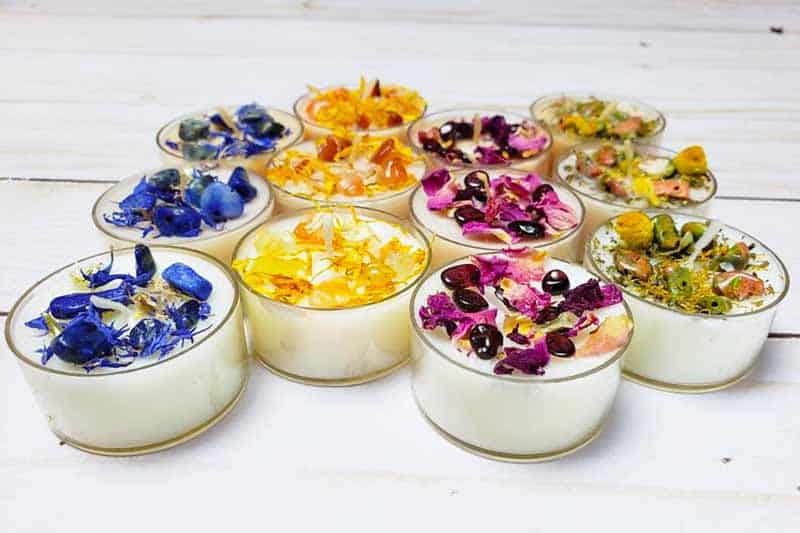 Many people believe in the healing powers of crystals, with the explanation being that different crystals have different energies that interact with your energy body or chakras.
Every month of the year is associated with a birthstone and a set of healing properties (source).
The polished crystals embedded into the tea lights are attractive colors. As the stones warm-up, their energy fills the room.
As tea gifts for Her, these crystal-sprinkled tea lights are pretty!
The crystal chips remain after the tea light is finished and can be recycled onto another tea light or can be collected in a small bowl or to add some bling to plant pots by sprinkling them on top of the soil.
Tea Gift Box
An excellent way of giving your mother a chance to sample many different types of tea is a tea gift box. A small amount of different high-quality teas allows your mother to assess the taste before splashing out on a large amount of an unknown tea type.
Alternatively, you can give your mother an expensive tea that she would hesitate to buy herself.
If you are hosting a Mother's Day tea party, then a tea gift selection box is an ideal way to let every guest try something new. You could make a game of it by offering the tea as a blind tasting with a prize for the guest who can correctly identify the teas from the taste and smell.
18. Japanese Matcha Green Tea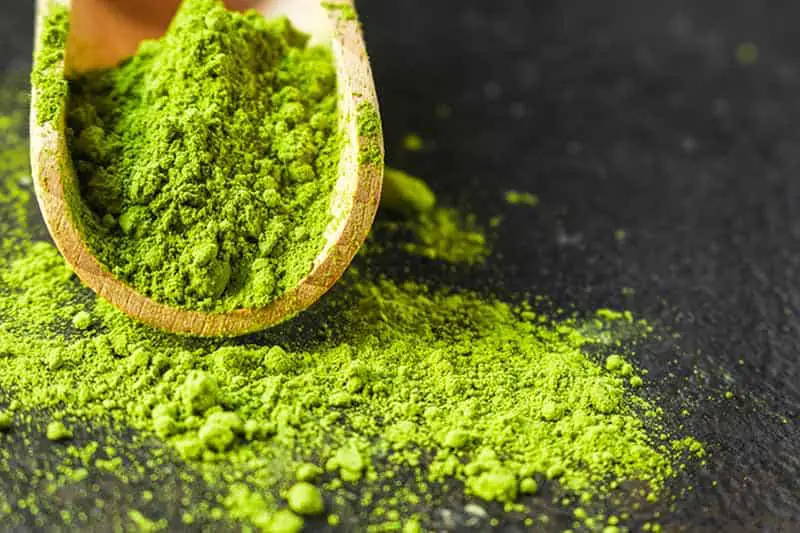 Japan produces the highest-quality Matcha green tea made from green tea bushes that are grown under shade to increase the chlorophyll content. The high chlorophyll content results in the vivid green color of the powder.
The young tea leaves are hand-picked, and the tough stems removed before they are hand ground to a very fine powder.
The best quality Matcha has a sweet taste and is whisked into hot water before drinking. It is the essential tea for the Japanese tea ceremony.
A Mother's Day gift of Matcha is a luxurious present that your mother can enjoy as a tea or use as an ingredient in healthy smoothies for its antioxidant properties.
Mother's Day aside, it's an excellent gift for any green tea lovers.
19. Herbal Tea Gift Set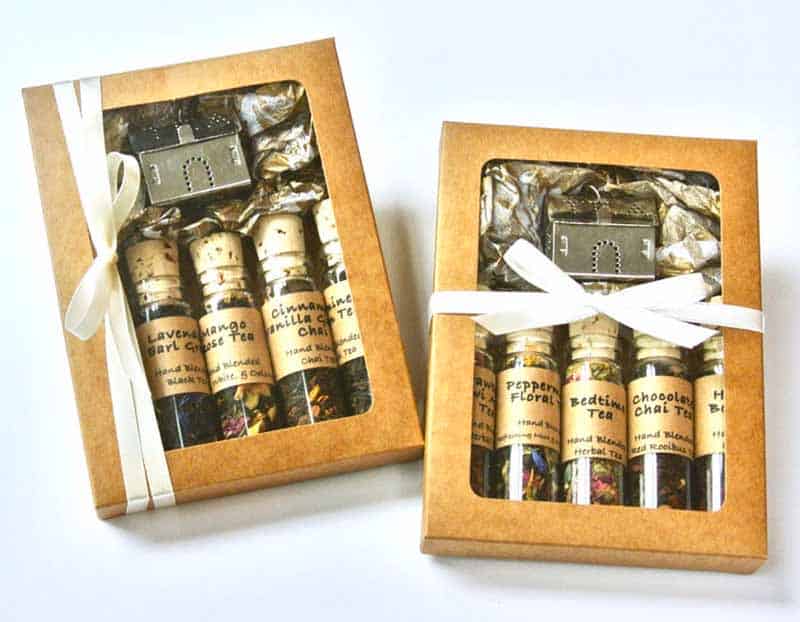 Herbal teas are infusions made from plants other than the tea bush. They are naturally caffeine-free and have been folk remedies for centuries.
Peppermint is an excellent aid to digestion, and ginger is a remedy for nausea as well as being warming. Health benefits associate with the herbs, but herbal teas are great tasting beverages that add variety to the day. Some herbal infusions work best with cold water and are ideal for water bottles.
Herbal teas are refreshing and soothing drinks at any time of day, and you can use them for simple homemade beauty products. Include a book outlining the properties of herbal teas, and your mother can try out chamomile hair rinses or a mint and vinegar skin toner.
The herbal teas below are available as combination blends in attractively packaged bottles and make delightful gifts for herbal tea lovers or vegans on Mother's Day!
20. Green Herbal Tea Kit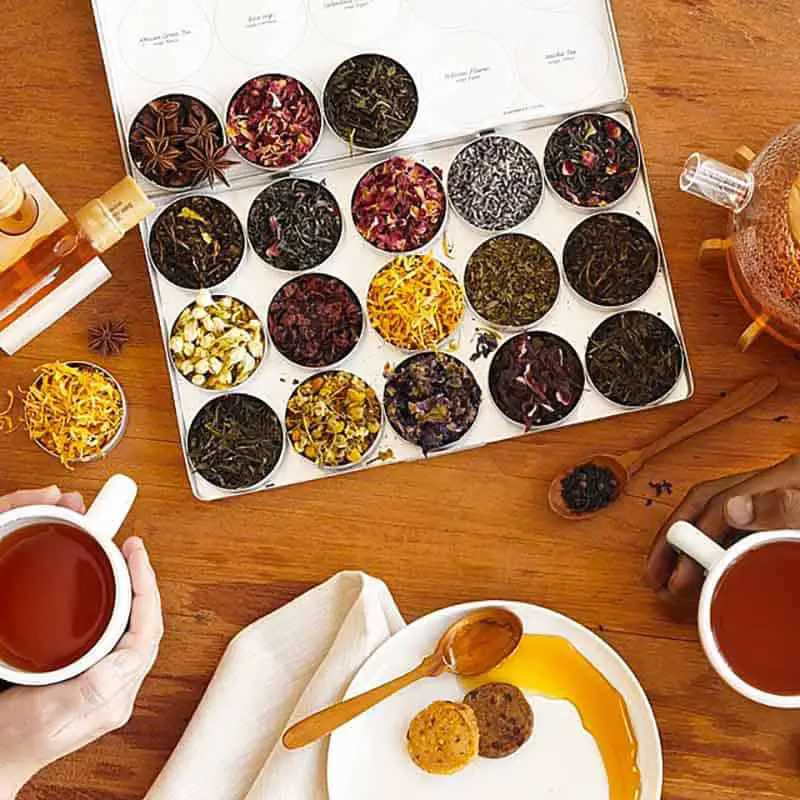 This kit containing a mixture of individual green teas and herbs is brilliant for your Mom to experiment with blending her favorite tea. A pinch of this and a pinch of that, and she can work some brewing magic!
This unusual Mother's Day gift is a creative and fun package that introduces your Mom to the exciting world of the tea blender.
21. Masala Chai Tea Gift Set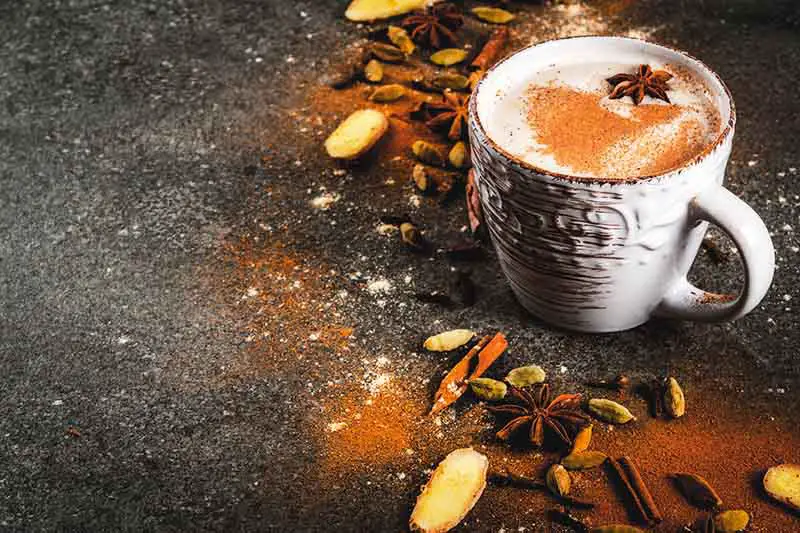 An exotic collection of loose-leaf chai tea blends is an ideal gift for the chai tea lover in your Mom, or if you know she's an avid tea drinker but has never tasted it.
Chai is the Hindi word for tea and refers to black tea and milk mixed with strong Indian spices like black pepper, cinnamon, ginger, cloves, and cardamom. There is a range of spice blends to suit all tastes and now includes vanilla, saffron and bay leave with others.
The purists refer to this milky, spicy black tea drink as masala chai because chai tea means tea tea. Whether you call it masala chai or chai tea, this combination is an addictive blend of spice and sweetness, making it a delicious Mother's Day tea gift.
22. Variety Tea Gift Set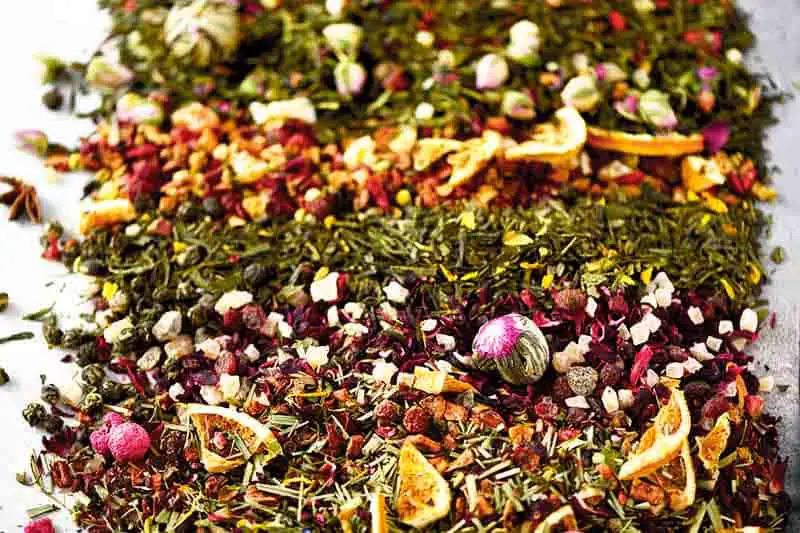 The vast world of tea gives so many choices that they can be overwhelming.
Spoil your Mom for choice on Mother's Day with a stunning variety pack of individually wrapped teas featuring fifteen variations – containing a good range of green, black, masala chai, herbal, and earl grey teas.
It's excellent as a party pack, as each guest can try a different flavor. Or enjoy it as a guide to the amazing world of tea in all its characteristics.
Due to the wide variety of tea blends and exciting colors, this also makes great tea gifts for moms outside the family such as church ladies, female friends, and office staff alike.
Tea Sets
A whole tea set is a superb Mother's Day gift that your Mom can enjoy with family, friends, special occasions, or for relaxing afternoon tea.
Across the tea-drinking globe, each culture comes up with its version of the classic tea set, so a beautiful tea set is a display item as well as being of practical use.
23. Chinese Porcelain Tea Set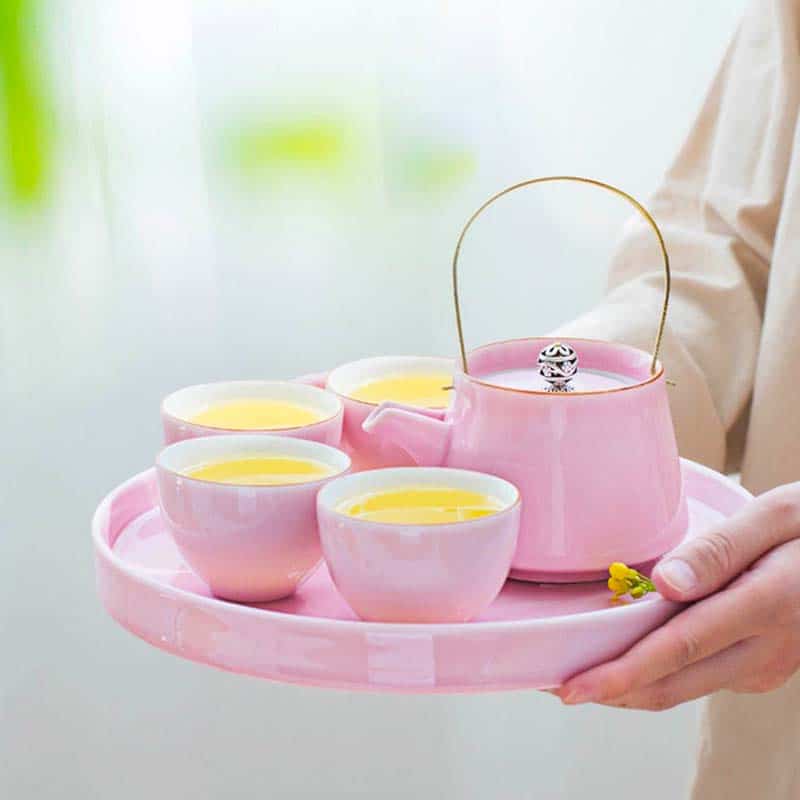 In glowing rose-quartz pink, this elegant set of teapot, teacups, and tray is a lovely romantic addition to a home.
In color psychology, pink stands for good health, playfulness, and friendliness. Pink is the color most associated with women and girls as a bright, cheerful color.
This lovely tea set fits all occasions from a Mother's Day breakfast in bed to a relaxed afternoon tea in the garden after a spot of rose pruning.
Outside of Mother's Day, it is tough to imagine this not being a great tea set gift as well for mom's birthday or just because as it'll surely put a smile on mom's face!
24. English Vintage Shelley Daffodil Tea Set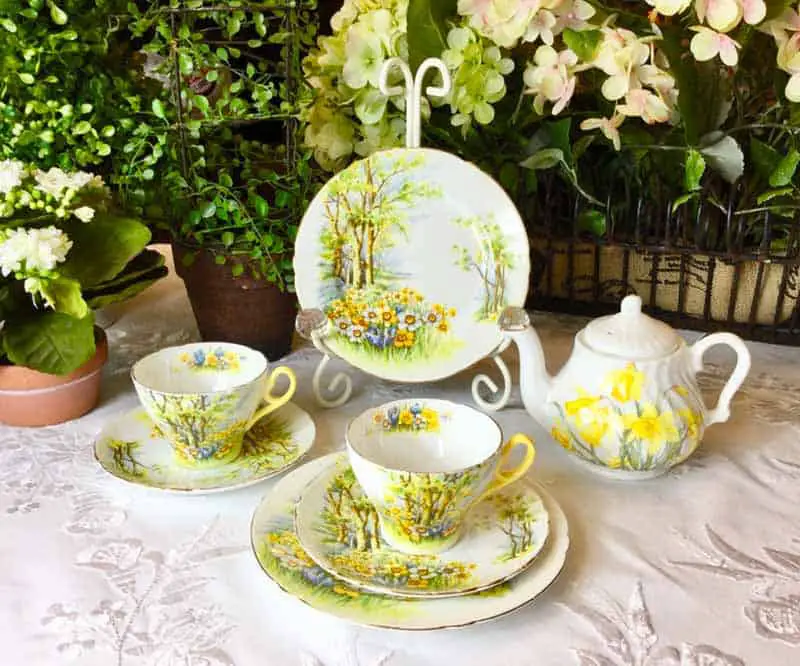 Tea originates from China, but the English embraced tea-drinking with the zeal of a new religion. Tea is drunk in country cottages, factories, offices, and majestic castles.
In springtime, the whole country is covered with yellow daffodils because of this plant flowers in gardens, woods, and roadside verges and features in a famous poem by William Wordsworth.
Shelley fine bone china is collectible and affordable. Shelley daffodil time is a charming depiction of spring in the English countryside – a romantic picture suitable for a Mother's Day gift of a vintage tea set.
Vintage or antique sets are charming Mother's Day gifts because you can enjoy them as a piece of history and as a practical item you can use every day.
25. Vintage Japanese Satsuma Tea Set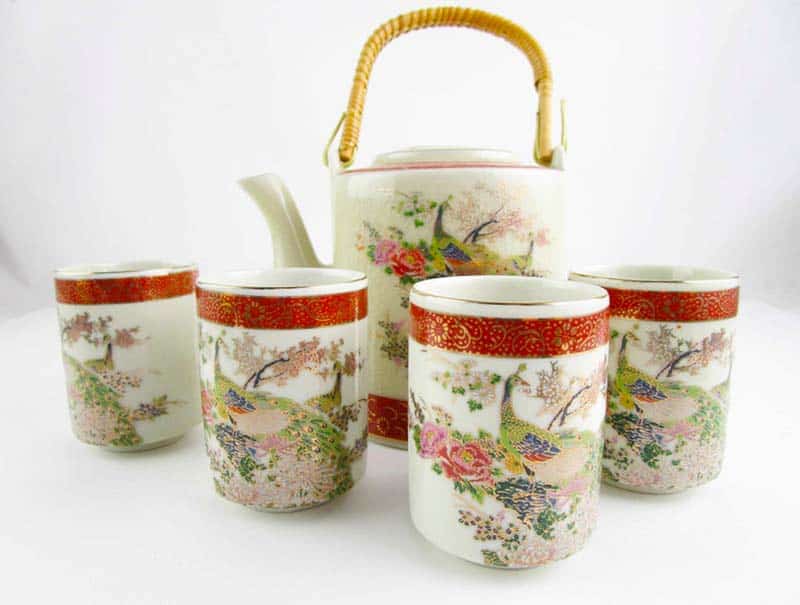 Satsuma wear is beautiful and made to last for a generation; a vintage tea set looks surprisingly modern.
The rich glowing colors outlined in gold make a Mother's Day gift of a Japanese Satsuma tea set feel extravagant and worthy of a special occasion. Flowers and birds are popular motifs and feel in keeping with the spring theme of Mother's Day.
26. Matcha Tea Set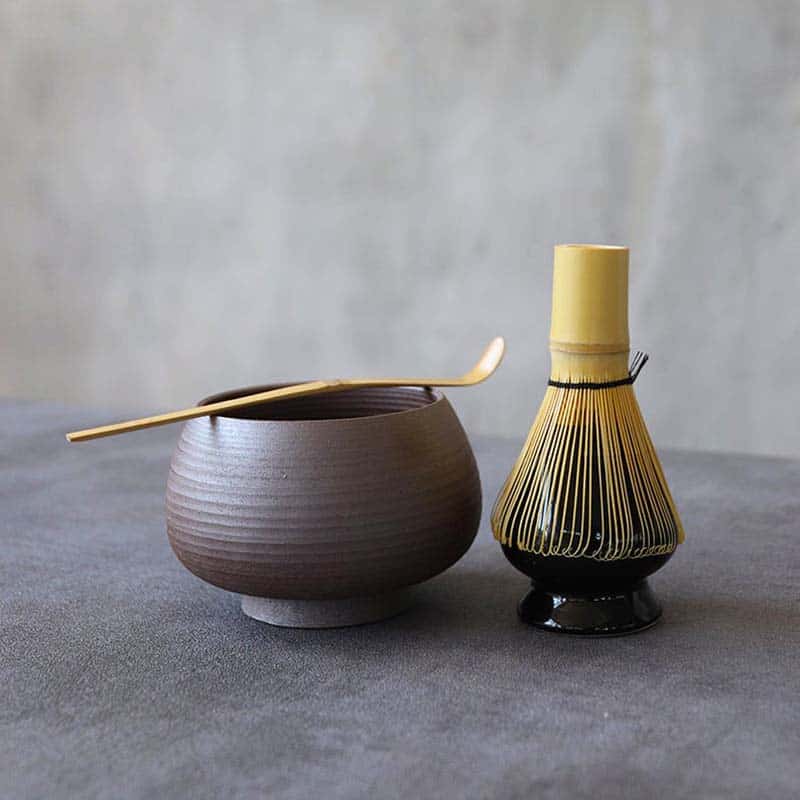 Bright green matcha tea is prepared carefully with the traditional implements of a tea bowl and a bamboo whisk known as a chasen.
An excellent chasen has 100 bamboo strands, and to keep it in tip-top condition, you need a whisk stand. A whisk stand is to a chasen what a shoe tree is to maintaining shoes. It allows the whisk to air dry and holds the strands in the correct alignment.
On Mother's Day, give your mother the complete set of the tea bowl, whisk and stand so she can enjoy the highest quality green matcha tea prepared expertly at home.
Regardless of the occasion, you can't go wrong with such an essential gift, especially for matcha lovers.
27. Russian Porcelain Tea Set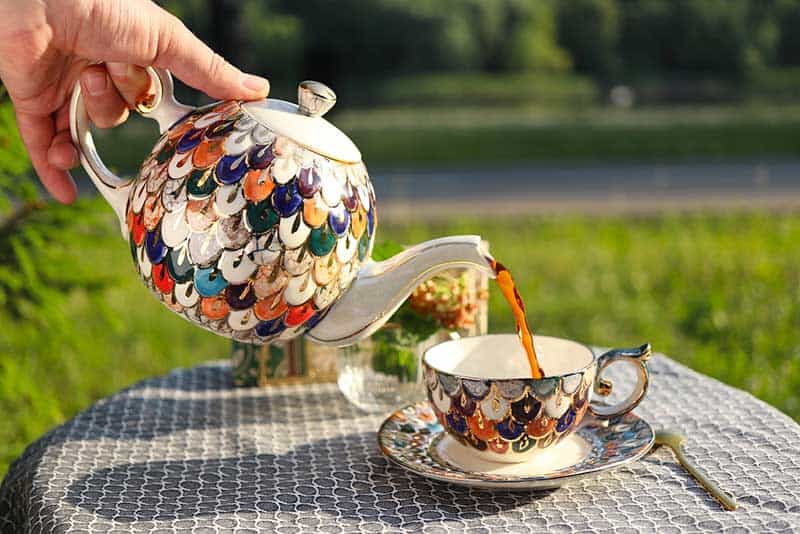 A Russian tea set is brightly colored and exuberant with deep vibrant colors enhanced with gold.
This Mother's Day gift will suit a Mom who embraces life with enthusiasm and loves bright colors – she is not the pale pastel type, but bold and colorful.
The ideal Mother's Day tea set matches your Mom's character, and if she enjoys drama and adventure, then she will love a bold, bright Russian porcelain tea set for her afternoon tea.
Get the teapot and set of a teacup with saucer via separate links below.
28. Ceramic Travel Tea Set
If your Mom is a regular traveler, then an elegant, neat ceramic tea set is the ideal gift.
The teacups pack neatly inside the teapot, and the carrying case keeps the whole set together in the corner of a bag or case.
Tea provided in hotels is variable in quality, and the only way to be sure of having your tea precisely as you like it is to take your tea with you in your travels.
Surprise your Mom with a cute travel tea set – in red, white or celadon – that she can take anywhere to enjoy a perfect cup of tea, made the way she likes it!
Tea Gift Baskets
A Mother's Day gift needs an excellent presentation, and a gift basket feels luxurious and celebratory.
Gift baskets have always been one of the favorite go-to gifts for the exciting items packed in them and at the same time, doing away with the hassle of putting together a gift.
29. Tea and Tea Infuser Gift Crate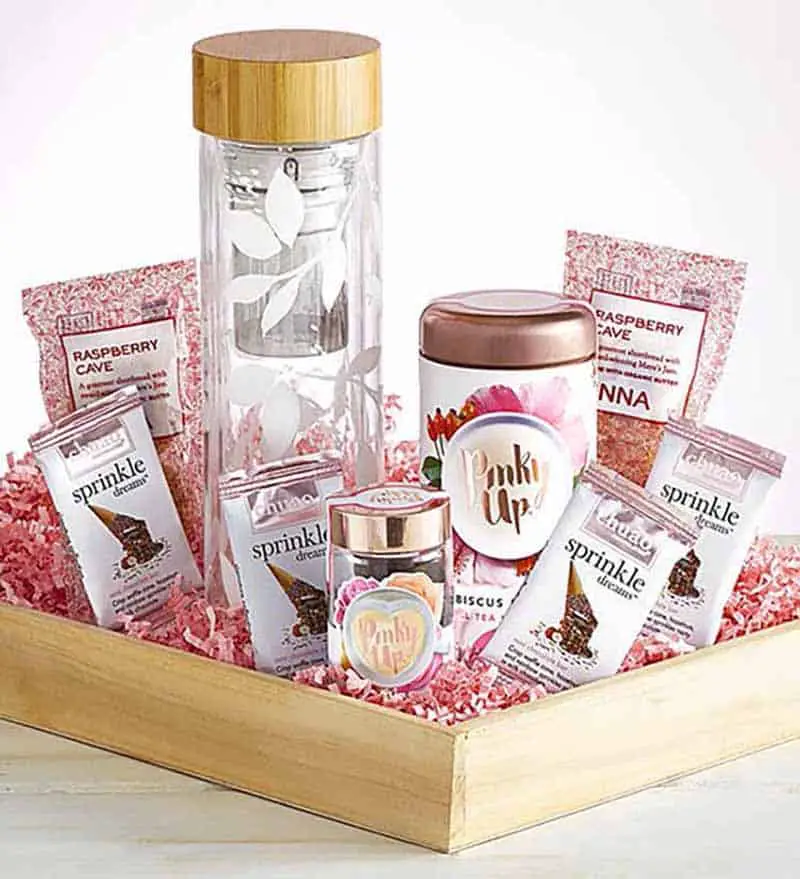 For the moms who are always on the go, or works out regularly, a gift pack of flower tea and fruity cookies with a glass tea infuser bottle elegantly assembled on a wooden tray is just the right presentation to get her excited.
With the plethora of gift baskets in the market, this stands out as the perfect gift for moms who love tea.
30. Planted with Love Gift Basket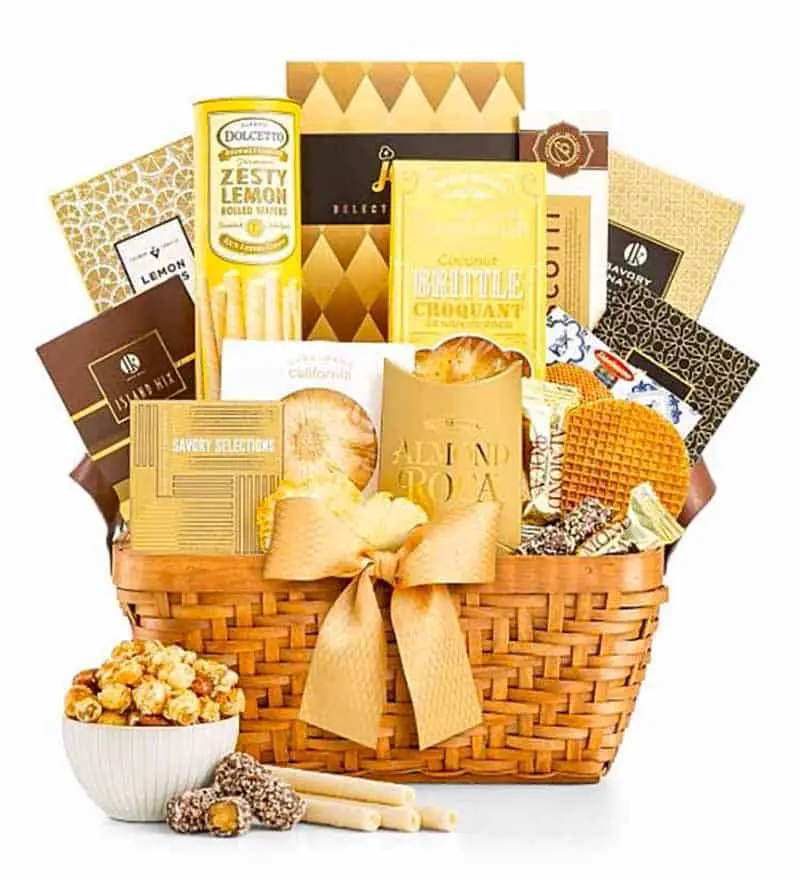 If you prefer to go with a more widely-accepted choice (to be on the safe side), you really can't go wrong with a beautifully-woven gift basket made up of a rich selection of gourmet food and imported delicacies.
In addition to that, you also get to personalize the ribbon with your own message, or simple Happy Mother's Day, or any message for other gifting occasions for your mom.
In the event that you choose to go the homemade route, these tea gifts can form a wholly tea-themed gift basket by themselves or, in combination with other gift basket items and themes suitable for mothers.
A tea gift basket makes an attractive alternative or addition to the traditional Mother's Day gift of flowers and will last for many weeks.
Best Mother's Day Tea Gifts Under $20
31. Organic Chamomile Tea in a Tin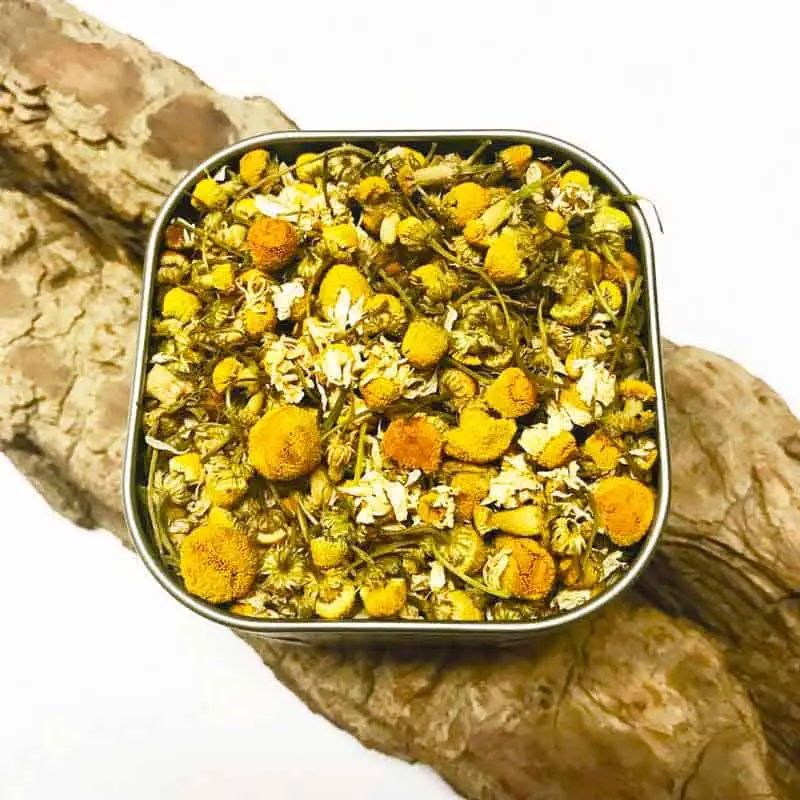 Chamomile is the favored herbal tea drink for its mild refreshing taste.
Chamomile tea is soothing, good for headaches, and caffeine-free. Rinsing hair with chamomile tea enhances blonde highlights without the use of harsh chemicals.
If you can only buy your Mom one tea for Mother's Day, organic chamomile tea in a pretty tin is an attractive choice!
32. Chakra Aromatherapy Tea Light Gift Set
Chakras or energy centers are part of the Ayurveda approach to maintaining a healthy body and mind.
Each of the seven chakras (visualized as lining in a straight line down the center of your body) is associated with a color – the heart chakra is green. Fragrance assists the chakra in becoming balanced.
This tea light set comes with a handy guide to your chakras and is a great gift for a Mom that practices meditation or enjoys yoga or Tai' chi.
33. Quirky Tea Cozy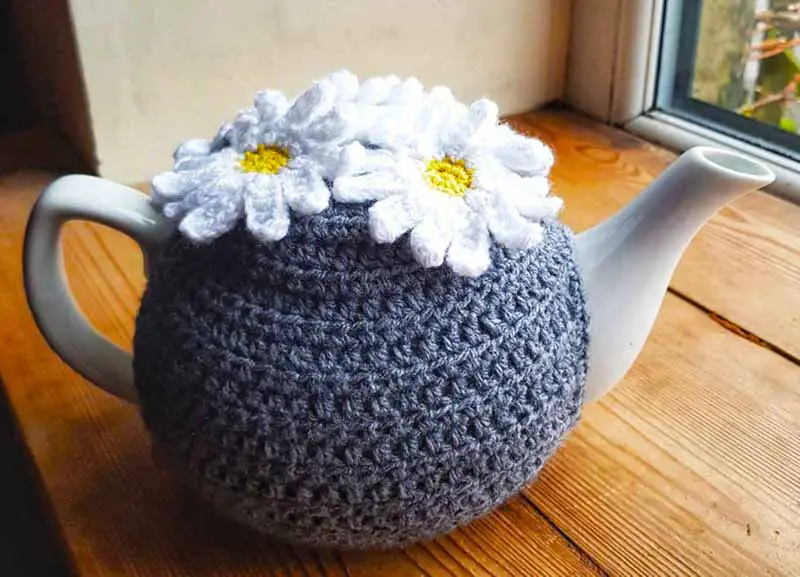 As long as there have been teapots, there have been cozy coverings to keep the tea warm for as long as possible.
There are plenty of designs to choose, but a cute crocheted set with spring daisies is a charming and useful Mother's Day gift.
This set includes a cozy for the teapot and two matching hugs for teacups because teacups cool down as well.
If you are looking for suitable Mother's Day tea gifts for knitters, this handmade tea cozy set is just right for you.
34. Personalized Teacup and Saucer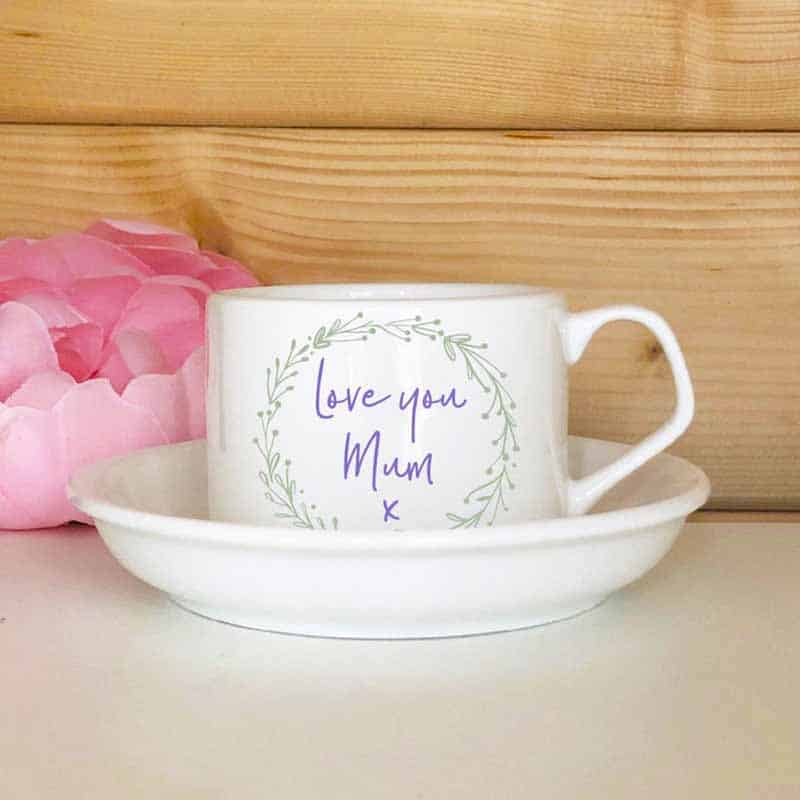 A teacup and matching saucer for your Mom is a unique teacup set that she will enjoy using and thinking of you.
Taking the time to commission a teacup set for your Mom as a Mother's Day tea gift shows that you have spent time thinking of a unique gift for her.
When it comes to giving presents, personal touches make all the difference between a gift that is alright and one treasured for years!
35. Test Tube Teas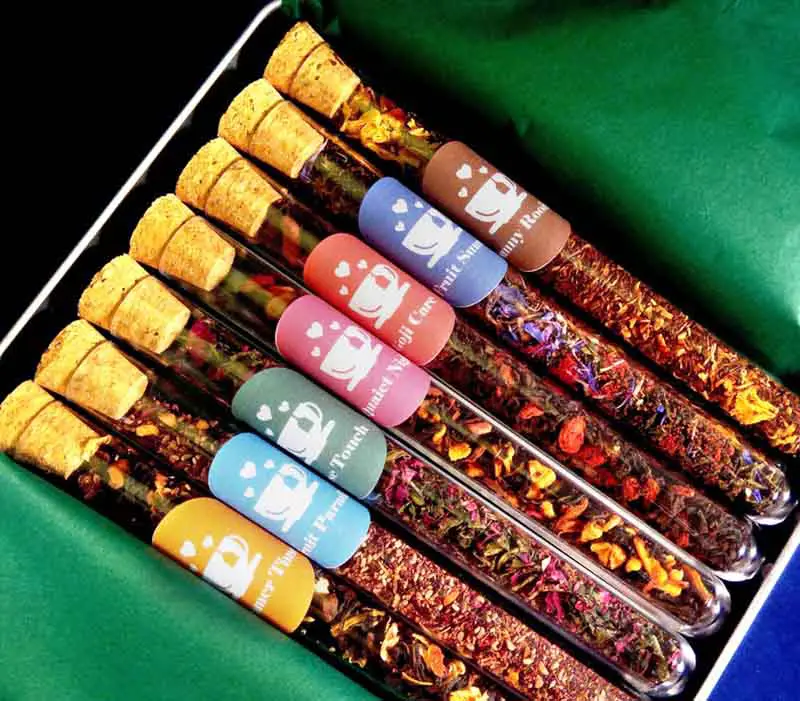 An amusing way of presenting a selection of teas is a sampler set of test tubes filled with your choice of teas. After the tea has gone, the test tubes make great mini vases for displaying flowers or quirky containers for spices in the kitchen.
A variety of tea samples in test tubes is a fun Mother's Day gift!
With this set, you get 7 variety of teas and you get the option to go with or without the metal box. Obviously buying with the box makes sense as a present and it only costs an extra couple of dollars.
Best Mother's Day Tea Gifts Under $10
36. Rotary Carousel Tea Light Holder
A tea light heats the air above it, which means they are excellent as teapot warmers or for other dishes.
When hot air rises, cooler air draws in to replace it – this is how wind forms. A tea light creates small air movements in the space above the flame.
This quirky tea light holder takes advantage of this to rotate a metal carousel. The moving carousel is a charming sight, but it is science, not magic, that makes it work.
As a Mother's Day gift, the moving carousel is magical and slightly hypnotic to watch. It's a fun decorative item that gives lasting pleasure.
Regardless of which tea gift you decide to go for, these are affordably-priced gifts perfectly suited for all the women tea lovers you want to buy a gift for this Mother's Day.
Finally – A Personal Note
You have selected a gift, wrapped it with care and attention, and now you just have to add the card and tag, what do you say?
The finishing touches are important if you are going to go with a Mother's Day tea gift. It makes sense to have an appropriate tea phrase for the card.
The classic – You are My Cup of Tea – or a variation is always popular.
You might like to go with the faintly humorous – A gift to make you teapsy!
You can craft your own message by taking advantage of any appropriate word featuring tea, like terrific or tremendous turning it into – You are tea-rific!
Some book titles lend themselves to a little Tea-tweak like Love in the Time of Tea, A Tale of Two Teas, or A Game of Teapots.
Ten minutes with a pen and paper, and you will come up with a teacupful of tea phrases that will suit your mother to a tea!