18 Birthday Tea Gifts (for Tea Lovers)
DISCLOSURE: TEA UNBOXED IS A PARTICIPANT IN AFFILIATE PROGRAMS WITH AMAZON AND OTHER SITES. WE ARE COMPENSATED FOR REFERRING TRAFFIC.
Tea is the drink that refreshes, the drink that millions consume as a daily ritual, on waking, at their desk, and in the evening.
Tea is ordinary and extraordinary, and tea and tea birthday gifts are super presents for all genders, ages, and cultures.
Birthdays are celebratory, all the anticipation of a beautifully wrapped gift. Followed by the vague disappointment that the contents are not what you find either attractive or useful.
Buying a gift for a tea lover is straightforward because all tea and tea-related items are welcome. Even if you discover that the smoky taste of Russian caravan tea (source) is not your cup of tea, you got the experience and knowledge of what it is and how it tastes and smells.
Birthday tea gifts are ideal for people who are not vocal in their enthusiasm for tea. Most people enjoy experimenting with different tea flavors and appreciate beautiful and practical tea-related objects.
Tea as a theme for gift-giving is flexible, adaptable, and suits all budgets and tastes.
Teapots
Teapots range from cute and quirky through artistic and reach the dizzy heights of focused design on precisely what it takes to brew the perfect cup of tea.
Perfection in tea varies according to individual taste and culture, but whatever your ideal tea style is, there is a teapot to match.
New Teapots for the Early to Middle Years
The decade birthdays like the 30th, 40th, and 50th loom large in the mind of the birthday man or woman. A lot can happen in ten years in family and work terms.
While changing your teapot isn't the same as changing your life, an attractive teapot can change the way you view the world.
1. For Him: Modern Art Handmade Ceramic Teapot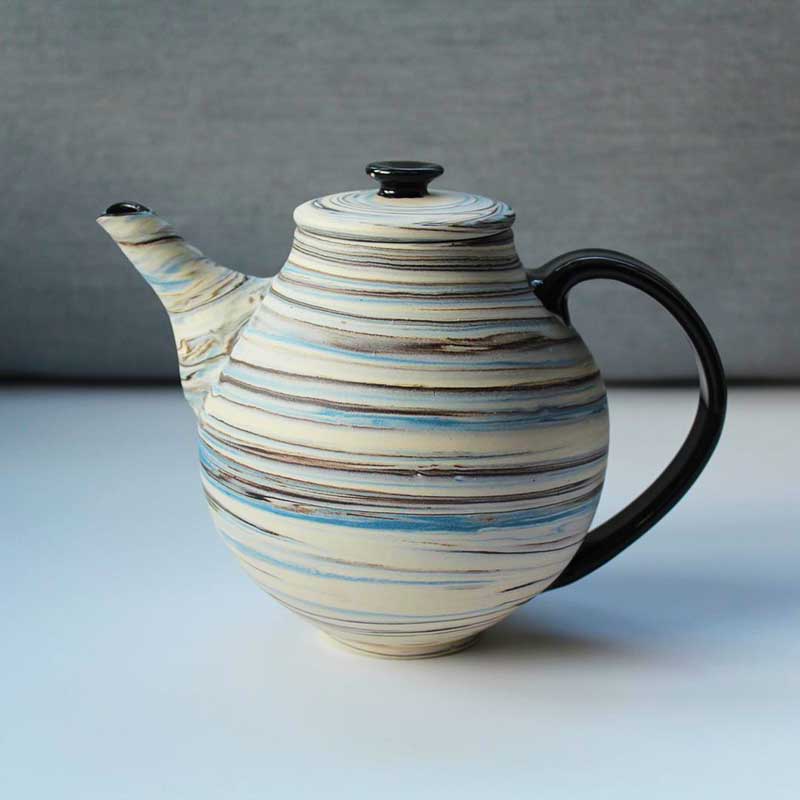 A teapot like this one is a work of art. The teapot shape is tactile and curvy with an almost sculptural appearance.
An inside glaze of glossy black keeps the brewing tea pure in flavor, and the unglazed exterior is beautiful and restful on the eyes. Swirls of blue and black on a white background remind you of a planet spinning in space or perhaps a beach.
Every teapot is handmade and unique. The best art is practical art that you can use every day, like a teapot.
2. For Her: Hand-Carved and Hand-Painted Oak Leaf and Owl Ceramic Teapot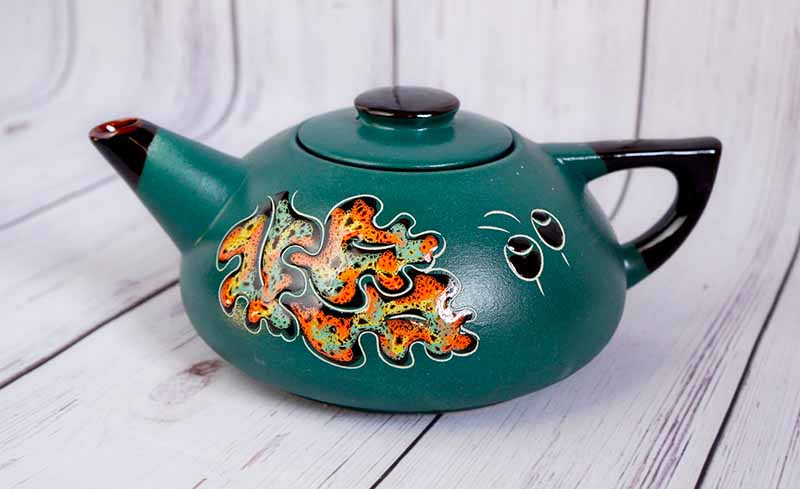 A combination of two stunning images in rainbow colors – oak leaves and a pair of owls gives this modern teapot an arts and crafts appearance.
This lovely teapot strikes a happy festive air that will grace any table and suit any birthday.
Teapots for the Mature Years
The 60th, 70th, and 80th years feel even more significant than the earlier milestones.
By this age, most people have everything they could want. A gift needs to significantly upgrade something they already have to be a worthy replacement.
The mature tea drinker has an established favorite tea – black, green, white, herbal, oolong, or pu'erh.
The ideal teapot gift for the mature tea drinker is an unglazed clay teapot – the clay absorbs and releases the tea flavors over time. The teapot enhances the tea brewing by adding subtle additional taste notes.
3. For Him: Handmade Engraved Yixing Clay Teapot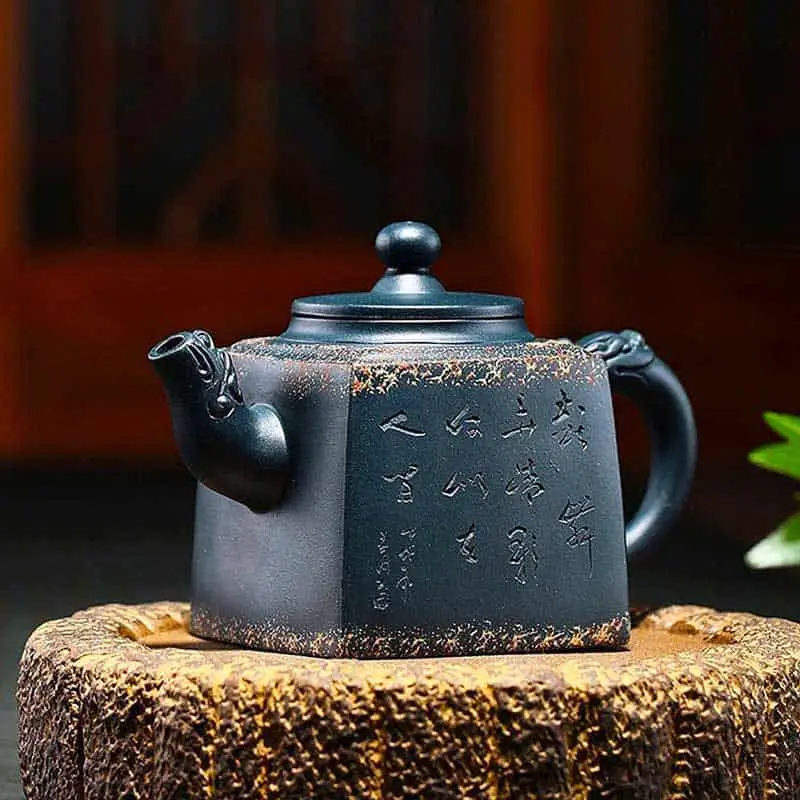 A blocky square shape with the option of personalized carving on the sides makes this Yixing clay teapot very masculine in style.
This teapot will look at home in any setting and is the ideal teapot for lovers of high-quality loose-leaf tea like oolong and pu'erh. The tea brewed in the teapot matures with repeated use and improves with age like a fine wine.
For Dad or Granddad, this is the perfect 50th (and upwards) birthday teapot that he'll love to own!
4. For Her: Bamboo Yixing Clay Teapot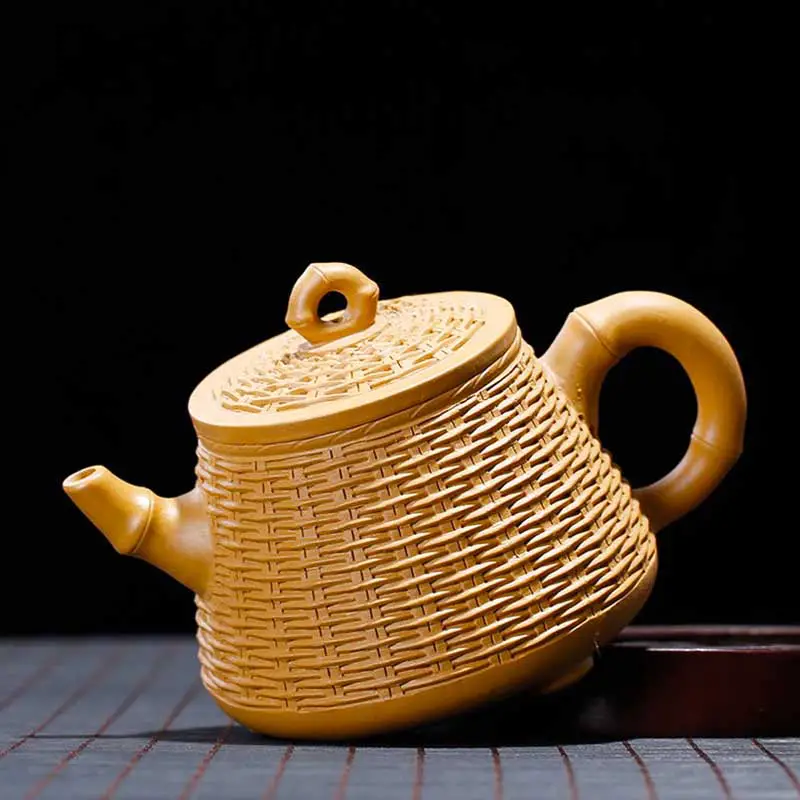 At first glance, you see a wicker basket woven into the shape of a teapot. Chinese artisans carefully embed strips of bamboo into the clay to create a stunning basket weave in clay.
The handle and spout shapes and details resemble bamboo canes bent into shape. The result of all this careful detail is an attractive teapot with a feminine air.
Optional personalization makes this an appropriate tea birthday gift for a significant milestone in a woman's life.
Teacups and Tea Mugs
Although both are tea drinking vessels, teacups and tea mugs are considered different tea-wares. In recent times it can be challenging to decide what makes one object a tea mug and what makes another a teacup.
Generally, if there is a saucer involved, the object is probably a teacup. Whether you prefer teacups or tea mugs, they make excellent birthday tea gifts for everyone.
5. Teacup for Him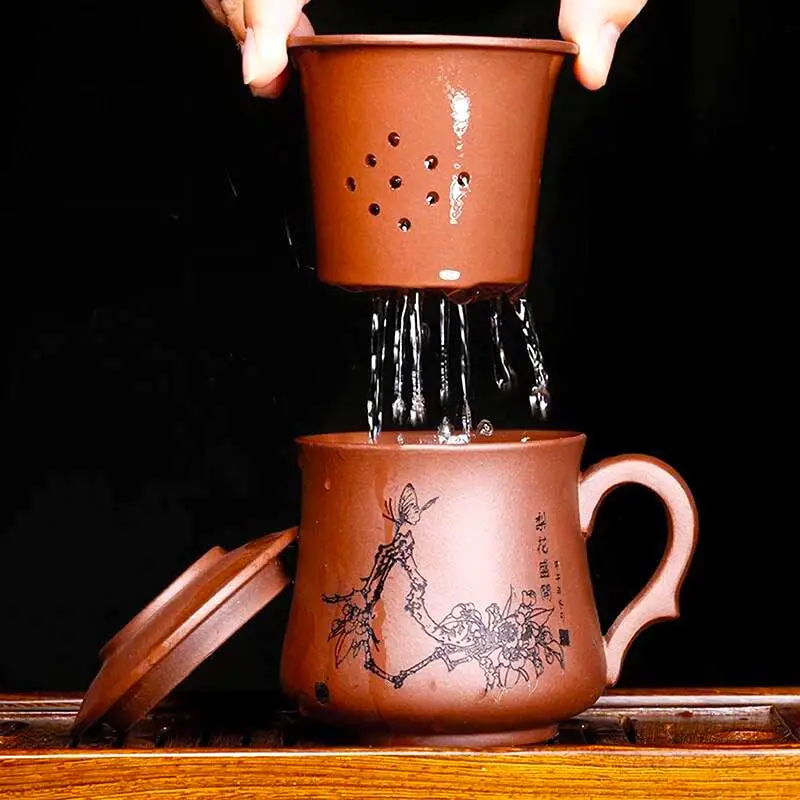 This natural Yixing purple clay teacup set combines the benefits of a clay teapot with the convenience of brewing a single cup of tea. The teacup set includes a classic cup, infuser, and multipurpose lid.
The lid retains heat inside the cup when it serves as the brewing vessel. Then it transforms into a saucer to hold the infuser (or the cup) and avoid creating a mess with dripping tea leaves.
This combination is convenient and practical, as well as producing a high-quality tea drinking experience.
The decorative hand-carving on the side of the teacup represents blooming pear blossom. Pear trees originated in China over 3,000 years ago and have many meanings. In 1863 (Victorian era), pear blossoms as a gift symbolized enduring friendship.
If you're looking to get a tea present for Boyfriend that won't cost you a fortune yet is more than practical enough for everyday use, this is it.
6. Teacup for Her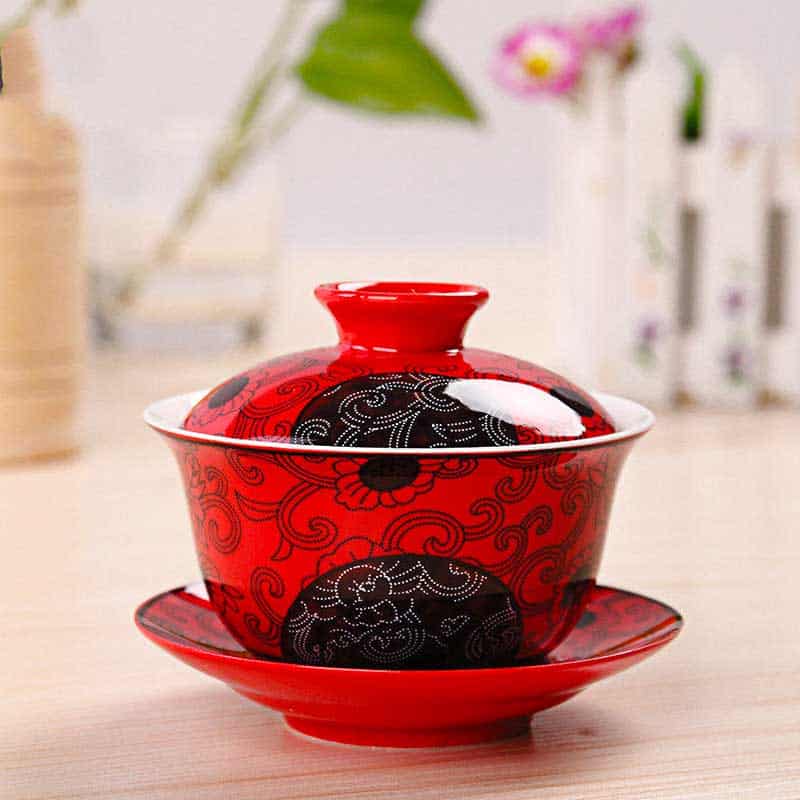 The novice tea enthusiast may, at first glance, mistake this elegant porcelain teacup set for a bowl for serving miso soup in the Japanese way.
It is a gaiwan for making and enjoying fragrant green teas in the cup with loose leaves. Skillful dexterity uses the lid to retain the tea leaves in the cup while you sip the tea enjoying the flavor profile changing from the first sip to last.
This lovely set is a beautiful tea birthday gift for the tea enthusiast, the green tea lover, and if the recipient allows it to moonlight as a miso soup bowl, then they are gaining maximum use from one gift.
7. Tea Mug for Him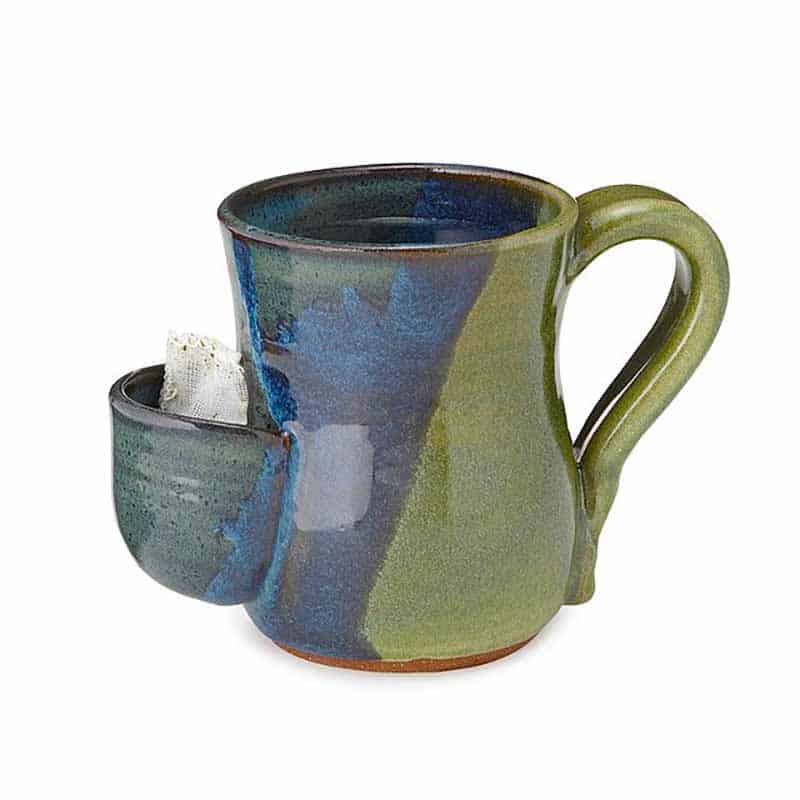 A handmade tea mug with a feature pocket is a quirky and surprisingly useful tea birthday gift for him.
He can wander back to his desk or couch with his teabag infusing inside the mug, then transfer it to the handy pocket while he enjoys the tea.
The tea mug with the handy pocket is an ideal present for any guy at home or in the office – less mess and less fuss!
8. Tea Mug for Her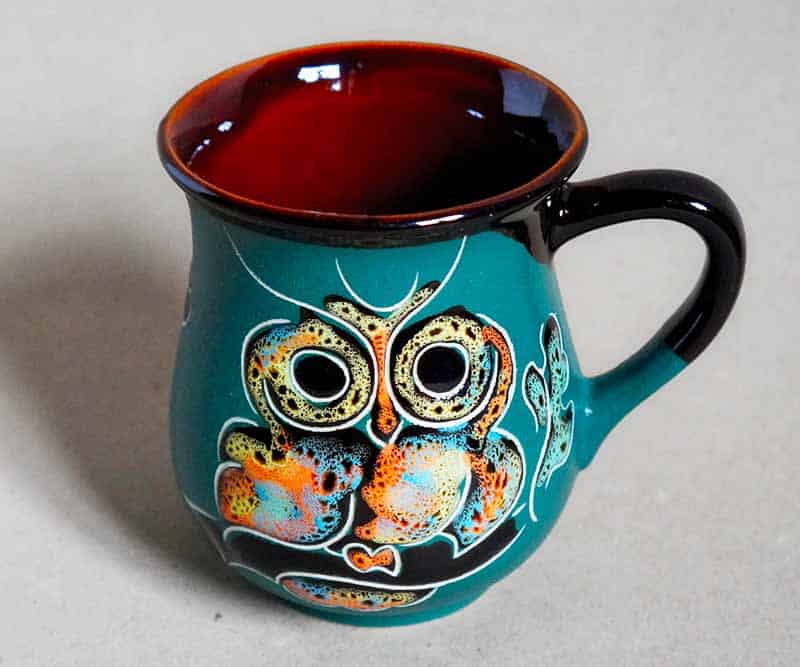 A quirky embossed owl with a rainbow glaze is an excellent standalone present, or you can add it to the charming teapot described above to make a complete tea set.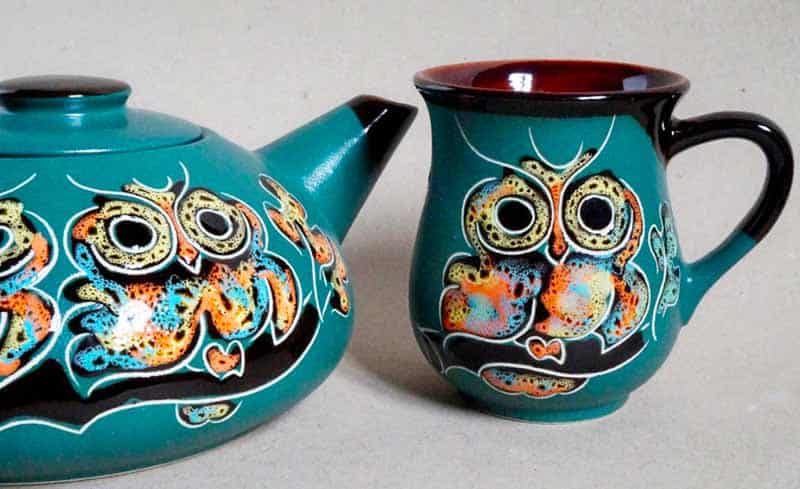 Owls are traditionally associated with knowledge (an owl sits on the shoulder of Minerva – goddess of wisdom), and that makes a cute owl mug like this a lovely birthday tea gift for any teachers or wise women in your life.
Birthday Tea Sets
A complete tea set is a higher value gift when investing in quality ceramics for the special man or woman in your life!
In the past, a tea set consisted of multiple teacups, saucers side plates, milk jugs, sugar bowls, hot water jugs, and a large teapot. The implication being that you needed the good china for elaborate afternoon teas with many guests.
Today an elegant tea set for one, two, or four is the more likely set-up, and the best china is for quality family time together.
9. Kongfu Tea Set for Him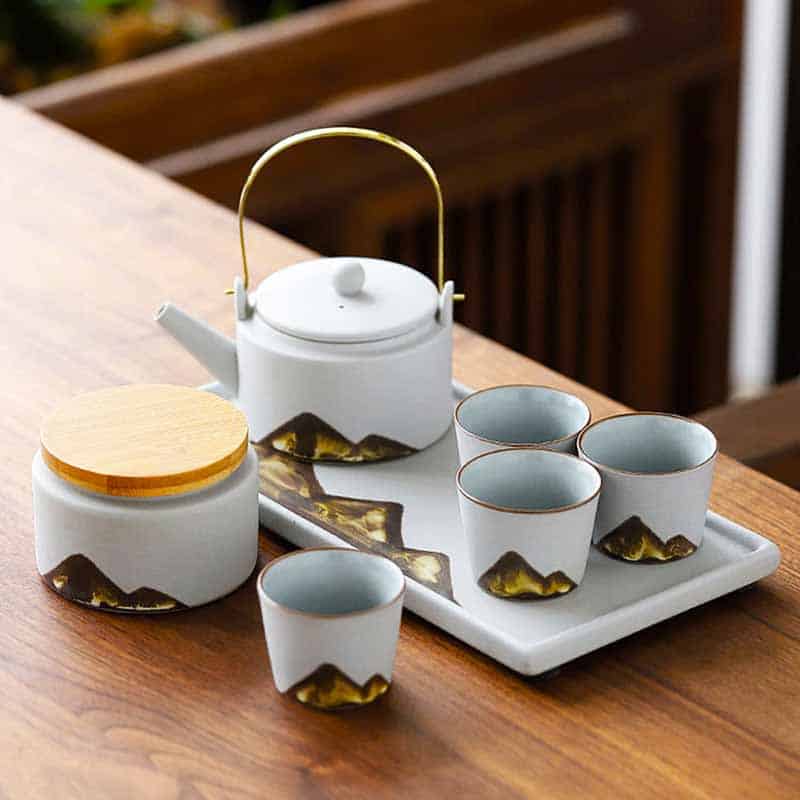 A complete tea set with a teapot (Japanese style handle), four teacups arranged on a ceramic tray with a matching canister for tea is a stunning tea birthday gift for a man who is setting up his own place.
It's stylish with abstract mountains on a clean white background and compact. It stores neatly, ready for guests – an ideal gift for the professional man with his own office so he can impress clients and other visitors!
10. Tea Set for Her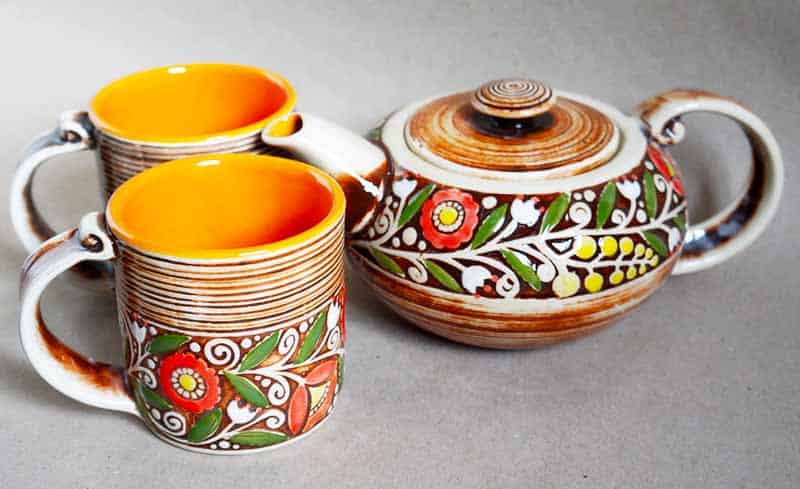 A hand-painted ceramic teapot with one or two matching mugs is a lovely gift for a daughter, sister, or best friend going out into the world as a reminder that time for tea and relaxation by yourself or with a good friend is essential.
Gift this tea set to a free spirit, an artist, or a busy mother who needs the quiet ritual of brewing and enjoying a cup of tea as a calm moment in every day.
A Selection of Hot Drinks and Nibbles
The most practical tea birthday gifts are actual tea or as a break from all that tea drinking – hot chocolate because mugs are multipurpose.
A tea selection box is a fabulous way of trying out lots of new teas and blends before investing in a large box on the off chance that you might like it.
Most people get stuck into a routine of picking up the same products every week and don't think about buying a section box for themselves.
This habit makes selection boxes and gift baskets a lovely break from the usual routine and can introduce a new favorite blend or provide a selection of guest teas for visitors.
11. For Him: Classic Tea Selection
A classic tea selection, like Taylors of Harrogate, provides a selection of quality teas in individually wrapped tea bags. The individual wrapping keeps the tea fresh and means great portability for taking a few teas to work.
A classic tea selection is a budget-friendly gift that is ideal for a co-worker, friend, or distant relative.
For the tea lover, a selection of four rare organic black tea blends in individual tins provides a morning taste sensation to lift his day.
This selection will suit a husband, boyfriend, father, brother, or the special tea-loving man in your life – an ideal birthday tea gift.
12. For Her: Test Tube Teas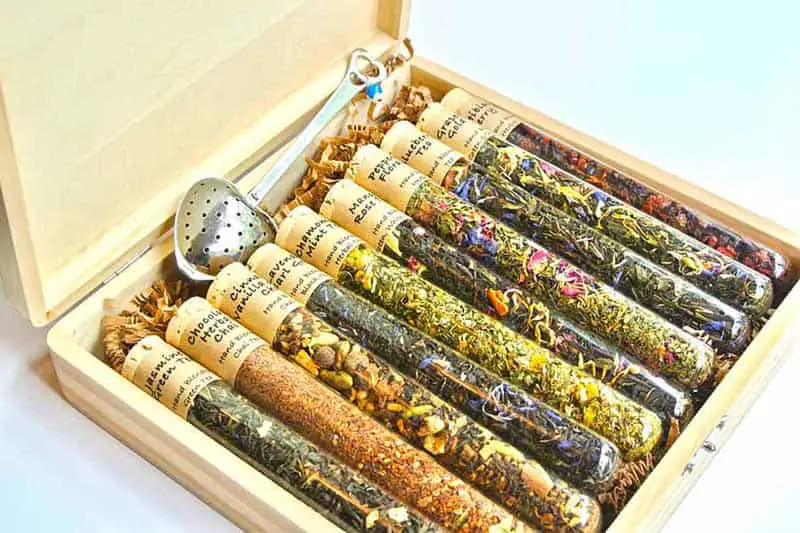 A lovely selection of ten loose-leaf teas charmingly packaged in test tubes with a heart-shaped tea infuser, presented in a wooden box is a beautiful gift for her. The tea infuser lets her enjoy quality loose leaf tea anywhere.
An ideal birthday tea gift for a sister, niece, mother, co-worker, or any woman who appreciates quality tea made fuss-free.
For a guy wondering how much to spend on a birthday gift for the girlfriend, this loose leaf tea set is charming and affordable.
13. Hot Chocolate Lovers Selection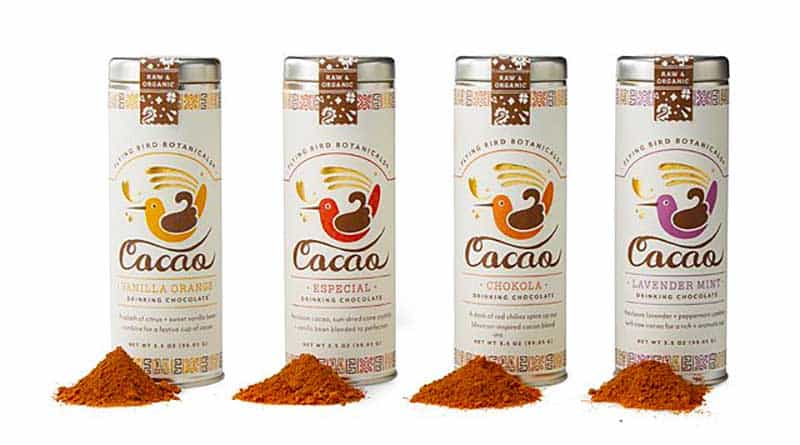 Four individual tins of organic raw cacao powder blended to perfection with natural cane sugar and the finest botanicals – a chocolate lover's dream selection!
The only thing that is better than tea in a beautiful tea mug is frothy hot chocolate.
This high-quality selection is enough for fifty-six cups (approximately) of hot chocolatey goodness for the birthday guy or gal. They probably won't share.
Alternatively, the choice of a single-tin double dark cocoa mix at a lower price from Harry & David would not be any less satisfactory for a hot chocolate lover!
(link below)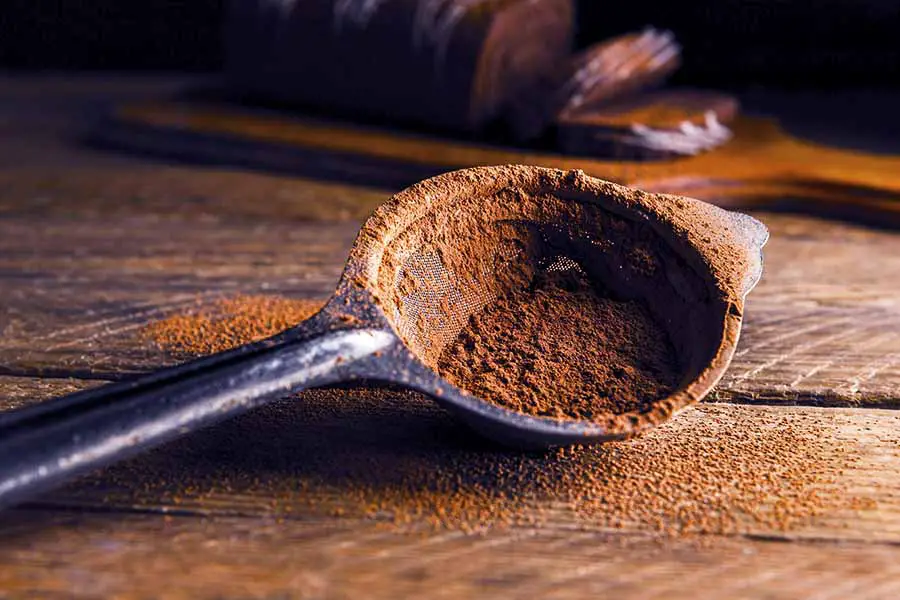 Tea Gift Basket
A beautifully presented tea gift basket is easy to have delivered and contains lovely products. Some suppliers let you choose the individual items to place in the basket for a thoughtful gift for someone you know well.
As a tea birthday gift for a relative or friend, living nearby or far away, it is ideal and fits a range of budgets from affordable to luxurious.
14. Birthday Market Box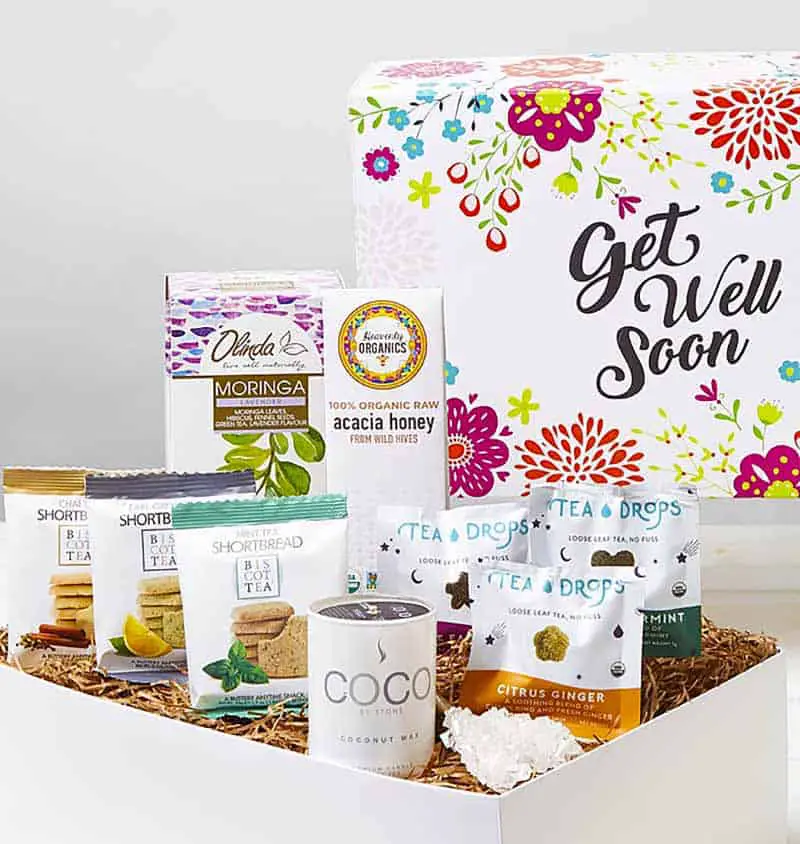 With the abundance of non-tea gift baskets out there, a pre-packaged gift box putting together a selection of tea and tea-related items certainly makes a welcome addition to your gift list.
Any tea enthusiast in the family or circle of friends would enjoy a market box made up of a refreshing selection of rose earl grey, citrus ginger, and sweet peppermint teas.
With the addition of a tea candle and a host of goodies such as organic honey and tea-flavored shortbreads, the recipient can look forward to a quiet moment of relaxation after the party is over.
Other Tea Related Birthday Gifts
There are plenty of tea-related items like tea towels and tea lights that make a charming or sentimental gift for a birthday.
Every kitchen possesses at least one tea towel, but a tea towel can be so much more – a memory, a poster, or a smile.
Tea towels are more than a random bit of cloth to dry dishes – they are history and ingenuity wrapped in a rectangle.
A birthday gift of a tea towel can be practical, useful, humorous, decorative, or all of these. Digital printing changes the scope of what you can find on a tea towel and allows unique personalization.
15. The Tea Lovers Tea Towel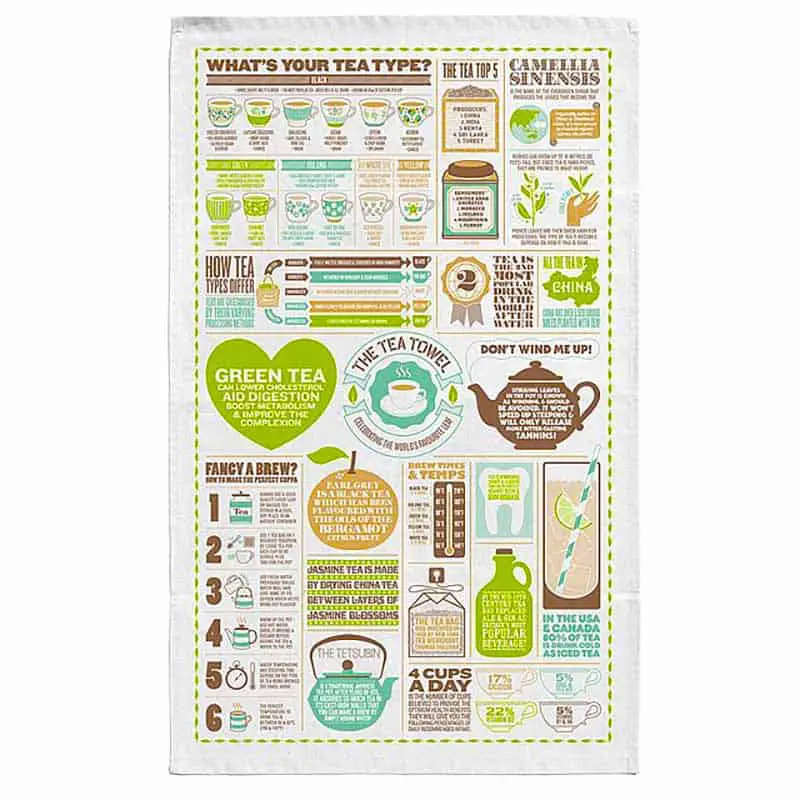 A tea towel that tells you all about your favorite beverage with a graphic poster style.
An ideal birthday gift for anyone interested in facts about tea, but don't be surprised if they choose to frame it rather than dry dishes with it.
16. Personal Family Recipe Tea Towel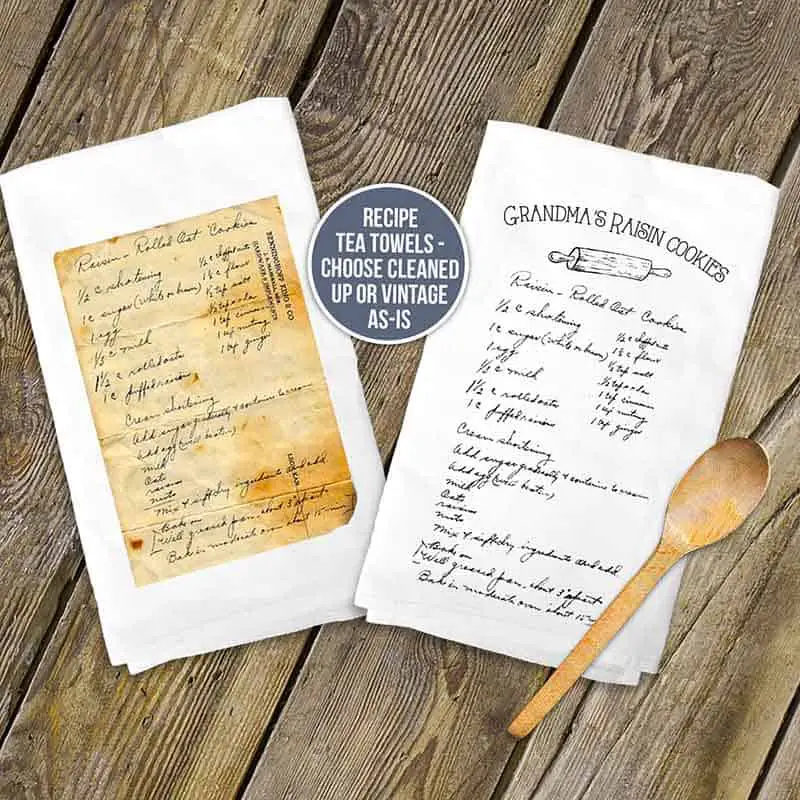 You can immortalize your favorite family recipe as a tea towel, complete with cool kitchen graphics.
If your grandparents or parents are hard to buy for, then this unique tea towel printed with your favorite all-time family classic is a super and unexpected tea birthday gift.
It also makes an excellent milestone gift, from the younger 30th and 40th birthdays, right up to the 80th! – immortalizing generations-old secret recipe for the senior persons in the family, or passing on another culinary gem to a young person leaving home.
17. Sentimental and Personalized Tea Towel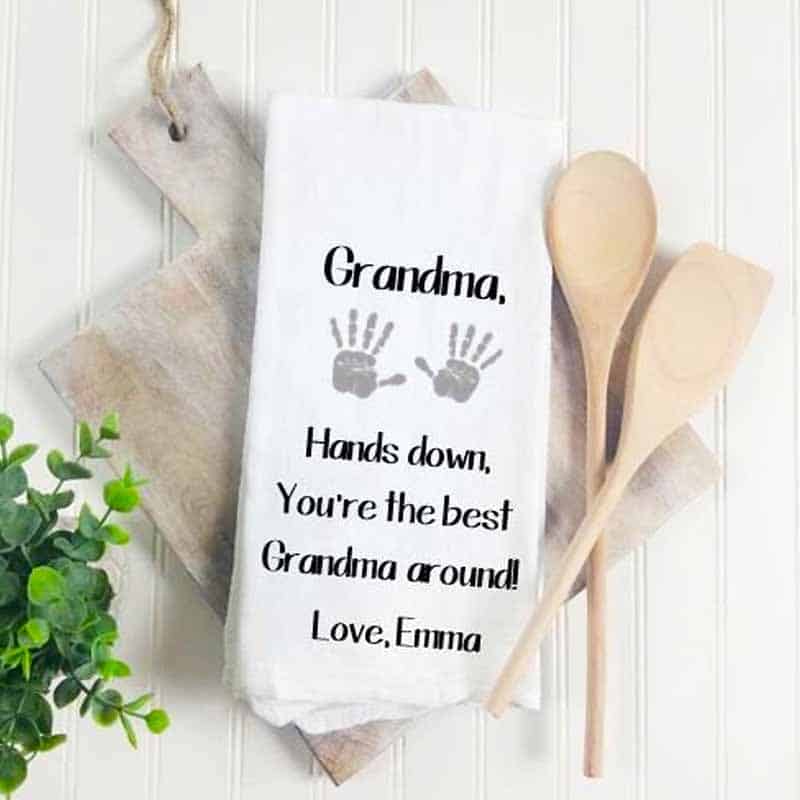 An ideal gift from a younger family member personalized for Grandma, Mom, Dad, Grandpa, or any affectionate family name. It's the perfect 50th, 60th, 70th, and 80th birthday tea towel in celebration of their milestone years.
The sentimental message on a personalized tea towel makes it a fun birthday tea gift that puts a smile on the recipient's face whenever they reach for it.
18. Tea Lights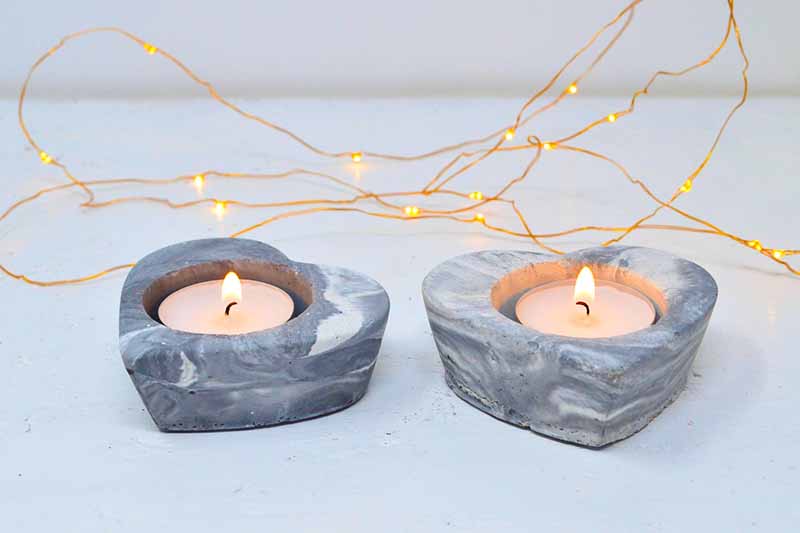 Candles and birthdays go together, and if you are going to give a birthday gift of love, a heart-shaped tea light holder is charming and useful all year round.
This tea light holder is handmade from concrete with a marbled effect. A concrete tea light holder is weatherproof and durable and makes an ideal outside light as well as an indoor one.
These cute tea light holders are perfect when you want to give a little birthday gift for a crush just to test the waters.
Say it with Tea
You've chosen the gift, picked out a card, and now it is time to write a birthday message. If you want to stay with the tea theme, then you need a few chosen words to amuse or impress.
You can adapt any well-known phrase or saying that suits the recipient. Think outside of the teapot and consider punning with tea, steep, tea leaf, brew, kettle, and mugs.
To get started, you could try a variation on 'Happy Birthday' with:
Every Day is a Happy Brewday!
Or
Wishing you a Happy Brewday
You can adapt a song or a poem title:
Come brew tea with me, the best is yet to sip!
For a teapot gift, you might like to adapt a proverb:
To brew is human, to sip divine.
Finally, you can string along a set of puns like:
Have a mugnificant, teamendous brewday filled to the brim with happy teaness!
To pun, or not to pun, that is indeed the question, but whatever you do, keep it tea!