23 Gorgeous Bridal Shower Tea Party Favors
DISCLOSURE: TEA UNBOXED IS A PARTICIPANT IN AFFILIATE PROGRAMS WITH AMAZON AND OTHER SITES. WE ARE COMPENSATED FOR REFERRING TRAFFIC.
Almost any small tea item can serve as a charming and unique bridal shower party favor. The cost can range from modest to extravagant, depending on the host's budget.
There are many off the shelf solutions, or you can put together a thoughtful gift from individual components. The approach depends on your inclinations and how much time is available.
Setting a tea party theme allows plenty of creative imagination in the choice of party favor. It provides the guests with a practical gift that they can enjoy after the party is over.
1. Embroidered Tea Towel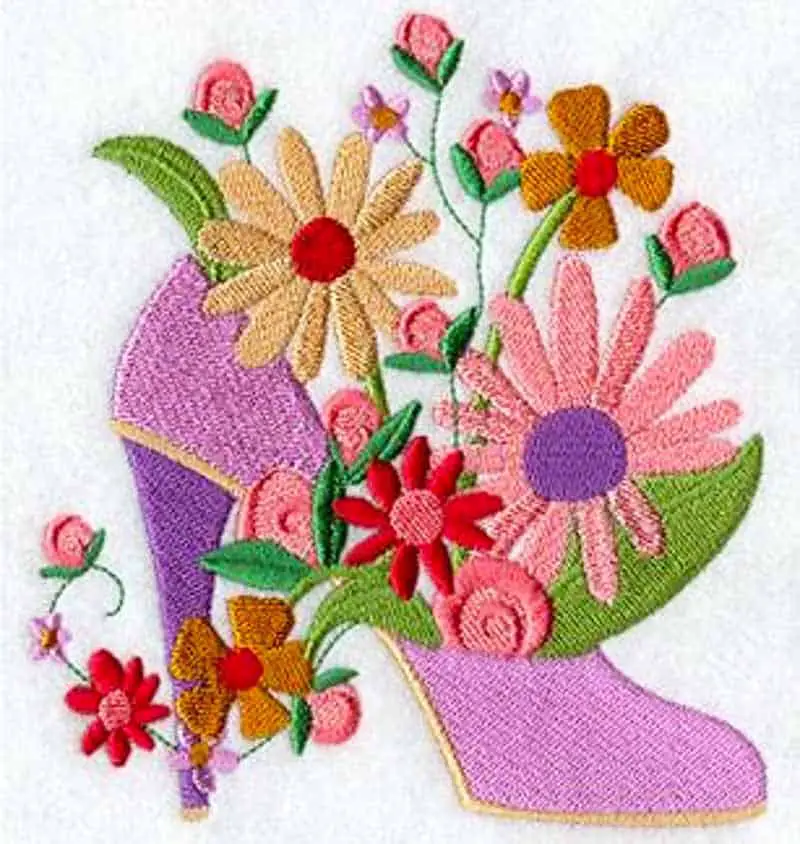 The humble tea towel elevated with a stunning embroidery makes a pretty and practical bridal shower with the celebratory motif of a flower-filled shoe.
The base tea towel is high-quality ring-spun cotton with a waffle weave in a choice of four colors – ivory, white, charcoal, and chocolate. Ring-spun cotton is soft, strong, and highly absorbent, making this a durable memento of the bridal shower.
As part of the wedding celebrations, white and ivory are the best choices and showcases the jewel-bright embroidery thread colors. Additional personalization is available up to ten letters or a monogram.
A decorative monogram of the bride and groom's initials adds a lovely touch, but the tea towel is charming without the added detail.
2. English Rose Decorative Plate with Candles Set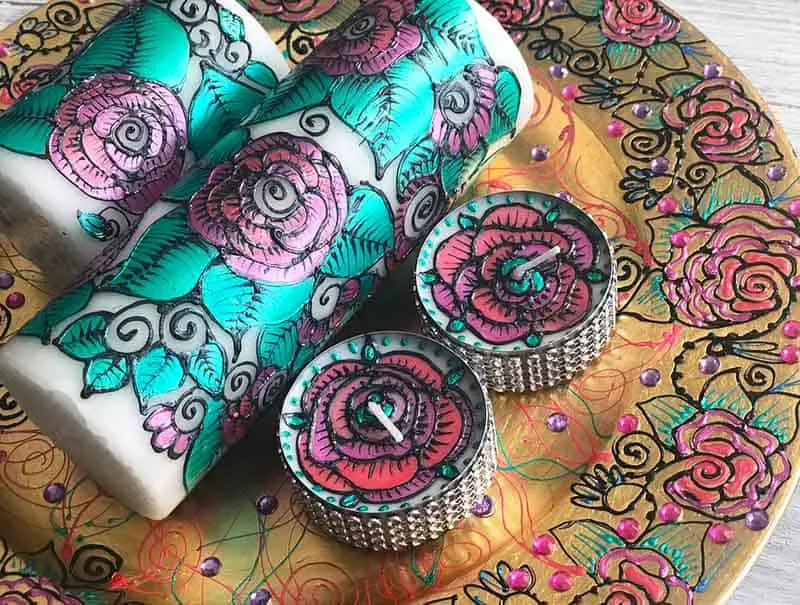 This combination of a beautifully decorated plate and three candles showcases the traditional bridal embellishment of henna designs and roses as a token of romance.
You choose the colors and decorative details to fit in with your party theme. This luxurious bridal shower favor is for the important ladies in the bride's life.
An alternative use for the plate and candles – you can set them up as attractive table decorations during the bridal shower and award them as prizes for any games or take-home gifts for helpers.
3. Handmade Ceramic Tea Mugs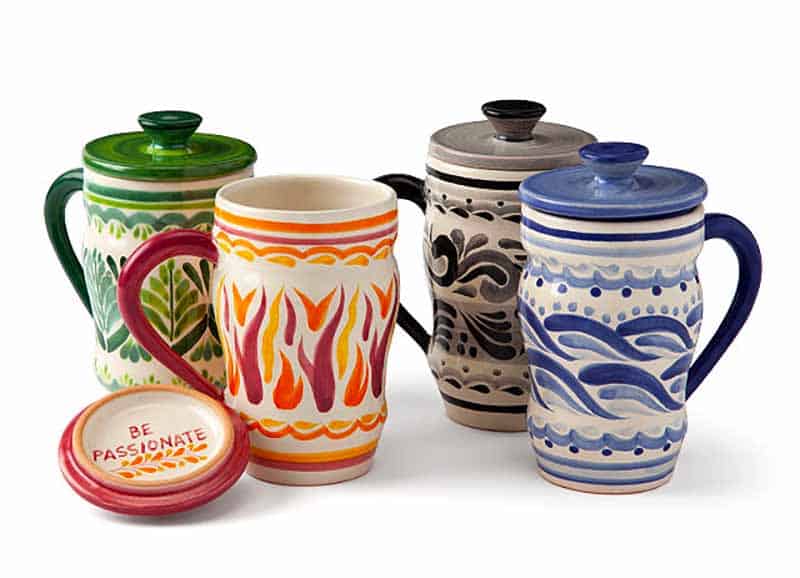 A bridal shower tea party that supports artisan workers and has a hidden surprise with an elemental message is a charming gift.
The four designs reflect the elements, and the associated mantra hidden in the lid represents the qualities of earth, air, water, and fire.
The lids keep the water temperature in the mug high while the tea is steeping, then they convert into a dish to stop the used teabag from making a mess.
The ceramic mugs are handmade and hand-painted and are likely to become the recipient's favorite mug. They class as a luxurious bridal favor and are more suited to a small bridal shower or one with an extravagant budget.
4. Tealight in Porcelain Teacup
This moderately priced bridal shower favor is ideal for a tea party. The teacup is perfectly sized for one tea light, and the gift packaging is beautiful.
The silver detail on shining white suits any wedding theme, and the whole item is elegant and charming.
The delicate silver band around the teacup uses tiny floral sprigs to superb effect! The accompanying saucer has a plain silver rim, but the whole package coordinates as a lovely set.
It is a miniature teacup and saucer that will serve as a lasting memento of the bridal shower.
5. Candle in a Personalized Tin Favor
If you have many guests coming to the shower, then you need an inexpensive bridal shower favor that you can get in bulk, but with the personal touch!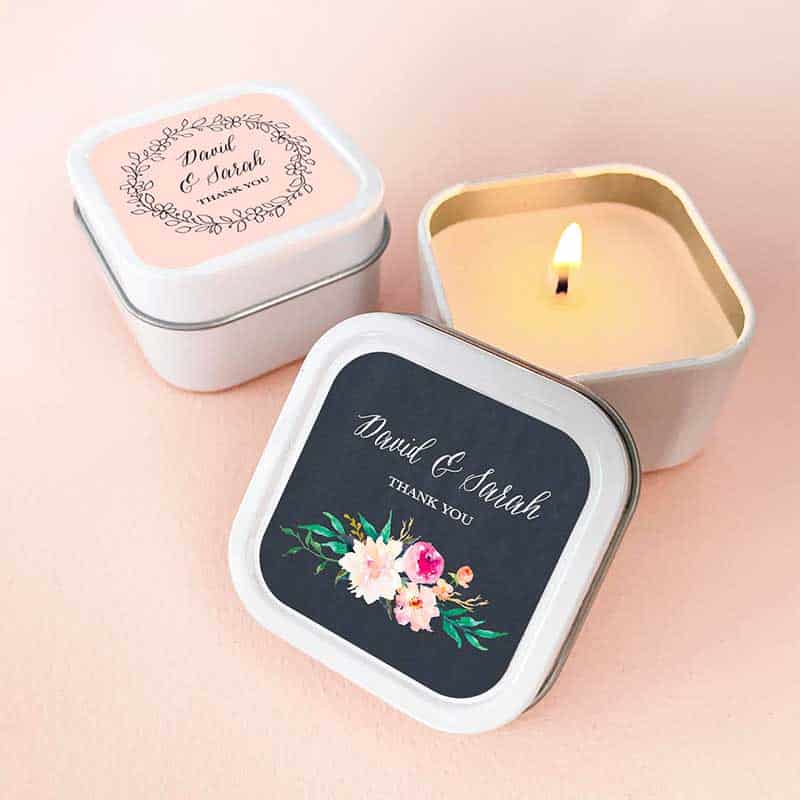 These candles in tins come in packs of twelve, making it straightforward to ensure every guest goes away with a small gift.
Personalized labels let you opt for the names of the bride and groom or a personal message. Minimal self-assembly is required – you need to peel and stick the labels.
The candle has a light, fresh floral fragrance in keeping with a tea party and wedding theme.
6. Bridal Shower Soap Favor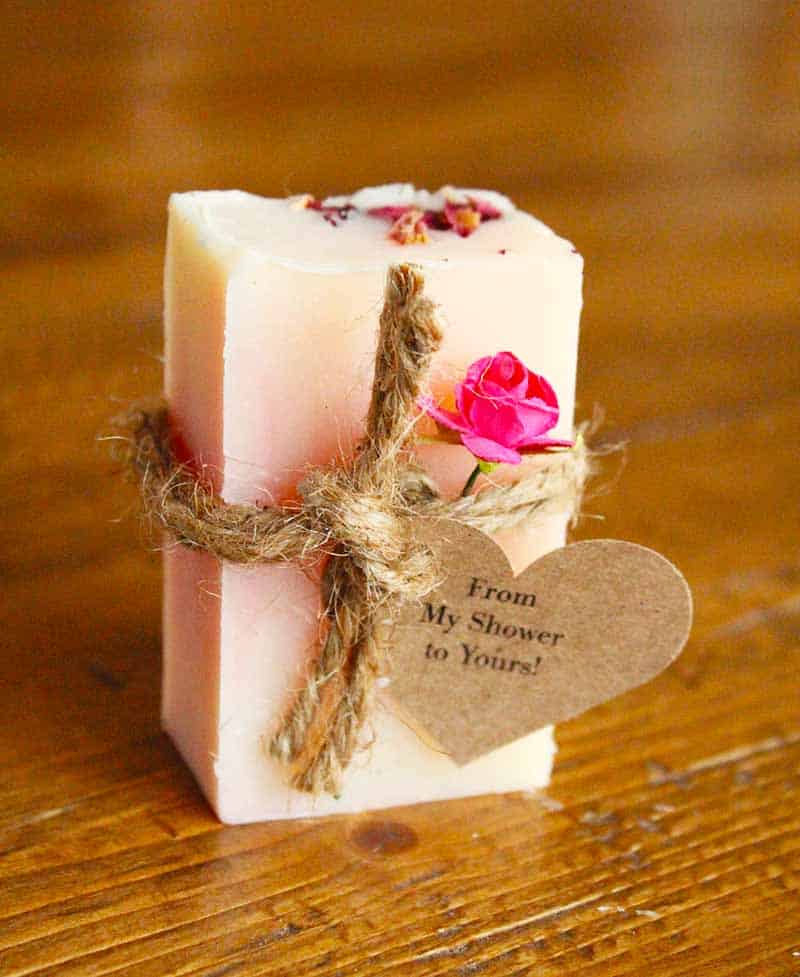 A modestly priced bridal shower favor that promises to be waste-free with a handmade rose oil scented soap.
This artisan soap maker uses a cold-processed method with all-natural skin-friendly materials – rose oil, rose petals, and vegetable-based oils.
The rose scenting and a paper rosebud decoration remind all your guests that this is a bridal shower celebrating the romantic love of the bridal couple.
The hearts and flowers theme continues with a heart-shaped tag printed with your chosen word. If you forget to order a message, the default is "thank you".
7. Rose Soap Favor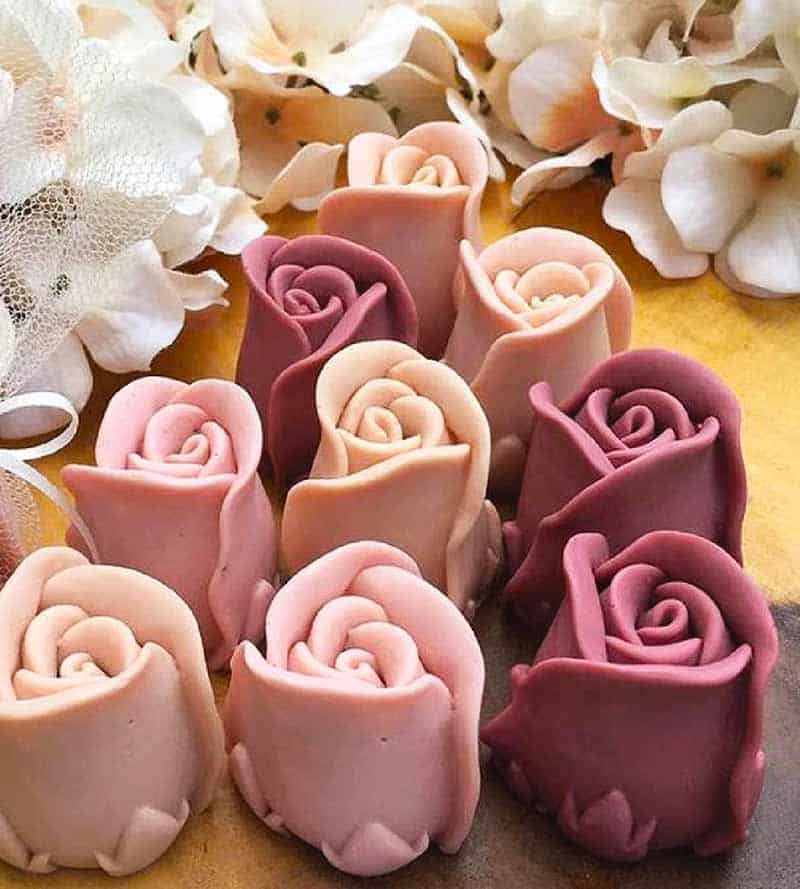 Roses and brides are a classic combination. This bridal shower favor features a luxuriously handcrafted soap carefully shaped into a rose in full bloom!
A smart idea with this favor is to use them as place markings for the bridal shower guests. It's an inexpensive bridal shower favor, and you can order the exact amount you need.
The white tulle favor wrapping suits every wedding color theme.
8. Floral Lip Balm Favors with Personalized Labels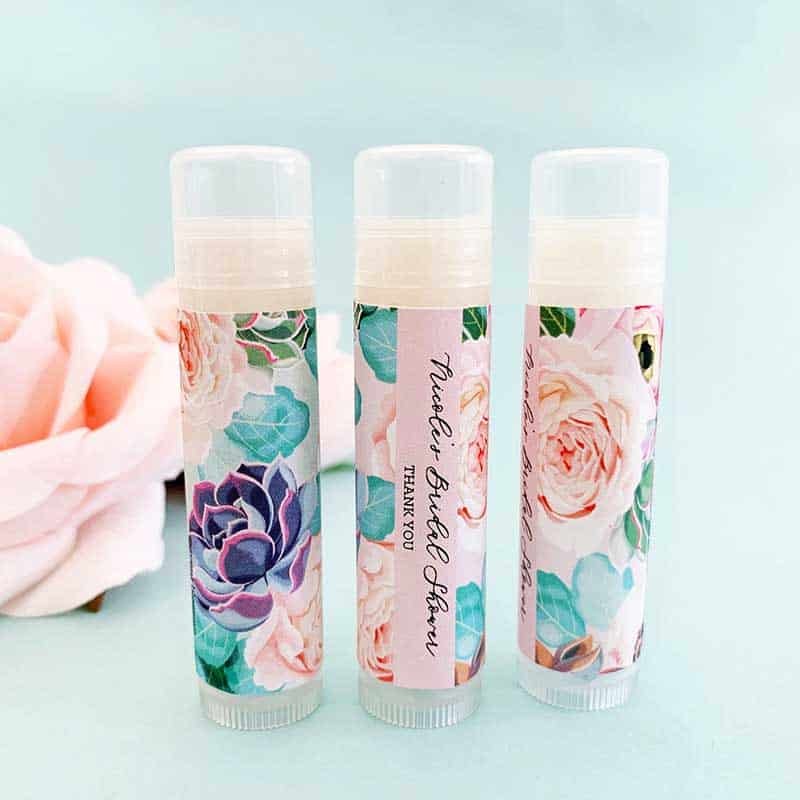 An inexpensive bridal shower party favor with a luxurious feel – personalized lip balms with all-natural ingredients will delight your female guests.
Lip balms are useful all year round to protect sensitive lips from weather damage. Plus, a lip balm is small enough to slip into a handbag or purse, and your guests can easily take them away from the party.
You get sixteen lip balms in a pack making them an economical choice for bridal showers with many guests. You personalize the labels and have a choice of three flavors and colors.
It's a pretty, practical party favor with a luxurious feel and appearance, at a modest price.
9. Bridal Shower Bath Bomb or Shower Steamer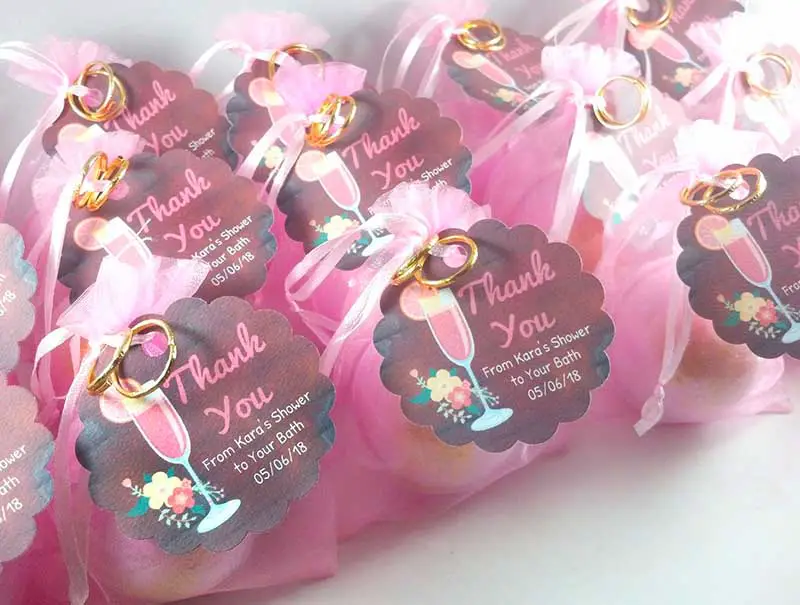 From one shower to another, this handmade luxury product is a bath bomb, a shower steamer, or use it for a relaxing foot soak.
The minimum order is twenty-four, but above this number, you can buy the amount you need to give every guest a delightful fizzy surprise that won't leave them with a handover.
These are large bath bombs at 2.5 inches – you won't feel short-changed when giving out your bridal shower party favors. The personalized labels can fit the wedding theme, giving you a seamless design carrying through every event.
There are twenty-four different scents to choose with pink champagne, wedding cake, and wedding day being possible choices. If you are holding a bridal shower tea party, then the shower steamer that matches the day is white and ginger.
The packaging included with this inexpensive bridal shower favor is extravagant – the shrink-wrapped bath bomb comes in an organza gift bag with gold or silver wedding ring embellishments.
10. Herbal Hangover Tea in Tins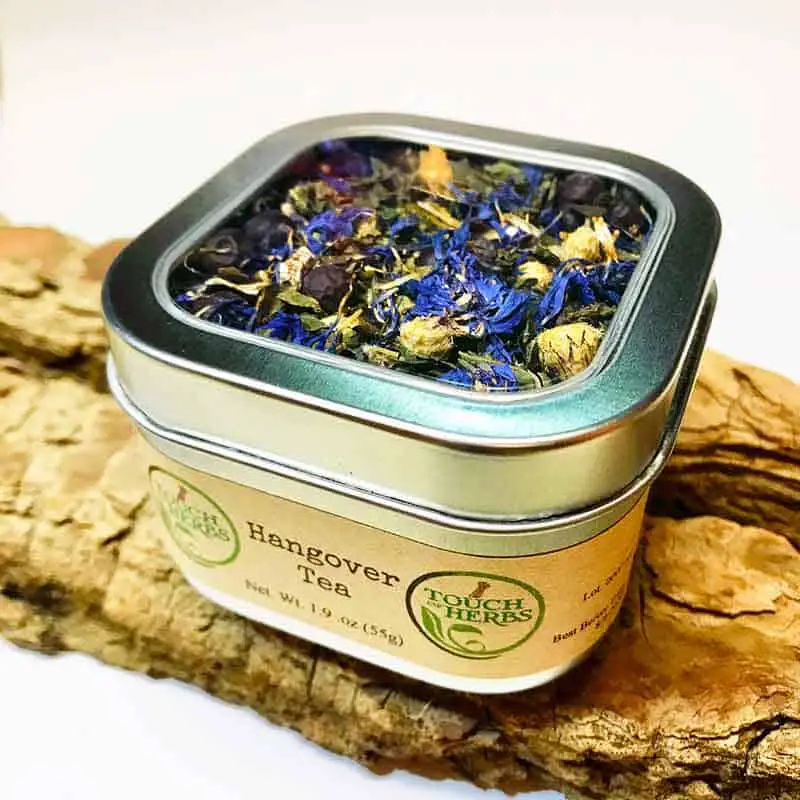 A hand-blended herbal tea in a pretty tin with empty tea bags that you fill from the tin is an amusing twist on a gift of quality tea bags.
A bridal shower tea party is unlikely to leave anyone with a hangover. Still, during the whole festival of wedding-related events, there may be one or two handover mornings – consider this bridal shower tea favor idea as a herbal first aid.
Each tin contains enough tea to fill fifteen to twenty tea bags – you could print some individual envelopes and gift each guest with a single hangover teabag as a party favor perhaps with a soothing scented tea light for the morning after the night before.
11. Hand-decorated Strawberries Covered in Belgian Chocolate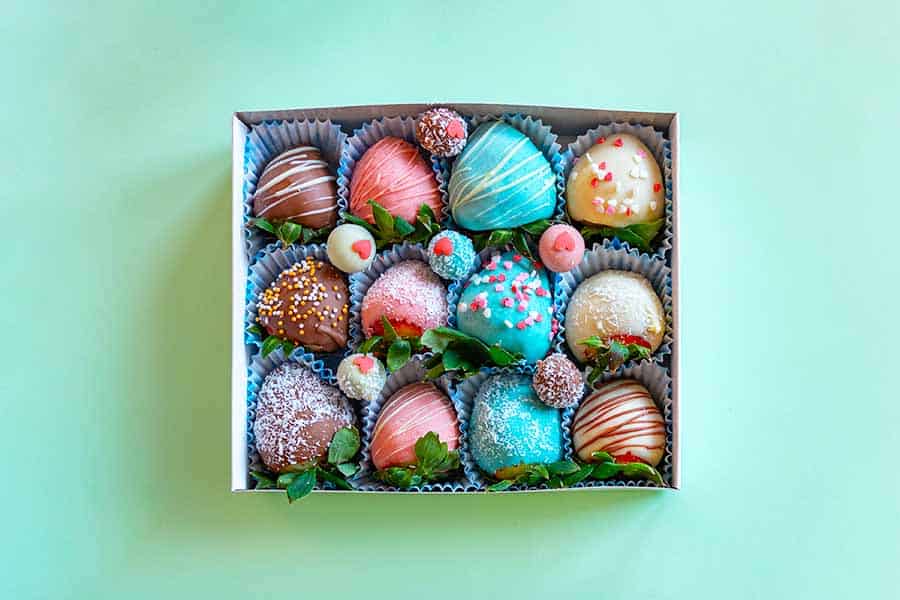 One of the best bridal shower favor ideas is to have something you can eat before you reach the car.
These gorgeously decorated artisan chocolate-dipped strawberries are sinful with a touch of healthy fruit. They look fabulous and Belgian chocolate and ripe berries are always a winning combination!
This fresh product is shipped overnight, so you have to be super-organized to have these for a bridal shower. These luscious treats are so pretty and tempting that you need to keep them locked up until it is time to distribute them!
12. An Individual Dessert in a Teacup
Teacups are ideal dishes for individual no-bake desserts as a sweet treat for the bridal shower guests to enjoy after the tea party ends.
If you have plenty of time to prepare you can search out teacups in pretty designs from thrift shops, auctions, and vintage shops for a reasonable price.
Alternatively, the lovely blush pink cups (pictured below) would make the perfect match for the sweet treat you have prepared.
13. Prompt Cards Game for the Tea Party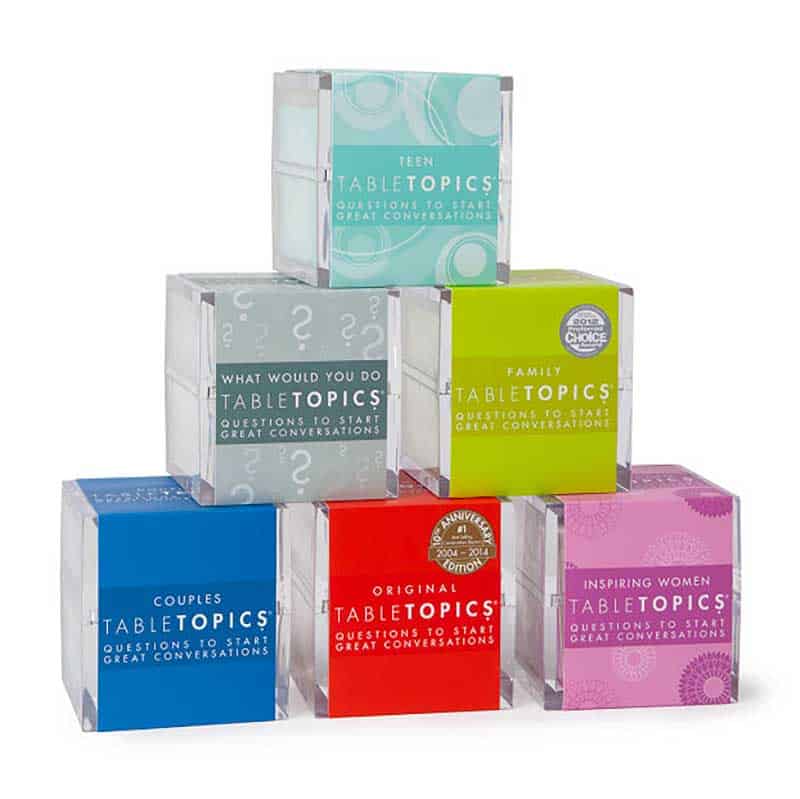 Weddings are notorious for the divide between the groom's family and the brides. Naturally, people tend to stick with who they know at significant social events.
The bridal shower is an ideal place to start breaking the ice and get everyone talking to each other and making new friends before the wedding day.
These prompt cards act as an ice breaker to get conversations started at the individual tables. Each box contains 135 prompts or questions to get the table talking.
You can choose to put a whole box on the table or a few cards at each place setting.
It's a bridal shower tea party, so Inspiring Women might be a good choice, but any of the others like What Would You Do, or Couples will get the conversational ball rolling!
14. Pu'erh Tea – A touch of Chinese Magic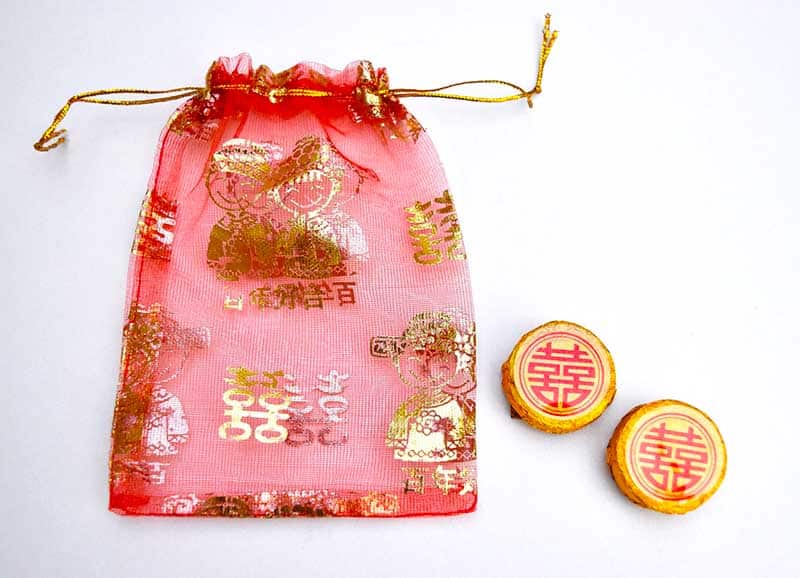 Pu-erh tea is an aged tea with dark rich notes, vaguely reminiscent of chocolate and rich red wines.
This tea is a popular choice for celebrations and is often packaged in small pressed tea cakes wrapped in gold paper. Package a couple of tea disks in an organza bag and you have an exquisite bridal shower favor.
A traditional Chinese wedding would present this tea gift bag with a red organza bag printed with gold motifs symbolizing wealth, health, and happiness.
Red is an auspicious color across most of Asia, whereas Western tradition favors white, cream, and pastel colors.
15. Silver Heart-Shaped Tea Infuser with Tea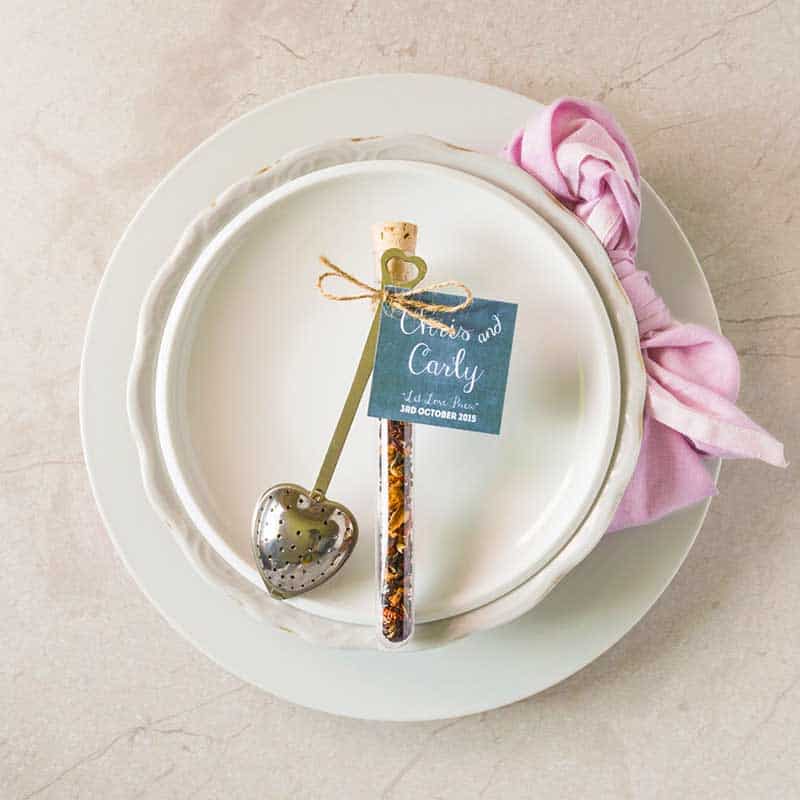 A charming combination of a heart-shaped tea stirrer and a test tube filled with your chosen tea is a perfect bridal shower favor.
Select the tea to fit in with the tea party theme either a classic Earl Grey or a flower tea or fruit blend. Choose the color of the twine and the design of the tag to complement the Bride's chosen colors.
You can upgrade the bridal shower favor with a custom shaped tag (heart-shaped) or a wooden tag that serves as a memento of the bridal shower. After the bridal shower finishes, these customized tags are lovely inclusions in scrapbooks or journals.
If you can do some self-assembly, then you can buy heart-shaped infusers, glass test tubes with stoppers, and loose tea to create your version of this charming bridal shower tea-themed favor.
16. Flowering Tea Balls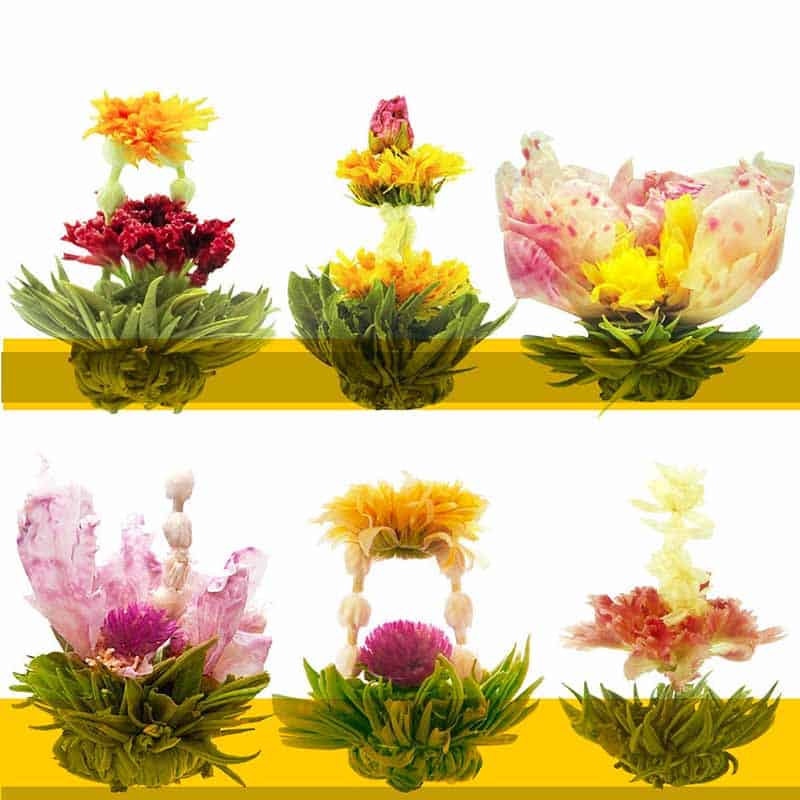 Flowering tea balls are carefully constructed to provide the visual pleasure of an opening flower when you immerse them in hot water.
The designs range from simple to complex and exotic. The blend of tea leaves and flowers used produces a delightful fragrant drink.
Typically, green tea leaves are tied together with edible flower petals and there is a vast range of 'flower' designs. An alternative name is blooming tea because the tea ball blooms in hot water.
17. DIY Bridal Shower Favors – Beautifully Presented
Intricate paper cut boxes – hand made and luxurious.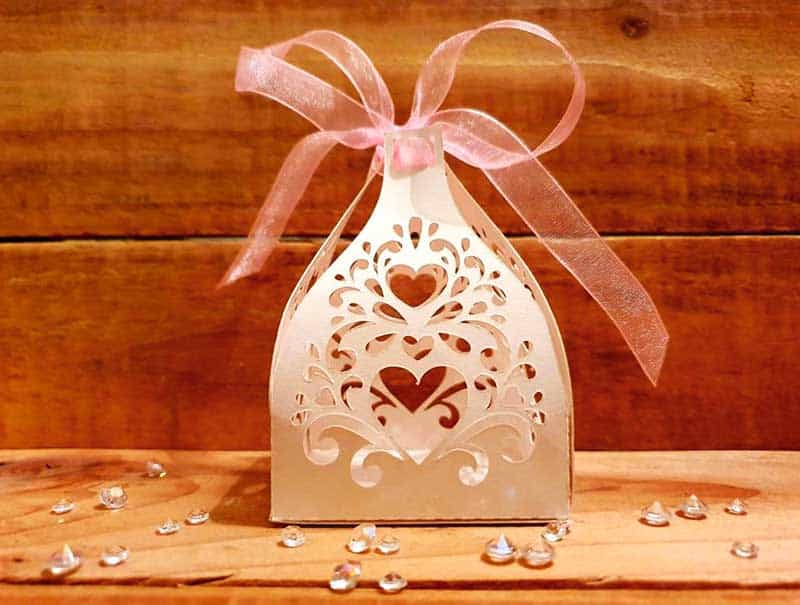 DIY bridal shower favors can be luxurious with the use of hand-cut intricate boxes for stylish packaging or handmade for fun or economy.
At the luxurious end, you have handcrafted elaborate boxes, or you can make your packaging from bought card or paper.
You can buy small jars, tins, test tubes, and bags to contain pyramid tea bags or loose-leaf bought in bulk and divided down into individual gifts.
There are many pre-cut boxes in wedding chests, hexagons, cylinders, and teapots that are available for you to use as your packaging to present a small tea-themed gift with style.
18. Tea Lights in Tea Glasses
The symbolism of a candle flame for love either divine or earthly is known throughout every culture. Candles are magical – that small brave flickering flame casting a warm glow and they make lovely bridal shower favors.
For a bridal shower opt for heart-shaped tea lights and pair them with beautiful Moroccan tea glasses for a luxurious bridal shower favor, possibly reserved for the women playing a vital role in the wedding like the maid of honor and the mother of the Bride.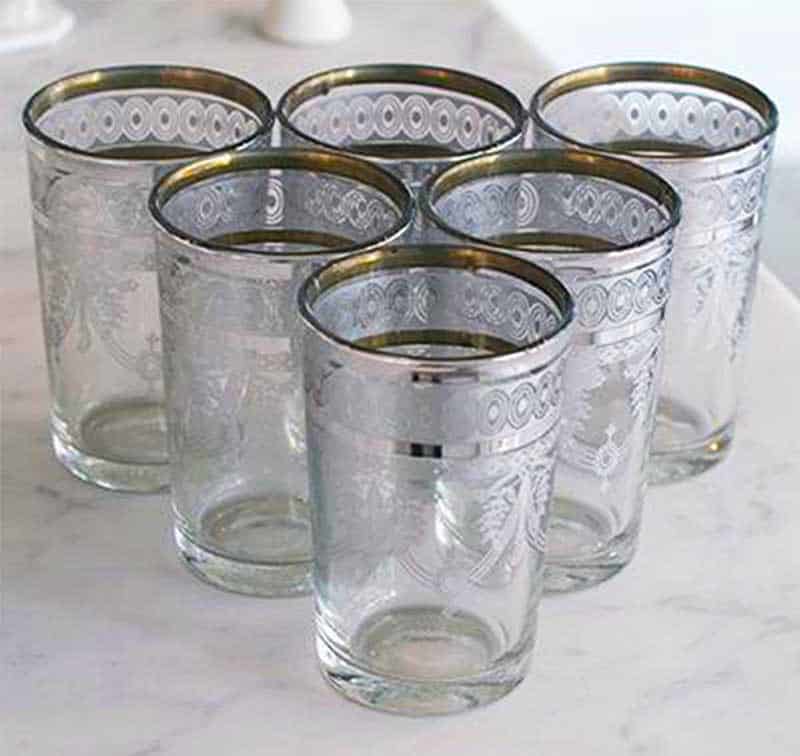 Flowers are central to wedding decorations and if you want to give a single tea light to each guest, a beautiful option is flower tea lights scented with jasmine or rose.
Their glowing colors look beautiful when presented in small organza bags.
An exotic touch is to search out extravagantly decorated tea lights with a henna style pattern. Indian and middle eastern brides are adorned with henna designs as part of their wedding celebrations.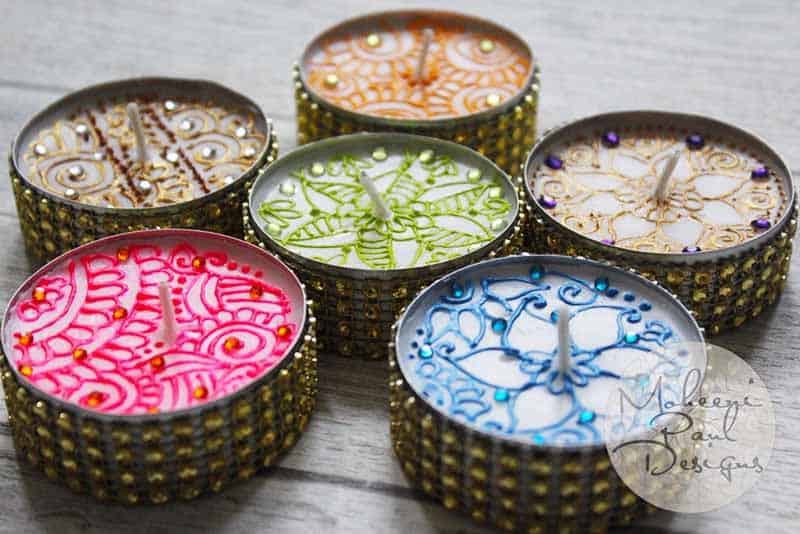 As part of the bridal shower, you could invite a henna artist to demonstrate their skills instead of the usual games.
19. Teaspoons – A Fun Memento
There are two types of teaspoons – the ones you use to stir your tea (or coffee but you can get coffee spoons) and the ones you use to measure out the tea into the teapot.
For a party favor opt for a stirring spoon with decorative designs.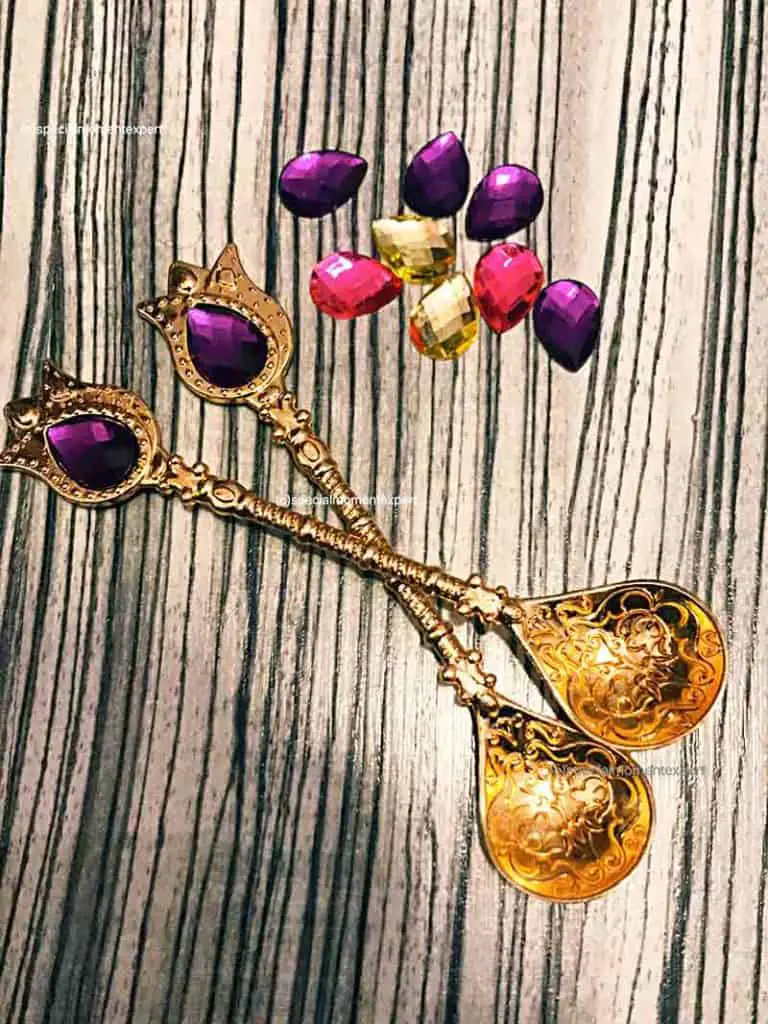 Teaspoons (especially vintage silver teaspoons) can be expensive, but there are some produced as wedding favors with all the glitz and bling needed for a party favor.
These are reasonably priced and you can use them on their own, or pair them with pyramid tea bags and heart-shaped sugar cubes for a more substantial party favor.
20. Tea-Related Charms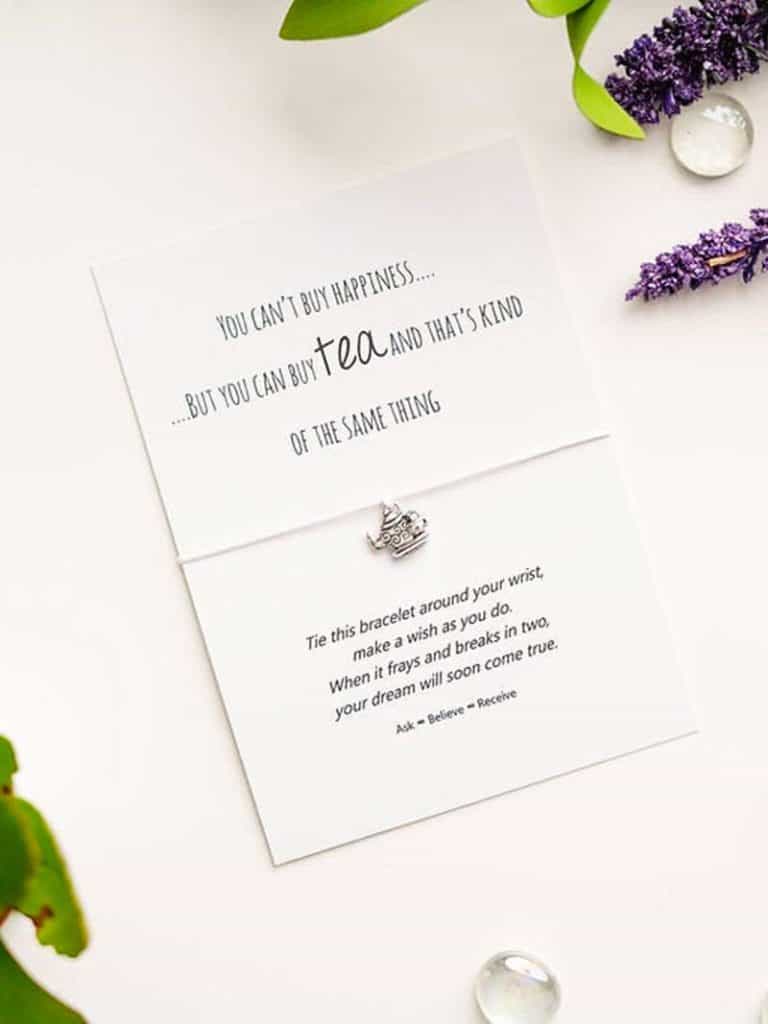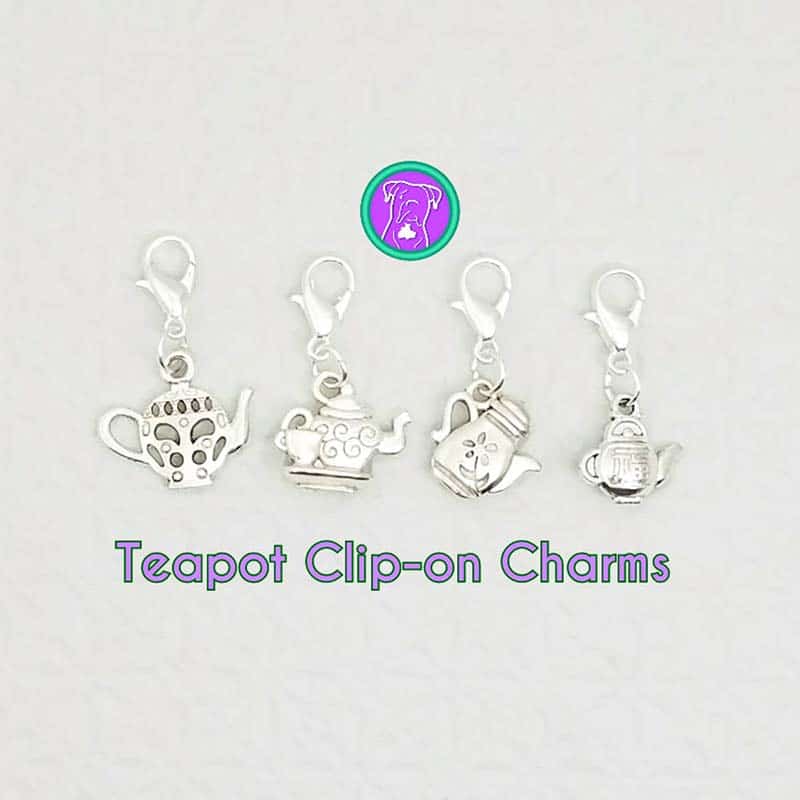 Unless you have a space-race budget a beautiful teapot for each of the guests at a bridal shower would be unaffordable – but there are a vast number of charms as teapots, teacups, teaspoons and teabag charms) in a range of prices.
These charms make excellent additions to hand-made favors as a tag accenting the theme of the bridal shower or can be a gift as a quirky bracelet with a cute message.
Alternatively, a clip-on teapot charm is versatile for zippers, handbags, and keyrings.
21. Printed Tea Towel
A printed tea towel personalized with pictures and text moves the gift into the luxury bracket.
Digital printing allows anything to be printed onto a tea towel – artwork, photographs, and text. You can order one or a hundred.
Because of the expense, you may consider having one or two special tea towels as a prize for games winners or for the chief bridesmaid as a thank you gift for organizing the shower.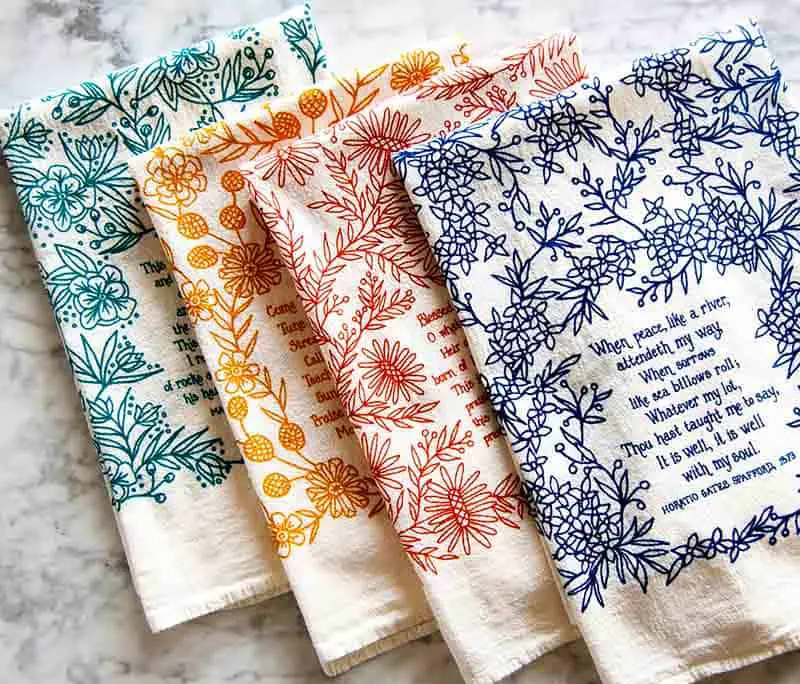 Selecting a range of pre-printed tea-towels makes the bridal shower more affordable and there is a wide range of designs like vintage flowers or hearts that match the bridal shower theme.
22. Teacups Filled with Love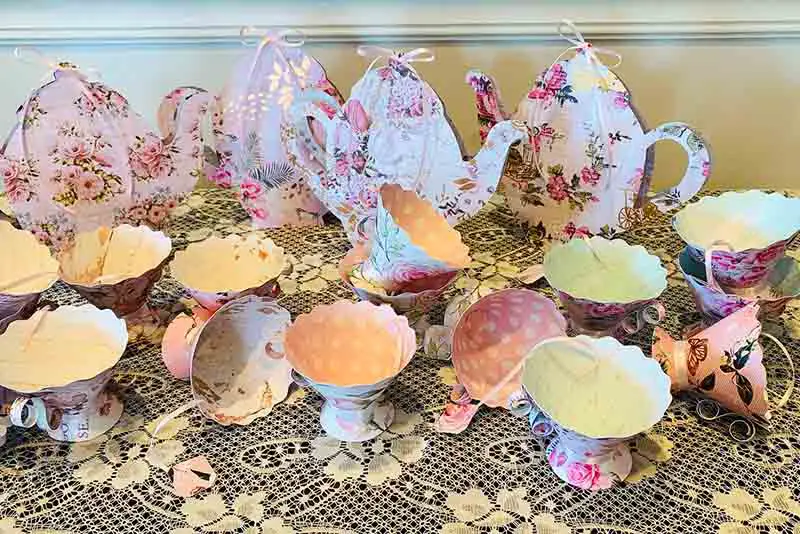 For a tea party themed favor take disposable cups and saucers that are elevated into vintage tearoom status and fill them with tea-related gifts.
Wrap the saucer and filled cup in iridescent cellophane and finish with a cute bow. You have a stunning luxurious party favor at a fraction of the cost.
There's a vast range of tea items that can be divided among the cups – pyramid tea bags, heart-shaped biscuits, loose tea in small jars, heart-shaped sugar cubes, and tea lights.
23. Tea in a Decorative Tin
Tea caddies were produced as ideal ways to transport loose leaf tea from China to Europe.
You can buy a range of teas from English Breakfast to exotic blends in mini tins. The tins are decorative and often contain enough tea for six to eight cups.
Invest in a couple of collections of tea in mini tins and you have a charming range of tea party favors for all your guests as a practical gift that they can enjoy and then keep the tin as a memento of the party.